Twins
AUDI
Accelerates Under Demonic Influence
Always Unsafe Designs Implemented
All Un-informed Drivers Insulted
All Unnecessary Devices Installed
BMW
Big Money Works
Bought My Wife
Brutal Money Waster
BUICK
Big Ugly Indestructable Car Killer
CHEVROLET
Can Hear Every Valve Rap On Long Extended Trips Cheap, Hardly Efficient, Virtually Runs On Luck Every Time
DODGE
Dumb Old Dirty Gas Eater
Drips Oil, Drops Grease Everywhere
FORD
Fix Or Repair Daily
Found On Road, Dead
Fast Only Rolling Downhill
GM
General Maintenance
GMC
Garage Man's Companion
HONDA
Had One Never Did Again
Happy Owners Never Drive Anything else.
Hated Old Noisy Damaged Auto
HYUNDAI
Hope You Understand Nothing's Driveable And Inexpensive?
MAZDA
Most Always Zipping Dangerously Along
OLDSMOBILE
Old Ladies Driving Slowly Make Others Behind Infuriatingly Late Every day.
Overpriced, Leisurely Driven Sedan Made Of Buick's Irregular Leftover Equipment
SAAB
Send Another Automobile Back
TOYOTA
Too Often Yankees Overprice This Auto
VOLVO
Very Odd Looking Vehicular Object
VW
Virtually Worthless
#joke
Catholic School
Little Zachary was doing very badly in math. His parents had tried everything...tutors, mentors, flash cards, special learning centers. In short, everything they could think of to help his math.
Finally, in a last ditch effort, they took Zachary down and enrolled him In the local Catholic school. After the first day, little Zachary came home with a very serious look on his face. He didn't even kiss his mother hello. Instead, he went straight to his room and started studying.
Books and papers were spread out all over the room and little Zachary was hard at work. His mother was amazed. She called him down to dinner.
To her shock, the minute he was done, he marched back to his room without a word, and in no time, he was back hitting the books as hard as before.
This went on for some time, day after day, while the mother tried to understand what made all the difference.
Finally, little Zachary brought home his report Card.. He quietly laid it on the table, went up to his room and hit the books. With great trepidation, His Mom looked at it and to her great surprise, Little Zachary got an 'A' in math. She could no longer hold her curiosity.. She went to his room and said, 'Son, what was it? Was it the nuns?' Little Zachary looked at her and shook his head, no.. 'Well, then,' she replied, Was it the books, the discipline, the structure, the uniforms? WHAT WAS IT?'
Little Zachary looked at her and said, 'Well, on the first day of school when I saw that guy nailed to the plus sign, I knew they weren't fooling around.'
#joke
Funny video of the day - Funny video of the day Friday, 10 September 2010
In the Horse Parliament, the <...
In the Horse Parliament, the neighs have it.
A dog went to a telegram offic...
A dog went to a telegram office, took out a blank form and wrote: "Woof. Woof. Woof. Woof. Woof. Woof. Woof. Woof. Woof." The clerk examined the paper and politely told the dog, "There are only nine words here. You could send another 'Woof' for the same price." The dog replied, "But that would make no sense at all!"
#joke
A guy walks into a bar with a ...
A guy walks into a bar with a pet alligator by his side. He puts the alligator up on the bar. He turns to the astonished patrons.

"I'll make you a deal. I'll open this alligator's mouth and place my genitals inside. Then the gator will close his mouth for one minute. He'll then open his mouth and I'll remove my unit unscathed. In return for witnessing this spectacle, each of you will buy me a drink."

The crowd murmured their approval. The man stood up on the bar, dropped his trousers, and placed his privates in the alligator's open mouth. The gator closed his mouth as the crowd gasped. After a minute, the man grabbed a beer bottle and rapped the alligator hard on the top of its head. The gator opened his mouth and the man removed his genitals - unscathed as promised. The crowd cheered and the first of his free drinks was delivered.

The man stood up again and made another offer. "I'll pay £100 to anyone who's willing to give it a try".

A hush fell over the crowd. After a while, a hand went up in the back of the bar. A blonde woman timidly spoke up.

"I'll try, but you have to promise not to hit me so hard with the beer bottle"
Nice pigs sir...
A Secret Service agent is standing at the bottom of the stairs as President Clinton is leaving Air Force One, and can't help but notice that the President has a pig under each arm.
The Agent salutes and says, "Welcome back, Mr. President. Nice pigs, sir."
Clinton smiles and says, "These aren't pigs. These are genuine Arkansas Razorbacks. I got this one for Hillary, and I got this one for Chelsea."
The Agent says, "Good trade, sir."
#joke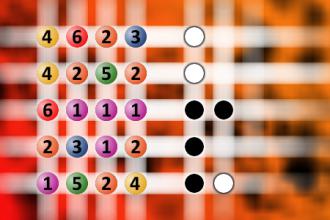 Which is a winning combination of digits?
The computer chose a secret code (sequence of 4 digits from 1 to 6). Your goal is to find that code. Black circles indicate the number of hits on the right spot. White circles indicate the number of hits on the wrong spot.
What Is Your Name?

Walking through Chinatown, a tourist is fascinated with all the Chinese restaurants, shops, signs and banners. He turns a corner and sees a building with the sign, "Hans Olaffsen's Laundry."
"Hans Olaffsen?", he muses. "How in hell does that fit in here?" So he walks into the shop and sees an old Chinese gentleman behind the counter.
The tourist asks, "How did this place get a name like 'Hans Olaffsen's Laundry?'" The old man answers, "Is name of owner."
The tourist asks, "Well, who and where is the owner?" "Me...is right here," replies the old man.
"You? How did you ever get a name like Hans Olaffsen?"
"Is simple," says the old man. "Many, many year ago when come to this country, was stand in line at Documentation Center. Man in front was big blonde Swede. Lady look at him and go, 'What your name?' He say,'Hans Olaffsen.' Then she look at me and go, 'What your name?'"
"I say Sem Ting."


Apples And Cookies A
There's a little boy named Timmy. One night, his mother told him to take a bath. Timmy said,"No! I don't wanna!" But his mother says,"Yes, you have to."
So Timmy says,"Well if I take a bath, will you take one with me?"
The mother says,"Well, O.K., but whatever you do, don't look up or down."
Timmy says,"O.K., I won't."
So when Timmy and his mom are in the bathtub, Timmy accidentally looks down and says,"What's that Mommy?"
She says,"Well Timmy, that's my apple."
Timmy says,"Ohhhhh, O.K."
Then Timmy looks up and says,"What's that Mommy?"
She replies,"Well Timmy, those are my cookies."
Timmy says,"Ohhhhh, O.K."
Then after their bath, they go to there bedrooms and go to sleep. The next night, Timmy is told to take a bath again, but this time by his father. His father tells him,"Time to take a bath Timmy."
Timmy says,"No, I don't want to."
His father says,"Well you have to."
Timmy says,"Well if I take a bath, will you take one with me?"
His father says,"Well O.K., but don't look down!" Timmy says,"O.K., I won't."
Then while they're in the bathtub, Timmy accidentally looks down and says,"What's that Daddy?"
His father says,"Well Timmy, that's my worm."
Timmy says,"Ohhhhh, O.K."
Later that night, a storm hits and Timmy runs into his parents bedroom, flips on the light, and says,"Mommy! Mommy! Daddy's eating your cookies and has his worm in your apple!"
#joke
Todd Barry: Fan E-Mails
I have a website. Its got my e-mail address on it. So now, I get e-mails from all over the country, and people have unbelievable questions. Theyll be like, Dear Todd, Im going to see your show in Columbus, Ohio. Do you know how old you have to be to get into that club? You wanna maybe call the club with that one?
#joke
Biblical Theme Songs
Noah: "Raindrops Keep Falling on My Head"
Adam and Eve: "Strangers in Paradise"
Lazarus: "The Second Time Around"
Esther: "I Feel Pretty"
Job: "I've Got a Right to Sing the Blues"
Moses: "The Wanderer"
Jezebel: "The Lady is a Tramp"
Samson: "Hair"Salome: "I Could Have Danced All Night"
Daniel: "The Lion Sleeps Tonight"
Esau: "Born To Be Wild"
Shadrach, Meshach, and Abednego: "Great Balls of Fire!"
The Three Kings: "When You Wish Upon a Star"
Jonah: "Got a Whale of a Tale"
Elijah: "Up, Up, and Away"
Methuselah: "Stayin' Alive"
Nebuchadnezzar: "Crazy"
#joke
A young blonde was on vacation...
A young blonde was on vacation in the depths of Louisiana. She wanted a pair of genuine alligator shoes in the worst way, but was very reluctant to pay the high prices the local vendors were asking.
After becoming very frustrated with the "no haggle" attitude of one of the shopkeepers, the blonde shouted, "Maybe I'll just go out and catch my own alligator so I can get a pair of shoes at a reasonable price!" The shopkeeper said, "By all means, be my guest. Maybe you'll luck out and catch yourself a big one!"
Determined, the blonde turned and headed for the swamps, set on catching herself an alligator.
Later in the day, the shopkeeper is driving home, when he spots the young woman standing waist deep in the water, shotgun in hand. Just then, he sees a huge 9 foot alligator swimming quickly toward her.
She takes aim, kills the creature and with a great deal of effort hauls it on to the swamp bank. Laying nearby were several more of the dead creatures. The shopkeeper watches in amazement. Just then the blonde flips the alligator on it's back, and frustrated, shouts out, "Damn it, this one isn't wearing any shoes either!"
A mother had three daughters a...
A mother had three daughters and on their wedding days, she tells each one of them to write back and tell her about their marriage life.
The first one gets married. The second day the letter arrives with a simple message: "Maxwell Coffee House". The Mother got confused and finally noticed a Maxwell advert saying "Satisfaction to the last drop...".
When the second daughter got married, it took a week for the letter to arrive and the message read: "Rothmans". So the Mother looked at a Rothmans ad, and saw: "Life Size, King Size"
Finally it was the third one's wedding. Mother was very anxious. After 4 weeks came the message: "British Airways". When mother looked into the ad, she fainted. The ad read: "Twice a day. Four times a week. Both ways."
#joke
Question And Answer Blond Jokes

Q: What stops then goes then stops then goes?
A: A blonde at a blinking red light.
Q: Did you hear about Pepsi's new soda just for blondes?
A: It has "open other end" printed on the bottom.
Q: Why do blondes always rapidly flap their hands towards theirs ears?
A: They're refuelling.
Q: Why did the blonde purchase an AM radio?
A: She didn't want one for nights.
Q: What about the blonde who gave birth to twins?
A: Her husband is out looking for the other man.
Q: Did you hear about the dead blonde in the closet?
A: She was last years hide and seek winner.
Q: What is dumber than a brunette building a fire under the water?
A: A blonde trying to put it out.
Q: Why did the blonde buy a brown cow?
A: To get chocolate milk.


Breads for Crummy Sins
On the Jewish New Year, Rosh Hashanah, there is a ceremony called Tashlich. Jews traditionally go to the ocean or a stream or river to pray and throw bread crumbs into the water.
Symbolically, the fish devour their sins. Occasionally, people ask what kind of bread crumbs should be thrown. Here are suggestions for breads which may be most appropriate for specific sins and misbehaviors.
For ordinary sins.....................White Bread
For complex sins......................Multigrain
For twisted sins......................Pretzels
For sins of indecision................Waffles
For sins of chutzpah..................Fresh Bread
For committing auto theft.............Caraway
For timidity/cowardice................Milk Toast
For ill-temperedness..................Sourdough
For silliness, eccentricity...........Nut Bread
For war-mongering.....................Kaiser Rolls
For jingoism, chauvinism..............Yankee Doodles
For excessive irony...................Rye Bread
For erotic sins.......................French Bread
For particularly dark sins............Pumpernickel
For dressing immodestly...............Tarts
For causing injury to others..........Tortes
For being holier than thou............Bagels
For abrasiveness......................Grits
For dropping in without notice........Popovers
For overeating........................Stuffing
For pride and egotism.................Puff Pastry
For trashing the environment..........Dumplings
For telling bad jokes/puns............Corn Bread
#joke #newyear
"Vice President Dick Chen...
"Vice President Dick Cheney is currently out in South Dakota on a three --day hunting trip. What better place for a man who has had four heart attacks than to be carrying a big gun and a backpack through the snow looking for red meat." -- Jay Leno