Sasquatch has high net...
Sasquatch has high net swarth.
A couple, desperate to conceiv...
A couple, desperate to conceive a child, went to their priest and asked him to pray for them. "I'm going on a sabbatical to Rome," he replied, "and while I'm there, I'll light a candle for you."
When the priest returned three years later, he went to the couple's house and found the wife pregnant, busily attending to two sets of twins. Elated, the priest asked her where her husband was so that he could congratulate him.
"He's gone to Rome, to blow that candle out" came the harried reply.
#joke
Funny video of the day - Funny video of the day Tuesday, 14 September 2010
The Investment Advisor
An investment advisor decided to go out on her own. She was shrewd and diligent, so business kept coming in, and pretty soon she realized that she needed an in-house counsel. The investment banker began to interview young lawyers.
"As I'm sure you can understand," she started off with one of the first applicants, "in a business like this, our personal integrity must be beyond question." She leaned forward. "Mr. Mayberry, are you an honest lawyer?"
"Honest?" replied the job prospect. "Let me tell you something about honest. Why, I'm so honest that my father lent me $15,000 for my education, and I paid back every penny the minute I tried my very first case."
"Impressive. And what sort of case was that?" asked the investment advisor.
The lawyer squirmed in his seat and admitted, "He sued me for the money."
Shhhh!
A Sunday school teacher asked the children just before she dismissed them to go to church, "And why is it necessary to be quiet in church?"
Annie replied, "Because people are sleeping."
Spelling...
A kindergartner was practicing spelling with magnetic letters on the refrigerator: cat, dog, dad, and mom had been proudly displayed for all to see.
One morning while getting ready for the day, he bounded into the room with his arms outstretched. In his hands were three magnetic letters: G-O-D.
"Look what I spelled, Mom!" with a proud smile on his face.
"That's wonderful!" his mom praised him. "Now go put them on the fridge so Dad can see when he gets home tonight."
The mom happily thought that her son's Catholic education was certainly having an impact.
Just then, a little voice called from the kitchen: "Mom? How do you spell 'zilla'?"
#joke
Business One-liners 66
If it looks too good to be true, it is too good to be true.
If it says "one size fits all," it doesn't fit anyone.
If it weren't for the last minute, nothing would ever get done.
If it works, don't fix it!
If idiots could fly, this world would be an airport.
If more than one person is responsible for a miscalculation, no one will be at fault.
If Murphy's Law can go wrong, it will.
If not controlled, work will flow to the competent man until he submerges.
If on an actuarial basis there is a 50-50 chance that something will go wrong, it will actually go wrong nine times out of ten.
If only one price can be obtained for a quotation, the price will be unreasonable.
#joke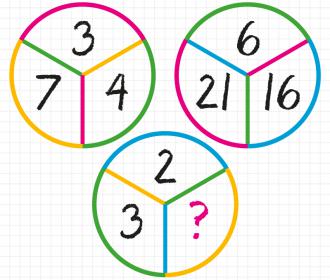 MATH PUZZLE: Can you replace...
MATH PUZZLE: Can you replace the question mark with a number?
Archeologist
How do you embarrass an archeologist?
Give him a used tampon and ask him which period it came from.
Tony Rock: Difference in the Clothes
White people cant tell the difference between hard, honest working black people and criminal black people, because we all basically dress the same. We all basically wear jeans, boots, sometimes an occasional baseball hat -- yall cant tell. But see, black people, we can just look at what a white persons wearing and tell this guys messed up -- get away from this guy -- because all the bad white people wear the same exact thing: police uniforms.
#joke
A forty-year-old hillbilly car...
A forty-year-old hillbilly carried a younger hillbilly into the doctor's office, deposited him on the examining table, and said, "See if you can patch him up good. I shot up his rear end like it was a tail on a possum. Don't hurt him none, 'cause he's my son-in-law."
The doctor said, "Why would you shoot your son-in-law?"
The hillbilly said, "He warn't my son-in-law when I shot him."
Two blondes were in a parking ...
Two blondes were in a parking lot trying to unlock the door of their Mercedes with a coat hanger. They tried and tried to get the door open, but they couldn't.
The girl with the coat hanger stopped for a moment to catch her breath, and her friend said anxiously, "Hurry up! It's starting to rain and the top is down."
A guy gets on a plane and find...
A guy gets on a plane and finds himself seated next to a cute blonde.
He immediately turns to her and makes his move.
"You know," he says, "I've heard that flights will go quicker if you strike up a conversation with your fellow passenger.
So let's talk."
The blonde, who had just opened her book, closes it slowly and says to the guy, " What would you like to discuss?"
"Oh, I don't know,"says the guy.
"How about nuclear power?"
"OK," says the blonde.
"That could be an interesting topic.
But let me ask you a question first.
A horse, a cow, and a deer all eat the same stuff--grass.
Yet the deer excretes little pellets, the cow turns out a flat patty, and the horse produces muffins of dried poop. Why do you suppose that is?"
The guy is dumbfounded. Finally he replies, "I haven't the slightest idea."
"So tell me," says the blonde, "How is it that you feel qualified to discuss nuclear power when you don't know shit?
Church members...
Three couples went in to see the minister about becoming new members of his church. The minister said that they would have to go without sex for two weeks and then come back and tell him how it went.
The first couple was retired, the second couple was middle aged and the third couple was newly married.
Two weeks went by, and the couples returned to the minister.
The retired couple said it was no problem at all.
The middle-aged couple said it was tough for the first week, but after that it was no problem.
The newlyweds said it was fine until she dropped the can of paint.
"Can of PAINT!" exclaimed the minister.
"Yeah," said the newlywed man. "She dropped the can and when she bent over to pick it up I had to have her right there and then. Lust took over."
The minister just shook his head and said that they were not welcome in the church.
"That's okay," said the man. "We're not welcome in Home Depot either."
#joke
A couple was celebrating their...
A couple was celebrating their golden wedding anniversary. Their domestic tranquility had long been the talk of the town. A local newspaper reporter was inquiring as to the secret of their long and happy marriage.
"Well, it dates back to our honeymoon," explained the husband. "We visited the Grand Canyon and took a trip down to the bottom of the canyon by pack mule.
"We hadn't gone too far when my wife's mule stumbled.
My wife quietly said 'That's once.'
We proceeded a little farther when the mule stumbled again. Once more my wife quietly said, 'That's twice.'
We hadn't gone a half-mile when the mule stumbled a third time. My wife, a redhead, promptly removed a revolver from her purse and shot the mule.
I started to protest over her treatment of the mule when she looked at me and quietly said, 'That's once'."
#joke
Tooth Pulling
A man and his wife entered a dentist's office.
The wife said, "I want a tooth pulled. I don't want gas or Novocain because I'm in a terrible hurry. Just pull the tooth as quickly as possible."
"You're a brave woman," said the dentist. "Now, show me which tooth it is."
The wife turns to her husband and says: "Open your mouth and show the dentist which tooth it is, dear."
#joke
Emergency Kit
Josh was helping Sally, the blonde, clean out the trunk of her car. Inside, he noticed a bag labeled "Emergency Repair Kit". Looking at it a little closer, he noticed a stick of dynamite inside.
Thinking that was a bit strange, he asked Sally what it was for.
She said, "It's part of my emergency repair kit."
Josh said, "I can see that, but why?"
Sally replied, "In case I have a flat and need to blow up one of my tires."
This Tells Me That I Must Be Drunk
A man walks into a bar and orders one shot. Then he looks into his shirt pocket and orders another shot. After he finishes, he looks into his shirt pocket again and orders another shot. The bartender is curious and askes him "every time you order a shot, you look in your shirt pocket. Why?" The man replies, "I have a picture of my wife in my pocket and when she starts to look good, I go home."
#joke #walksintoabar