Have a great time for
Christmas
, check out our latest
Christmas jokes of 2021
on:
Christmas jokes collection
The Pharmacist
A man walks into a pharmacy, buys a condom, then walks out of the store laughing hysterically. The pharmacist thinks this is weird, but, hey, there's no law preventing weird people from buying condoms. Maybe it's a good thing.
The next day, the man comes back to the store, purchases another condom, and once again he leaves the store laughing wildly. This piques the interest of the pharmacist. What's so funny about buying a rubber, anyway?
So he tells his clerk, "If this guy ever comes back, I want you to follow him to see where he goes."
Sure enough, the next day the laugher is back. He buys the condom, starts cracking up, then leaves. The pharmacist tells his clerk to go follow the guy.
About an hour later, the clerk comes back to the store. "Did you follow him? Where did he go?" asks the pharmacist.
The clerk replies "Your house."
#joke
The balding farmer had no r...
The balding farmer had no hairable land.
Funny video of the day - Funny video of the day Monday, 20 September 2010
Little Emily was complaining t...
Little Emily was complaining to her mother that her stomach hurt. Her mother replied, "That's because it's empty. Maybe you should try putting something in it." The next day, the pastor was over at Emily's family's house for lunch. He mentioned having his head hurt, to which Emily immediately replied, "That's because it's empty. Maybe you should try putting something in it."
#joke
A window salesman phoned a bee...
A window salesman phoned a beekeeper.
"Hello, Mr. Brown," said the sales rep. "I'm calling because our company replaced all the windows in your honey-house with our triple-glazed weather-tight windows over a year ago, and you still haven't sent us a single payment. I know bekeepers haven't much money, but we really need to be paid."
Mr. Brown replied, "But you said they'd pay for THEMSELVES in 12 months."
#joke
Prison vs. Work
IN PRISON...you spend the majority of your time in an 8x10 cell.
AT WORK...you spend most of your time in a 6x8 cubicle.
IN PRISON...you get three meals a day.
AT WORK...you only get a break for one meal and you have to pay for it.
IN PRISON...you get time off for good behavior.
AT WORK...you get rewarded for good behavior with more work.
IN PRISON...a guard locks and unlocks all the doors for you.
AT WORK...you must carry around a security card and unlock and open all the doors yourself.
IN PRISON...you can watch TV and play games.
AT WORK...you get fired for watching TV and playing games.
IN PRISON...you get your own toilet.
AT WORK...you have to share.
IN PRISON...they allow your family and friends to visit.
AT WORK...you cannot even speak to your family and friends.
IN PRISON...all expenses are paid by taxpayers with no work required.
AT WORK...you get to pay all the expenses to go to work and then they deduct taxes from your salary to pay for prisoners.
IN PRISON...you spend most of your life looking through bars from the inside wanting to get out.
AT WORK...you spend most of your time wanting to get out and go inside bars.
IN PRISON...there are wardens who are often sadistic.
AT WORK...they are called managers.
#joke
Answering Machine Message 36
Start, low pitch, slow: Hhhhheeelllllloooooo thheeeerrrrrrre evvvvveerrrryyyboooodyyyy... Middle, normal: ...home of Veronica, Jaw-Chyi, Mark, and Mike. Nobody's home... Later, high pitch, fast: ...liketoleaveamessageafterthetonethen... End, incomprehensible chipmunk gibberish: ...kkfjdkeirucjkljfklreudjfkleqBEEP
#joke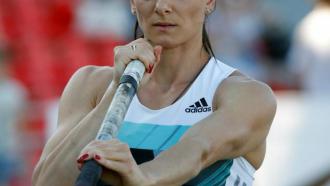 Can you name the athletes by the picture?
Can you name the athletes by the picture?
Sex position
What sexual position do you use to have an ugly baby?
Ask your parents.
Submitted by Curtis
Edited by Glaci
Anthony Jeselnik: Gift for Who?
A couple of months ago, I gave my girlfriend some fancy lingerie, and she actually got mad at me. She said, Anthony, I think this is more of a gift for you than it is for me. And I said, If you want to get technical, it was originally a gift for my last girlfriend.
A magician was working on a cr...
A magician was working on a cruise ship in the Caribbean. The audience would be different each week, so the magician allowed himself to do the same tricks over and over again. There was only one problem: The captain's parrot saw the shows every week and began to understand what the magician does in every trick.
Once he understood that, he started shouting in the middle of the show: Look, it's not the same hat. Look, he is hiding the flowers under the table! Hey, why are all the cards the Ace of Spades?
The magician was furious but couldn't do anything, it was the captain's parrot after all. One day the ship had an accident and sunk. The magician found himself on a piece of wood, in the middle of the ocean, with the parrot of course. They stared at each other with hate, but did not utter a word. This went on for a day, and another, and another.
After a week the parrot finally said: OK. I give up. What'd you do with the boat ?
#joke
A lawyer died and arrived at t...
A lawyer died and arrived at the pearly gates. To his dismay, there were thousands of people ahead of him in line to see St. Peter. To his surprise, St. Peter left his desk at the gate and came down the long line to where the lawyer was, and greeted him warmly.
Then St. Peter and one of his assistants took the lawyer by the hands and guided him up to the front of the line, and into a comfortable chair by his desk.
The lawyer said, "I don't mind all this attention, but what makes me so special?"
St. Peter replied, "Well, I've added up all the hours for which you billed your clients, and by my calculation you must be about 193 years old!"
Bloopers from Sunday School Students
The greatest miracle in the Bible is when Joshua told his son to stand still and he obeyed him.

Solomon, one of David's sons, has 300 wives and 700 porcupines.

Jesus enunciated the Golden Rule, which says to do one to others before they do one to you. He also explained, "Man doth not live by sweat alone."

It was a miracle when Jesus rose from the dead and managed to get the tombstone off the entrance.

#joke
Dark
Two Rednecks were sitting at the rural area bar, lamenting their lack of a sex life.
One looks out the window, and across the road is a sheep stuck half way through a fence, with its butt facing the tavern.
One drunk says, "I sure wish that sheep was Marilyn Monroe."
The other says, "I just wish it were dark."
Submitted by Calamjo
Edited by Yisman
#joke
Mouse Droppings
An eagle swoops down from the sky and eats a mouse. Three hours later, while the eagle is flying, the mouse sticks its head out of the eagles butt and asks, How high up are we?
About 2,000 feet, the eagle replies.
The mouse replies, You aint sh*ttin me, are you?
The Aging Explorer
A young reporter went to a retirement home to interview an aged but legendary explorer. The reporter asked the old man to tell him the most frightening experience he had ever had.
The old explorer said, "Once I was hunting Bengal tigers in the jungles of India. I was on a narrow path and my faithful native gunbearer was behind me. Suddenly the largest tiger I have ever seen leaped onto the path in front of us. I turned to get my weapon only to find the native had fled. The tiger leapt toward me with a mighty ROARRRR! I soiled myself."
The reporter said, "Under those circumstances anyone would have done the same."
The old explorer said, "No, not then - just now when I went ROARRRR!"
#joke
Vanity Insanity...
The girl knelt in the confessional and said, "Bless me, Father, for I have sinned."
"What is it, child?"
"Father, I have committed the sin of vanity. Twice a day I gaze at myself in the mirror and tell myself how beautiful I am."
The priest turned, took a good look at the girl, and said, "My dear, I have good news. That isn't a sin - it's only a mistake."
#joke
The Church Gossip
Mildred, the church gossip, and self-appointed monitor of church morals, kept sticking her nose into other people's business. Some members did not approve of her extracurricular activities, but feared her enough to maintain their silence.
She made a mistake, however, when she accused Henry, a new member, of being an alcoholic after she saw his old pickup parked in front of the town's only bar one afternoon. She emphatically told Henry and everyone about what he was doing.
Henry, a man of few words, stared at her and walked away. He said nothing. Later that evening, Henry quietly parked his pickup in front of Mildred's house and walked home. He left his truck in front all night...
- Joke shared by Beliefnet member socaliflady
#joke