Robert Kelly: Naked With Socks
I sleep fully naked with socks. I think its sexy as hell. I dont know why shes complaining. Im talking tube socks from 1978 -- they come up to my knees; I look like Olivia Newton John in the Lets Get Physical video -- thats how hot Im talking. But she gets mad: But I want to be naked. Why cant we both be naked, so we can feel each other? The thing you need to feel doesnt have a sock, honey.
#joke
Dear Pun Gents...
Dear Pun Gents, we'd like to recognize staff members who help keep our website up-to-date and accurate and would like a clever name for such an award. ~Julie, Richmond, VA (long-time fan)
Funny video of the day - Funny video of the day Sunday, 26 September 2010
A couple is dressed and ready ...
A couple is dressed and ready to go out for the evening. They phone for a cab, turn on a night light, cover their pet parakeet and put the cat out in the back yard.
The taxi arrives, and they open the front door to leave. Suddenly the cat they put out scoots back into the house. They don't want the cat shut in there because she always tries to eat the bird. The wife goes out to the taxi while the husband goes back in. The cat runs upstairs, with the man in hot pursuit.
The wife doesn't want the driver to know the house will be empty. She explains to the taxi driver that her husband will be out soon. "He's just going upstairs to say goodbye to my mother."
A few minutes later the husband gets into the cab.
"Sorry I took so long," he says, as they drive away. "Stupid hag was hiding under the bed. Had to poke her with a coat hanger to get her to come out! Then I had to wrap her in a blanket to keep her from scratching me. But it worked. I hauled her fat butt downstairs and threw her out into the back yard!
The cab driver hit a parked car.
#joke
Golf Balls
A man entered the bus with both of his front pockets full of golf balls and sat down next to a beautiful (you guessed it) blonde.
The puzzled blonde kept looking at him and his bulging pockets.
Finally, after many such glances from her, he said, "It's golf balls".
Nevertheless, the blonde continued to look at him thoughtfully and finally, not being able to contain her curiosity any longer, asked, "Does it hurt as much as tennis elbow?"
A Letter Addressed to God
A letter written in a childish scrawl came to the post office addressed to "God". A postal employee, not knowing exactly what to do with the letter, opened it and read: "Dear God, my name is Jimmy. I am 6 years old. My father is dead and my Mom is having a hard time raising me and my sister. Would you please send us $500?" The postal employee was touched. He showed the letter to his fellow workers and all decided to kick in a few dollars each and send it to the family. They were able to raise $300.A couple of weeks later the same post office received a second letter addressed to God. The boy thanked God for the recent infusion of cash, but ended with this request: "Next time would you send the money directly to us? If you send it through the post office they deduct $200."
#joke
One night Little Johnny goes t...
One night Little Johnny goes to the bathroom. As he is walking down the hall he looks into his parents bedroom and sees the blankets going up and down. He says "Daddy, What are you doing?"
Daddy replies, "Playing cards".
Johnny says, "Who's your partner?"
Daddy says, "Mommy".
So little Johnny goes on to the bathroom. On the way back to his room he looks into his sisters room and sees the blankets going up and down. He says to his sister, "Sis, what are you doing?"
She says, "Playing cards".
He says, "Who is your partner?"
She says "My boy friend".
So Little Johnny goes back to bed. Well his father is thinking about Little Johnny and him being up in the middle of the night, so he goes to check on him. When he enters Little Johnny's room he sees the blankets going up and down.
Dad asks Little Johnny, "What are you doing?"
Little Johnny says, "Playing cards".
Dad says "Who's your partner"?
Little Johnny says to his dad "You don't need a partner if you got a good hand"!
#joke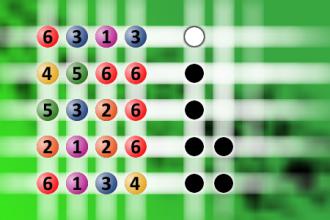 Find the right combination
The computer chose a secret code (sequence of 4 digits from 1 to 6). Your goal is to find that code. Black circles indicate the number of hits on the right spot. White circles indicate the number of hits on the wrong spot.
Go to school!
Mom was trying to get her son to get out of bed and get ready for school. "I am not going to school!" the son responded defiantly.
"Why not?" Mom wanted to know.
"Well, first of all I hate school and second of all ..the kid all hate me!!" was the answer.
"Son, that's not good reasons..you will have to get up and ready for school!" Mom replied.
"Well, give me two good reasons why I should," the son said.
"Well," Mom said quietly, "First of all you are 52 years old and second of all...You are the Principal."
#joke
One night, as a couple lay ...
One night, as a couple lay down for bed, the husband gently tapped his wife on the shoulder and started rubbing her arm. His wife turned over and said, "I'm sorry honey, I've got a gynecologist appointment tomorrow and I want to stay fresh." Her husband, rejected, turned over and tried to sleep. A few minutes later, he rolled back over and tapped his wife again. This time he whispered in her ear, "Do you have a dentist appointment tomorrow too?"
#joke
Attending a wedding for the fi...
Attending a wedding for the first time, a little girl whispered to her mother,
"Why is the bride dressed in white?"
"Because white is the color of happiness and today is the happiest day of her life,"
" her mother tried to explain, keeping it simple.
The child thought about this for a moment, then said,
"So, why's the groom wearing black?"
#joke
Bowlegged
Why are cowgirls always bowlegged?
Cowboys like to eat with their hats on.
Submitted by Calamjo
Edited by Curtis
Recalled Chrstimas Toys
Recalled Christmas Toys


Broken Bag-O-Glass


Dr. Kevorkian First Aid Kit


Jeffrey Domhers Easy Bake oven and cookbook


Timothy McVays home Chemistry set


Switchblade Barney


Pork-n-Beany Babies


Make your own moonshine kit


Mike Tyson Doll (with ear biting action)


Dad Will Never Say
Top Ten Things You'll Never Hear a Dad Say
10. Well, how 'bout that?... I'm lost! Looks like we'll have to stop and ask for directions.
9. You know Pumpkin, now that you're thirteen, you'll be ready for unchaperoned car dates. Won't that be fun?
8. I noticed that all your friends have a certain "up yours" attitude ... I like that.
7. Here's a credit card and the keys to my new car -- GO CRAZY.
6. What do you mean you wanna play football? Figure skating not good enough for you, son?
5. Your Mother and I are going away for the weekend ... you might want to consider throwing a party.
4. Well, I don't know what's wrong with your car. Probably one of those doo-hickey thingies -- you know -- that makes it run or something. Just have it towed to a mechanic and pay whatever he asks.
3. No son of mine is going to live under this roof without an earring -- now quit your belly-aching, and let's go to the mall.
2. Whaddya wanna go and get a job for? I make plenty of money for you to spend.
1. Father's Day? aahh -- don't worry about that -- it's no big deal.
#joke
A man comes home from an exhau...
A man comes home from an exhausting day at work, plops down on the couch in front of the television, and tells his wife, "Get me a beer before it starts." The wife sighs and gets him a beer.
Fifteen minutes later, the man says, "Get me another beer before it starts."
She looks cross, but fetches another beer and slams it down next to him.
He finishes that beer and a few minutes later says, "Quick, get me another beer, it's going to start any minute."
The wife is furious. She yells at him, "Is that all you're going to do tonight? Drink beer and sit in front of that TV? YouÂ're nothing but a lazy, drunken, fat slob, and furthermore..."
The man sighs and says, "ItÂ's started..."
Two guys were cruising downtow...
Two guys were cruising downtown, hoping to improve their sex life.

As they passed the mortuary, one elbows the other and says, "How 'bout stopping in for a cold one?"
How do you make a bandstand? How do you make a bandstand?

Take away their chairs


Blessing....
A woman invited some people to dinner. At the table, she turned to her six-year-old daughter and said, "Would you like to say the blessing?" "I wouldn't know what to say," the girl replied. "Just say what you hear Mommy say," the woman answered. The daughter bowed her head and said, "Lord, why on earth did I invite all these people to dinner?"
#joke