Happy Thanksgiving
Check out our latest
Thanksgiving jokes
and quotes on:
Thanksgiving jokes collection
Cowboys don't roll joint...
Cowboys don't roll joints. They tumble weed.
Bill, Jim, and Scott were at a...
Bill, Jim, and Scott were at a convention together and were sharing a large suite on the top of a 75-story skyscraper. After a long day of meetings they were shocked to hear that the elevators in their hotel were broken and they would have to climb 75 flights of stairs to get to their room. Bill said to Jim and Scott, let's break the monotony of this unpleasant task by concentrating on something interesting. I'll tell jokes for 25 flights, and Jim can sing songs for 25 flights, and Scott can tell sad stories the rest of the way. At the 26th floor Bill stopped telling jokes and Jim began to sing. At the 51st floor Jim stopped singing and Scott began to tell sad stories. "I will tell my saddest story first," he said. "I left the room key in the car!"
#joke
Funny video of the day - Funny video of the day Tuesday, 28 September 2010
Two Aliens Landed
Two aliens landed in the Arizona desert near a gas station that was closed for the night. They approached one of the gas pumps and the younger alien addressed it saying, "Greetings, Earthling. We come in peace. Take us to your leader."
The gas pump, of course, didn't respond.
The younger alien became angry at the lack of response. The older alien said, "I'd calm down if I were you."
The younger alien ignored the warning and repeated his greeting. Again, there was no response.
Annoyed by what he perceived to be the pump's haughty attitude, he drew his ray gun and said impatiently, "Greetings, Earthling. We come in peace. Do not ignore us this way! Take us to your leader or I will fire!"
The older alien again warned his comrade saying, "You probably don't want to do that! I really don't think you should make him mad."
" Rubbish," replied the cocky, young alien. He aimed his weapon at the pump and opened fire. There was a huge explosion. A massive fireball roared towards them and blew the younger alien off his feet and deposited him as a charred, smoking mess about 200 yards away in a cactus patch.
Half an hour passed. When he finally regained consciousness, he refocused his three eyes, straightened his bent antenna, and looked dazedly at the older, wiser alien who was standing over him shaking his big, green head.
"What a ferocious creature!" exclaimed the young, fried alien. "He damn near killed me! How did you know he was so dangerous?"
The older alien leaned over, placed a friendly feeler on his crispy friend and replied, "If there's one thing I've learned during my intergalactic travels, you don't want to mess with a guy who can loop his dick over his shoulder and then stick it in his ear."
#joke
Panicked father...
After the baby was born, the panicked Japanese father went to see the obstetrician.
"Doctor," he said, "I don't mind telling you, but I'm a little upset because my daughter has red hair. She can't possibly be mine."
"Nonsense," the doctor said. "Even though you and your wife both have black hair, one of your ancestors may have contributed red hair to the gene pool."
"It isn't possible," the man insisted. "We're pure Asian."
"Well," said the doctor, "let me ask you this. How often do you have sex?"
The man seemed ashamed. "I've been working very hard for the past year. We only made love once or twice a month."
"There you have it!" the doctor said confidently. "It's just rust."
Answering Machine Message 233

(Drunken voice:) You have reached Bob's hotline. We are not able to respond due to uninevitable circumcisions. But if you leave your name and noomber, we won't be in wonder... pa-a-a-a!


Bob Marley: Nacho Type
The minute they put the nachos on the table, everybody becomes an enemy because theres all different kinds of nachos. Do you ever see those naked ones around the perimeter? Then, theres that one big Powerball nacho that somehow is connected to all the other nachos on the plate -- its like the Kevin Bacon of nachos.
#joke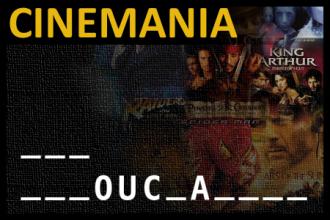 CINEMANIA: Guess the movie title
Film was made in 2011.
Great bar
Two guys wandered into a bar.
One of the men shouted to the barkeeper, "Hiya, Mike, set 'em up for me and my pal here."
Then he turned to his slightly dim partner and boasted, "This is a great bar. For every two drinks you buy, the house gives you one. And the pinball machines in the back are free!"
"That's not so great," responded the friend. "There's a bar across town that'll match you drink for drink, and you can get laid in the back for free."
"Where is this place?" the first guy exclaimed.
"Oh, I don't know," the dim fellow replied, "But my wife goes there all the time."
Submitted by Calamjo
Edited by Curtis
#joke
A Texan farmer goes to Austral...
A Texan farmer goes to Australia for a vacation.
There he meets an Aussie farmer and gets talking.
The Aussie shows off his big wheat field and the Texan says, "Oh! We have wheat fields that are at least twice as large."
Then they walk around the ranch a little, and the Aussie shows off his herd of cattle. The Texan immediately says, "We have longhorns that are at least twice as large as your cows."
The conversation has, meanwhile, almost died when the Texan sees a herd of kangaroos hopping through the field. He asks, "And what are those?"
The Aussie replies with an incredulous look, "Don't you have any grasshoppers in Texas?"
#joke
Customer: Do you have and cock...
Customer: Do you have and cockroaches?
Clerk: Yes we sell them to the fisherman.
Customer: I would like 20,000 of them.
Clerk: What would you want with 20,000 cockroaches?
Customer: IÂ'm moving tomorrow and my lease says I must leave my apartment in the condition in which I found it.
#joke
The Official Polish Sex Quiz The Official Polish Sex Quiz

Study each question carefully. Then, choose the answer that seems most correct ("T" for True or "F" for False) and mark an "X" (just like you sign your name) under the appropriate heading on the right side.

T F
1. A clitoris is a type of flower. _ _
2. Pubic hair is a wild rabbit. _ _
3. "Spread Eagle" is an extinct bird. _ _
4. Vagina is a medical term used to describe heart trouble. _ _
5. Menstrual cycle has three (3) wheels. _ _
6. A G-string is part of a violin. _ _
7. Semen is another word for "sailor". _ _
8. Anus is the Latin word for "yearly". _ _
9. Testicles are found on an octopus. _ _
10. Asphalt describes rectal troubles. _ _
11. Masturbate is used to catch large fish. _ _
12. KOTEX is a radio station in Bryan, Texas. _ _
13. Coitus is a musical instrument. _ _
14. Fetus is a character on "Gunsmoke". _ _
15. An umbilical cord is part of a parachute. _ _
16. A condom is an apartment complex. _ _
17. An organism is the person who accompanies the church choir. _ _
18. A diaphragm is a drawing in geometry. _ _
19. A dildo is a variety of sweet pickle. _ _
20. An erection is when the Japanese go to the voting booths. _ _
21. A lesbian is a person from the Middle East. _ _
22. Sodomy is a special kind of fast-growing grass. _ _
23. Pornography is the business of making record albums. _ _
24. Genitals are people of non-Jewish origins. _ _
25. Douche is the Italian word for "twelve". _ _
26. An enema is someone who is not your friend. _ _
27. Ovaries are a French egg dish made with cheese. _ _

#joke
Knock Knock Collection 046
Knock Knock
Who's there?
Dennis!
Dennis who?
Dennis says I need to have a tooth out!
Knock Knock
Who's there?
Denise!
Denise who?
Denise are above your ankles!
Knock Knock
Who's there?
Denver!
Denver who?
Denver the good old days!
Knock Knock
Who's there?
Desi!
Desi who?
Desi'gnated hitter!
Knock Knock
Who's there?
Desiree!
Desiree who?
Desiree a ray of sunshine in my life...!
#joke
A Recently Spotted Bumper Sticker:
"If going to church makes you a Christian, does going to the garage make you a car?"
Horse Fall
Q: What did the horse say when he fell?
A: Ive fallen and I cant giddy up!
The Perfect Sneeze...
The Perfect Sneeze...
A man and a woman were sitting beside each other in the plane.
The woman sneezed, took out a tissue, gently wiped her nose and then shuddered quite violently for 10 or 15 seconds. The man went back to his reading.
A few minutes later, the woman sneezed again, took a tissue, gently wiped her nose and shuddered quite violently as before. The man was becoming more and more curious about the shuddering.
A few more minutes passed and the woman sneezed one more time. Again she took a tissue, gently wiped her nose and shuddered violently.
The man couldn't restrain his curiosity. He turned to the woman and said, "You've sneezed three times, wiped your nose with a tissue, then shuddered violently! Are you all right?"
"I'm sorry if I disturbed you," the woman replied, "I have a rare condition; when I sneeze, I have an orgasm."
The man was a little embarrassed but even more curious and said, "I've never heard of that before. What are you taking for it?"
The woman looked at him and said, "Pepper."
#joke