Just a Weeeeeeee Bit
An extraordinarily handsome man decided he had the responsibility to marry the perfect woman so they could produce beautiful children beyond compare.
With that as his mission he began to search for the perfect woman.
Shortly there after he met a Redneck who had three stunning, gorgeous daughters that positively took his breath away. So he explained his mission to the Redneck and asked for permission to marry one of them.
The Redneck simply replied, "They're lookin' to get married, so you came to the right place. Look 'em over and pick the one you want."
The man dated the first daughter. The next day the Redneck asked for the man's opinion.
"Well," said the man, "she's just a weeeeee bit, not that you can hardly notice...pigeon-toed."
The Redneck nodded and suggested the man date one of the other girls; so the man went out with the second daughter.
The next day, the Redneck again asked how things went.
"Well,"the man replied, "she's just a weeeee bit, not that you can hardly tell..cross-eyed."
The Redneck nodded and suggested he date the third girl to see if things might be better. So he did.
The next morning the man rushed in exclaiming,
"She's perfect, just perfect. She's the one I want to marry."
So they were wed right away. Months later the baby was born. When the man visited the nursery he was horrified: the baby was the Ugliest, most pathetic human you can imagine. He rushed to his father-in-law and asked how such a thing could happen considering the beauty of the parents.
"Well," explained the Redneck...
"She was just a weeeee bit, not that you could hardly tell.... pregnant when you met her."
#joke
Our generation never got a bre...
Our generation never got a break. When we were young they taught us to respect our elders. Now that we are older, they tell us to listen to the youth of the country.
Funny video of the day - Funny video of the day Sunday, 03 October 2010
Better Than Pork
A priest and a rabbi found themselves sharing a compartment on a train. After a while, the priest opened a conversation by saying, "I know that in your religion you're not supposed to eat pork. Have you actually ever tasted it?"The rabbi said, "I must tell the truth. Yes, I have, on the odd occasion."
Then the Rabbi had his turn of interrogation. He asked, "Your religion, too... I know you're suposed to be celibate, but...?"
The priest replied, "Yes, I know what you're going to ask. I have succumbed once or twice."
There was silence for a while. Then the Rabbi peeped around the newspaper he was reading and said, "Better than pork, isn't it?"
#joke
A newcomer to the political sc...
A newcomer to the political scene was campaigning in Amish country for the office of assemblyman. Outside an Amish homestead, he saw a young man milking a cow. He approached the man, ready to make his pitch for a vote.
Just as he was getting started, an old man called from inside the house. "Luke, get in the house. And who is that guy you're talking to?"
"Says he's a politician, Pop," Luke said.
"In that case, you'd better bring the cow inside with you."
#joke
A Fishy Tale...
One day many years ago, a fisherman's wife blessed her husband with twin sons. They loved the children very much, but couldn't think of what to name their children. Finally, after several days, the fisherman said, "Let's not decide on names right now. If we wait a little while, the names will simply occur to us."
After several weeks had passed, the fisherman and his wife noticed a peculiar fact. When left alone, one of the boys would also turn towards the sea, while the other boy would face inland. It didn't matter which way the parents positioned the children, the same child always faced the same direction. "Let's call the boys Towards and Away," suggested the fisherman. His wife agreed, and from that point on, the boys were simply known as TOWARDS and AWAY.
The years passed and the lads grew tall and strong. The day came when the aging fisherman said to his sons, "Boys, it is time that learned how to make a living from the sea." They provisioned their ship, said their goodbyes, and set sail for a three month voyage.
The three months passed quickly for the fisherman's wife, yet the ship had not returned. Another three months passed, and still no ship.
Three whole years passed before the grieving woman saw a lone man walking towards her house. She recognized him as her husband. "My goodness! What has happened to my darling boys?" she cried.
The ragged fisherman began to tell his story:
"We were just barely one whole day out to see when Towards hooked into a great fish. Towards fought long and hard, but the fish was more than his equal. For a whole week they wrestled upon the waves without either of them letting up. Yet eventually the great fish started to win the battle, and Towards was pulled over the side of our ship. He was swallowed whole, and we never saw either of them again."
"Oh dear, that must have been terrible! What a huge fish that must of been! What a horrible fish. What a horrible fish."
"Yes, it was, but you should have seen the one that got Away...."
#joke
Knock Knock Collection 109
Knock Knock
Who's there?
Kendall!
Kendall who?
Kendall and Barbie go together!
Knock Knock
Who's there?
Kenneth!
Kenneth who?
Kenneth little kids play with you!
Knock Knock
Who's there?
Kent!
Kent who?
Kent you tell who it is?
Knock Knock
Who's there?
Kentucky!
Kentucky who?
Kentucky too well, have a sore throat!
Knock Knock
Who's there?
Kenya!
Kenya who?
Kenya guess who is it?
#joke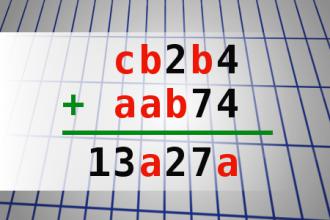 Find number abc
If cb2b4 + aab74 = 13a27a find number abc. Multiple solutions may exist.
Why you shouldn'
A man had called a local paint company and asked if they had anyone who could come over and do some painting that day. The company sent a blonde right over to do the job. The man meet the woman at the front door and asked her how much she would charge him to paint his porch. She stated that she would charge him 25$. He thought to himself "what a deal" since his porch was a long wrap around. The blonde also added that she would be done by the end of the day. The man thought to himself, "this is too good to be true!" and left for work for the day. When he arrived home he noticed that his porch didn't even have a drop of paint on it. He went around the back and shrieked in horror as he seen the blonde putting the last bit of green paint on his new firebird.
"what did you do to my firebird!" shrieked the man.
"....Firebird?"
questioned the blonde.
"...and all this time I thought it was the porsche"
Matt Goldich: School Assemblies
We had a lot of assemblies when I was growing up at my school, and they were all the same. Every assembly we had they would always bring in some former drug addict, and hed be like, Yeah, you know, I was addicted to drugs for 20 years, and I almost died, and thats why you shouldnt do drugs. And Id be like, Well, uh, you didnt die, and you got to do all those drugs!
#joke
One night, a man on his way...
One night, a man on his way home happened upon a drunk, down on his hands and knees searching for something under a street light. The man asked the drunk what he was looking for so diligently and the drunk said he had tripped and his Rolex wrist watch had broken loose from his wrist. The man, being a kindhearted soul, got down on his hands and knees and began assisting the drunk looking for his watch. After about ten minutes without any success, the man asked the drunk exactly where he tripped. "About a half a block up the street," the drunk said. "Why, pray tell," the man asked the drunk, "are you looking for your watch here if you lost it a half a block up the street?" The drunk replied, "The light is a lot better here."
#joke
Standing in front of a shredde...
Standing in front of a shredder with a piece of paper in his hand,
"Listen," said the CEO, "this is a very sensitive and important document,
and my secretary has left. Can you make this thing work?"
"Certainly," said the young executive.
He turned the machine on, inserted the paper, and pressed the start button.
"Excellent, excellent!" said the CEO as his paper disappeared inside the
shredder machine. "I just need one copy."
LESSON II: "NEVER, NEVER ASSUME THAT YOUR BOSS KNOWS EVERYTHING"
#joke
Blonde quickies 13
Q: What do you call 10 blondes standing ear to ear?
A: A wind tunnel.
Q: What do you call 15 blondes in a circle?
A: A dope ring.
Q: What do you call a blond with a bag of sugar on her head ?
A: Sweet Fuck All...
Q: What do you call 20 blondes in a freezer?
A: Frosted Flakes.
Q: What do you call a blonde skeleton in the closet?
A: Last year's hide-and-seek champ.
Q: What do you call a fly buzzing inside a blonde's head?
A: A Space Invader.
Q: What do you call a blonde in a tree with a brief case?
A: Branch Manager.
Q: What do you call a smart blond?
A: A labrador.
Q: How does a blonde interpret 6.9?
: A 69 interrupted by a period.
A Yogi Goes to the Dentist...
Did you hear about the Hindu yogi who was having a filling put in a tooth? When the dentist asked him if he wanted novocaine, the yogi said, "No. I can transcend dental medication."
What do you call a woman with ...
What do you call a woman with one leg shorter than the other?


Eileen

Sean Edwards, Leith

If you have a joke you would like to share with us e-mail: letters_en@edinburgh news.com



The full article contains 40 words and appears in Edinburgh Evening News newspaper.