The Bull and the Turkey
A turkey was chatting with a bull. "I would love to be able to get to the top of that tree," sighed the turkey. "But I just haven't got the energy."
"Well, why don't you nibble on some of my droppings?" replied the bull. "They're packed with nutrients."
The turkey pecked at a lump of dung and found that it actually gave him enough strength to reach the first branch of the tree. The next day, after eating some more dung, he reached the second branch. Finally after a week, there he was proudly perched at the top of the tree.
He was promptly spotted by a farmer, who shot the turkey out of the tree.
Moral of the story: Bull crap might get you to the top, but it won't keep you there.
#joke
If someone steals your bra, yo...
If someone steals your bra, you can put your case before adjust tits of the peace.
Funny video of the day - Funny video of the day Tuesday, 12 October 2010
Things learned from TV:
...
Things learned from TV:
All crimes are solved in 1 hour.
The Good guy always wins.
When you're trapped, you always find a way out.
A trip from Los Angeles to China takes 5 seconds.
All women still have makeup on when they wake up in the morning.
When you're a hero, you will never get burnt in a fire.
#joke
Thought You golfers might want...
Thought You golfers might want to 'brush up' on the rules
1. Each player shall furnish his own equipment for play, normally one club and two balls.
2. Play on course must be approved by the owner of the hole.
3. Unlike outdoor golf, the object is to get the club in the hole and keep the balls out.
4. For most effective play, the club should have a firm shaft. Course owners are permitted to check shaft stiffness before play begins.
5. Course owners reserve the right to restrict club length to avoid damage to the hole.
6. Object of the game is to take as many strokes as necessary until the owner is satisfied play is complete. Failure to do so may result in being denied permission to play again.
7. It is considered bad form to begin playing the hole immediately upon arrival. Experienced players will normally take time to admire the entire course, paying special attention to well formed mounds and bunkers.
8. Players are cautioned not to mention other courses they have played or are currently playing to the owner of the course being played. Upset owners have been known to damage a players equipment for this reason.
9. Players are encouraged to have proper rain gear, just in case.
10. Players should not assume that the course is in shape to play at all times. Players may be embarrassed if they find the course temporarily under repair. Players are advised to be extremely tactful in this situation. More advanced players will find alternate means of play when this is the case.
11. Players should assume their match has been properly scheduled particularly when playing a new course for the 1st time. Previous players have been known to become irate if they discover someone else is playing what they considered a private course.
12. The owner of the course is responsible for the pruning of any bushes, which may reduce the visibility of the hole.
13. Players are strongly advised to get the owners permission before attempting to play the backside.
14. Slow play is encouraged, however, players should be prepared to proceed at a quicker pace at the owners request.
15. It is considered an outstanding performance, time permitting, to play the same hole several times in one match.
#joke
Lunch with the lawyers...
Two attorneys went into a diner and ordered two drinks. Then they produced sandwiches from their briefcases and started to eat. The owner became quite concerned and marched over and told them, "You can't eat your own sandwiches in here!"
The attorneys looked at each other, shrugged their shoulders and then exchanged sandwiches.
Worries About Mad Cow Disease
There were these two cows, chatting over the fence between their fields.
The first cow said, "I tell you, this mad-cow-disease is really pretty scary. They say it is spreading fast; I heard it hit some cows down on the Johnson Farm."
The other cow replies, "I ain't worried, it don't affect us ducks."
#joke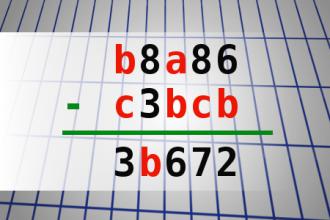 Find number abc
If b8a86 - c3bcb = 3b672 find number abc. Multiple solutions may exist.
The Preacher and the Microphone
The preacher was wired for sound with a lapel mike, and as
he preached, he moved briskly about the platform, jerking the
mike cord as he went. Then he moved to one side, getting
wound up in the cord and nearly tripping before jerking it
again.
After several circles and jerks, a little girl in the third
pew leaned toward her mother and whispered, "If he gets
loose, will he hurt us?"
#joke
Nick Swardson: Vanna White
I think that Vanna White got the best job ever. Is that not the best job? If I were a woman, I would want that job so bad. Like, thats her job! What a country -- she just turns letters. I turn letters, but only when they glow. Im not stupid.
Twins
A woman has twins, and gives them up for adoption. One of them goes to a family in Egypt and is named "Amal." The other goes to a family in Spain; they name him "Juan". Years later, Juan sends a picture of himself to his mum. Upon receiving the picture, she tells her husband that she wishes she also had a picture of Amal. Her husband responds, "But they are twins. If you've seen Juan, you've seen Amal."
#joke
A brunette who really hated bl...
A brunette who really hated blondes was walking through the desert when she came across a magic lamp. After rubbing the lamp the genie told her that she got three wishes with one catch: All the blondes in the world would get twice whatever she asked for. So the brunette thought a while and then wished for a million dollars.
'Every blonde in the world will get two million.' The brunette said that was fine and then she asked for an incredibly handsome man.
'Every blonde in the world will get two incredibly handsome men.'
The brunette said that was fine too and the genie granted her wishes. 'Now for your third wish.' said the genie.
'See that stick over there?', asked the brunette, 'I want you to beat me half to death with it.'
It was the kindergarten teache...
It was the kindergarten teachers birthday and the students decided that they would each buy their teacher a gift.
The first student, whose parents own a florist shop, gave her a present. She held it and said "I guess that it is flowers".
"How did you guess?" asked the little boy. She laughed and thanked him.
The second student, whose parents own a candy store, gave her a present. She held it and said, "I guess that is some candy."
"How did you guess?" asked the little boy. She again laughed and thanked him also.
The third student, whose parents own a bottle shop, gave her a box which was leaking. The teacher touched the liquid with her finger and tasted it. "Mmmmm is it wine?" she asked.
"No," said the little girl.
So she tasted it again. "Is it champaigne?" she asked.
"No," replied the little girl, "It is a puppy.
#joke
Repaying a Debt
The Hodja (teacher) was selling olives at the market and business was slow. He called to a woman who was passing by and tried to entice her.
She shook her head and told him she didn't have any money with her.
"No problem," the Hodja grinned. "You can pay me later."
She still looked hesitant, so he offered her one to taste.
"Oh no, I can't, I'm fasting," she responded.
"Fasting? But Ramadan was 6 months ago!"
"Yes, well, I missed a day and I'm making it up now. Go ahead and give me a kilo of the black olives."
"Forget it!" shouted the Hodja. "If it took you 6 months to pay back a debt you owed ALLAH, who knows when you'll get around to paying me!"
#joke
Who Is the Real Virgin?
A ten-year-old, under the tutelage of her grandmother, was becoming knowledgeable about the Bible.
But one day, she surprised her grandmother by asking, "Which virgin was the mother of Jesus? The Virgin Mary or the King James Virgin?"
Arthur is 90 years old. HeR...
Arthur is 90 years old. He's played golf every day since his retirement 25 years ago.
One day he arrives home looking downcast.
"That's it," he tells his wife. "I'm giving up golf. My eyesight has gotten so bad that once I've hit the ball, I can't see where it went."
His wife sympathizes and makes him a cup of tea. As they sit down, she says, "Why don't you take my brother with you and give it one more try."
"That's no good," sighs Arthur. "Your brother's a hundred and three. He can't help."
"He may be a hundred and three," says the wife, "but his eyesight is perfect."
So the next day, Arthur heads off to the golf course with his brother-in-law. He tees up, takes an almighty swing, and squints down the fairway.
He turns to the brother-in-law. "Did you see the ball?"
"Of course I did!" replies the brother-in-law. "I have perfect eyesight."
"Where did it go?" asks Arthur.
"I don't remember."
#joke
A tightwad was looking for a g...
A tightwad was looking for a gift to give a friend. Everything was too expensive except for a glass vase that had been broken and he could purchase it for almost nothing. He asked the store to send it hoping his friend would think it had been broken in transit.
In due time he received a note: "thanks for the vase," it read. "It was so thoughtful
Of you to wrap each piece separately."
#joke
A husband reading the paper af...
A husband reading the paper after breakfast. He came across an article about a beautiful actress that was about to marry a football player who was known primarily for his lack of IQ and common knowledge.
He turned to his wife, with a look of question on his face. "I'll never understand why the biggest schmucks get the most attractive wives."
His wife replies, "Why thank you, dear!"
#joke
stopped by the police
John & Jessica were on their way home from the bar one night and John got pulled over by the police. The officer told John that he was stopped because his tail light was burned out. John said, "I'm very sorry officer, I didn't realize it was out, I'll get it fixed right away."
Just then Jessica said, "I knew this would happen when I told you two days ago to get that light fixed."
So the officer asked for John's license and after looking at it said, "Sir your license has expired."
And again John apologized and mentioned that he didn't realize that it had expired and would take care of it first thing in the morning.
Jessica said, "I told you a week ago that the state sent you a letter telling you that your license had expired."
Well by this time, John is a bit upset with his wife contradicting him in front of the officer, and he said in a rather loud voice, "Jessica, will you shut up!"
The officer then leaned over toward Jessica and asked. "Does your husband always talk to you like that?"
Jessica replied, "only when he's drunk."
#joke