How to promote Viagra in Musli...
How to promote Viagra in Muslim countries: "
I'll Lack Bar!"
Funny video of the day - Funny video of the day Monday, 08 November 2010
Knock Knock Collection 028
Knock Knock
Who's there?
Brewster!
Brewster who?
Brewsters can wake you up in the morning singing cock-a-doodle doo!
Knock Knock
Who's there?
Bridget!
Bridget who?
London Bridget, is falling down, falling down...!
Knock Knock
Who's there?
Brie!
Brie who?
Brie me my supper!
Knock Knock
Who's there?
Brigham!
Brigham who?
Drigham back my sunshine back to me...!
Knock Knock
Who's there?
Burns!
Burns who?
Durns me up!
#joke
Business one-liners 28
People who complain about the way the ball bounces usually dropped it.
People who love sausage and respect the law should never watch either of them being made.
People who think they know everything upset those of us who do.
People will accept your idea much more readily if you tell them Benjamin Franklin said it first.
People will believe anything if you whisper it.
People will buy anything that is one-to-a-customer.
People with narrow minds usually have broad tongues.
Perfection is achieved only on the point of collapse.
Performance is directly affected by the perversity of inanimate objects.
Perhaps your whole purpose in life is simply to serve as a warning to others.
#joke
Hari Kondabolu: Where Are You From?
Hes like, Hey, man, where are you from? So I told him, Im from Queens, New York. And then hes like, No, I mean where are you really from? Which, for those of you who dont know, thats code for, No, I mean, why arent you white?
Twins
At the police station, Bubba explained to the police officer why his cousins shot him.
"Well," Bubba began, "We wuz havin' a good time drinking, when my cousin Ray picked up his shotgun and said, 'Hey, der ya fellows wanna go hunting?'"
"And then what happened?" the officer interrupted.
"From what I remember," Bubba said, "I stood up and said, 'Sure, I'm game.'"
#joke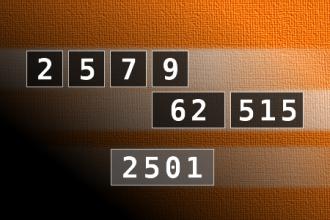 Calculate the number 2501
NUMBERMANIA: Calculate the number 2501 using numbers [2, 5, 7, 9, 62, 515] and basic arithmetic operations (+, -, *, /). Each of the numbers can be used only once.
Bill was 26 over par by the ei...
Bill was 26 over par by the eighth hole; he had landed a fleet of golf balls in the water hazard, and dug himself into a trench fighting his way out of the rough. When his caddy coughed during a 12-inch putt, Bill exploded.
"You've got to be the worst caddy in the world!" he screamed.
"I doubt it," replied the caddy. "That would be too much of a coincidence."
#joke
Church Bulletin Bloopers: Prayers and Illnesses
Due to the rector's illness, Wednesday's healing services will be discontinued until further notice.
Mrs. Johnson will be entering the hospital this week for testes.
On a church bulletin during the minister's illness: God Is Good--Dr. Hargreaves is better.
This Sunday morning following services we will have our monthly feelowship.
Said during a congregational prayer when leading prayer for unsaved loved ones: "Father, we just want to pray for our unloved saved ones."
Lift up our Messianic brothers and sisters in Israel who are suffering during our prayer time.
"I am the resurrection and the life. Whoever believes in me, even though he diets, yet shall be live."
On a church postcard: "I have received Jesus Christ as my Lord and Savior. I would like a personal call."
Church sign: "Jesus Saves!" Safeway sign across the street: "Safeway saves you more!"
- Joke shared on Beliefnet's Religious Humor page
#joke
The telephone rings in the pri...
The telephone rings in the principal's office at a school.
"Hello, this is Dunn Elementary," answers the principal.
"Hi. Jimmy won't be able to come to school all next week,"
replies the voice.
"Well, what seems to be the problem with him?"
"We are all going on a family vacation," says the voice. "I hope
it is alright."
"I guess that would be fine," says the principal. "May I ask who
is calling?"
"Sure. This is my father!"
#joke
A married couple went to the h...
A married couple went to the hospital together to have their baby delivered.
Upon their arrival, the doctor said he had invented a new machine that would transfer a portion of the mother's labor pain to the father of the baby. He asked if they were willing to try it out. They were both very much in favor of it.
The doctor set the knob to 10 percent for starters, explaining that even 10 percent was probably more pain than the father had ever experienced before. But as the labor progressed, the husband felt fine, so he asked the doctor to go ahead and bump it up a notch. The doctor then adjusted the machine to 20 percent pain transfer. The husband was still feeling fine.
The doctor checked the husband's blood pressure and pulse and was amazed at how well he was doing. At this, they decided to try for 50 percent.
The husband continued to feel quite well. Since it was obviously helping out his wife considerably, he encouraged the doctor to transfer ALL the pain to him.
The wife delivered a healthy baby with virtually no pain. She and her husband were ecstatic. When they got home, the mailman was dead on their porch.
What does the starship enterpr...
What does the starship enterprise and tiolet paper have in common?
They both circle around uranus and wipe out klingons.
This Pill Allows You To Fly
A man went into a bar in a high rise. He saw another man take a pill, take a drink, walk to the window and jump out. He flew around for a minute and zipped back into the bar.
As the amazed newcomer watched, the man repeated this twice more. Finally the man asked if he could have a pill. The flier said it was his last one. The man offered five hundred dollars to no avail, so he made a final offer of a thousand dollars. The man said that it was all he had on him.
The flier reluctantly gave in, took the cash, surrendered the pill, and turned back to the bar. The man took the pill, took a drink, went to the window, and jumped out only to fall to his death. The bartender walked over to the flier at the bar and, wiping a glass, said, "You sure are mean when you're drunk, Superman."
#joke
Pregnant Tree
How does a tree get pregnant?
By a woodpecker!
A lady walks into her doctors office ...
A lady walks into her doctors office screaming.
She yells, "Doctor, Doctor my breasts are hairy! What do I do?"
The doctor asks, "Well, how long does the hair grow?"
The lady replies, "From here to my penis, but that's a different story!"
Climbing olive
I don't know what my bartender is putting in his martinis but it's the only bar where I've seen an olive try to climb out of the glass.