Being a fast food worker is a ...
Being a fast food worker is a highly skillet trade.
A little girl asked her mother...
A little girl asked her mother, "Can I go outside and play with the boys?" Her mother replied, "No, you can't play with the boys, they're too rough." The little girl thought about it for a few moments and asked, "If I can find a smooth one, can I play with him?"
Funny video of the day - Funny video of the day Saturday, 13 November 2010
Travel Advisory
The Wisconsin State Dept of Fish and Wildlife is advising hikers, hunters, fishermen and golfers to take extra precautions and be on the alert for bears this summer.
They advise people to wear noise-producing devices such as little bells on their clothing to alert but not startle the bears unexpectedly.
They also advise you to carry pepper spray in case of an encounter with a bear.
People should be able to recognize the presence of bears in an area by their droppings:
Black bear droppings are smaller and contain berry residue and possibly squirrel fur.
Grizzly bear droppings have little bells in them and smell like pepper spray.
#joke
Getting Into Heaven
After a long illness, a woman died and arrived at the Gates of Heaven.
While she was waiting for Saint Peter to greet her, she peeked through the gates. She saw a beautiful banquet table. Sitting all around were her parents and all the other people she had loved and who had died before her.
They saw her and began calling greetings to her. "Hello!" "How are you? We've been waiting for you!" "Good to see you!"
When Saint Peter came by, the woman said to him, "This is such a wonderful place! How do I get in?"
"You have to spell a word," Saint Peter told her.
"Which word?" the woman asked."Love."
The woman correctly spelled love, and Saint Peter welcomed her into heaven.
About six months later, Saint Peter came to the woman and asked her to watch the Gates of Heaven for him that day.
While the woman was guarding the Gates of Heaven, her husband arrived.
"I'm surprised to see you," the woman said. "How have you been?"
"Oh, I've been doing pretty well since you died," her husband told her. "I married the beautiful young nurse who took care of you while you were ill. And then I won the lottery. I sold the little house you and I lived in and bought a big mansion. And my wife and I traveled all around the world. We were on vacation and I went water skiing today. I fell, the ski hit my head, and here I am. How do I get in?"
"You have to spell a word," the woman told him.
"Which word?" her husband asked.
"Czechoslovakia."
#joke
A cannibal invited a cannibal ...
A cannibal invited a cannibal friend over for supper one evening.

While enjoying the soup, the friend said, "Your wife sure makes a great soup!".

The host replied, "Yes, and I'm really going to miss her."
Bad Day of Golf
A man staggers into an emergency room with two black eyes and a five iron wrapped tightly around his throat. Naturally the doctor asks him what happened.
Well, it was like this, said the man. I was having a quiet round of golf with my wife, when she sliced her ball into a pasture of cows.
We went to look for it, and while I was rooting around I noticed one of the cows had something white at its rear end. I walked over and lifted up the tail, and sure enough, there was my wife's golf ball........stuck right in the middle of the cow's butt. That's when I made my mistake.
"What did you do?" asks the doctor.
Well, I lifted the tail and yelled to my wife, "Hey, this looks like yours!"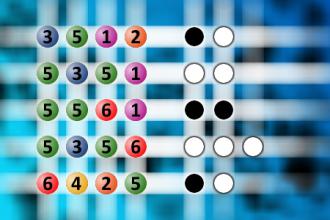 Which is a winning combination of digits?
The computer chose a secret code (sequence of 4 digits from 1 to 6). Your goal is to find that code. Black circles indicate the number of hits on the right spot. White circles indicate the number of hits on the wrong spot.
Deja moo
The unabashed dictionary defines 'deja moo' as the feeling you get when you've heard the same bullshit before.
Submitted by Curtis
Edited by Calamjo
Henry Phillips: Talking During Sex
There are certain things I think girls arent supposed to say in the middle of having sex. Like, I have no problem if youre having sex, at some point the girl says, Hey, I really like your penis or whatever. But she would always be like, Wow, I really like penises. I was like, Penises? Its not that hard to put the word your in there.
#joke
Twins
A woman has twins, and gives them up for adoption. One of them goes to a family in Egypt and is named "Amal." The other goes to a family in Spain; they name him "Juan". Years later, Juan sends a picture of himself to his mum. Upon receiving the picture, she tells her husband that she wishes she also had a picture of Amal. Her husband responds, "But they are twins. If you've seen Juan, you've seen Amal."
#joke
Traffic lights camera
A...
Traffic lights camera
A man was driving down the road. He passed a traffic camera and saw it flash.
Astounded that he had been caught speeding when he was under the speed limit, he turned around and, going even slower, he passed by the camera.
Again, he saw it flash. He couldn't believe it! So he turned and, going at snail's pace, he passed the camera.
AGAIN, he saw the camera flash. He guessed it must have a fault, and home he went.
Four weeks later he received 3 traffic fines in the mail, all for not wearing a seatbelt.
#joke
One day an engineer dies.He wa...
One day an engineer dies.He was kind that built lots of things, like air conditioners.When he went to heaven he met God. God says "Go to hell, you're not on my list."
So after going 30,255,391 stairs to hell, he lets the devil know who he is and so the devil says "Hey, come on in!"
In hell the engineer built airplanes, buildings, cars, etc. God sees this and says "Hey devil, you know that engineer guy. He needs to come back to heaven."
The devil says "Are you crazy, I'm not gonna let you have him." To which God says "If you dont let me have him, I'll sue."
Devil says "You can't sue! You dont even have lawyers up there!"
Knock Knock Collection 145
Knock Knock
Who's there?
Passion!
Passion who?
Passion through and I thought I'd say hello!
Knock Knock
Who's there?
Pasture!
Pasture who?
Pasture bedtime isn't it!
Knock Knock
Who's there?
Pat!
Pat who?
Pat yourself on the back!
Knock Knock
Who's there?
Paul!
Paul who?
Paul up a chair and I'll tell you!
Knock Knock
Who's there?
Paula!
Paula who?
Paula up the door handle will you and let me in!
#joke
A man goes into a pet shop and...
A man goes into a pet shop and tells the owner that he wants to buy a pet that can do everything. The shop owner suggests a faithful dog.
The man replies, "Come on, a dog?"
The owner says, "How about a cat?"
The man replies, "No way! A cat certainly can't do everything. I want a pet that can do everything!"
The shop owner thinks for a minute, then says, "I've got it! A centipede!"
The man says, "A centipede? I can't imagine a centipede doing everything, but okay... I'll try a centipede."
He gets the centipede home and says to the centipede, "Clean the kitchen."
Thirty minutes later, he walks into the kitchen and... it's immaculate! All the dishes and silverware have been washed, dried, and put away; the counter-tops cleaned; the appliances sparkling; the floor waxed. He's absolutely amazed.
He says to the centipede, "Go clean the living room."
Twenty minutes later, he walks into the living room. The carpet has been vacuumed; the furniture cleaned and dusted; the pillows on the sofa plumped; plants watered. The man thinks to himself, "This is the most amazing thing I've ever seen. This really is a pet that can do everything!"
Next he says to the centipede, "Run down to the corner and get me a newspaper."
The centipede walks out the door. 10 minutes later...no centipede. 20 minutes later... no centipede. 30 minutes later...no centipede. By this point the man is wondering what's going on. So he goes to the front door, opens it... and there's the centipede sitting right outside.
The man says, "Hey!! I sent you down to the corner store 45 minutes ago to get me a newspaper. What's the matter?!"
The centipede says, "I'm goin'! I'm goin'! I'm just putting on my shoes!"
#joke
Business one-liners 06
A stagnant science is at a standstill.
A theory is better than its explanation.
A transistor protected by a fast-acting fuse will protect the fuse by blowing first.
A well-adjusted person is one who makes the same mistake twice without getting nervous.
Ability is a good thing but stability is even better.
Ability is like a check, it has no value unless it is cashed.
Absolutum obsoletum. (If it works, it is out of date.) - Stafford Beer
According to my calculations, the problem doesn't exist.
According to the official figures, 43% of all statistics are totally worthless.
Adding manpower to a late software product makes it later.
People in Grass Houses
The king of a small African nation had an elegant golden throne in his large grass hut. When an old friend came to visit from another nation, he was worried that the man would discover he was a king and treat him differently. He searched frantically for a place to hide the throne, but to no avail. Finally, he decided to have it wedged up in the ceiling of his hut. When his friend arrived, he went to the huts opening to greet him. Just then the ceiling started to give way, and the golden throne fell on the king, killing him.
The moral of the story is this: People who live in grass houses should not stow thrones.
#joke
A Recently Spotted Bumper Sticker:
WWJD? I bet he'd use his turn signal!