An Antartican suddenly realize...
An Antartican suddenly realizes his house is on fire. He immediately dials 9-1-1.
The fireman answers, "Yes may I help you?"
The Antartican replies, "My house is on fire, come quick!!!"
The fireman asks, "How do we get there?"
The Antartican says, "Duh, big red truck!"
Mourning at a Grave Site
A man placed some flowers on the grave of his dearly departed mother and started back toward his car when his attention was diverted to another man kneeling at a grave.
The man seemed to be praying with profound intensity and kept repeating, "Why did you have to die? Why did you have to die?"
The first man approached him and said, "Sir, I don't wish to intrude on your private grief, but this demonstration of pain is more than I've ever seen before. For whom do you mourn so deeply? A child? A parent?"
The mourner took a moment to collect himself, then replied, "My wife's first husband."
#joke
Funny video of the day - Funny video of the day Wednesday, 01 December 2010
A fun quiz...
No cheating! Don't jump to the answer, just scroll down and answer each question one at a time...
Take this test mentally, don't write down your answers, and don't shout them out.
1. Pick a number from 2 to 9. It can be 2 or it can be 9, or any number in between.
2. Take that number that you've chosen, and multiply it by 9.
3. That should give you a two digit number. Take those two digits and add them together.
4. Take the resulting number and subtract 5 from it.
5. Take that number and correspond it to the alphabet, numbering the letters. A=1, B=2, C=3, and so on.
6. Take your letter, and think of a country that begins with that letter.
7. Take the last letter in the name of that country, and think of an animal.
8. Now, take the last letter in the name of that animal, and think of a color.
9. But always remember, that there are no orange kangaroos in Denmark!!
#joke
Answering Machine Message 23
Hello. You are talking to a machine. I am capable of receiving messages. My owners do not need siding, windows, or a hot tub, and their carpets are clean. They give to charity through the office and don't need their picture taken. If you're still with me, leave your name and number and they will get back to you.
#joke
Drink fault-finding guide
A solution to all of your drinking troubles
Symptom: Drinking fails to give satisfaction and taste; shirt front is wet.
Fault: Mouth not open or glass being applied to wrong part of face.
Solution: Buy another pint and practice in front of a mirror. Continue with as many pints as necessary until drinking technique is perfect.
Symptom: Drinking fails to give satisfaction and taste; beer unusually pale and clear.
Fault: Glass is empty.
Solution: Find someone who will buy you another pint.
Symptom: Feet cold and wet.
Fault: Glass being held at incorrect angle.
Solution: Turn glass so that open end is pointing at ceiling.
Symptom: Feet warm and wet.
Fault: Loss of self-control.
Solution: Go and stand beside nearest dog - After a while complain to its owner about its lack of house training.
Symptom: Bar blurred.
Fault: You are looking through the bottom of your empty glass.
Solution: Find someone who will buy you another pint.
Symptom: Bar swaying.
Fault: Air turbulence unusually high - maybe due to darts match in progress.
Solution: Insert broom handle down back of jacket.
Symptom: Bar moving.
Fault: You are being carried out.
Solution: Find out if you are being taken to another bar - if not complain loudly that you are being hi-jacked.
Symptom: The opposite wall is covered in ceiling tiles and has a fluorescent strip across it.
Fault: You have fallen over backwards.
Solution: If glass is still full, and no one is standing on your drinking arm, stay put. If not, get someone to lift you up and lash you to the bar.
Symptom: Everything has gone dim and you have a mouth full of teeth and dog-ends.
Fault: You have fallen over forwards.
Solution: Same as for falling over backwards.
Symptom: You have woken up to find your bed cold, hard and wet. You cannot see your bedroom walls or ceiling.
Fault: You have spent the night in the gutter.
Solution: Check your watch to see if its opening time - if not treat yourself to a lie in.
Symptom: Everything has gone dim.
Fault: The pub is closing.
Solution: Panic.
Chris Rock: Invading a Country with Oil
Let me get this straight. We invade a country with oil, but gas costs more? That dont make no f**king sense! Now I didnt go to no fancy school or nothing, but Ill tell you this right now -- if I invade Kentucky Fried Chicken, wings will be cheap at my house.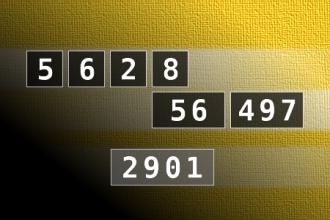 Calculate the number 2901
NUMBERMANIA: Calculate the number 2901 using numbers [5, 6, 2, 8, 56, 497] and basic arithmetic operations (+, -, *, /). Each of the numbers can be used only once.
During their vacation and whil...
During their vacation and while they were visiting Jerusalam, George's mother-in-law died.
With death certificates in hand, George went to the American Consulate Office to make arrangements to send the body back to the states for proper burial.
The Consul, after hearing of the death of the
mother-in-law told George that the sending of a body back to the states for burial is very, very expensive. It could cost as much as $5,000.00.
The Consul continues, in most cases the person responsible for the remains normally decides to bury the body here. This would only cost $150.00.
George thinks for some time and answers, "I don't care how much it will cost to send the body back; that's what I want to do."
The Consul, after hearing this, says, "You must have loved your mother-in-law very much consdering the difference in price."
"No, it's not that," says George. "You see, I know of a case years ago of a person that was buried here in Jerusalem. On the third day he arose from the dead !
I just can't take that chance.
#joke
Christmas Eve Accident
Three men die in a car accident Christmas Eve. They all find themselves at the pearly gates waiting to enter Heaven. On entering they must present something related to or associated with Christmas.
The first man searches his pockets and finds mistletoe, so he is allowed in.
The second man presents a candy cane, so he is also allowed in.The third man pulls out a pair of stockings.
Confused at this last gesture, St. Peter asks, "How do these represent Christmas?"
"They're Carol's."

A college student picked up hi...
A college student picked up his date at her parents home. He'd scraped together every cent he had to take her to a fancy restaurant. To his dismay, she ordered almost everything expensive on the menu. Appetizers, lobster, champagne. . .the works. Finally he asked her,
"Does your Mother feed you like this at home?"
"No," she said, "but my Mother's not looking to get laid, either."
#joke
After just a few years of marr...
After just a few years of marriage, filled with constant arguments, a young man and his wife decided the only way to save their marriage was to try counseling. They had been at each other's throat for some time and felt that this was their last straw. When they arrived at the counselor's office, the counselor jumped right in and opened the floor for discussion.
"What seems to be the problem?" Immediately, the husband held his long face down without anything to say. On the other hand, the wife began talking 90 miles an hour describing all the wrongs within their marriage.
After 5...10...15 minutes of listening to the wife, the counselor went over to her, picked her up by her shoulders, kissed her passionately for several minutes, and sat her back down. Afterwards, the wife sat there speechless.
He looked over at the husband who was staring in disbelief at what had happened. The counselor spoke to the husband, "Your wife NEEDS that at least twice a week!"
The husband scratched his head and replied, "I can have her here Tuesdays and Thursdays."
#joke
An old man was sitting on a be...
An old man was sitting on a bench in the mall when a young man with spiked hair came over and sat down beside him. The boy's hair was bright yellow and green with orange tips, and he had blue makeup around his eyes. The old man kept looking at him. The boy said, "What's the matter, old man, haven't you ever done anything wild in your life?"
The old man answered, "Well yes, actually, I have. I got drunk once and had sex with a parrot. I was just wondering if you were my son."
#joke
A manager brings a dog ...
A manager brings a dog into a nightclub to work.
The dog is a brilliant piano player.  He plays all the
standards.  He's sitting there, pounding out the tunes,
when all of a sudden, a big dog comes in and drags him
out.  The nightclub owner asks, "What happened?"
The manager says,
"That's his mother.  She wants him to be a doctor."
A man is like a fine wine....
He starts out raw as grapes, and it's a woman's job to stomp on him and keep him in the dark until he matures into something she'd like to have dinner with.
Private Audience With the Holy Mother
After a long life of unselfish service, Father John O'Malley died and went to heaven. St. Peter met him at the gate and said: "John, you did such a wonderful job for us on earth, we'd like to do something special for you. You name it; it's yours."
John thought for a moment and said: "I'd like a private audience with the Holy Mother." St. Peter told him it would be arranged.On the appointed day, St. Peter escorted John to the Holy Mother's sanctuary. John went before Her, knelt, and said: "Holy Mother, I've always looked to You for guidance, and You have granted me peace and serenity through some difficult times. But I have one question that has nagged me during my whole time on earth. In all the paintings that were done of you, and in all the sculptures that were carved of you, you always looked so sad. Why is that?"
Mary thought for a moment, pursing her lips. She said: "I always wanted a girl."
#joke
Brakes on
A trucker who had driven his fully loaded rig to the top of a steep hill and was just starting down the equally steep other side when he noticed a man and a woman lying in the center road, making love.
He blew his air horn several times as he was bearing down on them. Realizing that they were not about to get out of his way he slammed on his brakes and stopped just inches from them.
Getting out of the cab, madder than hell, the trucker walked to the front of the cab and looked down at the two, still in the road, and yelled, "What the hell's the matter with you two? Didn't you hear me blowing the horn? You could've been killed!"
The man on the highway, obviously satisfied and not too concerned, looked up and said, "Look, I was coming, she was coming, and you were coming. You were the only one with brakes."
#joke