Paul F. Tompkins: Airline Security Drawings
As Im standing there, I see they have a little sign with pictures of things you are not allowed to bring on the plane anymore. And they have, like, little drawings: circle, line through it, No! One of the things you cant bring on the plane anymore is a bomb -- no, no, they had a picture, cant do it. And it was the classic cartoon bomb, like the bowling ball with the little sparky whip coming out of it. And then you might think, Oh, I got a way around that. Uh-uh, not so fast -- they also had a picture of the bundle of dynamite with the clock.
#joke
So what if I wear jeans every ...
So what if I wear jeans every day. Don't denim grade me! Leave I alone.
Funny video of the day - Funny video of the day Wednesday, 08 December 2010
An Antartian woman came into a...
An Antartian woman came into a bar and asked the bartender for a drink. Then she started to yell, "Yeah!" "Yeah!" Then five more Antartians came in and started to do the same thing. Then three more Antartians came in and one of them had a Barney puzzle. The bartender asked one of them, "Why are you yelling 'yeah yeah!'?" Then one responded, "We did this puzzle in three hours and it says 2-3 years."
#joke
Boy Scout on the plane...
A doctor, a lawyer, a little boy scout and a pastor were out for a Sunday afternoon flight on a small private plane.
Suddenly, the plane developed engine trouble. In spite of the best efforts of the pilot, the plane started to go down.
Finally, the pilot grabbed a parachute, yelled to the passengers that they had better jump, and bailed out.
Unfortunately there were only three parachutes remaining.
The doctor grabbed one and said "I'm a doctor, I save lives, so I must live," and jumped out.
The lawyer then said "I'm the smartest man in the world, I deserve to live!" He grabbed a parachute and jumped, also.
The pastor looked at the little boy scout and said, "My son, I've lived a long and full life. You are young and have your whole life ahead of you. Take the last parachute and live in peace."
The little boy scout handed the parachute back to the pastor and said "Not to worry, Preacher. 'The smartest man in the world' just jumped out with my back pack."
Bird Jokes 02
Q: What do parrots eat?
A: Polyfilla!
Q: What do you give a sick bird?
A: Tweetment!
Q: What bird tastes just like butter?
A: A stork!
Q: What's another name for a clever duck?
A: A wise quacker!
Q: Which bird is always out of breath?
A: A puffin!
Q: What's got six legs and can fly long distances?
A: Three swallows!
Q: What is a duck's favorite TV show?
A: The feather forecast!
Q: What do you get if you cross a parrot with a shark?
A: A bird that will talk you ear off!
Q: What do you call a crate of ducks?
A: A box of quackers!
#joke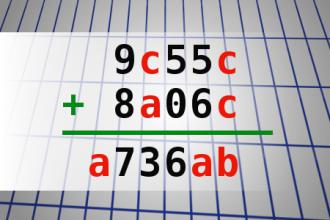 Find number abc
If 9c55c + 8a06c = a736ab find number abc. Multiple solutions may exist.
Twins
At the police station, Bubba explained to the police officer why his cousins shot him.
"Well," Bubba began, "We wuz havin' a good time drinking, when my cousin Ray picked up his shotgun and said, 'Hey, der ya fellows wanna go hunting?'"
"And then what happened?" the officer interrupted.
"From what I remember," Bubba said, "I stood up and said, 'Sure, I'm game.'"
#joke
Mother Superior called all the...
Mother Superior called all the nuns together and said to them,
"I must tell you all something. We have a case of gonorrhea in the
convent."

"Thank God," said an elderly nun at the back. "I'm so tired of
chardonnay."

It seems a farm boy accide...
It seems a farm boy accidentally overturned his wagon-load of corn. The farmer who lived nearby heard the noise. "Hey Wilmer!" the farmer yelled. "Forget your troubles. Come in and have a bite with us. Then I'll help you get the wagon up."
"That's mighty nice of you," Wilmer answered. "But I don't think Pa would like me to."
"Aw, come on." the farmer insisted.
"Well okay," the boy finally agreed, and added, "But Pa won't like it."
After a hearty dinner, Wilmer thanked his host. "I feel a lot better now, but I know Pa is going to be real upset."
"Don't be foolish!" the neighbor said with a smile. "By the way, where is your Pa?"
Wilmer replied, "Under the wagon."
#joke
The True Origin of the Internet
In ancient Israel, it came to pass that a trader by the name of Abraham Com did take unto himself a young wife by the name of Dot.
And Dot Com was a comely woman, broad of shoulder and long of leg. Indeed, she had been called 'Amazon Dot Com.'
And she said unto Abraham, her husband, "Why doth thou travel far from town to town with thy goods when thou can trade without ever leaving thy tent?"
And Abraham did look at her as though she were several saddle bags short of a camel load, but simply said, "How, dear?"And Dot replied, "I will place drums in all the towns and drums in between to send messages saying what you have for sale and they will reply telling you which hath the best price. And the sale can be made on the drums and delivery made by Uriah's Pony Stable (UPS)."
Abraham thought long and decided he would let Dot have her way with the drums. And the drums rang out and were an immediate success. Abraham sold all the goods he had at the top price, without ever moving from his tent.
But this success did arouse envy. A man named Maccabia did secrete himself inside Abraham's drum and was accused of insider trading. And the young man did take to Dot Com's trading as doth the greedy horsefly take to camel dung. They were called Nomadic Ecclesiastical Rich Dominican Siderites, or NERDS for short.
And lo, the land was so feverish with joy at the new riches and the deafening sound of drums that no one noticed that the real riches were going to the drum maker, one Brother William of Gates, who bought up every drum company in the land. And indeed did insist on making drums that would work only with Brother Gates' drumheads and drumsticks.
And Dot did say, "Oh, Abraham, what we have started is being taken over by others."
And as Abraham looked out over the Bay of Ezekiel, or as it came to be known "eBay" he said, "We need a name that reflects what we are."
And Dot replied, "Young Ambitious Hebrew Owner Operators."
"YAHOO," said Abraham.
And that is how it all began. It wasn't Al Gore after all.
#joke
A married couple were asleep w...
A married couple were asleep when the phone rang at 2 in the morning, thewife (undoubtedly blonde), picked up the phone, listened a moment andsaid, "How should I know, that's 200 miles from here?" and hung up.
The husband said, "Who was that?" The wife said, "I don't know, someyoung woman wanting to know 'if the coast is clear."
Email of the species
The email of the species is more deadly than the mail.
Try To Grow Chickens
A New York City yuppie moved to the country and bought a piece of land. He went to the local feed and livestock store and talked to the proprietor about how he was going to take up chicken farming. He then asked to buy 100 chicks.
"That's a lot of chicks," commented the proprietor. "I mean business," the city slicker replied.
A week later the yuppie was back again. "I need another 100 chicks," he said. "Boy, you are serious about this chicken farming," the man told him.
"Yeah," the yuppie replied. "If I can iron out a few problems." "Problems?" asked the proprietor. "Yeah," replied the yuppie, "I think I planted that last batch too close together."
#joke
An eccentric philosophy profes...
An eccentric philosophy professor gave a one question final exam after a semester dealing with a broad array of topics.
The class was already seated and ready to go when the professor picked up his chair, plopped it on his desk and wrote on the board: "Using everything we have learned this semester, prove that this chair does not exist."
Fingers flew, erasers erased, notebooks were filled in furious fashion. Some students wrote over 30 pages in one hour attempting to refute the existence of the chair. One member of the class however, was up and finished in less than a minute.
Weeks later when the grades were posted, the rest of the group wondered how he could have gotten an A when he had barely written anything at all. His answer consisted of two words: "What chair?"
#joke