Have a great time for
Christmas
, check out our latest
Christmas jokes of 2022
on:
Christmas jokes collection
Wherewolves a...
Wherewolves are endangered.
A man walks up to a cashier in...
A man walks up to a cashier in a grocery store. He says, "Hey, how much for these jalapeño peppers?" He pronounces it "jo-la-pen-o", not "ho-lo-peen-yo".
The cashier says, "Sir, that's not what those peppers are called."
The man replies, "Listen, buddy, this is America, and I can pronounce any word the way I please." The cashier responds, "That is as may be, sir, but those are green peppers."
#joke
Funny video of the day - Funny video of the day Tuesday, 14 December 2010
Southern Farmer
A southern farmer got in his pickup and drove several miles to a neighboring farm and knocked on the farmhouse door. A young boy, about 12, opened the door. "Is yer pa home?" he asked.
"No sir, he sure ain't," the boy replied. "He went to town."
"Well," said the farmer. "Is yer ma home?"
"No, she ain't here either. She went to town with pa." "Well, then, how about yer brother, Joe, is he here?" "No sir, he went with pa and ma."
The farmer stood there for a few minutes, shifting from one foot to the other, and mumbling to himself.
"Is there anything I kin do fer ya'?" inquired the young boy politely. "I know where all the tools are, if you want to borry one; Or maybe I could take a message fer pa."
Well," said the farmer uncomfortably, "I really wanted to talk to yer pa. It's about your brother Joe getting my daughter, Pearly Mae, pregnant."
The boy considered for a moment. "You would have to talk to pa about that," he finally conceded. "I know that pa charges $500 for the bull and $250 for the boar hog, but I really don't know how much he gets for Joe."
#joke
Heaven and Hell
A young woman came home and told her mom that her steady boyfriend had proposed, but she had turned him down because she found out he was an atheist, and didn't believe in Heaven or Hell. "Marry him anyway, honey. Between the two of us, we'll show him just how very wrong he is."
One day The Lord came to Adam ...
One day The Lord came to Adam to pass on some news. "I've got some good news and some bad news," The Lord said.
Adam looked at The Lord and said, "Well, give me the good news first."
Smiling, The Lord explained, "I've got two new organs for you. One is called a brain. It will allow you to create new things, solve problems, and have intelligent conversations with Eve. The other organ I have for you is called a penis. It will give you great physical pleasure and allow you to reproduce your now intelligent life form and populate this planet. Eve will be very happy that you now have this organ to give her children."
Adam, very excited, exclaimed, "These are great gifts you have given to me. What could possibly be bad news after such great tidings?"
The Lord looked upon Adam and said with great sorrow, "You will never be able to use these two gifts at the same time."
#joke
Did I say he was dead?
A 60-year-old man went to a doctor for a check-up. The doctor told him, "You're in terrific shape. There's nothing wrong with you. Why, you might live forever; you have the body of a 35-year-old. By the way, how old was your father when he died?"
The 60-year-old responded, "Did I say he was dead?"
The doctor was surprised and asked, "How old is he and is he very active?"
The 60-year-old responded, "Well, he is 82 years old and he still goes skiing three times a season and surfing three times a week during the summer."
The doctor couldn't believe it! So he said, "Well, how old was your grandfather when he died?"
The 60-year-old responded again, "Did I say he was dead?"
The doctor was astonished. He said, "You mean to tell me you are 60 years old and both your father and your grandfather are alive? Is your grandfather very active?"
The 60-year-old said, "He goes skiing at least once a season and surfing once a week during the summer. Not only that," said the patient, "my grandfather is 106 years old, and next week he is getting married again."
The doctor said, "At 106 years why on earth would your grandfather want to get married?"
His patient looked up at the doctor and said, "Did I say he wanted to?"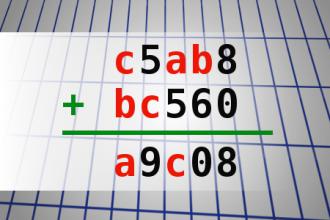 Find number abc
If c5ab8 + bc560 = a9c08 find number abc. Multiple solutions may exist.
Some Possible Computer Bumper Stickers
1. BREAKFAST.COM Halted...Cereal Port Not Responding
2. <-------- The information went data way
3. The name is Baud...James Baud.
4. BUFFERS=20 FILES=15 2nd down, 4th quarter, 5 yards to go!
5. Access denied--nah nah na nah nah!
6. C:V> Bad command or file name! Go stand in the corner.
7. Southern DOS: Y'all reckon? (Yep/Nope)
8. Backups? We don' *NEED* no steenking backups.
9. E Pluribus Modem
10. .... File not found. Should I fake it? (Y/N)
11. Ethernet (n): something used to catch the etherbunny
12. CONGRESS.SYS Corrupted: Re-boot Washington D.C (Y/N)?
13. 11th commandment - Covet not thy neighbor's Pentium.
14. Windows: Just another pane in the glass.
15. SENILE.COM found . . . Out Of Memory . . .
16. RAM disk is *not* an installation procedure.
17. Smash forehead on keyboard to continue...
18. COFFEE.EXE Missing - Insert Cup and Press Any Key
19. ASCII stupid question, get a stupid ANSI!
20. E-mail returned to sender -- insufficient voltage.
21. Error: Keyboard not attached. Press F1 to continue.
22. "640K ought to be enough for anybody." - Bill Gates, 1981
23. Press any key... no, no, no, NOT THAT ONE!
24. Press any key to continue or any other key to quit...
25. REALITY.SYS corrupted: Reboot universe? (Y/N/Q)
26. Error reading FAT record: Try the SKINNY one? (Y/N)
27. Hit any user to continue.
28. Disk Full - Press F1 to belch.
29. Backup not found: (A)bort (R)etry (P)anic
30. (A)bort, (R)etry, (G)et a beer?
Mopeds
What do fat women and mopeds have in common?
They're both fun to ride, but you don't want your friends to see either one.
A first-grade teacher was over...
A first-grade teacher was overseeing her students as they experimented with their desk computers. One boy sat staring at the screen, unsure how to get the computer going.
The teacher walked over and read what was on his screen. In her most reassuring voice, she said, "The computer wants to know what your name is," then she walked over to the next child.
The boy leaned toward the screen and whispered, "My name is David."
#joke
A young man wanted to get his ...
A young man wanted to get his beautiful blonde wife something nice for their first wedding anniversary. So he decides to buy her a cell phone. She is all excited, she loves her phone. He shows her and explains to her all the features on the phone.
The next day the blonde goes shopping. Her phone rings and it's her husband, "Hi hun," he says "how do you like your new phone?"
She replies "I just love, it's so small and your voice is clear as a bell but there's one thing I don't understand though."
"What's that, baby?" asks the husband.
"How did you know I was at Wal- Mart?"
It's wise to remember how easi...
It's wise to remember how easily this wonderful technology canbe misused, sometimes unintentionally, with serious consequences.
Consider the case of the Illinois man who left the snow-filledstreets of Chicago for a vacation in Florida. His wife was on abusiness trip and was planning to meet him there the next day.When he reached his hotel, he decided to send his wife aquicke-mail. Unable to find the scrap of paper on which he hadwritten her e-mail address, he did his best to type it in frommemory.
Unfortunately, he missed one letter, and his note was directedinstead to an elderly preacher's wife, whose husband had passedaway only the day before. When the grieving widow checked here-mail, she took one look at the monitor, let out a piercingscream, and fell to the floor in a dead faint.
At the sound, her family rushed into the room and saw this noteon the screen:
Dearest Wife,
Just got checked in. Everything prepared for your arrivaltomorrow.
PS. Sure is hot down here.
#joke
Pirate in a Bar
A man was sitting at a bar when he noticed a pirate walk in the front door. The pirate had a peg leg, a hook for one hand, and a patch over one eye. Feeling sorry for the pirate, the man said, "Come over here friend. You look like you've had a hard life and I'd like to buy you a drink." The pirate came over and ordered rum. "Just out of curiosity," the man said, "how did you lose your leg?"
"Arrrgh!" said the pirate, "I lost that timber to a tiger shark in the Caribbean when I was thrown overboard for stealing a man's rum."
"That's just terrible. How did you lose your hand?" the man said.
"Arrrgh!" said the pirate, "I lost that fighting cannibals off Madagascar under Admiral Hawk." "
Oh my!" the man said, "I can't even imagine! How did you lose your eye?"
"Arrrgh! A seagull pooped in it!" said the pirate.
"A seagull!" the man exclaimed. "Is seagull poop dangerous?!" he asked.
"Nay, matey, it was me first day with the hook..."
#joke
Family Disgraces
A young Chinese girl going on her 1st date. Her mother warned her...."1st he kisses your cheek; then he'll kiss your breasts, you'll enjoy; than he want to go on top. You must not allow it so as not to disgrace our family name" Next day girl told Mom, "Everything happen exactly as you predicted. I didn't allow him to go on top so I went on top and disgraced his family"
#joke
BUT GOD.............!
A middle aged woman has a heart attack and is taken to the hospital. While on the operating table she has a near death experience. During that experience she sees God and asks if this is it. God says no and explains that she has another 30-40 years to live.
Upon her recovery she decides to just stay in the hospital and have a face lift, liposuction, breast augmentation, tummy tuck, etc.. She even has someone come in and change her hair color. She figures since she's got another 30 or 40 years she might as well make the most of it. She walks out of the hospital after the last operation and is killed by an ambulance speeding up to the hospital.
She arrives in front of God and asks, "I thought you said I had another 30-40 years?"
God replies, "Sorry...I didn't recognize you."
#joke