Be rady for Thanksgiving
, check out our latest
Thanksgiving jokes of 2021
on:
Thanksgiving jokes collection
Little known fact: Chewbacca w...
Little known fact: Chewbacca was played in the movies by Bigfoot; he was a Yeti knight. (I read this on Wookiepedia.)
Funny video of the day - Funny video of the day Wednesday, 15 December 2010
Old Goat
The young couple invited their aged parson for Sunday dinner.
While they were in the kitchen preparing the meal, the minister asked their son what they were having.
"Goat," the little boy replied.
"Goat?" replied the startled man of the cloth, "Are you sure about that?"
"Yep," said the youngster. "I heard Pa say to Ma, 'Might as well have the old goat for dinner today as any other day.'"
#joke
The bad news...
Albert walks in to his doctor's office for his yearly physical exam as he has done the same time every year that the can remember. The doctor takes him through all of the motions, does the normal tests and then leaves to get the results. After about 15 minutes the doctor returns with a very sad look on his face.
"Well Doc, what kind of shape am I in this time?" , Albert asks.
"Albert, I don't know what to say. The news is bad. Really bad." says the doctor.
"What is it Doc?" asks Albert.
"I hate to have to give you such bad news. I can't find the words to tell you. I really don't know what to say."
Albert, being a strong man who appreciates straight talk, tells the doctor: "Ok, don't beat around the bush. Tell me what you know. I can take it".
"Well", says the doctor, "let me put it this way. I think that you should go to Arkansas and visit the hot springs there for a nice relaxing mud bath. Spend some time soaking in the mud."
"Oh, so I need to relax a little bit, eh? Will that cure me Doc?" asks Albert.
"No Albert, it won't cure you. And it won't help you relax. But it will help you get used to being covered in dirt."
5 shots
One day a guy walks in a bar and asks for five shots of whiskey.
The bartender asks why.
The guy says, "I found out my brother is gay."
The same guy, comes in the next day and asks for ten shots of whiskey.
The bartender asks why.
The guys says, "I found out my other brother is gay."
The next day, the same guy comes in and asks for fifteen shots of whiskey.
The bartender asks why.
The guy says, "I found out my other brother is gay."
The bartender says, "Doesn't anyone like pussy anymore?"
The guy says, "Yeah, my sister."
#joke
Deep Thoughts 10
The memories of my family outings are still a source of strength to me. I remember we'd all pile into the car - I forget what kind it was - and drive and drive. I'm not sure where we'd go, but I think there were some trees there. The smell of something was strong in the air as we played whatever sport we played. I remember a bigger, older guy we called "Dad." We'd eat some stuff, or not, and then I think we went home. I guess some things never leave you.
If a kid asks where rain comes from, I think a cute thing to tell him is "God is crying." And if he asks why God is crying, another cute thing to tell him is "probably because of something you did."
Contrary to what most people say, the most dangerous animal in the world is not the lion or the tiger or even the elephant. It's a shark riding on an elephant's back, just trampling and eating everything they see.
As we were driving, we saw a sign that said, "Watch for Rocks." Martha said it should read "Watch for Pretty Rocks." I told her she should write in her suggestion to the highway department, but she started saying it was a joke - just to get out of writing a simple letter! And I thought I was lazy!
One thing kids like is to be tricked. For instance, I was going to take my little nephew to Disneyland, but instead I drove him to an old burned-out warehouse. "Oh, no," I said, "Disneyland burned down." He cried and cried, but I think deep down he thought it was a pretty good joke. I started to drive over to the real Disneyland, but it was getting pretty late.
If you saw two guys named Hambone and Flipper, which one would you think liked dolphins the most? I'd say Flipper, wouldn't you? You'd be wrong, though. It's Hambone.
I wish a robot would get elected president. That way, when he came to town, we could all take a shot at him and not feel too bad.
As the evening sky faded from a salmon color to a sort of flint gray, I thought back to the salmon I caught that morning, and how gray he was, and how I named him Flint.
#joke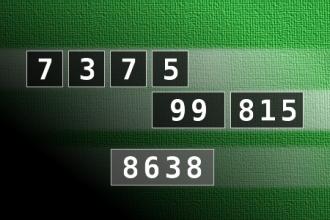 Calculate the number 8638
NUMBERMANIA: Calculate the number 8638 using numbers [7, 3, 7, 5, 99, 815] and basic arithmetic operations (+, -, *, /). Each of the numbers can be used only once.
A daughter sent a telegram to ...
A daughter sent a telegram to her father on passing her B.Ed exams, which the father received as "Father, your daughter has been successful in BED."
A magician was working on a cr...
A magician was working on a cruise ship in the Caribbean. The audience would be different each week, so the magician allowed himself to do the same tricks over and over again. There was only one problem: The captain's parrot saw the shows every week and began to understand what the magician does in every trick.
Once he understood that, he started shouting in the middle of the show: Look, it's not the same hat. Look, he is hiding the flowers under the table! Hey, why are all the cards the Ace of Spades?
The magician was furious but couldn't do anything, it was the captain's parrot after all. One day the ship had an accident and sunk. The magician found himself on a piece of wood, in the middle of the ocean, with the parrot of course. They stared at each other with hate, but did not utter a word. This went on for a day, and another, and another.
After a week the parrot finally said: OK. I give up. What'd you do with the boat ?
#joke
A farmer goes out one day and ...
A farmer goes out one day and buys a brand new stud rooster for his chicken coop. The new rooster struts over to the old rooster and says, "OK old fart, time for you to retire."
The old rooster replies, "Come on, surely you cannot handle ALL of these chickens. Look what it has done to me. Can't you just let me have the two old hens over in the corner?"
The young rooster says, "Beat it: You are washed up and I am taking over."
The old rooster says, "I tell you what, young stud. I will race you around the farmhouse. Whoever wins gets the exclusive domain over the entire chicken coop."
The young rooster laughs. "You know you don't stand a chance old man. So, just to be fair I will give you a head start."
The old rooster takes off running. About 15 seconds later the young rooster takes off running after him. They round the front porch of the farmhouse and the young rooster has closed the gap. He is already about 5 inches behind the old rooster and gaining fast.
The farmer, meanwhile, is sitting in his usual spot on the front porch when he sees the roosters running by. He grabs his shotgun and - BOOM
He blows the young rooster to bits. The farmer sadly shakes his head and says, "Dammit... third gay rooster I bought this month."
Moral of this story.... Don't mess with the OLD FARTS - age and treachery will always overcome youth and skill!
#joke
There was a blonde. She had nev...
There was a blonde. She had never been horseback riding and decided to try, even though she had no prior expierience. So the blonde gracefully mounted the horse. The horse started off at an easy gallop,the blonde thought she was doing quite well. When all of a sudden she began to slip! She tried to grasp the horses mane but it was too slick! So she decided to jump to safety....so she jumped, but her foot was caught in the sturrup! She was at the mercy of the horses feet, and right before she was knocked unconcious.... the manager of wal-mart walked out and turned the horse off
Two old drunks
Two old drunks were lapping them up at a bar.
The first one says, "Ya know, when I was 30 and got a hard-on, I couldn't bend it with both hands. By the time I was 40, I could bend it about 10 degrees if I tried really hard. By the time I was 50, I could bend it about 20 degrees, no problem. I'm gonna be 60 next week, and now I can almost bend it in half with just one hand."
"So", says the second drunk, "What's yer point?"
"Well", says the first, "I'm just wondering how much stronger I'm gonna get!"
#joke
Picture menu....
I stopped at the local Burger King for a cold drink and was reading the menu over the counter. I noticed a sign to the side that stated "Picture Menu Available".
I had to ask the clerk what it was for and they told me that they had a number of customers who couldn't read and they used that.
Of course I asked how they would know this picture menu was available and the answer was the classic, "Well, it says so on the sign, doesn't it?"
#joke
Upon retiring from the service...
Upon retiring from the service, my husband, Don, needed a new ID card showing he had gone from active duty to retirement status. But the photo taken of him was not particularly good. And he wasn't at all quiet about it.
"If I have to carry that ID around with me for the rest of my life," he complained to the photographer, "I want a better picture."
"Want a better picture?" asked the photographer defiantly.
"Then bring us a better face!"
#joke