Give him an orange
One day in Contract Law class, Professor Jepson asked one of his better students, "Now if you were to give someone an orange, how would you go about it?"
The student replied, "Here's an orange."
The professor was livid. "No! No! Think like a lawyer!" The student then recited, "Okay, I'd tell him, 'I hereby give and convey to you all and singular, my estate and interests, rights, claim, title, calim and advantages of and in, said orange, together with all its rind, juice, pulp, and seeds, and all rights and advantages with full power to bite, cut, freeze and otherwise eat, the same, or give the same away with and without the pulp, juice, rind and seeds, anything herein before or hereinafter or in any deed, or deeds, instruments of whatever nature or kind whatsoever to the contrary in anywise notwithstanding..."
Dear Pun Gents...
Dear Pun Gents, I need team name ideas for a charity walk for babies born prematurely (March of Dimes). We're walking in memory of my son Gabriel and in honor of others. Thank you! ~Audra, Allen, TX
Funny video of the day - Funny video of the day Friday, 17 December 2010
Visiting a genealogist, a man ...
Visiting a genealogist, a man asked how much it would cost to have his family tree traced. "It could cost thousands of dollars," said the woman. "I see. Well, isn't there an easier way? A less expensive way?" "Sure," she replied. "Run for president."
Drunk Arrest
A female officer arrests a drunk. She warns him, "You have the right to remain silent. Anything you say can and will be held against you."
The drunk replies, "Boobs."

An old woman was rocking away ...
An old woman was rocking away the last of her days on her front porch and reflecting on her long life, when, all of a sudden, a fairy godmother appeared and informed her that she would be granted 3 wishes!
"Well, now," said the old lady, "I've always wanted to be rich!" *POOF* Her rocking chair turned to solid gold.
"And, gee, I guess I wouldn't mind being a young, beautiful princess." *POOF* She turned into a beautiful young woman.
"And your third wish?" asked the fairy godmother. Just then the old woman's cat wandered across the porch.
"Ooooh! Can you turn him into a handsome prince?" She asked. *POOF* There stood a young man, more handsome then anyone could possibly imagine. She stared at him, smitten. With a smile that made her knees weak, he sauntered across the porch and leaned over close to her.
Then he whispered in her ear, "Bet you're sorry you had me neutered, aren't you?"
#joke
An amazing dog...
There was this ad posted on the office window of an accounting firm :
"HELP wanted. Must be able to type 70 words per minute. Computer literacy is required. Must be bilingual. EQUAL EMPLOYER."
So there was this dog ambling outside the office. It noticed the ad and shuffled into the office to apply for the position. The employer took one look at the dog, shook his head and said "But I can't hire a dog."
The dog pointed at the words EQUAL EMPLOYER on the ad. So the employer said, "OK, can you first type this document?" and gave the dog a letter. The dog typed everything correctly and neatly without a mistake at a rate of 70 words per minute.
Flustered, the employer then said, "Then, can you put these figures into spreadsheet and make a program to feed it into the mainframe, process it in the General Ledger Module and give me the Balance Sheets and Profit and Loss Statement?" and gave the dog some documents. The dog completed the spreadsheet, the program, the Balance Sheet and the P/L statement promptly & correctly.
The employer shook his head, pointed at the ad and said, "But are you bilingual?"
The dog said "Meow!"
#joke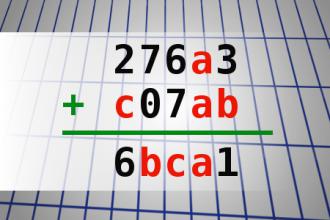 Find number abc
If 276a3 + c07ab = 6bca1 find number abc. Multiple solutions may exist.
Funny Computer Questions #joke #humor
A woman called the Hewlett-Packard (HP) help desk with a problem with her printer. The tech asked her if she was "running it under Windows." The woman responded, "No, my desk is next to the door. But that is a good point. The man sitting in the cubicle next to me is under a window, and his is working fine."
Tech Support: "How much free space do you have on your hard drive?"
Customer: "Well, my wife likes to get up there on that Internet, and she downloaded ten hours of free space. Is that enough?"
Overheard in a computer shop: Customer: "I'd like a mouse mat, please."
Salesperson: "Certainly sir, we've got a large variety."
Customer: "But will they be compatible with my computer?"
Customer: "Can you copy the Internet for me on this diskette?"
Customer: "So that'll get me connected to the Internet, right?"
Tech Support: "Yeah."
Customer: "And that's the latest version of the Internet, right?"
Tech Support: "Uhh…uh…uh…yeah."
Customer: "My computer crashed!"
Tech Support: "It crashed?"
Customer: "Yeah, it won't let me play my game."
Tech Support: "Alright, hit Control-Alt-Delete to reboot."
Customer: "No, it didn't crash — it crashed."
Tech Support: "Huh?"
Customer: "I crashed my game. That's what I said before. Now it doesn't work."
Turned out, the user was playing Lunar Lander and crashed his spaceship.
Tech Support: "Click on 'File,' then 'New Game.'"
Customer: [pause] "Wow! How'd you learn how to do that?"
#joke
A man wanted to celebrate his ...
A man wanted to celebrate his wife's Birthday by throwing a party. So he ordered a birthday cake. The salesman asked him what message he wanted put on the cake. He thought for a moment and said "put you are getting older but you! are getting better". The salesman asked "how do you want me to put it?" The man said 'Well...put "You are getting older" at the top and "but you are getting better" at the bottom.'
When the cake was unveiled at the party all the guests were agape at the message on the cake. It read: "You are getting older at the top, but you are getting better at the bottom
#joke
An old man goes to the Wizard ...
An old man goes to the Wizard to ask him if he can remove a "Curse" he has been living with for the last 40 years.
The Wizard says "maybe, but you will have to tell me the exact words that were used to put the curse on you."
The old man says without hesitation "'I now pronounce you man and wife'".
#joke
Mommy Mommy 11
Mommy, Mommy! I've lost my fingers!
Shut up and eat your french fries!
---
Mommy, Mommy! When will we have this nice yellow pudding again?
Shut up, you know that grandma's leg is no longer infested.
---
Mommy, Mommy! Why is my hair so slimy?
Shut up, you little snot.
---
Mommy, Mommy! I don't like Sister!
Shut up, and keep eating!
---
Mommy, Mommy! I'd like to play marbles now!
Keep quiet, you can't use Grandpa's glass eye today!
#joke
Clocks in Heaven
A man died and arrived at the Pearly Gates. St. Peter greets him and says, "Welcome. Come walk with me and I'll show you where you'll be staying."
As they're walking along the path he notices clocks on the Golden Fence of Heaven. He asks St. Peter, "What are all those clocks for?"
St. Peter replies, "They're clocks for every person in the world. They click once for each time you lie."
By the time they reach where the man is staying, he asks out of curiosity, "I didn't see any politicians' clocks. Where are they kept?"
St. Peter calmly replies, "People here use them as fans."
- Joke shared by Beliefnet member Jalus
#joke
There was a competition to cro...
There was a competition to cross the English channel doing only the breaststroke, and the three women who entered the race were a brunette, a redhead and a blonde.
After approximately 14 hours, the brunette staggered up on the shore and was declared the fastest. About 40 minutes later, the redhead crawled up on the shore and was declared the second place finisher.
Nearly 4 hours after that, the blonde finally came ashore and promptly collapsed in front of the worried onlookers.
When the reporters asked why it took her so long to complete the race, she replied, "I don't want to sound like I'm a sore loser, but I think those two other girls were using their arms..."
Sex Researcher
This sex researcher phones one of the participants in a recent survey of his to check on a discrepancy. He asks the bloke, "In response to the question on frequency of intercourse you answered 'twice weekly'. Your wife, on the other hand, answered 'several times a night'."
"That's right," replies the bloke, "And that's how it's going to stay until our second mortgage is paid off."
#joke
A Priest and a Rabbi Were on a Plane…
The priest replied, "Yes that is still very much a part of our faith."
The rabbi then asked him, "Father, have you ever fallen to the temptation of the flesh?"
The priest replied, "Yes, rabbi, on one occasion I was weak and broke with my faith."
The rabbi nodded understandingly for a moment and then said, "A lot better than pork, isn't it?"
#joke
You Know You're a Queen i...
You Know You're a Queen if...

If someone says "How 'bout them Bulls?" and what you think of are petite picadors in tight pants, then, Miss Thing you're a Queen.