Have a great time for
Christmas
, check out our latest
Christmas jokes of 2021
on:
Christmas jokes collection
Marriage quotes 05
Dear Mrs, Mr, Miss, or Mr and Mrs Daneeka: Words cannot express the deep personal grief I experienced when your husband, son, father or brother was killed, wounded, or reported missing in action. -- Catch-22
Diplomat: A man who can convince his wife she would look stout in a fur coat.
Don't marry for money; you can borrow it cheaper.
English Law prohibits a man from marrying his mother-in-law. This is our idea of useless legislation.
Feminists are OK, I just wouldn't want my sister to marry one.
He who knows nothing, knows nothing. But he who knows he knows nothing knows something. And he who knows someone whose friend's wife's brother knows nothing, he knows something. Or something like that.
Honolulu - it's got everything. Sand for the children, sun for the wife, sharks for the wife's mother. -- Ken Dodd
Husband: a man who buys his football tickets four months in advance and waits until December 24 to do his Christmas shopping.
I am in total control, but don't tell my wife.
Does Bono buy expensive-brand ...
Does Bono buy expensive-brand groceries?
Funny video of the day - Funny video of the day Sunday, 19 December 2010
Mr. Cikoch was a biology instr...
Mr. Cikoch was a biology instructor at a snobby suburban girl's junior college. During class one day he asked his student, "Miss Simison, would you please name the organ of the human body, which under the appropriate conditions, expands to six times its normal size, and define the conditions."
Miss Simison gasped, and then said, "Mr. Cikoch, I don't think that is a proper question to ask me. I assure you my parents will hear of this." With that she sat down red-faced.
Mr. Cikoch then called on Miss Hakar and asked the same question. Miss Hakar, with composure, replied, "The pupil of the eye, in dim light."
"Correct," said Mr. Cikoch. "And now, Miss Simison, I have three things to say to you. One, you have not studied your lesson. Two, you have a dirty mind. And three, you will some day be faced with a dreadful disappointment."
#joke
The vet...
There was once an aspiring veterinarian who put himself through veterinary school working nights as a taxidermist.
Upon graduation, he decided he could combine his two vocations to better serve the needs of his patients and their owners, while doubling his practice and, therefore, his income.
He opened his own offices with a shingle on the door saying, "Dr. Jones, Veterinary Medicine and Taxidermy -- Either way, you get your dog back!"
#joke
Humor About The Elderly

OLD BASKETBALL players never die, they just go on dribbling
OLD BEEKEEPERS never die, they just buzz off
OLD BIKERS never die, but they're hard on tires
OLD BIOLOGISTS never die, they just ferment away
OLD BLONDES never fade, they just dye away
OLD BOOKKEEPERS never die, they just lose their figures
OLD BOOKS never die, they just go out-of-print
OLD BOWLERS never die, they just end up in the gutter
OLD BRAKES never die, they just grind down
OLD BRIDGE PLAYERS never die, they just lose their finesse
OLD BRIDGE PLAYERS never die, they just sit around on their fat aces
OLD BUDGETS never die, they are fillibustered
OLD BUREAUCRATS never die, they just waste away
OLD BURGLARS never die, they just steal away
OLD BUSINESSES never die, they just get consolidated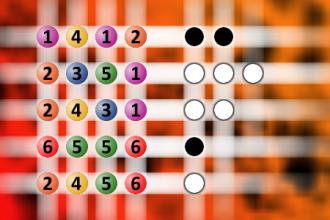 Which is a winning combination of digits?
The computer chose a secret code (sequence of 4 digits from 1 to 6). Your goal is to find that code. Black circles indicate the number of hits on the right spot. White circles indicate the number of hits on the wrong spot.
Aussies: Dislike being mistake...
Aussies: Dislike being mistaken for Pommies (Brits) when abroad.
Canadians: Are rather indignant about being mistaken for Americans when abroad.
A blonde was hard up for money...
A blonde was hard up for money, so she walked around her neighborhood, trying to find a job.
She met a nice man who said he would give her work. All she had to do was paint his porch white. He gave her a bucket of paint and left.
He walked into his house, laughing. He told his brunette wife what he had done. "Frank, our porch covers half of the house! You're so mean." his wife replied. Three hours later, the blonde went in the house, and gave the bucket of white paint back to the man.
The astonished man handed her a $100 bill, and asked how she finished it so quickly.
"It takes time, but it was easy." was her reply. "Oh, and it's a Ferrari, not a Porsche."
The Pious Man and the Atheist
A very religious man lived right next door to an atheist. While the religious one prayed day in, day out, and was constantly on his knees in communion with his Lord, the atheist never even looked twice at a church.
However, the atheist's life was good, he had a well-paying job and a beautiful wife, and his children were healthy and good-natured, whereas the pious man's job was strenuous and his wages were low, his wife was getting fatter every day and his kids wouldn't give him the time of the day.So one day, deep in prayer as usual, the pious man raised his eyes towards heaven and asked: "Oh God, I honor you every day, I ask your advice for every problem and confess to you my every sin. Yet my neighbor, who doesn't even believe in you and certainly never prays, seems blessed with every happiness, while I go poor and suffer many an indignity. Why is this?"
And a great voice was heard from above...
"BECAUSE HE DOESN'T BOTHER ME ALL THE TIME!"
#joke
Police officer pulled this ...
Police officer pulled this guy over for speeding and told him that his eyes were bloodshot, and asked him if he'd been drinking. The guy said "Your eyes are glazed, have you been eating donuts?"
A Hundred Dollar a Night
The agent for a beautiful actress discovered one day that she had been selling her body at a hundred dollars a night The agent, who had long lusted for her, hadn't dreamed that she had been so easily obtainable. He approached her, told her how much she turned him on and how much he wanted to make it with her.
She agreed to spend the night with him, but said he would have to pay her the same hundred dollars that the other customers did. He scratched his head, considered it, and then asked, "Don't I even get my agent's ten percent as a deduction?"
"No siree," she said. "If you want it, you're going to have to pay full price for it, just like the other Johns."
The agent didn't like that at all, but he agreed. That night, she came to his apartment after her performance at a local night club. The agent screwed her at midnight, after turning out all the lights.
At 1 A.M., she was awakened again. Again she was vigorously screwed. In a little while, she was awakened again, and again she was screwed. The actress was impressed with her lover's vitality.
"My God," she whispered in the dark, "you are virile. I never realized how lucky I was to have you for my agent."
"I'm not your agent, lady," a strange voice answered. "He's at the door taking tickets "
#joke
Just Checkup
A naked woman is bouncing on her bed singing. Her husband walks into the bedroom and sees her. He watches her a while then says, "You look ridiculous! What on earth do you think you're doing?"
She says, "I just got my checkup and my doctor says I have the breasts of an eighteen year old." She starts laughing and jumping again. He says, "Yeah, right. And what did he say about your 45-year-old ass?"
"Your name never came up, " she replied.
Your kid has been kidnapped
A blonde, out of money and down on her luck after buying air at a real bargain, needed money desperately. To raise cash, she decided to kidnap a child and hold him for ransom.
She went to the local playground, grabbed a kid randomly, took her behind a building, and told her, "I've kidnapped you."
She then wrote a big note saying, "I've kidnapped your kid. Tomorrow morning, put $10,000 in a paper bag and leave it under the apple tree next to the slides on the south side of the playground. Signed, A blonde."
The blonde then pinned the note to the kid's shirt and sent him home to show it to his parents. The next morning the blonde checked, and sure enough, a paper bag was sitting beneath the apple tree. The blonde looked in the bag and found the $10,000 with a note that said, "How could you do this to a fellow blonde?"