Happy New Year 2021!!
I packed nothing but a feather...
I packed nothing but a feather for my flight to the Czech Republic, figuring that would be most the Prague tickle thing.
By the time the soldier pulled...
By the time the soldier pulled into the little town, every hotel room was taken. "You've got to have a room somewhere", he pleaded with a proprietor. "Well, I do have a double room with one occupant, but he is an Air Force guy" admitted the manager, and he might be glad to split the cost. But to tell you the truth, he snores so loudly that people in adjoining rooms have complained in the past. I'm not sure it'd be worth it to you.
" No problem." the tired Army guy assured him, "I'll take it." The next morning the soldier came down to breakfasts bright-eyed and bushy tailed. "How'd you sleep?" asked the manager. "Never better", said the soldier. The manager was impressed. "No problem with the other guy snoring all night long?" "No, I shut him up in no time", explained the soldier.
"How'd you manage that?" asked the proprietor.
"Well, he was already in bed, snoring away, when I walked into the room, so I gave him a kiss on the cheek" explained the soldier. "Then, I whispered in his ear 'Good night beautiful', and he sat up all night watching me."
#joke
Funny video of the day - Funny video of the day Tuesday, 21 December 2010
Train Station
Three priests were in a train station on their way home to Pittsburgh. Behind the ticket counter was a very sexy, shapely, well endowed woman wearing a very tight sweater. She made the three priests very nervous so they drew straws to determine who would get the tickets. The first priest approached the window.. "Young lady, I would like three pickets to titsburg." He completely lost his composure and fled.
The second priest goes to the window. "Young lady, I would like three tickets to Pittsburgh and I would like the change in nipples and dimes." Mortified, he too fled.
The third priest moves to the window. "Young lady, I would like three tickets to Pittsburgh and I would like the change in nickels and dimes. And, I must say, if you insist on dressing like that, when you get to the pearly gates, St. Finger is going to shake his Peter at you.
#joke
Great truths about life that adults have learned...
1. Raising teenagers is like nailing JELLO to a tree.
2. There is always a lot to be thankful for if you take time to look for it. For example, I am sitting here thinking how nice it is that wrinkles don't hurt.
3. One reason to smile is that every seven minutes of every day, someone in an aerobics class pulls a hamstring.
4. The best way to keep kids at home is to make the home a pleasant atmosphere and let the air out of their tires.
5. Car sickness is the feeling you get when the monthly car payment is due.
6. Families are like fudge .. mostly sweet with a few nuts.
7. Laughing helps. It's like jogging on the inside.
8. My mind not only wanders, sometimes it leaves completely.
9. If you can remain calm, you just don't have all the facts.
10. You know you're getting old when you stoop to tie your shoes and wonder what else you can do while you're down there.
#joke
Spider Jokes 02
What is a spiders favorite TV show?
The newly web game!
What did the wife spider say to her husband when he tried to explain why he was late?
Your spinning me a yarn here!
What do you get if you cross a tarantula with a rose?
I'm not sure, but I wouldn't try smelling it!
Why are spiders like tops?
They are always spinning!
What do you call a 100 spiders on a tyre?
A spinning wheel!
What has 8 legs and likes living in trees?
Four anti road protesters?
What did the spider say when he broke his new web?
Darn it!
What do you call a big irish spider?
Paddy long legs!
What is red and dangerous?
Strawberry and tarantula jelly!
#joke
Pantyhose
Q: How many animals can you find in a pair of pantyhose?
A: 10 little piggies, 2 calves, 1 beaver, 1 ass and a fish
nobody can find.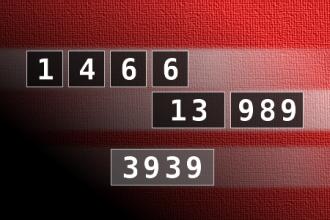 Calculate the number 3939
NUMBERMANIA: Calculate the number 3939 using numbers [1, 4, 6, 6, 13, 989] and basic arithmetic operations (+, -, *, /). Each of the numbers can be used only once.
The Sin
Two elderly, excited Southern women were sitting together in the front pew of a church listening to a fiery preacher.
When this preacher condemned the sin of stealing, these two ladies cried out at the tops of their lungs, "AMEN, BROTHER!" When the preacher condemned the sin of lust, they yelled again, "PREACH IT, REVEREND!"
And when the preacher condemned the sin of lying, they jumped to their feet and screamed, "RIGHT ON, BROTHER! TELL IT LIKE IT IS... AMEN!"
But when the preacher condemned the sin of gossip, the two got very quiet. One turned to the other and said, "He's quit preaching and now he's meddlin'."
#joke
Taylor was desperate for busin...
Taylor was desperate for business, and was happy to be appointed by the court to defend an indigent defendant. The judge ordered Taylor, "You are to confer with the defendant in the hallway, and give him the best legal advice you can."
After a time, Taylor re-entered the courtroom alone. When the judge asked where the defendant had gone, Taylor replied, "You asked me to give him good advice. I found out that he was guilty as hell, so I told him to split."
#joke
One night, as a couple lay ...
One night, as a couple lay down for bed, the husband gently tapped his wife on the shoulder and started rubbing her arm. His wife turned over and said, "I'm sorry honey, I've got a gynecologist appointment tomorrow and I want to stay fresh." Her husband, rejected, turned over and tried to sleep. A few minutes later, he rolled back over and tapped his wife again. This time he whispered in her ear, "Do you have a dentist appointment tomorrow too?"
#joke
"Dick Cheney gave an inte...
"Dick Cheney gave an interview to Fox News. I don't want to say Fox News was lenient, but the first question they asked was, 'Who do you like in American Idol?'" -- Jay Leno

A professor of chemistry wante...
A professor of chemistry wanted to teach his 5th grade class a lesson about the evils of liquor, so he produced an experiment that involved a glass of water, a glass of whiskey, and two worms. "Now, class. Observe closely the worms," said the professor putting a worm first into the water. The worm in the water writhed about, happy as a worm in water could be. The second worm, he put into the whiskey. It writhed painfully, and quickly sank to the bottom, dead as a doornail. "Now, what lesson can we derive from this experiment?" the professor asked.
Johnny, who naturally sits in back, raised his hand and wisely, responded, "Drink whiskey and you won't get worms."
#joke
Naming Your Child #joke
There was a woman who was pregnant with twins, and shortly before they were due, she had an accident and went into a coma. Her husband was away on business, and unable to be reached. While in the coma, she gave birth to her twins, and the only person around to name her children was her brother.
When the mother came out of her coma to find she had given birth and that her brother had named the twins, she became very worried, because he wasn't a very bright guy. She was sure he had named them something absurd or stupid.
When she saw her brother she asked him about the twins.
He said, "The first one was a girl."
The mother: "What did you name her?!?"
Brother: "Denise!"
The Mom: "Oh, wow, that's not bad! What about the second one?"
Brother: "The second one was a boy."
The Mom: "Oh, and what did you name him?"
Brother: "Denephew."
#joke
Letters from Little Boys to God
Dear God,
Why is Sunday School on Sunday? I thought it was supposed to be our day of rest.
Tom L.
Dear God,
I went to this wedding on Sunday and they kissed right in the church! Is that O.K.?
Neil
Dear God,
If you watch me in church on Sunday, I'll show you my new shoes.
Mickey D.
Dear God,
Please send me a pony. I never asked for anything before. You can look it up.
Bruce
Dear God,
If you give me a genie lamp like in Aladdin, I will give you anything you want, except my money or my chess set.
Raphael
Dear God,
Please put another holiday between Christmas and Easter. There is nothing good in there now.
Greg
Dear God,
Please send Dennis Clark to another camp this summer.
Peter
Dear God,
You don't have to worry about me. I look both ways.
Dean
Dear God,
Are you really invisible or is that just a trick?
Doug
Dear God,
I want to be just like my Daddy when I get big but not with so much hair.
Sam
Dear God,
I am American. What are you?
Robert
Dear God,
If you didn't let the dinosaur become extinct, we wouldn't have this country. You did the right thing.
Jonathan
Dear God,
Maybe Cain and Abel would not kill each other if they had their own rooms. It works with my brother.
Larry
Dear God,
I do not think anybody could be a better God. Well, I just want you to know that I am not saying that because you are God already.
Charles
Dear God,
I didn't think orange went with purple until I saw the sunset you made on Thursday. That was cool!
Eugene
- Joke shared on Beliefnet's Religious Humor page
The robbery
Two friends, Jim and Paul are in a bank, when, suddenly, armed robbers burst in.
While several of the robbers take the money from the tellers, others line the customers up against a wall and proceed to take their wallets, watches, etc.
While this is going on, Jim slips something into Paul's hand. Without looking down, Paul whispers, "What is this?"
Jim replies, "It's that $50 I owe you."
#joke