Q: What do you call a man who ...
Q: What do you call a man who just lost his brain?
A: Divorced.
Chicks
When I was 14, I hoped that one day I would have a girlfriend.
When I was 16 I got a girlfriend, but there was no passion, so I decided I needed a passionate girl with a zest for life.
In college I dated a passionate girl, but she was too emotional. Everything was an emergency; she was a drama queen, cried all the time and threatened suicide. So I decided I needed a girl with stability.
When I was 25 I found a very stable girl but she was boring. She was totally predictable and never got excited about anything. Life became so dull that I decided that I needed a girl with some excitement.
When I was 28 I found an exciting girl, but I couldn't keep up with her. She rushed from one thing to another, never settling on anything. She did mad impetuous things and made me miserable as often as happy. She was great fun initially and very energetic, but directionless. So I decided to find a girl with some real ambition.
When I turned 31, I found a smart ambitious girl with her feet planted firmly on the ground and married her. She was so ambitious that she divorced me and took everything I owned.
I am now older and wiser, and am looking for a girl with big tits.
#joke
Funny video of the day - Funny video of the day Thursday, 30 December 2010
Check your Dirty IQ!
Quest...
Check your Dirty IQ!
Questions:
1. When I go in I might cause pain. I cause you to spit and ask you not to swallow. I can fill your hole. What am I?
2. A finger goes in me. You fiddle with me when you're bored. The best man always has me first. What am I?
3. I'm spread before I'm eaten. Your tongue gets me off. People sometimes like to lick my nuts. What am I?
4. I go in hard. I come out soft. You blow me hard . What am I?
5. All day long it's in and out. I discharge loads from my shaft. Both men and women go down on me. What am I?
6. I come in many sizes. When I'm not well, I drip. When You blow me you feel good. What am I?
7. If I miss, I hit your bush. It's my job to stuff your box. When I come, it's news. What am I?
8. I offer protection. I get the finger ten times. You use your fingers to get me off. What am I?
9. I assist an erection. Sometimes big balls hang from me. I'm called a big swinger. What am I?
10. I'm at least 6 inches long. I leave foamy lubrication when engaged in my job. What am I?
Answers:
1. a dentist
2. a wedding ring
3. peanut butter
4.chewing gum
5. an elevator
6. a nose
7. a newspaper boy
8. a glove
9. a crane
10. a toothbrush, of course!
Now Really! Just what were you thinking?
#joke
Wayne Federman: Discriminating Carpool Lane
The carpool lane discriminates against the lonely. These peoples -- through no fault of their own -- dont have the social skills to make friends. OK, thats unfortunate, but what do we do as a society? We push them off to the right in this vehicular apartheid, while they sit isolated in their loser mobiles, forced to watch the popular people whiz by them.
#joke
A miracle for a drink...
A mangy-lookin' guy goes into a bar and orders a drink. The bartender says "No way. I don't think you can pay for it."
The guy says "You're right. I don't have any money, but if I show you something you haven't seen before, will you give me a drink?"
The bartender says "Only if what you show me ain't risque."
"Deal!" says the guy, as he reaches into his coat pocket and pulls out a hamster. He puts the hamster on the bar and it runs to the end of the bar, down a barstool, across the room, up the piano, jumps on the key board and starts playing Gershwin songs. And the hamster is really good.
The bartender says, "You're right. I've never seen anything like that before. That hamster is truly good on the piano." The guy downs the drink and asks the bartender for another.
"Money or another miracle else no drink," says the bartender.
The guy reaches into his coat again and pulls out a frog. He puts the frog on the bar, and the frog starts to sing. He has a marvelous voice and great pitch, a fine singer. A stranger from the other end of the bar runs over to the guy and offers him $300 for the frog.
The guy says "It's a deal." He takes the three hundred and gives the frog to the stranger, who runs out of the bar with it.
The bartender says to the guy, "Are you some kind of nut?! You sold a singing frog for $300? It must have been worth millions. You must be crazy!"
"Not so," says the guy. "The hamster is also a ventriloquist!"
#joke
I Have A Question
A father and son went fishing one day. While they were out in the boat, the boy suddenly became curious about the world around him. He asked his father, "How does this boat float?
The father replied, "Don't rightly know son." A little later, the boy looked at his father and asked, "How do fish breath underwater?"
Once again the father replied, "Don't rightly know son." A little later the boy asked his father, "Why is the sky blue?"
Again, the father repied. "Don't rightly know son." Finally, the boy asked his father, "Dad, do you mind my asking you all of these questions?"
The father replied, "Of course not, you don't ask questions, you never learn nothin'."
#joke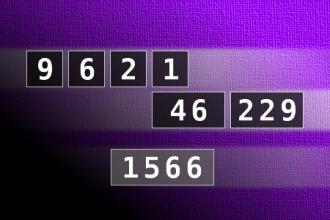 Calculate the number 1566
NUMBERMANIA: Calculate the number 1566 using numbers [9, 6, 2, 1, 46, 229] and basic arithmetic operations (+, -, *, /). Each of the numbers can be used only once.
Computer Flatlined..
I work in a busy office, and when a computer goes down it causes quite an inconvenience. Recently one of our computers not only crashed, it made a noise that sounded like a heart monitor.
"This computer has flat-lined," a co-worker called out with mock horror.
"Does anyone here know how to do mouse-to-mouse?"
#joke
The Inspired Sermon
The pastor was greeting folks at the door after the service. A woman said, "Father, that was a good sermon."
The priest replied, "Oh, I have to give the credit to the Holy Spirit."
"It wasn't THAT good!" she said.
This joke was reprinted from "The Book of Catholic Jokes" by Deacon Tom Sheridan, with permission of ACTA Publications. Copyright 2008. All rights reserved.
#joke
Yo momma so damn heavy that wh...
Yo momma so damn heavy that when she stands on the scales to get weighed it says "TO BE CONTINUED!"
Once upon a time there was a n...
Once upon a time there was a non-conforming sparrow who decided not to fly south for the winter. However, soon the weather turned so cold that he reluctantly decided to fly south. In a short time ice began to form on his wings and he fell to Earth in a barnyard, nearly frozen solid. A cow passed by where he had fallen, and crapped on the little sparrow.The sparrow thought it was the end, but the manure warmed him and defrosted his wings!
Warm and happy, able to breath, he started to sing.
Just then a large cat came by, and hearing the chirping he investigated the sounds. The cat cleared away the manure, found the chirping bird, and promptly ate him.
The Moral of the Story:
Everyone who craps on you is not necessarily your enemy
Everyone who gets you out of crap is not necessarily your friend.
And if you're warm and happy in a pile of crap, you might just want to keep your mouth shut.
#joke
Two blondes were in a parking ...
Two blondes were in a parking lot trying to unlock the door of their Mercedes with a coat hanger. They tried and tried to get the door open, but they couldn't.
The girl with the coat hanger stopped for a moment to catch her breath, and her friend said anxiously, "Hurry up! It's starting to rain and the top is down."
Knock Knock Collection 016
Knock Knock
Who's there?
Argo!
Argo who?
Argo down the shops!
Knock Knock
Who's there?
Aries!
Aries who?
Aries a reason why I talk this way!
Knock Knock
Who's there?
Arizona!
Arizona who?
Arizona room for one of us in this town!
Knock Knock
Who's there?
Armageddon!
Armageddon who?
Armageddon getting out of here!
Knock Knock
Who's there?
Armenia!
Armenia who?
Armenia every word I say!
#joke
Sumbich
A filthy rich North Carolina man decided that he wanted to throw a party and invited all of his buddies and neighbors. He also invited Leroy, the only redneck in the neighborhood. He held the party around the pool in the backyard of his mansion.
Leroy was having a good time drinking, dancing, eating shrimp,oysters and BBQ and flirting with all the women. At the height of the party, the host said, 'I have a 10 ft man-eating gator in my pool and I'll give a million dollars to anyone who has the nerve to jump in.' The words were barely out of his mouth when there was a loud splash and everyone turned around and saw Leroy in the pool!
Leroy was fighting the gator and kicking its ass!
Leroy was jabbing the gator in the eyes with his thumbs, throwing punches, head butts and choke holds, biting the gator on the tail and flipping the gator through the air like some kind of Judo Instructor.
The water was churning and splashing everywhere. Both Leroy and the gator were screaming and raising hell. Finally Leroy strangled the gator and let it float to the top like a dime store goldfish. Leroy then slowly climbed out of the pool. Everybody was just staring at him in disbelief.
Finally the host says, 'Well, Leroy, I reckon I owe you a million dollars,'
'No, that's okay. I don't want it,' said Leroy.
The rich man said, 'Man, I have to give you something.
You won the bet! How about half a million bucks then?'
'No thanks, I don't want it,' answered Leroy.
The host said, 'Come on, I insist on giving you something. That was amazing. How about a new Porsche and a Rolex and some stock options?'
Again Leroy said no.
Confused, the rich man asked, 'Well, Leroy, then what do you want?'
Leroy said, 'I want the name of the sumbich who pushed me in the pool!'
#joke