Leaves of the Book
A little boy opened the big Bible. He was fascinated as he fingered through the old pages. Suddenly, something fell out of the Bible. He picked up the object and looked at it. What he saw was an old leaf that had been pressed in between the pages. "Mama, look what I found!" the boy called out.
"What have you got there, dear?"
With astonishment in the young boy's voice, he answered, "I think it's Adam's underwear!"
#joke
Somebody offered me free coffe...
Somebody offered me free coffee. I said, 'Wow, that's like winning the lattéry!'
Funny video of the day - Funny video of the day Monday, 03 January 2011
Cannibals capture three men. ...
Cannibals capture three men. The men are told that they will be skinned and eaten and then their skin will be used to make canoes. Then they are each given a final request. The first man asks to be killed as quickly and painlessly as possible. His request is granted, and they poison him. The second man asks for paper and a pen so that he can write a farewell letter to his family. This request is granted, and after he writes his letter, they kill him saving his skin for their canoes. Now it is the third man's turn. He asks for a fork. The cannibals are confused, but it is his final request, so they give him a fork. As soon as he has the fork he begins stabbing himself all over and shouts, "To hell with your canoes!"
#joke
Pun of the Day
A man walks into a bar, he sees two pieces of meat hanging from the ceiling. He asks the barman, "Why are those two pieces of meat hanging from the ceiling?"
The barman replies, "It's a competition which we run every night. If you can jump up and touch the meat, you get free drinks for the whole night."
"Great!" says the man, "but what if I can't reach them?"
"Then you have to buy all the drinks for everyone all night," the barman answers.
"Do you want to try?"
"No, but thanks anyway."
"Why not?", asks the barman.
"The steaks are too high."
#joke #walksintoabar
A man with no arms walked up t...
A man with no arms walked up to a bar and asked for a beer. The bartender shoved the foaming glass in front of him.
"Look," said the customer, "I have no arms - would you please hold the glass up to my mouth?"
"Sure", said the bartender, and he did.
"Now," said the customer, "I wonder if you'd be so kind as to get my handkerchief out of my pocket and wipe the foam off my mouth."
"Certainly." And it was done.
"If," said the armless man, "you'd reach in my right hand pants pocket, you'll find the money for the beer."
The bartender got it.
"You've been very kind," said the customer. "Just one thing more. Where is the men's room?"
"Out the door," said the bartender, "turn left, walk two blocks, and there's one in a filling station on the corner."
I believe...
A Scottish atheist was spending a quiet day fishing in the lake when suddenly his boat was attacked by the Loch Ness monster. In one easy flip, the beast tossed him and his boat at least a hundred feet into the air. It then opened its mouth waiting below to swallow them both.
As the Scotsman sailed head over heels and started to fall towards the open jaws of the ferocious beast, he cried out, "Oh, my God! Help me!"
Suddenly, the scene froze in place and as the atheist hung in midair, a booming voice came out of the clouds and said, "I thought you didn't believe in Me!"
"God, come on, give me a break!" the man pleaded, "Just seconds ago I didn't believe in the Loch Ness monster either!"
#joke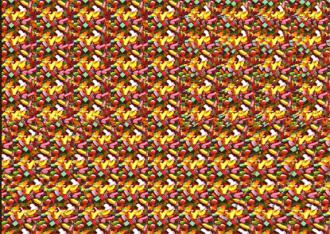 What is hidden in 3D image?
Stereogram - 3D Image
Answering Machine Message 250

(Darth Vader voice:) Speak, worm!


Computer Quotes
What is a computer's first sign of old age?
Loss of memory.
What does a baby computer call his father?
Data.
What is an astronaut's favorite key on a computer keyboard?
The space bar.
What happened when the computer fell on the floor?
It slipped a disk.
Why was there a bug in the computer?
It was looking for a byte to eat.
What is a computer virus?
A terminal illness.
To err is human; but to really mess things up requires a computer.
Computers are not intelligent.
They only think they are.
Computers make very fast, very accurate mistakes.
My computer isn't that nervous. It's just a bit ANSI.
The attention span of a computer is as long as its electrical cord.
#joke
Chad Daniels: Genetic Advancements
I cant wait until they could put wings on humans. Because when they could put wings on humans, they could put wings on pigs, and when they could put wings on pigs, lots of pretty girls from college owe me sex.
Q. Why is it so hard for women...
Q. Why is it so hard for women to find men that are sensitive, caring, and good-looking?
A. Because those men already have boyfriends.
Nursery school teacher says to...
Nursery school teacher says to her class, "Who can use the word 'Definitely' in a sentence?"
First a little girl says "The sky is definitely blue"
Teacher says, "Sorry, Amy, but the sky can be gray, or orange..."
Second little boy..."Trees are definitely green"
"Sorry, but in the autumn, the trees are brown."
Little Johnny from the back of the class stands up and asks:
"Does a fart have lumps?"
The teacher looks horrified and says "Johnny! Of course not!!!"
"OK...then I DEFINITELY shit my pants..."
#joke
An Apocalyptic One-Liner
Every time someone predicts the date of the end of the world, God pushes the date back a little just to be funny.
Women and Men...
WOMEN
Women are honest, loyal, and forgiving. They are smart, knowing that knowledge is power. But they still know how to use their softer side to make a point.
Women want to be the best for their family, their friends, and themselves. Their hearts break when a friend dies. They have sorrow at the loss of a family member, yet they are strong when they think there is no strength left.
A woman can make a romantic evening unforgettable.
Women come in all sizes, in all colors and shapes. They live in homes, apartments and cabins. They drive, fly, walk, run or e-mail you to show how much they care about you.
The heart of a woman is what makes the world spin! Women do more than just give birth. They bring joy and hope. They give compassion and ideals.
They give moral support to their family and friends. And all they want back is a hug, a smile and for you to do the same to people you come in contact with.
MEN
Men are good at lifting heavy stuff and killing spiders.
#joke
Two Boll Weevils
Two boll weevils grew up in South Carolina. One went to Hollywood and became a famous actor. The other stayed behind in the cotton fields and never amounted to much. The second one, naturally, became known as the lesser of two weevils.