Have a great time for
Christmas
, check out our latest
Christmas jokes of 2021
on:
Christmas jokes collection
Sleep? There's a...
Sleep? There's a nap for that.
A forester and a lawyer were i...
A forester and a lawyer were in car accident and showed up at the pearly gates together.
St. Peter greets them at the pearly gates and takes them to the homes where they will spend all of eternity. They get into St. Peter's holy vehicle and head on down a gold road, which turns into a platinum road, which turns onto an even grander road paved with diamonds, to a huge mansion where St. Peter turns to the lawyer and says, here is your home for the rest of eternity, enjoy! And if there is anything you need, just let me know.
Then St. Peter took the forester to his home, back down the diamond studded boulevard, down the platinum highway, down the street of gold, down an avenue of silver, along a stone alley and down an unpaved footpath to a shack. St Peter says, "Here you go" and goes to leave when the forester says "Wait minute! How come the lawyer gets the big mansion and I get this shack?"
St. Peter says: "Well, Foresters are a dime a dozen here, we have never had a lawyer before."
Funny video of the day - Funny video of the day Sunday, 23 January 2011
Great news...
College student: "Hey, Dad! I've got some great news for you!"
Father: "What, son?"
College student: "Remember that $500 you promised me if I made the Dean's list?"
Father: "I certainly do!"
College student: "Well, you get to keep it."
Passing A School Bus
The following is supposedly a true story. To be included, besides being true, the story is most likely strange, weird, surprising, or funny.
"Unlawful to Pass School Bus from Either Direction"
I guess that some people misunderstood that, because now it reads:
"Unlawful to Pass Stopped School Bus from Either Direction".
#joke
There was life before the computer
An application was for employment
A program was a TV show
A cursor used profanity
A keyboard was a piano!
Memory was something that you lost with age
A CD was a bank account!
And if you had a broken disk,
It would hurt when you found out!
Compress was something you did to garbage
Not something you did to a file
And if you unzipped anything in public
You'd be in jail for awhile!
Log on was adding wood to a fire
Hard drive was a long trip on the road
A mouse pad was where a mouse lived
And a backup happened to your commode!
Cut--you did with a pocket knife
Paste you did with glue
A web was a spider's home
And a virus was the flu!
I guess I'll stick to my pad and paper
And the memory in my head
I hear nobody's been killed in a computer crash
But when it happens they wish they were dead!
#joke
The Sparrow
Once upon a time there was a non-conforming sparrow who decided not to fly south for the winter. However, soon the weather turned so cold that he reluctantly decided to fly south. In a short time ice began to form on his wings and he fell to Earth in a barnyard, nearly frozen solid. A cow passed by where he had fallen, and crapped on the little sparrow.The sparrow thought it was the end, but the manure warmed him and defrosted his wings!
Warm and happy, able to breath, he started to sing.
Just then a large cat came by, and hearing the chirping he investigated the sounds. The cat cleared away the manure, found the chirping bird, and promptly ate him.
The Moral of the Story:
Everyone who craps on you is not necessarily your enemy
Everyone who gets you out of crap is not necessarily your friend.
And if you're warm and happy in a pile of crap, you might just want to keep your mouth shut.
#joke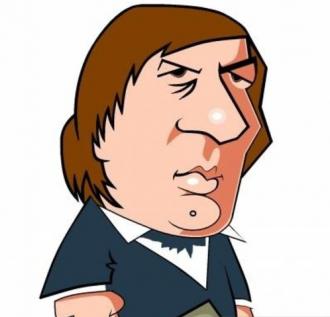 Guess the name of musician
Look carefully caricature and guess the name of musician.
There was a guy in a bar one n...
There was a guy in a bar one night that got really drunk, I mean really, really, really drunk. When the bar closed he got up to go home.
As he stumbled out the door he saw a nun walking on the sidewalk. So he stumbled over to the nun and punched her in the face.
Well the nun was really surprised but before she could do or say anything he punched her again. This time she fell down and he stumbled over to her and kicked her in the butt, then he picked her up and threw her into a wall.
By this time the nun was pretty weak and couldn't move very much, so then he stumbled over to her, put his face right next to hers and said...
"Not very strong tonight, are you Batman?"
#joke
A golfer was addressing his ba...
A golfer was addressing his ball, getting ready to shoot.
Just as he was about ready to hit, a voice came over the p.a. system -
"Will the gentleman on the lady's tee please move back to the men's tee".
He looked up, looked back down and then resumed addressing the ball again.
The Voice again - "Will the Man on the Red tees PLEASE MOVE BACK to the White Tees?!"
He looked back at the starters shack and yelled,
"Will the IDIOT on the p.a. shut up so that the man on the lady's tee can hit his second shot"!
#joke
A chicken and an egg are lying...
A chicken and an egg are lying in bed.
The chicken is smoking a cigarette with a satisfied smile on its face.
The egg is frowning and looking a bit pissed off.
The egg mutters, to no one in particular, "Well, I guess we answered THAT question!"
The Israeli Archaeologist
An archaeologist was digging in the Negev Desert in Israel and came upon a casket containing a mummy, a rather rare occurrence in Israel, to say the least. After examining it, he called Abe, the curator of the Israel museum in Jerusalem.
"I've just discovered a 3,000 year old mummy of a man who died of heart failure!" the excited scientist exclaimed. Abe replied, "Bring him in. We'll check it out."
A week later, the amazed Abe called the archaeologist. "You were right about both the mummy's age and cause of death. How in the world did you know?"
"Easy. There was a piece of paper in his hand that said, '10,000 Shekels on Goliath'."
#joke
A man runs to the doctor and s...
A man runs to the doctor and says: "Doctor, you've got to help me. My wife thinks she's a chicken!"
The doctor asks: How long was she had this condition?"
"Two years." replies the man.
"Then why did it take you so long to come and see me?" asked the doctor. The man shrugs his shoulders and replies: "We needed the eggs"
A man goes into his local buil...
A man goes into his local building supply store and orders 10,000 bricks.
"May I ask what you're building?" asks the man behind the counter.
"It's going to be a barbecue."
"Wow, that's a lot of bricks for one barbecue."
"Not really. You see, I live on the 12th floor."
Who Shot the Big Buck?
Three friends decided to go hunting together. One was a lawyer, one a doctor, and the other a preacher. As they were walking, along came a big buck. The three of them shot at the same time and the buck dropped immediately. The hunting party rushed to see how big it actually was. Upon reaching the fallen deer, they found out that it was dead but had only one bullet hole.
A debate followed concerning whose buck it was. When a game warden came by, he offered to help. A few moments later, he had the answer.
He said with much confidence, "The pastor shot the buck!" The friends were amazed that he could determine that so quickly and with so little examination. The game warden just smiled. "It was easy to figure out. The bullet went in one ear and out the other."
This joke was reprinted from "The Book of Catholic Jokes" by Deacon Tom Sheridan, with permission of ACTA Publications. Copyright 2008. All rights reserved.