Be rady for Thanksgiving
, check out our latest
Thanksgiving jokes of 2021
on:
Thanksgiving jokes collection
Terrible Accident
A man was in a terrible accident, and his 'manhood' was mangled and torn from his body. His doctor assured him that modern medicine could give him back his manhood, but that his insurance wouldn't cover the surgery since it was considered cosmetic. The doctor said the cost would be $3,500 for 'small, $6,500 for 'medium, and $14,000 for 'large.'
The man was sure he would want a medium or large, but the doctor urged him to talk it over with his wife before he made any decision. The man called his wife on the phone and explained their options. The doctor came back into the room, and found the man looking dejected.
'Well, what have the two of you decided?' asked the doctor.
'She'd rather remodel the kitchen.'
Fascism was heil-ly popular in...
Fascism was heil-ly popular in its day.
Funny video of the day - Funny video of the day Tuesday, 25 January 2011

A Cub Scout trop was half...
A Cub Scout trop was half an hour late to its den meeting. The den mother asked them severely, "Why are you so late?"
"Oh," said one boy, "we were helping an old man cross the street."
"That's a nice thing for scouts to do," said the mother. She paused. "But it shouldn't make you half an hour late."
"Well, you see," said another boy, "he didn't want to go."
#joke
Airplane ride...
Stumpy and his wife Martha went to the State Fair every year.
Every year Stumpy would say, "Martha, I'd like to ride in that there airplane."
And every year Martha would say, "I know, Stumpy, but that airplane ride costs ten dollars, and ten dollars is ten dollars."
This one year Stumpy and Martha went to the fair and Stumpy said, "Martha, I'm 71 years old. If I don't ride that airplane this year I may never get another chance. "
Martha replied, "Stumpy, that there airplane ride costs ten dollars, and ten dollars is ten dollars."
The pilot overheard them and said, "Folks, I'll make you a deal. I'll take you both up for a ride. If you can stay quiet for the entire ride and not say one word, I won't charge you, but if you say one word it's ten dollars."
Stumpy and Martha agreed and up they go.
The pilot does all kinds of twists and turns, rolls and dives, but not a word is heard.
He does all his tricks over a gain, but still not a word.
They land and the pilot turns to Stumpy, "By golly, I did everything I could think of to get you to yell out, but you didn't."
Stumpy replied, "Well, I was gonna say something when Martha fell out, but ten dollars is ten dollars."
#joke
Televised Operations
The following is supposedly a true story. To be included, besides being true, the story is most likely strange, weird, surprising, or funny.
As public television viewers in 12 cities sat glued to their sets while doctors in Philadelphia reconstructed 15-month-old Michele Miller's skull during a two-hour operation broadcast live, the girl's parents, Lynn and Paul Miller of Princeton, N.J., opted to watch "The Wizard of Oz" instead.
The Mage in Battle
Top 10 things you don't want to hear your mage say in battle.
10) "Is it virgin's tears and dragon's blood, or dragon's tears and virgin's blood? Maybe the dragon was a virgin.."
9) "Hmm...is this the recipe for a Potion of Healing, or for Chile Con Carne?"
8) "Oh, oh, oh, oh! That wand of cold balls -didn't- do what I expected."
7) "By any chance, have you seen a summoned 9th order fire elemental wandering around? No? Oh.. Tell me if you do."
6) "It's supposed to have five points?"
5) "My familiar will take care of that dragon! Sic 'em, Fifi!" 4) "What kind of cheap, wussyarse excuse for a djinn only gives one wish? Oh, he's still here..."
3) "Eennie, meenie, miny, moe.. Which end points toward the foe?"
2) "Damn. I knew I should have used Energizers in this thing."
And, the number one thing you don't want to hear from your mage..
1) "Oops..."
#joke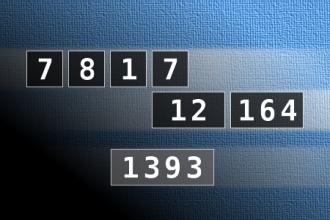 Calculate the number 1393
NUMBERMANIA: Calculate the number 1393 using numbers [7, 8, 1, 7, 12, 164] and basic arithmetic operations (+, -, *, /). Each of the numbers can be used only once.
Todd Barry: Hitting on Waitresses
People ask me all the time, Todd, when youre on the road at these comedy clubs, do you hit on the waitresses? People, Im a professional, and I have a policy. I will not hit on the wait staff until every opportunity in the audience has been exhausted.
Stuff Happens
Tao: Stuff happens.
Catholicism: If stuff happens, you deserved it.
Protestantism: Let stuff happen to somebody else.
Judasim: Why does stuff always happen to us?
Islam: Stuff happens according to the will of Allah.
Buddhism: The stuff is an illusion.
Zen: What is the sound of stuff happening?
Hinduism: This stuff happened before.
Mormonism: This stuff should multiply.
Baha'i Faith: Stuff happens in a progressive manner.
Agnosticism: I'm not sure about this stuff.
Atheism: That stuff about the stuff is all just made up stuff.
Jonestown: Forget about the stuff and just drink the Kool-Aid.
- Joke shared by Beliefnet member mytmouse57
#joke
Once upon a time in the Kingdo...
Once upon a time in the Kingdom of Heaven, God went missing for Six days. Eventually, Michael the Archangel found him, resting on the seventh day. He inquired of God, "Where have you been?"
God sighed a deep sigh of satisfaction and proudly pointed downwards through the clouds, "Look Michael, look what I've made." Archangel Michael looked puzzled and said, "What is it?"
"It's a planet, replied God, "and I've put LIFE on it. I'm going to call it Earth and it's going to be a great place of balance".
"Balance?" inquired Michael, still confused.
God explained, pointing to different parts of Earth.
"For example, Northern Europe will be a place of great opportunity and wealth while Southern Europe is going to be poor; the Middle East over there will be a hot spot."
"Over there I've placed a continent of white people and over there is a continent of black people" God continued, pointing to different countries. "And over there, I call this place America.
North America will be rich and powerful and cold, while South America will be poor, and hot and friendly. And the little spot in the middle is Central America which is a Hot spot. Can you see the balance?"
"Yes" said the Archangel, impressed by Gods work, then he pointed to a smallish land mass and asked, "What's that one?"
"Ah" said God. "That's New Zealand, the most glorious place on Earth. There are beautiful mountains, rainforests, rivers, streams and an exquisite coast line. The people are good looking, intelligent and humorous and they're going to be found traveling the world. They'll be extremely sociable, hard-working and high-achieving, and they will be known throughout the world as diplomats and carriers of peace. I'm also going to give them super- human, undefeatable, strong in character citizens who will be admired and feared by all who come across them".
Michael gasped in wonder and admiration but then exclaimed, "You said there will be BALANCE!"
God replied wisely. "Wait until you see the buggers I'm putting next to them"
#joke
A study in the United Kindom s...
A study in the United Kindom showed that the kind of male face, a woman finds attractive can differ on where a woman is in her menstrual cycle.
For instance, if she is ovulating she is attracted to men with rugged, masculine features, and if she is menstruating she is more prone to be attracted to a man with scissors shoved in his temple.
#joke
Two hikers were walking throug...
Two hikers were walking through central Pennsylvania when they came upon a 6 foot wide hole in the ground. They figured it must be the opening for a vertical air shaft from an old abandoned coal mine. Curious as to the depth of the hole, the first hiker picked up a nearby rock and tossed it into the opening. They listened... and heard nothing.
The second hiker picked up an even larger rock and tossed it into the opening. They listened... and still heard nothing. Then they both picked up an old railroad tie, dragged it to the edge of the shaft, and hurled it down. Seconds later a dog came running up between the two men and jumped straight into the hole. Bewildered, the two men just looked at each other, trying to figure out why a dog would do such a thing.
Soon a young boy ambled onto the scene and asked if either man had seen a dog around here. The hikers told him about the dog that had just jumped into the hole.
The young boy laughed and said, "That couldn't be my dog. My dog was tied to a railroad tie!"
#joke
Why did the city build a graveyard...
Q: Why did the city build a graveyard across the street from the retirement home?
A: So all the old people can see there futures!
During their vacation and whil...
During their vacation and while they were visiting Jerusalam, George's mother-in-law died.
With death certificates in hand, George went to the American Consulate Office to make arrangements to send the body back to the states for proper burial.
The Consul, after hearing of the death of the
mother-in-law told George that the sending of a body back to the states for burial is very, very expensive. It could cost as much as $5,000.00.
The Consul continues, in most cases the person responsible for the remains normally decides to bury the body here. This would only cost $150.00.
George thinks for some time and answers, "I don't care how much it will cost to send the body back; that's what I want to do."
The Consul, after hearing this, says, "You must have loved your mother-in-law very much consdering the difference in price."
"No, it's not that," says George. "You see, I know of a case years ago of a person that was buried here in Jerusalem. On the third day he arose from the dead !
I just can't take that chance.
#joke
Knock Knock Collection 084
Knock Knock
Who's there?
Heart!
Heart who?
Heart who hear you, speak louder!
Knock Knock
Who's there?
Heaven!
Heaven who?
Heaven seen you in ages!
Knock Knock
Who's there?
Heidi!
Heidi who?
Heidi-clare war on you!
Knock Knock
Who's there?
Heifer!
Heifer who?
Heifer cow is better than none!
Knock Knock
Who's there?
Helena!
Helana who?
Helena hand basket!
#joke
Lying is a Sin
A minister told his congregation, "Next week I plan to preach about the sin of lying. To help you understand my sermon, I want you all to read Mark 17."
The following Sunday, as he prepared to deliver his sermon, the minister asked for a show of hands. He wanted to know how many had read Mark 17.
Every hand went up.
The minister smiled and said, "Mark has only sixteen chapters. I will now proceed with my sermon on the sin of lying."
#joke