Have a great time for
Christmas
, check out our latest
Christmas jokes of 2022
on:
Christmas jokes collection
Why are there no Christmas-the...
Why are there no Christmas-themed breath fresheners?  Anyone else out there share these santa-mints?
Once upon a time, a beautiful,...
Once upon a time, a beautiful, independent, self-assured princess happened upon a frog in a pond. The frog said to the princess, " I once was a handsome prince until an evil witch put a spell on me. One kiss from you and I will turn back into a prince and then we can marry, move into the castle with my mom and you can prepare my meals, clean my clothes, bear my children and forever feel happy doing so." That night, while the princess dined on frog legs,she kept laughing and saying, "I don't THINK so."
#joke
Funny video of the day - Funny video of the day Thursday, 27 January 2011
Blonde Murder Victim
WANTED FOR ATTEMPTED MURDER (the actual AP headline)
Linda Burnett, 23, a resident of San Diego, was visiting her inlaws, and while there went to a nearby supermarket to pick up some groceries. Several people noticed her sitting in her car with the windows rolled up and with her eyes closed, with both hands behind the back of her head. One customer who had been at the store for a while became concerned and walked over to the car. He noticed that Linda's eyes were now open, and she looked very strange. He asked her if she was okay, and Linda replied that she'd been shot in the back of the head, and had been holding her brains in for over an hour. The man called the paramedics, who broke into the car because the doors were locked and Linda refused to remove her hands from her head. When they finally got in, they found that Linda had a wad of bread dough on the back of her head. A Pillsbury biscuit canister had exploded from the heat, making a loud noise that sounded like a gunshot, and the wad of dough hit her in the back of her head. When she reached back to find out what it was, she felt the dough and thought it was her brains. She initially passed out, but quickly recovered and tried to hold her brains in for over an hour until someone noticed and came to her aid.
And, yes, Linda is a blonde.
Diagnose this patient...
The psychology instructor had just finished a lecture on mental health and was giving an oral test.
Speaking specifically about manic depression, she asked, "How would you diagnose a patient who walks back and forth screaming at the top of his lungs one minute, then sits in a chair weeping uncontrollably the next?"
A young man in the rear raised his hand and answered, "A basketball coach?"
#joke
I get no respect 02
"I worked in a pet store and people kept asking how big I'd get."
"I remember the time I was kidnaped and they sent back a piece of my finger to my father. He said he wanted more proof."
"My uncle's dying wish was to have me sitting on his lap. He was in the electric chair."
I went to a freak show and they let me in for nothing."
"Once when I was lost.. I saw a policeman and asked him to help me find my parents. I said to him...Do you think we'll ever find them.? He said..I don't know kid.. there are so many places they can hide."
"I remember I was so depressed I was going to jump out a window on the tenth floor... so they sent a priest up to talk to me. He said.. On your mark..."
"On Halloween..the parents send their kids out looking like me. Last year.. one kid tried to rip my face off! Now it's different.. when I answer the door the kids hand me candy."
"I had a lot of pimples too. One day I fell asleep in a library. I woke up and a blind man was reading my face."
"My wife made me join a bridge club. I jump off next Tuesday"
Patton Oswalt: The Apocalypse
Were probably going to die in the f**king apocalypse, but you know whats kind of exciting about that is that if the apocalypse actually goes down -- and I mean the f**king biblical apocalypse -- and if that starts to happen -- I mean, like, the ground opening up and demons flying out and gnawing on your flesh -- it means a couple of things. One: It means that Im wrong, and there is God and there is an afterlife. Two: It means that since there is an afterlife, you will be in the f**king VIP section of the afterlife.
#joke
FLEX WORDLE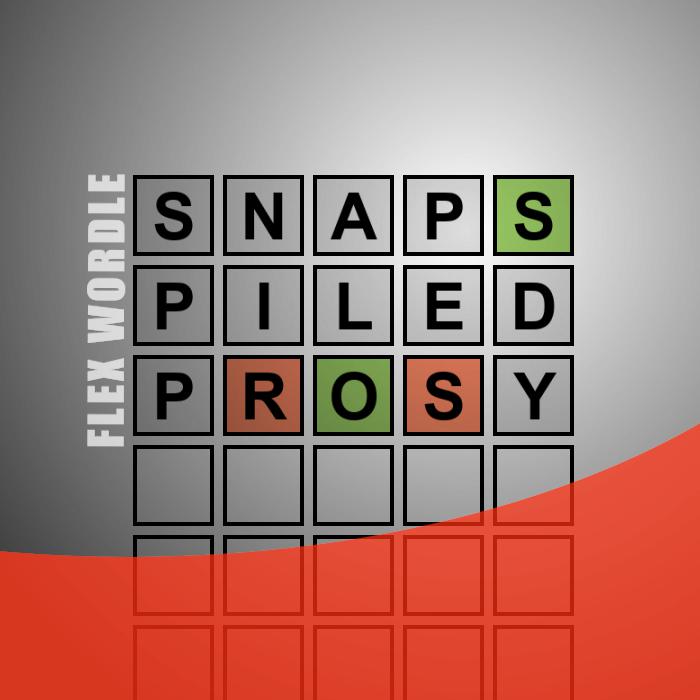 Guess the
WORDLE
in 3 tries. After each guess, the color of the tiles will change to show how close your guess was to the solution.
A Texan farmer goes to Austral...
A Texan farmer goes to Australia for a vacation. There he meets an Aussie farmer and gets talking. The Aussie shows off his big wheat field and the Texan says, "Oh! We have wheat fields that are at least twice as large".
Then they walk around the ranch a little, and the Aussie shows off his herd of cattle. The Texan immediately says, " We have longhorns that are at least twice as large as your cows".
The conversation has, meanwhile, almost died when the Texan sees a herd of kangaroos hopping through the field. He asked, "And what are those"?
The Aussie replies with an incredulous look, "Don't you have any grasshoppers in Texas
#joke
We noticed that all the waiter...
We noticed that all the waiters in this New York restaurant carried two spoons in their vest pocket. Naturally, we were curious. We asked a waiter why.
'Sir, as a result of an efficiency study by the management, it was determined that the most frequently dropped silverware item was a spoon. Therefore, all the waiters carry two spoons so that the item can be instantly replaced.' As he was explaining that we noticed a string hanging out of the fly of his pants. So, we asked about that.
'Sir, that's another efficiency study result. When we have to go to the bathroom, we use the string to pull ourselves out and aim. Therefore, we do not have to stop to wash our hands.' We replied, 'I understand how you can get yourself out and aim, but how do you get yourself back in.' 'Well,' replied the waiter, 'I don't know about the other guys, but I use the two spoons!'
#joke
You Might Be A Redneck If 12
You might be a redneck if...
Your richest relative buys a new house and you have to help take the wheels off it.
In an effort to watch your cholesterol, you eat Spam Lite.
Your idea of a seven course meal is a bucket of KFC and a sixpack.
You go to a tupperware party for a haircut.
You've ever spray painted your girlfriend's name on an overpass.
Your lifetime goal is to own a fireworks stand.
Someone asks to see your ID and you show them your belt buckle.
Your Junior/Senior Prom had a day care.
The directions to your house include "turn off the paved road".
Your dog and your wallet are both on chains.
#joke
Corporate Lesson 1

A ...
Corporate Lesson 1
A man is getting into the shower just as his wife is finishing up her shower when the doorbell rings. After a few seconds of arguing over which one should go and answer the doorbell, the wife gives up, quickly wraps herself up in a towel and runs downstairs. When she opens the door, there stands Bob, the next door neighbor. Before she says a word, Bob says, "I'll give you $800 to drop that towel that you have on."
After thinking for a moment, the woman drops her towel and stands naked in front of Bob. After a few seconds, Bob hands her $800 and leaves.
Confused, but excited about her good fortune, the woman wraps back up in the towel and goes back upstairs. When she gets back to the bathroom, her husband asks from the shower, "Who was that?" "It was Bob the next door neighbor," she replies. "Great!" the husband says, "Did he say anything about the $800 he owes me?"
Moral of the story: If you share critical information pertaining to credit and risk with your shareholders in time, you may be in a position to prevent avoidable exposure.
#joke
A Recently Spotted Bumper Sticker:
"Life isn't too short. It's the longest thing anyone will ever do."
Bum Deodorant
A blonde walks into a pharmacy and asks the assistant for some bum deodorant. The pharmacist, a little bemused, explains to the woman that they don't sell bum deodorant, and never have.
Unfazed, the blonde assures the pharmacist that she has been buying the stuff from this store on a regular basis, and would like some more.
"I'm sorry," says the pharmacist, "we don't have any."
"But I always get it here," says the blonde.
"Do you have the container it comes in?"
"Yes!" said the blonde, "I'll go home and get it."
She returns with the container and hands it to the pharmacist who looks at it and says to her, "This is just a normal stick of underarm deodorant."
The annoyed blonde snatches the container back and reads out loud from the container,
"To apply, push up bottom."
A male pastor walked into a ne...
A male pastor walked into a neighborhood pub to use the restroom.
The place was hopping with music and dancing, until people saw the pastor.
As the room quieted down he walked up to the redhead bartender, and asked her,
"May I please use the restroom?"
The redhead replied, "I really don't think you should."
"Why not?" the pastor asked. "I really need to use a restroom!"
"Well, I don't think you should. There is a statue of a naked woman in there and she's only covered by a fig leaf!"
"Nonsense," said the pastor, "I'll look the other way!"
So, the bartender showed the clergyman the door at the top of the stairs, and he proceeded to the restroom.
After a few minutes, he came back out, and the whole place was hopping with music and dancing again!
He went to the bartender and said, "Miss, I, don't understand. When I came in here, the place was hopping with music and dancing. Then the room became absolutely quiet. I went to the restroom, and now the place is hopping again."
"Well, now you're one of us!" said the redhead. "Would you like a drink too?"
"But, I still don't understand," said the puzzled pastor.
"You see," laughed the redhead, "every time the fig leaf is lifted on the statue, the lights go out in the whole place. Now, how about that drink?"
#joke
Who did it?
The visiting church school supervisor asks little Johnny during Bible class who broke down the walls of Jericho. Little Johnny replies that he does not know, but it definitely is not him.
The supervisor, taken aback by this lack of basic Bible knowledge, goes to the school principal and relates the whole incident.
The principal replies that he knows little Johnny, as well as his whole family very well and can vouch for them, and if little Johnny said that he did not do it, he, as principal is satisfied that it is the truth.
Even more appalled, the inspector goes to the Regional Head of Education and relates the whole story.
After listening, he replies: "I can't see why you are making such a big issue out of this; just get three quotes and fix the darn wall!"
#joke
Reporters interviewing a 104-y...
Reporters interviewing a 104-year-old woman:
'And what do you think is the best thing
About being 104?' the reporter asked.
She simply replied, 'No peer pressure