Happy New Year 2021!!
Bravest Troops
Top brass from the Army, Navy and Marine Corps were arguing about who had the bravest troops. They decided to settle the dispute using an enlisted man from each branch.
The Army General called a private over and ordered him to climb to the top of the base flagpole while singing "The Caissons Go Rolling Along," then let go with both hands, and salute. The private quickly complied.
Next, the Admiral ordered a sailor to climb the pole, polish the brass knob at the top, sing "Anchors Aweigh," salute smartly and jump off. The sailor did as he was told and landed on the concrete below.
Finally, the marine was told to do exactly as the army and navy men had done, but in full battle gear, pack filled with bricks, loaded weapon carried high. He took one look at the Marine General and said, "You're out of your mind, sir!"
The marine commander turned to the others. "Now THAT'S guts!"
#joke
Funny video of the day - Funny video of the day Tuesday, 01 February 2011
Everybody should pay their tax...
Everybody should pay their taxes with a smile, said Bob. "I tried it but they wanted cash."
Witch doctor weather...
A film crew is on location in Kenya, when a tribal shaman approaches the director and says, "Tomorrow rain." The director pays no attention, but the following day it pours and shooting has to be delayed.
That night, the director sends his assistant to bring the shaman back. "What will be the weather tomorrow?" asks the director.
"Bigger rain tomorrow, much wind," and sure enough a terrible storm once again delays the filming.
But then the witch doctor disappears for a week and the director, now depending on him, sends his people out to find him and bring him back to camp.
Finally, he is located and brought to the director's tent. "What will be the weather tomorrow?" asks the director in desperation.
"No idea," says the shaman, "Radio batteries dead."
A Collection Of Insults
You must have gotten up on the wrong side of the cage this morning.
I would ask you how old you are, but I know you can't count that high.
In the next life, you'll blaze a way for us.
You are master in your own house -- the doghouse!
When you die, I'd like to go to your funeral, but I'll probably have to go to work that day. I believe in business before pleasure.
You make me believe in reincarnation. Nobody can be as stupid as you in one lifetime.
Believe me, I don't want to make a monkey out of you. Why should I take all the credit?
I hear you are very kind to animals, so please give that face back to the gorilla.
Keep talking. I always yawn when I'm interested.
Some day you will find yourself -- and wish that you hadn't.
People clap when they see you -- their hands over their eyes or ears.
Whatever is eating you -- must be suffering horribly.
#joke
Better Both Visit the Doctor
This old man in his eighty's got up and was putting on his
coat.
His wife said, "Where are you going ?"
He said, "I'm going to the doctor."
And she said, "Why? Are you sick?"
"No," he said. "I'm going to get me some of those new Viagra
pills."
So his wife got up out of her rocker and was putting on her
sweater and he said, "Where are you going?"
She said, "I'm going to the doctor too."
He said, "Why?"
She said, "If you're going to start using that rusty old
thing again, I'm going to get a tetanus shot."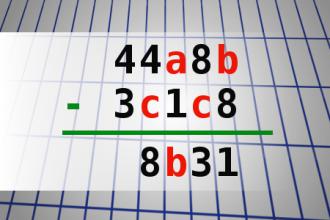 Find number abc
If 44a8b - 3c1c8 = 8b31 find number abc. Multiple solutions may exist.
Eliot Chang: Politically Correct Friend
He actually said this to me; hes like, Hey man, you got to be careful. Theres a lot of women that have an Asian fetish. Well, what do you mean? Theyll have sex with you just cause youre Asian. Arent you offended? Uh, Ill be offended after my orgasm.
God Takes a Holiday
Chuckling, God remarked, "Are you kidding? Two thousand years ago I went there, had an affair with some nice Jewish girl, and they're STILL talking about it!"
One day Little Johnnie came ho...
One day Little Johnnie came home to his mum and said "Mummy i learned a new word today."

"What's that dear" his mother asked

"Masturbation" he replied

Shocked, his mother replied "Ohh thats a mouthful"

"No mummy thats a blowjob" he replied.
There were two blondes, and th...
There were two blondes, and they had just came from a store.
The blonde that owned the mustang had locked her keys in the car. She was trying to pick the lock when she stoped to rest for a second.
When she sat down, her friend said, "Hurry up, it's starting to rain and the top's down!"
A little boy wanted $100.0...
A little boy wanted $100.00 badly and prayed for two weeks but nothing happened. Then he decided to write GOD a letter requesting the $100. When the postal authorities received the letter addressed to GOD USA, they decided to send it to President Clinton. the President was so impressed, touched, and amused that he instructed his secretary to send the little boy a $5.00 bill. President Clinton thought this would appear to be a lot of money to a little boy. The little boy was delighted with the $5.00 and sat down to write a thank you note to GOD, which read: Dear GOD, Thank you very much for sending the money, however, I noticed that for some reason you had to send it through Washington D.C. and, as usual, those jerks deducted $95.00.
#joke
One Line Zingers


If Cain and Able were Siamese twins, would they be Cable?


Blessed are those who hunger and thirst, for they are sticking to their diets.


The best vitamin for a Christian is B1.


"I've taken a vow of poverty. To annoy me, send money."


Warning notice at a seminary swimming pool: "First-year students are only allowed to walk on the shallow end."


"If absence makes the heart grow fonder," said a minister, "a lot of folks must love our church."

This joke was reprinted from "Laugh Yourself Healthy" by Charles and Frances Hunter, with permission of Strang Communications. Copyright 2008. All rights reserved.

#joke
Who Should Make the Coffee?
A man and his wife were having an argument about who should brew the coffee each morning.
The wife said, "You should do it, because you get up first, and then we don't have to wait as long to get our coffee."
The husband said, "You are in charge of the cooking around here so you should do it, because that is your job, and I can just wait for my coffee."Wife replies, "No, you should do it, and besides it says in the Bible that the man should do the coffee."
Husband replies, "I can't believe that! Show me."
So she fetched the Bible, and opened the New Testament and showed him at the top of several pages, that it indeed says, "HEBREWS."
#joke
Business One-liners 57
For every problem, there is a neat, plain solution...and it is always wrong.
For every vision, there is an equal and opposite revision.
Four-wheel-drive just means getting stuck in more inaccessible places.
Free advice costs nothing until you act upon it.
Free time which unexpectedly becomes available will be wasted.
Freud's 23rd law: ideas endure and prosper in inverse proportion to their soundness and validity.
Friends come and go, but enemies accumulate.
Frustration is not having anyone to blame but yourself.
Genius is 1% inspiration, and 99% perspiration.
Geologists do not dress for success unless they are trying to convince others that they are going on interviews.
#joke
In a moment of passion, farmer...
In a moment of passion, farmer John and his wife, Delores, ripped off their clothes and tumbled into a very muddy cornfield for a little impromptu lovemaking on a rainy Sunday morning. They started to slip and slide around a bit in the mud.
"Say, honey, is my cock in you or in the mud?" John asked.
Delores felt around and said, "Why, Johnny boy, it's in the mud!"
"Well, put it back in ya," he said.
After awhile, farmer John asked again, "Honey, is it still in you or in the mud?"
"Ohh, it's in me, dear. It's IN me!!" Delores cooed happily.
"Well, would you mind putting it back in the mud?"
#joke