A new sovereign nation has app...
A new sovereign nation has appaeared quite Sudanly.
An out-of-towner drove his car...
An out-of-towner drove his car into a ditch in a desolated area. Luckily, a local farmer came to help with his big strong horse named Buddy.
He hitched Buddy up to the car and yelled, "Pull, Nellie, pull!" Buddy didn't move.
Then the farmer hollered, "Pull, Buster, pull!" Buddy didn't respond.
Once more the farmer commanded, "Pull, Coco, pull!" Nothing.
Then the farmer nonchalantly said, "Pull, Buddy, pull!" And the horse easily dragged the car out of the ditch.
The motorist was most appreciative and very curious. He asked the farmer why he called his horse by the wrong name three times.
The farmer said, "Oh, Buddy is blind and if he thought he was the only one pulling, he wouldn't even try!"
#joke
Funny video of the day - Funny video of the day Friday, 11 February 2011
Living at Home
An older couple had a son, who was still living with them. The parents were a little worried, as the son was still unable to decide about his career path, so they decided to do a small test.
They took a ten-dollar bill, a Bible, and a bottle of whiskey, and put them on the front hall table. Then they hid, hoping he would think they weren't at home.
The father told the mother, "If he takes the money, he will be a businessman; if he takes the Bible, he will be a priest; but if he takes the bottle of whiskey, I'm afraid our son will be a drunkard."
So the parents took their place in the nearby closet and waited nervously, peeping through the keyhole they saw their son arrive home.
He saw the note they had left, saying they'd be home later. Then, he took the 10-dollar bill, looked at it against the light, and slid it in his pocket. After that, he took the Bible, flicked through it, and took it also. Finally, he grabbed the bottle, opened it, and took an appreciative whiff to be assured of the quality, then he left for his room carrying all the three items.
The father slapped his forehead, and said, "Damn! It's even worse than I ever imagined..."
"What do you mean?" his wife inquired.
"He's gonna be a politician." the father replied.
#joke
Its pissing down and this midg...
Its pissing down and this midget goes to the doctors and says "Every time it rains my fanny gets sore".
He tells her to hop onto the examining couch. He bends over and looks up her skirt. "I see the problem," he says. And taking a pair of scissors shoves them up her skirt. Snip snip snip snip he goes with the scissors. "There that's fixed it" he says. "Your fanny wont be sore any more"
"Did you operate on my fanny doctor?" asks the midget.
"No" said the doctor, "I cut 2 inches off the tops of your wellingtons".
Cannibal jokes...
Two cannibals are eating a clown. One says to the other, 'Does this taste funny to you?'
That reminds me of the cannibal that passed his friend in the woods.....
When do cannibals leave the table? When everyone's eaten.......
What is a cannibal's favorite type of TV show? A celebrity roast.....
Where do cannibals shop for fine furniture? Eatin' Allen's......
What do cannibals eat for dessert? Chocolate covered aunts......
What do cannibals make out of politicians? Baloney sandwiches......
Have you heard about the cannibal restaurant? Dinner costs an arm and a leg......
Did you hear about the cannibal who loved fast food? He ordered a pizza with everybody on it.......
Cannibal's recipe book: How to Serve Your Fellow Man.......
One cannibal to another: I never met a man I didn't like...........
Two cannibals were sitting by a fire. The first says, 'Gee, I hate my mother-in-law.' The 2nd replies, 'So, try the potatoes.'
#joke
Two Caged Canaries
Once upon a time there were two canaries in a cage. Naturally, one was male and the other female. After many months, the male decided to meet the female. So he scooted over to her side of the cage and said,
"Since we're in this together, why don't I move over to your side of the cage!"
The female canary replied, "No, thanks!!"
So he went back to his side but found he could stay there no longer. Once again, he moved to her side of the cage. This time he asked,
"I am sorry I was to forward the first time. Why don't we get to know each other first."
To which she replied again, "No, thanks!"
Resigning himself to return to his side of the cage, he languished about for a bit then made one final effort. He went halfway across the cage and stated,
"Well, could we at least talk?"
This time she replied, "Oh, I am so sorry I have been so mean. You see I just learned I have a canarial disease called, "Chirpies" and I hear it is untweetable."
#joke
FLEX WORDLE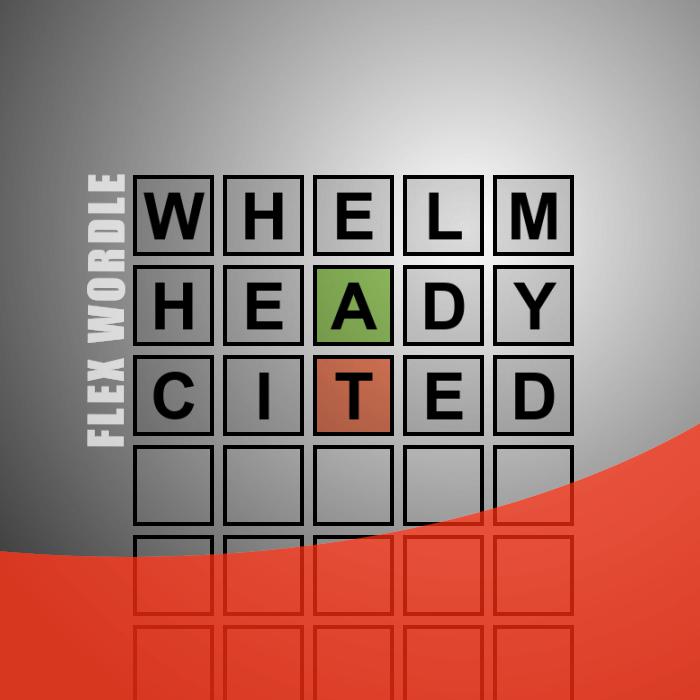 Guess the
WORDLE
in 3 tries. After each guess, the color of the tiles will change to show how close your guess was to the solution.
Email Commandments
E-MAIL COMMANDMENTS
Thou shalt include a clear and specific subject line.
Thou shalt edit any quoted text down to the minimum thou needest.
Thou shalt read thine own message thrice before sendest it.
Thou shalt ponder how thy recipient might react to thy message.
Thou shalt check thy spelling and thy grammar.
Thou shalt not curse, flame, spam or USE all CAPS.
Thou shalt not forward any chain letter.
Thou shalt not rely on the privacy of email, especially from work.
Thou shalt not use email for any illegal or unethical purpose.
When in doubt, save thy message overnight and reread it in the light of the dawn.
And, the Golden Rule of email:
That which thou findest hateful to receive, sendest thou not unto others.
#joke
Demetri Martin: Exit Only
I saw a sign on this door; it said, Exit Only. So, I entered it and went up to the guy working there, and I was like, I have some good news. You have severely underestimated this door over here by, like, 100%, man.
Kids' Views on School
A lit...
Kids' Views on School
A little girl had just finished her first week of school. "I'm wasting my time," she said to her mother.
"I can't read, I can't write - and they won't let me talk!"
A married couple were asleep w...
A married couple were asleep when the phone rang at 2 in the morning, thewife (undoubtedly blonde), picked up the phone, listened a moment andsaid, "How should I know, that's 200 miles from here?" and hung up.
The husband said, "Who was that?" The wife said, "I don't know, someyoung woman wanting to know 'if the coast is clear."
Why do the Vikings play in a D...
Why do the Vikings play in a Dome?
Because even God can't stand to watch!
My Evil Brother Was A Saint…
There were two evil brothers. They were rich and used their money to keep their ways from the public eye. They even attended the same church and looked to be perfect Christians.
Then, their pastor retired and a new one was hired. Not only could he see right through the brothers' deception, but he also spoke well and true, and the church started to swell in numbers.
A fundraising campaign was started to build a new assembly.
All of a sudden, one of the brothers died. The remaining brother sought out the new pastor the day before the funeral and handed him a check for the amount needed to finish paying for the new building.
"I have only one condition," he said. "At his funeral, you must say my brother was a saint."
The pastor gave his word and deposited the check.
The next day at the funeral, the pastor did not hold back. "He was an evil man," he said. "He cheated on his wife and abused his family." After going on in this vein for a small time, he concluded with, "But, compared to his brother, he was a saint."
#joke
A Faithful Woman
An elderly Muslim lady was well-known for her faith and for her confidence in talking about it. She would stand in front of her house and say "Allah be praised" to all those who passed by.
Next door to her lived an atheist who would get so angry at her proclamations he would shout, "There ain't no Lord!!"
Hard times came upon the elderly lady, and she prayed for Allah to send her some assistance. She would pray out loud in her night prayer "Oh Allah! I need food!! I am having a hard time, please Lord, PLEASE LORD, SEND ME SOME GROCERIES!!"
One night the atheist happened to hear her as she was praying, and decided to play a prank on her. The next morning the lady went out on her porch and found a large bag of groceries. She raised her hands and shouted, "Allah be praised!."
The neighbor jumped from behind a bush and said, "Aha! I told you there was no Lord. I bought those groceries, God didn't."
The old lady laughed and clapped her hands and said, "ALLAH BE PRAISED. He not only sent me groceries, but he made the devil pay for them!"
#joke #prank
Raffle prizes!
Bubba & Earl were in the local bar enjoying a beer when the decided to get in on the weekly charity raffle. They bought five tickets each at a dollar a pop.
The following week, when the raffle was drawn, each had won a prize. Earl won 1st prize, a year's supply of gourmet spaghetti sauce and extra-long spaghetti. Bubba won 6th prize, a toilet brush.
About a week or so had passed when the men met back in the neighborhood bar for a couple of beers. Bubba asked Earl how he liked his prize, to which Earl replied, "Great, I love spaghetti! How about you, how's that toilet brush?"
"Not so good," replied Bubba, "I reckon I'm gonna go back to paper."
Q: Can you describe the indivi...
Q: Can you describe the individual?
A: He was about medium height and had a beard.
Q: Was this a male, or a female?
Join us on WhatsApp