An old man walks into a bar, s...
An old man walks into a bar, sits down, and starts crying.
The bartender asks, "What's wrong?" The old man looks at the bartender through
Teary eyes and between sobs says, "I married a beautiful woman two days ago. She's a natural blonde, twenty-five, intelligent, a marvelous cook, a meticulous housekeeper,
Extremely sensitive to my wants and needs, very giving, my best friend, and intensely passionate in bed."
The bartender stares at the old man for a brief moment and says, "But that sounds great! You have what every man wants in a woman, so why are crying?"
The old man looks at the bartender and says, "I can't remember where I live!"
Alaskan Birthday Party
Alaskan Birthday Party Sam has been in business for 25 years and is finally sick of the stress. He quits his job and buys 50 acres in Alaska as far from humanity as possible. He sees the postman once a week and gets groceries once a month. Otherwise it's total peace and quiet. After six months or so of almost total isolation, someone knocks on his door. He opens it and there's a big, bearded man standing there.
"Name's Lars ...Your neighbor from forty miles away....Having a birthday party Friday ... Thought you might like to come. About 5...
"Great," says Sam, "after six months out here I'm ready to meet some local folks. Thank you."
As Lars is leaving, he stops. "Gotta warn you...There's gonna be some drinkin'."
"Not a problem... after 25 years in business, I can drink with the best of em."
Again, as he starts to leave, Lars stops. "More'n'likely gonna be some fightin' too."
Sam says, "Well, I get along with people. I'll be there. Thanks again."
Once again Lars turns from the door. "I've seen some wild sex at these parties, too."
"Now that's really not a problem," says Sam. "I've been all alone for six months! I'll definitely be there. By the way, what should I bring?"
Lars stops in the door again and says, "Whatever you want, just gonna be the two of us".
Funny video of the day - Funny video of the day Sunday, 06 March 2011
Ole and Lena went to the same ...
Ole and Lena went to the same Lutheran Church. Lena went every Sunday and taught Sunday School. Ole went on Christmas and Easter and once in a while, he went on one of the other Sundays.
On one of those Sundays, he was in the pew right behind Lena and he noticed what a fine looking woman she was.
While they were taking up the collection, Ole leaned forward and said, "Hey, Lena, how about you and me go to dinner in Westby next Friday?"
"Yah, Ole, dot vould be nice," said Lena.
Well, Ole couldn't believe his luck. All week long he polished up his old Ford, and on Friday he picked Lena up and took her to the finest restaurant in Westby.
When they sat down, Ole looked over at Lena and said, "Hey, Lena, vould you like a cocktail before dinner?"
"Oh, no, Ole," said Lena. "Vat vould I tell my Sunday School class?"
Well, Ole was set back a bit, so he didn't say much until after dinner. Then he reached in his pocket and pulled out a pack of cigarettes. "Hey, Lena," said Ole, "vould you like a smoke?"
"Oh, no, Ole," said Lena. "Vat vould I tell my Sunday School class?"
Well, Ole vas feeling pretty low after that, so he just got in his Ford and was driving Lena home when they passed the Motel. He'd struck out twice already, so he figured he had nothing to lose.
"Hey, Lena," said Ole, "how vould you like to stop at that motel with me?"
"Yah, Ole, dot vould be nice," said Lena.
Well, Ole couldn't believe his luck. He did a U-turn right then and there across the median and everything, and drove back to the motel and checked in with Lena.
The next morning Ole got up first. He looked at Lena lying there in the bed, her hair all spread out on her pillow. "Vat have I done? Vat have I done?" thought Ole.
He shook Lena and she woke up. "Lena, I've got to ask you von ting," said Ole. "Vat are you going to tell your Sunday School class?"
"Lena said, "The same ting I alvays tell dem. You don't have to smoke and drink to have a good time!"
Insurance...
Larry's barn burned down and his wife, Susan, called the insurance company.
Susan spoke to the insurance agent and said, "We had that barn insured for fifty thousand, and I want my money."
The agent replied, "Whoa there, just a minute. Insurance doesn't work quite like that. An independent adjuster will assess the value of what was insured, and then we'll provide you with a new barn of similar worth."
There was a long pause, and then Susan replied, "If that's how it works, then I want to cancel the life insurance policy on my husband."
#joke
Knock Knock Collection 131
Knock Knock
Who's there?
Montana!
Montana who?
Montana your hide if she finds out you ate all of the cookies!
Knock Knock
Who's there?
Moose!
Moose who?
Moose you be so nosy!
Knock Knock
Who's there?
Morris!
Morris who?
Morris another day!
Knock Knock
Who's there?
Morrison!
Morrison who?
Morrison, the more sun tan!
Knock Knock
Who's there?
Mort!
Mort who?
Mort to the point, who are you!
#joke
Tech line
The prime minister of India was at the White House.
One embarrassing moment was when President Bush said to the prime minister, 'Could you take a look at my computer?'
'I'm having some problems with it, I can't seem to get through on the tech line.'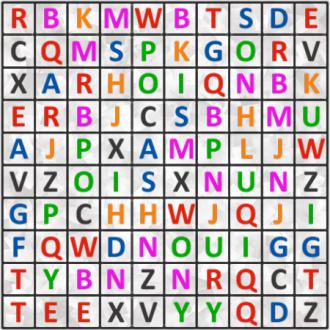 Find a famous person
Find the first and the last name of a famous person. Text may go in all 8 directions. Length of words in solution: 6,4.
Daniel Tosh: Who Sinned First
If you look at the Bible and you look at Adam and Eve in the Garden of Eden, we all know who sinned first. Ladies, do you have to eat everything?
A married couple were asleep w...
A married couple were asleep when the phone rang at 2 in the morning.
The wife (a blonde), picked up the phone, listened a moment and said,
"How should I know, that's 200 miles from here!" and hung up.
Curious, the husband said, "Who was that?"
And his lovely wife replies, "I don't any idea who it was.
It was some stupid woman wanting to know "if the coast is clear."
Nuns on the Highway
A cop pulls over a car full of nuns. The cop says, "Sister, the speed limit on this highway is 55 mph. Why are you going so slow?"
Sister replies, "I saw a lot of signs that said 41, not 55."
The copy says, "Sister, that's the name of the highway, not the speed limit."
"Silly me," the embarrassed nun says. "Thanks for letting me know. I'll be more careful."
But then the copy glances in the back seat where the other nuns are quaking with fear. He asks, "Excuse me, Sister, what's wrong with your friends?"
Sister says, "Oh, we just got off Highway 101."
#joke
A frog walks into a bank. He g...
A frog walks into a bank. He goes to the only open teller, and sees that her name is Paddy Whack. "Hey, listen" says the frog. "I really need a loan! I'm out of work, and my wife and tadpoles are at home starving! I need money so I can feed them and provide for them!"
Now Paddy feels very sorry for the poor frog and asks him if he has any collateral. He holds up a small glass elephant. Paddy is a little surprised by this, and quite unsure, but she feels so sorry for the the poor frog that she takes the elephant to her manager. "Mr. Manager, sir," Paddy begins "there is a frog out there who deperately needs a loan. He's out of work and he has a wife and tadpoles who are at home starving. He needs some money so he can provide for them! But all he has for collateral is this little glass elephant. What should I do?"
Well, Mr. Manager takes a good hard look at that elephant, thinks about it a little, and then replies, "It's a knick-knack, Paddy Whack, give the frog a loan!"
#joke
A little boy comes down for br...
A little boy comes down for breakfast and his mother asks if he had done his chores. "Not yet," says the little boy.
His mother tells him that until he completes them, he won't be getting any breakfast.
Well, he's a little angry, so he goes to feed the chickens and kicks one. He goes to feed the cows, and kicks a cow as well. He goes to feed the pigs, and he kicks a pig.
He goes back in for breakfast and his mother gives him a bowl of dry cereal. "How come I don't get any eggs and bacon? Why don't I have any milk in my cereal?" he asks.
"Well," his mother says, "I saw you kick a chicken, so you don't get any eggs for a week. I saw you kick the pig, so you don't get any bacon for a week either. I also saw you kick the cow, so for a week you aren't getting any milk."
Just then, his father comes down for breakfast and kicks the cat half way across the kitchen.
The little boy looks up at his mother with a smile and says, "Are you going to tell him, or shall I?"
#joke
Natasha Leggero: Male Comics
Male comics are always coming up to me, and theyre like, Hey, Natasha, dont you think youre a little attractive to be a comedian? And Im like, Dont you think youre a little ugly to be talking to me?
The Israeli Archaeologist
An archaeologist was digging in the Negev Desert in Israel and came upon a casket containing a mummy, a rather rare occurrence in Israel, to say the least. After examining it, he called Abe, the curator of the Israel museum in Jerusalem.
"I've just discovered a 3,000 year old mummy of a man who died of heart failure!" the excited scientist exclaimed. Abe replied, "Bring him in. We'll check it out."
A week later, the amazed Abe called the archaeologist. "You were right about both the mummy's age and cause of death. How in the world did you know?"
"Easy. There was a piece of paper in his hand that said, '10,000 Shekels on Goliath'."
#joke
Public School Dangers
The following is supposedly a true story. To be included, besides being true, the story is most likely strange, weird, surprising, or funny.
Sunday, November 29, 1992
An investigation by the Dallas Morning News revealed the city's public schools employ at least 185 people who have been convicted of felonies, including two convicted murderers.
In response, the school superintendent promised that the city would begin periodic records checks.
#joke
While driving down the road a ...
While driving down the road a motorist passed a fairground and he noticed a fortune teller sitting under a canopy outside, laughing and smiling. The motorist drove on for a couple of miles down the road then spun his car around and sped back toward the fortune teller. He pulled up next to the woman, jumped out of his car and suddenly began slapping and beating her."What are you doing?" asked the injured woman. The man replied: "Well, I've always wanted to strike a happy m