Professional soccer is the mos...
Professional soccer is the most hard score sport there is.
Two brothers were always getti...
Two brothers were always getting into trouble in their neighborhood. The people in the neighborhood started complaining to the parents about the boys. So the boys parents decided to have their priest talk to the boys. The priest asks to speak to the boys alone, requesting to see the youngest first. The young boy comes in and sits at a large table across the room from the priest. The priest looks at the boy, points at him and, trying to emphasize that God is in everyone, asks, "Where is God?" The boy looks around the room and back at the priest and says nothing. Again, the priest points at the boy and in a louder voice asks, "Where is God?" The boy says nothing. The priest walks around the table, pointing inches from the boy's face and asks again, "Where is God?" The boy jumps out of his chair and runs out the door. The boy runs right home, grabs his older brother and says to him, "We are in BIG trouble!" His brother replies, "We haven't done anything!" The younger brother replies, "God's missing, and they think we did it!"
#joke
Funny video of the day - Funny video of the day Monday, 07 March 2011
Blonde Miracle Diet
An overweight blonde consulted her doctor for advice. The doctor advised that she run 10 miles a day for 30 days. This, he promised, would help her lose as much as twenty pounds.
The blonde follows the doctor's advice, and, after thirty days, she was pleased to find that she'd indeed lost twenty pounds.
She phoned the doctor and thanked him for the wonderful advice which produced such effective results. At the end of the conversation, however, she asked one last question:
"How do I get home, since I am now 300 miles away?"

Poorest Preacher
After the church service a little boy told the pastor, "When I grow up, I'm going to give you some money."
"Well, thank you," the pastor replied, "but why?"
"Because my daddy says you're one of the poorest preachers we've ever had."
An 18-year old Italian girl te...
An 18-year old Italian girl tells her Mom that she has missed her period for 2 months. Very worried, the mother goes to the drugstore and buys a pregnancy kit. The test result shows that the girl is pregnant.
Shouting, cursing, crying, the mother says, "Who was the pig that did this to you? I want to know!"
The girl picks up the phone and makes a call. Half an hour later, a Ferrari stops in front of their house. A mature, distinguished man with grey hair and impeccably dressed in an Armani suit steps out of the Ferrari and enters the house.
He sits in the living room with the father, mother, and the girl and tells them: "Good morning, your daughter has informed me of the problem. I can't marry her because of my personal family situation but I'll take charge. I will pay all costs and provide for your daughter for the rest of her life. Additionally, if a girl is born, I will bequeath a Ferrari, 2 retail stores, a townhouse, a beachfront villa, and a $2,000,000 bank account. If a boy is born, my legacy will be a couple of factories and a $4,000,000 bank account. If twins, they will receive a factory and $2,000,000 each. However, if there is a miscarriage, what do you suggest I do?"
At this point, the father, who had remained silent, places a hand firmly on the man's shoulder and tells him, "You try again."
#joke
Sign of the times...
A woman met her husband at the train station after work for the ride home. He looked haggard, so she asked, "Rough day?"
"You bet it was," he groaned. "Our computers were down, and we had to think all day long."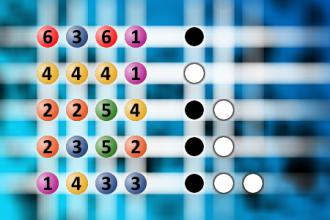 Which is a winning combination of digits?
The computer chose a secret code (sequence of 4 digits from 1 to 6). Your goal is to find that code. Black circles indicate the number of hits on the right spot. White circles indicate the number of hits on the wrong spot.
Answering Machine Message 252

A bubble in the space-time continuum has connected your line to a channeler in the 23rd century. Any message you leave will be broadcast into the future.


Irish Religion Humor
Father Murphy walks into a pub in Donegal, and says to the first man he meets, "Do you want to go to heaven?"
The man said, "I do Father."
The priest said, "Then stand over there against the wall."
Then the priest asked the second man, "Do you want to got to heaven?"
"Certainly, Father," was the man's reply.
"Then stand over there against the wall," said the priest.
Then Father Murphy walked up to O'Toole and said, "Do you want to go to heaven?"
O'Toole said, "No, I don't Father."
The priest said, "I don't believe this. You mean to tell me that when you die you don't want to go to heaven?"
O'Toole said, "Oh, when I die, yes. I thought you were getting a group together to go right now."
O'Toole worked in the lumber yard for twenty years and all that time he'd been stealing the wood and selling it. At last his conscience began to bother him and he went to confession to repent.
"Father, it's 15 years since my last confession, and I've been stealing wood from the lumber yard all those years," he told the priest.
"I understand my son," says the priest. "Can you make a Novena?"
O'Toole said, "Father, if you have the plans, I've got the lumber."
#joke
Kyle Kinane: Always a Miracle
Im in my 30s, everybodys having kids, or miracles, Oh, its a miracle. Its always a miracle. Im like, You had sex, right? Yeah? Then no, thats exactly whats supposed to happen from that. I spend all my time preventing miracles; that is whats happening. I call it a miracle when the girl doesnt get pregnant. Thats when I start getting spiritual.
#joke
A motorist was driving quietly...
A motorist was driving quietly along the road when, suddenly, his eyes goggled as, believe it or not, he espied a three-legged chook running beside him. It suddenly made a right hand turn, heading up a side track towards a nearby farm house. Intrigued, the motorist decided to follow the chook. At the end of the track, he met a farmer leaning on a gate.
The motorist said, "You probably won't believe this, but I reckon I saw a three-legged chook running this way."
The farmer was nonchalant in response. "Yep, we breed them here."
"But why?" asked the motorist.
"Well, you see, I like a leg, my wife likes a leg, and me son likes a leg."
"And what do they taste like?"
"Dunno", replied the farmer, "no one can catch the little b
#joke
A guy is sitting at a bar ...
A guy is sitting at a bar in a skyscraper restaurant high above the city. He's slamming tequila left and right. He grabs one, drinks it, goes over to a window and jumps out. The guy who was sitting next to him couldn't believe that the guy had just done that. He was more surprised when, ten minutes later, the same guy, unscathed, comes walking back into the bar and sits back down next to him. The astonished guy asks "How did you do that? I just saw you jump out that window and we're hundreds of feet above the GROUND!!!". The jumper responds by slurring, "Well, I don't get it either. I slam a shot of tequila and when I jump out the window, the tequila makes me slow down right before I hit the ground. Watch." He takes a shot, slams it down, goes to the window and jumps out. The other guy runs to the window and watches as the guy falls until right before the ground, slows down and lands softly on his feet. A few minutes later, the guy walks back into the bar. The other guy has to try it too, so he orders a shot of tequila. He drinks it and goes to the window and jumps. As he reaches the bottom, he doesn't slow down at all....SPLAT!!!!!! The first guy orders another shot of tequila and the bartender says to him, "You're really an jerk when you're drunk, Superman."
#joke
about 3:30 in the morning, a w...
about 3:30 in the morning, a wife wakes up to find she is alone in the bed and she can hear her husband crying uncontrollably. She gets up and starts to look for him. He's not in the bathroom, living room, or in the kitchen. As she passes the laundry room, she hears his faint sniffels coming from the basement. She turns on the light and goes downstairs to find him. Finally, she finds him huddled in the corner, rolled up into a ball, and crying hysterically. She runs over to him and asks why he is crying. He says, "Do you remember when we got married twenty (20) years ago?" She looks at him and says, "yes". He says, "well, a couple of months before, your dad said that I could marry you or go to jail." She says, "I already know that. I don't see what the problem is." He says, " don't you see!!! I would have gotten out today!"
#joke
Elementary, my dear Watson
Sherlock Holmes and Dr. Watson went on a camping trip. After a good meal and a bottle of wine they lay down for the night, and went to sleep.
Some hours later, Holmes awoke and nudged his faithful friend.
"Watson, look up at the sky and tell me what you see."
Watson replied, "I see millions and millions of stars."
"What does that tell you?"
Watson pondered for a minute. "Astronomically, it tells me that there are millions of galaxies and potentially billions of planets. Astrologically, I observe that Saturn is in Leo. Chronologically, I deduce that the time is approximately a quarter past three. Theologically, I can see that God is all powerful and that we are small and insignificant. Meteorologically, I suspect that we will have a beautiful day tomorrow. What does it tell you?"
Holmes was silent for a minute, then spoke. "Watson, you idiot. Some bastard has stolen our tent."
#joke
The new mother got out of bed ...
The new mother got out of bed for the first time since her childbirth dressed in her robe and walked down the hospital hallway to the nurses desk where she asked for a phone book.
"What are you doing out here! You should be in your room resting," the nurse exclaimed.
"I want to search through the phone book for a name for my baby," the new mother replied.
"You don't have to do that here. The hospital furnished a booklet to all new mothers to assist them in picking a first name for their baby."
"You don't understand," the woman said and frowned.
"My baby already has a FIRST name!"
#joke