People who line up for dessert...
People who line up for dessert have a squeued scents of pie orderies.
This guy goes into a doctor's ...
This guy goes into a doctor's office. The doctor says, "Oh, Mr. Jones! We have the results of your test. Do you want the bad news first or the very bad news?" The guy shrugs and says, "Well I guess I'll have the bad news first." "Well the bad news is, you have 24 hours to live," the doctor replies. The man is distraught, "24 hours to live? That's horrible! What could be worse than that? What's the VERY bad news?" The doctor folds his hands and sighs, "The very bad news is...I've been trying to contact you since yesterday."
Funny video of the day - Funny video of the day Tuesday, 08 March 2011
Late Blonde
"How come you're late?" asked the bartender, as the blonde waitress walked into the bar.
"It was awful," she explained. "I was walking down Elm street and there was a terrible accident. A man was thrown from his car and he was lying in the middle of the street. His leg was broken, his skull was fractured, and there was blood everywhere. Thank God I took that first-aid course.
"What did you do?" asked the bartender.
"I sat down and put my head between my knees to keep from fainting!"
The magician and the parrot...
A magician was working on a cruise ship in the Caribbean. The audience would be different each week, so the magician allowed himself to do the same tricks over and over again.
There was only one problem: The captain's parrot saw the shows every week and began to understand what the magician did in every trick. Once he understood that, he started shouting in the middle of the show.
"Look, it's not the same hat!" "Look, he's hiding the flowers under the table!" "Hey, why are all the cards the Ace of Spades?"
The magician was furious but couldn't do anything, it was the captain's parrot after all.
One day the ship had an accident and sank. The magician found himself on a piece of wood, in the middle of the ocean, and of course the parrot was by his side.
They stared at each other with hate, but did not utter a word. This went on for several days.
After a week the parrot finally said, "Okay, I give up. What'd you do with the boat?"
#joke
Mom Would Never Say
Things Mom Would Never Say


"How on earth can you see the TV sitting so far back?"

"Yeah, I used to skip school a lot, too"

"Just leave all the lights on ... it makes the house look more cheery"

"Let me smell that shirt -- Yeah, it's good for another week"

"Go ahead and keep that stray dog, honey. I'll be glad to feed and walk him every day"

"Well, if Timmy's mom says it's OK, that's good enough for me."

"The curfew is just a general time to shoot for. It's not like I'm running a prison around here."

"I don't have a tissue with me ... just use your sleeve"

"Don't bother wearing a jacket - the wind-chill is bound to improve"

#joke
Sperm Count
How does a guy know if he has a high sperm count? If the girl has to chew, before she swallows.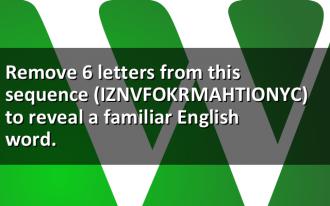 Remove 6 letters from this seq...
Remove 6 letters from this sequence (IZNVFOKRMAHTIONYC) to reveal a familiar English word.
A businessman boarded a fli...
A businessman boarded a flight and was lucky enough to be seated next to an absolutely gorgeous woman...... They exchange brief hellos and he noticed she is reading a manual about sexual statistics. He asks her about it and she replied, "This is a very interesting book about sexual statistics. It identifies that American Indians have the longest average penis and Polish men have the biggest average diameter. By the way, my name is Jill. What's yours?" "Tonto Kawalski, nice to meet you."
#joke
A college physics professor wa...
A college physics professor was explaining a particularly complicated concept to his class when a pre-med student interrupted him.
"Why do we have to learn this stuff?" one young man blurted out.
"To save lives," the professor responded before continuing the lecture.
A few minutes later the student spoke up again. "So how does physics save lives?"
The professor stared at the student for a long time without saying a word. Finally the professor continued.
"Physics saves lives," he said, "because it keeps certain people out of medical school."
#joke
Cinderella was sad. She had no...
Cinderella was sad. She had no date to the big ball, and even if she did, she didn't have a dress the wear. Out of nowhere, her fairy godmother appears. The godmother says, "Cinderella, if you want to go to the ball, I can give you a dress, but I cannot give you a date. Do you want to go?"
"Yes, godmother, more than anything!" Cinderella says.
"Well, stand back and let me work" the godmother says.
BOOM!
Cinderella is now in a skimpy skin tight dress.
"Now Cinderella, if you are not home but 3 AM, then your pussy will turn into a pumpkin" the grandmother says. Not hearing what her godmother had said, Cinderella rushed to the ball.
At 3:30 AM the fairy godmother is pacing around the house wondering where Cinderella was. About 3:45 AM, Cinderella walks in with her hair all messed up. "Where have you been!" the godmother yells. "And why isn't your pussy a pumpkin?"
"Oh godmother," Cinderella says."I had the best time of my life. I had sex with this most attractive man".
"Well, that explains where you have been, but why isn't your pussy a pumpkin?" the godmother asks "What was this guys name?"
So Cinderella says, "Um, lets see, um, Oh yeah, his name was Peter Peter, um Oh yeah, Peter Peter Pumpkin Eater"
#joke
The Marriage of Miss Bad Breath and Mr. Smelly Feet
A young couple, madly in love, decided to get married. But as the wedding day neared, both grew increasingly nervous over secret problems they had never shared with anyone. Privately, the groom-to-be approached his minister.
"I'm really concerned about this marriage," the young man said.
"Don't you love her?" the pastor asked in surprise.
"Of course," the groom said. "But I have unbelievably smelly feet—and I'm afraid my fiancée won't be able to stand them."
"Oh, is that all?" the pastor replied. "Look, all you need to do is wash your feet twice a day and wear socks all the time."
The groom thought it over and decided it just might work.
Meanwhile, the nervous bride had privately approached the minister's wife. "I'm so worried," she sobbed. "I have really bad breath when I wake up each day!"
"Oh, dear," the pastor's wife replied," everyone has bad breath in the morning. Don't worry about it."
"No, you don't understand," the bride implored. "My morning breath is so awful, my fiancé won't even want to be near me!"
"Well, I have an idea," the pastor's wife said soothingly. "Set your alarm just a few minutes before your husband wakes up. Run to the bathroom, brush your teeth, and gargle with mouthwash before he gets out of bed. The key is not to say anything until you've taken care of your breath."
The bride thought it over and decided it just might work.
In time, a beautiful wedding was held and the bride and groom enjoyed the day without once worrying about their secret problems. For several months they managed to keep their issues to themselves.
They one morning, the husband awoke before dawn to find that one of his socks had come off in the night. Frantic, he searched the bed, afraid of what might happen if he didn't find his sock soon. His bride woke with a start, and, without thinking, blurted out, "What in the world are you doing?"
"Oh, dear!" the young man wailed. "You swallowed my sock!"
From "The Book of Church Jokes," published by Barbour Publishing, Inc., Uhrichsville, Ohio. Copyright 2009. Used by permission of Barbour Publishing, Inc.
#joke
During a terrible storm, all t...
During a terrible storm, all the highway signs were covered with snow. The following spring, the state decided to raise all the signs twelve inches at a cost of six million dollars. "That's an outrageous price!" said a local farmer, "but I guess we're lucky the state handled it instead of the federal government." "Why's that?"
"Because knowing the federal government, they'd decided to lower the highways."
#joke
Is It Serious?
A man walks into his doctor and says "Doctor, doctor i have
a bit of an embarrising problem."
The doctor replies, "Okay, lets see it."
The man pulls down his pants and bends over to reveal a
lettuce leaf growing out his backside.
The man asks "Do you think it's serious?"
The doctor replies, "To tell you the truth it looks like
just the tip of the iceberg."
Julian McCullough: Drunk Girl Orgasm
Trying to get a drunk girl to finish is like trying to take a drunk girl home when she cant remember where she lives. Shes like, Thats not it, thats not it, thats not it.
Three men are sitting naked in...
Three men are sitting naked in the sauna. Suddenly there is a beeping sound. The first man presses his forearm and the beeping stops. The others look at him questioningly.
"That's my pager," he says. "I have a microchip under the skin of my arm."
A few minutes later a phone rings. The second man lifts his palm to his ear. When he finishes he explains, "That's my mobile phone. I have a microchip in my hand."
The third man, feeling decidedly low-tech, steps out of the sauna. In a few minutes he returns with a piece of toilet paper extending from his rear. The others raise their eyebrows.
"I'm getting a Fax," he explained.
#joke