Visual artists are eas...
Visual artists are easelly inspired.
Joe had asked Bob to help him ...
Joe had asked Bob to help him out with the deck after work, so Bob just went straight over to Joe's place. When they got to the door, Joe went straight to his wife, gave her a hug and told her how beautiful she was and how much he had missed her at work. When it was time for supper, he complimented his wife on her cooking, kissed her and told her how much he loved her.
Once they were working on the deck, Bob told Joe that he was surprised that he fussed so much over his wife. Joe said that he'd started this about six months ago, it had revived their marriage, and things couldn't be better. Bob thought he'd give it a go. When he got home, he gave his wife a massive hug, kissed her and told her that he loved her. His wife burst into tears.
Bob was confused and asked why she was crying. She said, "This is the worst day of my life. First, little Billy fell off his bike and twisted his ankle. Then, the washing machine broke and flooded the basement. And now, you come home drunk!"
#joke
Funny video of the day - Funny video of the day Sunday, 13 March 2011
Million Dollar Question
A contestant on "Who Wants to be a Millionaire?" had reached the final plateau. If she answered the next question correctly, she would win $1,000,000. If she answered incorrectly, she would pocket only the 32,000 milestone money. And as she suspected it would be, the million-dollar question was no pushover. It was, "Which of the following species of birds does not build its own nest, but instead lays its eggs in the nests of other birds? Is it A) the condor; B) the buzzard; C) the cuckoo; or D) the vulture?"
The woman was on the spot. She did not know the answer. And she was doubly on the spot because she had used up her 50/50 Lifeline and her Audience Poll Lifeline. All that remained was her Phone-a-Friend! Lifeline. The woman hoped she would not have to use it because ... her friend was, well .. blond. She had no alternative. She called her friend and gave her the question and the four choices. The blonde responded unhesitatingly: "That's easy. The answer is C: The cuckoo."
The contestant had to make a decision and make it fast. She considered employing a reverse strategy and giving Regis any answer except the one that her friend had given her. And considering that her friend was a blonde, that would seem to be the logical thing to do. On the other hand - the blonde had responded with such confidence, such certitude, that the contestant could not help but be persuaded.
I need an answer," said Regis.
Crossing her fingers, the contestant said, "C: The cuckoo."
"Is that your final answer?" asked Regis. "Yes, that is my final answer."
Two minutes later, Regis said, "That answer is ... absolutely correct! You are now a millionaire!"
Three days later, the contestant hosted a party for her family and friends including the blonde who had helped her win the million dollars. "Jenny, I just do not know how to thank you! ," said the contestant. "How did you happen to know the right answer?"
"Oh, come on," said the blonde. "Everybody knows that cuckoos don't build nests. They live in clocks."
The Driver, the Priest, and the Lawyer
A truck driver was driving down the highway when he saw a priest at the side of the road. He stopped to pick up the priest and give him a ride.
A ways down the road the driver saw a lawyer on the side of the road. He turned the truck to steer directly toward the lawyer. Then he remembered, "I have a priest in the truck. I can't run down this lawyer," and at the last second he swerved to miss the lawyer.
But he heard a thump outside anyway. He looked in his rear-view mirror but didn't see anything.
He turned to the priest and said, "Sorry Father, I just missed that lawyer at the side of the road."

And the priest said, "Don't worry son, I got him with my door."
"Vice President Cheney is...
"Vice President Cheney is also on vacation. He's in Jackson Hole, Wyoming. What better place for a guy who has had 4 heart attacks than a place with thin air, rugged hiking and all beef dinners? Why don't they get some snow for him to shovel while he's out there, too?" -- Jay Leno
#joke
Some great things about getting older...
Finally you can eat dinner at 4:00
Your investment in health insurance is finally beginning to pay off.
Kidnappers are not very interested in you.
It's harder and harder for sexual harassment charges to stick.
If you've never smoked you can start now and it won't have time to hurt you.
People no longer view you as a hypochondriac.
Your secrets are safe with your friends because they can't remember them either.
Your supply of brain cells is finally down to a manageable size.
Your eyes won't get much worse.
Adult diapers are actually kind of convenient.
Things you buy now won't wear out.
No one expects you to run into a burning building.
You don't need the shingles with the 30 year guarantee.
There is no need to spend money for a psychic to see your future.
There's nothing left to learn the hard way.
Your joints are more accurate than the National Weather Service.
Protecting your eyes during a solar eclipse isn't as important as it used to be.
Buying cheap tires and not rotating them makes economic sense.
You don't have to learn the name of the new UPS man.
No one thinks you're cheap because you don't buy a half a cow to freeze.
You may never have to vacuum under the bed again.
Taking the shortest magazine subscription is economically defensible.
You don't have to bother planting perennials.
In a hostage situation you are likely to be released first
#joke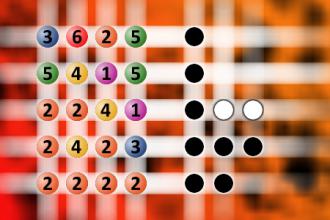 Which is a winning combination of digits?
The computer chose a secret code (sequence of 4 digits from 1 to 6). Your goal is to find that code. Black circles indicate the number of hits on the right spot. White circles indicate the number of hits on the wrong spot.
Steven Wright 08
Today I dialed a wrong number... The other person said, "Hello?" And I said, "Hello, could I speak to Joey?"... They said, "Uh... I don't think so... he's only 2 months old." I said, "I'll wait."
I got up one morning and couldn't find my socks, so I called Information. She said, "Hello, Information." I said, "I can't find my socks." She said, "They're behind the couch." And they were!
Last week I bought a new phone. I took it out of the box, hooked it up to the wall... Pressed redial. The phone had a nervous breakdown.
I got an answering machine for my phone. Now when I'm not home and somebody calls me up, they hear a recording of a busy signal. I like to leave messages before the beep.
I don't like the sound of my phone ringing so I put my phone inside my fish tank. I can't hear it, but every time I get a call I see the fish go like this [[[]]][[]][[[[. I go down to the pet store -- "Gimme another ten guppies, I got a lotta calls yesterday."
I bought a self-learning record to learn Spanish. I turned it on and went to sleep; the record got stuck. The next day I could only stutter in Spanish.
I was going to tape some records onto a cassette, but I got the wires backwards. I erased all of the records. When I returned them to my friend, he said, "Hey, these records are all blank."
I got tired of calling the movies to listen to what is playing so I bought the album.
I was reading the dictionary. I thought it was a poem about everything.
#joke
An old man goes to the Wizard ...
An old man goes to the Wizard to ask him if he can remove a "Curse" he has been living with for the last 40 years.
The Wizard says "maybe, but you will have to tell me the exact words that were used to put the curse on you."
The old man says without hesitation "'I now pronounce you man and wife'".
#joke
Problem
A man goes to a psychiatrist and tells him, "I've got this problem."
The psychiatrist asks, "What is it?"
"Well, during the day I'm attracted to women, and for some reason at night I'm attracted to men. Do you know what it could be?"
The psychiatrist reflects for a minute a says, "This sounds like a classic case of Dr. Jekyl and Mr. Hiney."
Submitted by calamjo
Edited by Glaci and Curtis
#joke
A woman phones up her husband ...
A woman phones up her husband at work for a chat...
Says He: "I'm sorry honey but I'm up to my neck in work today"
Says She: "But I've got some good news and some bad news for you dear."
Says He: "OK darling, but since I've got no time now, just give me the good news, OK?"
Says She: "Well, the air bag works..."
#joke
Dogs in Heaven
Dear God,
When I get to heaven, can I sit on your couch? Or is it the same old story?
Also, are there mailmen in Heaven? If there are, will I have to apologize?
Thank You God,
The Dog
- Joke shared by Beliefnet member Jalus
#joke
What happend here???
A guy comes home in the middle of the day, finds his wife standing in the middle of their deluxe apartment wearing a red G-string, high heels, and the whole apartment is flooded.
"What happened here?" he asks.
"I think the waterbed busted," says the trembling wife.
Just then a guy floats by.
"Who's that?" demands the husband.
"I dunno. Must be a lifeguard."
#joke
Stop the bus!!
A group of people were traveling cross-country on a Greyhound bus. The driver had just turned onto the interstate highway when a woman came up to him and said, "Please stop the bus, there's a man back there who's bothering me."
The driver said he stop at the very next exit but before he got there, another woman came up and made the same complaint. When the driver was finally able to stop, he walked to the rear of the bus and saw a little old baldheaded man down on his hands and knees looking under the seats. The bus driver said, "Sir, what seems to be the problem?"
"I lost my toupee and I'm looking for it. I though I'd found it several times but mine parts on the side."
#joke
Studying Up for the Big Test
"Why do you keep reading the Bible everyday?" the teenage girl asked her grandfather.
"Well, it's a bit like cramming for your final exam," said Granddad.