Boris Yeltsin drank so much he...
Boris Yeltsin drank so much he became
glassnosed
.
Late one night a mugger wearin...
Late one night a mugger wearing a ski mask jumped into a path of a well-dressed man and stuck a gun in his ribs "give me your money," he demanded. Indignant, the affluent man replied, "you can't do this – I am a United States congressman!" "In that case," replied the mugger, "give me MY money."
Funny video of the day - Funny video of the day Wednesday, 16 March 2011
The Mime And The Lion
One day an out of work mime is visiting the zoo and attempts to earn some money as a street performer.
However, as soon as he starts to draw a crowd, the zookeeper grabs him and drags him into his office.
The zookeeper explains to the mime that the zoo's most popular attraction, a gorilla, has died suddenly. The keeper fears that attendance at the zoo will fall off. He offers the mime a job to dress up as the gorilla until they can get another one. The mime accepts.
The next morning, before the crowd arrives, the mime puts on the gorilla suit and enters the cage. He discovers that it's a great job. He can sleep all he wants, play and make fun of people and he draws bigger crowds than he ever did as a mime.
However, eventually the crowds tire of him and he gets bored just swinging on tires. He begins to notice that the people are paying more attention to the lion in the cage next to his.
Not wanting to lose the attention of his audience, he climbs to the top of his cage, crawls across a partition, and dangles from the top to the lion's cage. Of course, this makes the lion furious, but the crowd loves it.
At the end of the day the zookeeper comes and gives the mime a raise for being such a good attraction as a gorilla.
Well, this goes on for some time. The mime keeps taunting the lion, the crowds grow larger, and his salary keeps going up. Then one terrible day when he is dangling over the furious lion, he slips and falls. The mime is terrified. The lion gathers itself and prepares to pounce. The mime is so scared that he begins to run round and round the cage with the lion close behind.
Finally, the mime starts screaming and yelling, "Help, Help me!", but the lion is quick and pounces. The mime soon finds himself flat on his back looking up at the angry lion and the lion says, "Shut up you idiot! Do you want to get us both fired?"
#joke
Greg Giraldo: High Self-Esteem
If everyone grows up with high self-esteem, whos gonna dance in our strip clubs?
A quick drink...
A cowboy runs into a bar and says to the bartender, "Give me twenty shots of your best scotch, and make it quick!"
The bartender pours out the shots, and the cowboy drinks them as fast as he can.
The bartender remarks, "I've never seen anybody drink that fast!"
The cowboy replies, "Well, you'd drink that fast too if you had what I have."
"What's that?" asks the bartender.
"Only fifty cents!"
#joke
"It looks like they don...
"It looks like they don't like us on TV, but you have to watch some of the other stories. I saw a story on an Iraqi/Kurd family who had so much appreciation for what we did in 1991 that they named their kid Dick Cheney. I'm not kidding. They have a little 11 --year --old boy named Dick Cheney who is smart, brave, and gets along very well with his retarded brother Dan Quayle." -- Bill Maher
#joke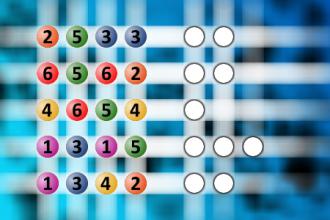 Find the right combination
The computer chose a secret code (sequence of 4 digits from 1 to 6). Your goal is to find that code. Black circles indicate the number of hits on the right spot. White circles indicate the number of hits on the wrong spot.
Blonde in a Snow Storm
A blonde got stuck in a snowstorm and started to panic.
Then she remembered that her father had told her to wait for
a snow plow to come and plow the road in front of her if she
ever got stuck in a snowstorm. Then follow the plow to
safety. So she waited until a snow plow finally came, and she
followed it.
After about an hour and a half the guy driving the snow plow
stopped and asked the blonde what she was doing.
She told him what her father told her. He shrugged his
shoulders and said "Well, okay, I'm done with K-Mart's
parking lot, would you like to follow me to Sears?"
The Perfect Man
The ...
The Perfect Man
The perfect man is gentle
Never cruel and never mean
He has a beautiful smile
And keeps his face so clean.
The perfect man loves children
And will raise them by your side
He will be a good father
And a good husband to his bride.
The perfect man loves cooking
Cleaning and vacuuming too
He'll do anything in his power
To convey his love to you.
The perfect man is sweet
Writing poetry from your name
He's a best friend to your mother
and kisses away your pain.
He will never make you cry
or batter you in any way
To hell with this stupid poem
The perfect man is gay.
#joke
Three weeks after her wedding ...
Three weeks after her wedding day, Joanna called her minister. "Reverend," she wailed, "John and I had a DREADFUL fight!"
"Calm down, my child," said the minister, "it's not half as bad as you think. Every marriage has to have its first fight!"
"I know, I know!" said Joanna. "But what am I going to do with the BODY?
#joke
Church Restoration Project
There was a tradesman, a painter named Jack, who was very interested in making a dollar where he could. So he often would thin down his paint to make it go a wee bit further. As it happened, he got away with this for some time. Eventually the local church decided to do a big restoration project. Jack put in a painting bid and, because his price was so competitive, he got the job. And so he started, erecting the trestles and putting up the planks, and buying the paint and thinning it down with turpentine.
Jack was up on the scaffolding, painting away, the job nearly done, when suddenly there was a horrendous clap of thunder. The sky opened and the rain poured down, washing the thin paint from all over the church and knocking Jack off the scaffold to land on the lawn.
Jack was no fool. He knew this was a judgment from the Almighty, so he fell on his knees and cried, "Oh, God! Forgive me! What should I do?"
And from the thunder, a mighty Voice spoke, "Repaint! Repaint! And thin no more!"
#joke
Answering Machine Message 131

I can't answer the phone now because I'm over at Slobinskis's house. Me and five other guys are helping him replace a lightbulb.






Not tonight, Adam
After a few days, the Lord called to Adam and said, "It is time for you and Eve to begin the process of populating the earth, so I want you to kiss her."
Adam answered, "Yes, Lord, but what is a 'kiss'?"
The Lord gave a brief description to Adam, who then took Eve by the hand and led her to a nearby bush.
A few minutes later, Adam emerged and said, "Thank you, Lord. That was enjoyable."
And the Lord replied, "Yes, Adam, I thought you might enjoy that. Now I'd like you to caress Eve."
And Adam said, "What is 'caress'?"
So the Lord again gave Adam a brief description and Adam went behind the bush with Eve.
Quite a few minutes later, Adam returned, smiling, and said, "Lord, that was even better than the kiss!"
And the Lord said, "You've done well, Adam. Now I want you to make love to Eve."
And Adam asked, "What is 'make love' Lord?"
So the Lord again gave Adam directions and Adam went again to Eve behind the bush, but this time he reappeared in two seconds.
And Adam said, "Lord, what is a 'headache'?"
#joke
Kurt Metzger: Liposuction
I saw liposuction. You ever see how they do that? Its, like, violent. They get the hose -- it looks like theyre mad at how fat you are.
A man was walking in the stree...
A man was walking in the street when he heard a voice: "Stop! Stand still! If you take one more step, a brick will fall down on your head and kill you."
The man stopped and a big brick fell right in front of him. The man was astonished. He went on, and after awhile he was going to cross the road. Once again the voice shouted: "Stop! Stand still! If you take one more step a car will run over you and you will die."
The man did as he was instructed, just as a car came careening around the corner, barely missing him. "Where are you?" the man asked. "Who are you?"
"I am your guardian angel," the voice answered.
"Oh yeah?" the man asked... "And where the hell were you when I got married?"
#joke
Top 10 Signs You Are Too Old to Be Trick or Treating
10. You get winded from knocking on the door.
9. You have to have another kid chew the candy for you.
8. You ask for high fiber candy only.
7. When someone drops a candy bar in your bag, you lose your balance and fall over.
6. People say, 'Great Keith Richards mask!' and you're not wearing a mask.
5. When the door opens you yell, 'Trick or...' and can't remember the rest.
4. By the end of the night, you have a bag full of restraining orders.
3. You have to carefully choose a costume that won't dislodge your hairpiece.
2. You're the only Power Ranger in the neighborhood with a walker.
1. You avoid going to houses where your ex-wives live.
#joke
Golf accident
Two women were playing golf. One teed off and watched in horror as her ball headed directly toward a foursome of men playing the next hole.
The ball hit one of the men, and he immediately clasped his hands together at his groin, fell to the ground and proceeded to roll around in agony. The woman rushed down to the man and immediately began to apologize.
"Please allow me to help. I'm a physical therapist and I know I could relieve your pain if you'd allow me," she told him.
"Oh, no, I'll be all right. I'll be fine in a few minutes," the man replied, still in pain, in the foetal position, still clasping his hands together in his groin.
But she persisted, and he finally allowed her to help. She gently took his hands away and laid them to the side, she loosened his pants, and put her hands inside. She began to massage him.
She then asked, "How does that feel?"
He replied, "It feels great, but my thumb still hurts like hell."
#joke