How I Got to Heaven
Three men were standing in line to get into heaven one day. Apparently it had been a pretty busy day, though, so Peter had to tell the first one, "Heaven's getting pretty close to full today, and I've been asked to admit only people who have had particularly horrible deaths. So what's your story?"
So the first man replies: "Well, for a while I've suspected my wife has been cheating on me, so today I came home early to try to catch her red-handed. As I came into my 25th floor apartment, I could tell something was wrong, but all my searching around didn't reveal where this other guy could have been hiding. Finally, I went out to the balcony, and sure enough, there was this man hanging off the railing, 25 floors above ground! By now I was really mad, so I started beating on him and kicking him, but wouldn't you know it, he wouldn't fall off. So finally I went back into my apartment and got a hammer and starting hammering on his fingers. Of course, he couldn't stand that for long, so he let go and fell -- but even after 25 stories, he fell into the bushes, stunned but okay. I couldn't stand it anymore, so I ran into the kitchen, grabbed the fridge and threw it over the edge where it landed on him, killing him instantly. But all the stress and anger got to me, and I had a heart attack and died there on the balcony."
"That sounds like a pretty bad day to me," said Peter, and let the man in.
The second man comes up and Peter explains to him about heaven being full, and again asks for his story.
"It's been a very strange day. You see, I live on the 26th floor of my apartment building, and every morning I do my exercises out on my balcony. Well, this morning I must have slipped or something, because I fell over the edge. But I got lucky, and caught the railing of the balcony on the floor below me. I knew I couldn't hang on for very long, when suddenly this man burst out onto the balcony. I thought for sure I was saved, when he started beating on me and kicking me. I held on the best I could until he ran into the apartment and grabbed a hammer and started pounding on my hands. Finally I just let go, but again I got lucky and fell into the bushes below, stunned but all right. Just when I was thinking I was going to be okay, this refrigerator comes falling out of the sky and crushes me instantly, and now I'm here."
Once again, Peter had to concede that that sounded like a pretty horrible death.
The third man came to the front of the line, and again the whole process was repeated. Peter explained that heaven was full and asked for his story.
"Picture this," says the third man, "I'm hiding naked inside a refrigerator..."
#joke
The 70% off sale at the coat s...
The 70% off sale at the coat store caused quite a frockus.
Funny video of the day - Funny video of the day Wednesday, 23 March 2011
The Twenty and the One
A well-worn one dollar bill and a similarly distressed twenty dollar bill arrived at a Federal Reserve Bank to be retired. As they moved along the conveyor belt to be burned, they struck up a conversation.

The twenty dollar bill reminisced about its travels all over the county. "I've had a pretty good life," the twenty proclaimed. "Why I've been to Las Vegas and Atlantic City, the finest restaurants in New York, performances on Broadway, and even a cruise to the Caribbean.""Wow!" said the one dollar bill. "You've really had an exciting life!"

"So tell me," says the twenty, "where have you been throughout your lifetime?"
The one dollar bill replies, "Oh, I've been to the Methodist Church, the Baptist Church, the Lutheran Church ..."

The twenty dollar bill interrupts, "What's a church?"
#joke
Scripture?
An elderly woman had just returned to her home from an evening church service when she was startled by an intruder. She caught the burglar red-handed, and yelled, "Stop! Acts 2:38 (meaning, repent and be baptized...)!"
The burglar stopped dead in his tracks. The woman then calmly called the police and explained what she had done.
As the officer cuffed the burglar, he asked, "Why did you just stand there? All the old lady did was yell a scripture to you."
"Scripture?" replied the burglar, "I thought she said she had an axe and two 38's!"
#joke
Answering Machine Message 17

I'm sorry but my answering machine is out of order. I am leaving a broken CD player in its place. It can't take messages either. In fact, it can't even play you a nice tune while you wait to not leave a message.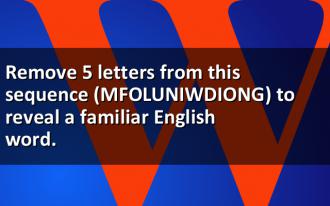 Remove 5 letters from this seq...
Remove 5 letters from this sequence (MFOLUNIWDIONG) to reveal a familiar English word.
Kyle Kinane: This Is America
This is America. It is my God given right to be loudly opinionated about something I am completely ignorant of.
A man is driving up a steep, n...
A man is driving up a steep, narrow mountain road. A woman is driving down the same road. As they pass each other, the woman leans out of the window and yells "PIG!!"
The man immediately leans out of his window and replies, "WITCH!!"
They each continue on their way, and as the man rounds the next corner, he crashes into a pig in the middle of the road. If only men would listen.
#joke
A drunk walks into a crowded b...
A drunk walks into a crowded bar and takes the last barstool next to an older woman. After awhile, the woman starts to smell this horrible odor coming from the direction of the drunk. She turns to him and says, "Excuse me Mister, but did you just shit yourself?" The drunk replied, "Yes ma'am, I have indeed shit myself." The woman says, "Well, why don't you go somewhere and clean yourself up?"
The drunk says, "'Cause I'm not finished yet..."
#joke
Be careful what you wear (or d...
Be careful what you wear (or don't wear), when working under
your vehicle...especially in public.
From Sydney Morning Australia comes this story of a central west
couple who drove their car to K-Mart only to have their car
break down in the parking lot.
The man told his wife to carry on with the shopping while he
fixed the car their in the parking lot. The wife returned later
to see a small group of people near the car. On closer
inspection she saw a pair of male legs from under the chassis.
Altough the man was in shorts his lack of underpants turned
private parts into glaringly public ones.
Unable to stand the embarrassment she dutifully stepped forward,
quickly put her hand up his shorts and tucked everything back
into place. On regaining her feet, she looked across the hood
and found herself staring at her husband who was standing idly
by.
#joke
What do you call a person that...
What do you call a person that speaks 3 languages?
"Trilingual"
What do you call a person that speaks 2 languages?
"Bilingual"
What do you call a person that speaks 1 language?
"American"
Taxes
A Dutchman was explaining the red, white and blue Netherlands flag to an American.
"Our flag is symbolic of our taxes. We get red when we talk about them, white when we get our tax bills, and blue after we pay them."
The American nodded. "It's the same in the USA only we see stars too!"
Q&A: Why Was Moses Wicked?
Q. Why was Moses the most wicked man?
A. He broke all 10 Commandments at once.
Q. What animal could Noah not trust?
A. The cheetah.
Q. What kind of lights did Noah use on the ark?
A. Flood lights.
During a dinner party, the hos...
During a dinner party, the hosts' two little children entered the dinning room totally nude and walked slowly around the table. The parents were so embarrassed that they pretended nothing was happening and kept he conversation going. The guests cooperated and also continued as if nothing extraordinary was happening.
After going all the way around the room, the children left, and there was a moment of silence at the table, during which one child was heard to say, "You see, it is vanishing cream!"
#joke
Q: Why are Je...
Q: Why are Jewish men circumcised?


A: Because Jewish women won't touch anything unless it is 20% off.