Personal ad
SINGLE BLACK FEMALE seeks male companionship, ethnicity unimportant. I'm a very good looking girl who LOVES to play. I love long walks in the woods, riding in your pickup truck, hunting, camping and fishing trips, cosy winter nights lying by the fire. Candlelight dinners will have me eating out of your hand. Rub me the right way and watch me respond. I'll be at the front door when you get home from work, wearing only what nature gave me. Kiss me and I'm yours. Call (404) 875-6420 and ask for Daisy.
Over 15,000 men found themselves talking to the Atlanta Humane Society about an 8-week old black Labrador retriever dog.
#joke
When I was in Japan, I bummed ...
When I was in Japan, I bummed some wine, in Nagasaki.
Funny video of the day - Funny video of the day Thursday, 31 March 2011
New customer to Tech Support: ...
New customer to Tech Support: "It says, hit any key and when I do that nothing happens'.
Tech Support: Can you try again and tell me what happens?
Customer: 'Tried but nothing"
Tech Support: "What key did you hit?
After a moment and some chick ling sound the customer replied: Well, first I tried my car key and just now my office key.
#joke
The Umbrella
A 90-year-old man said to his doctor, "I've never felt better. I have an 18-year-old bride who is pregnant with my child. What do you think about that?"
The doctor considered his question for a minute and then said, "I have an elderly friend who is a hunter and never misses a season. One day when he was going out in a bit of a hurry, he accidentally picked up his umbrella instead of his gun. When he got to the Creek, he saw a beaver sitting beside the stream. He raised his umbrella and went, 'bang, bang' and the beaver fell dead. What do you think of that?"
The 90-year-old said, "I'd say somebody else shot that beaver."
The doctor replied, "My point exactly."
A Recently Spotted Bumper Sticker:
"The High Holidays have nothing to do with marijuana."
Homework Help
Parents are expected to participate in their children's education, and my friends were no exception. They gladly help their fifth-grade son, John, whenever he's stumped. One day after school, John ran into the house waving a paper in the air. "Hey, Mom, great news! There were only three mistakes on my math homework," he announced. "You made one, Dad made one and I made one!"
#joke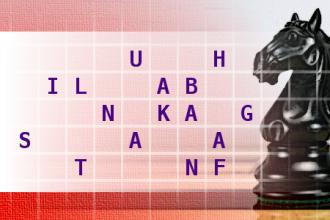 Chess Knight Move
Find the country and its capital city, using the move of a chess knight. First letter is A. Length of words in solution: 11,5.
Shit hits the fan
A man walks into a bar. "Gimme a double, before the shit hits the fan."
A few minutes later, same thing. "Gimme a beer before the shit hits the fan."
This goes on for an hour or so.
Finally the Bartender goes up to him and says, "Listen buddy, maybe you should pay before you get another drink."
"Oops, the shit just hit the fan." He replied.
#joke #walksintoabar
#beer
A man walks into a railway sta...
A man walks into a railway station. He walks up to the ticket window and says "(sniff) Fird clad redurn to Nodingham pleade (sniff)".

The ticket bloke says "You know what you need.. you need Tunes".

"Why" says the man... "Will id cure Cereble Palsdsy"?
Natasha Leggero: Male Comics
Male comics are always coming up to me, and theyre like, Hey, Natasha, dont you think youre a little attractive to be a comedian? And Im like, Dont you think youre a little ugly to be talking to me?
Business One-liners 17
Beware the fury of a patient man. - John Dryden
Beware the man of one book. - St. Thomas Aquinas
Beware the wrath of a patient person.
Blessed are those who go around in circles, for they shall be known as wheels.
Blessed is he who expects no gratitude, for he shall not be disappointed.
Blessed is he who has reached the point of no return and knows it for he shall enjoy living.
Boldly going forward because we cannot find reverse.
Build a system that even a fool can use, and only a fool will want to use it.
Build something foolproof and every fool will use it.
Bureaucracy: a method for transforming energy into solid waste.
#joke
A funeral service is being hel...
A funeral service is being held for a woman who has just passed away. At the end of the service the pall bearers are carrying the casket out when they accidentally bump into a wall, jarring the casket. They hear a faint moan.
They open the casket to find that the woman is actually alive. She lives for ten more years and then dies. A ceremony is again held at the same church and at the end of the ceremony the pall bearers are again carrying out the casket. As they are walking the husband cries out,
"WATCH OUT FOR THE WALL"
#joke
An elderly gentleman...
An elderly gentleman...
Had serious hearing problems for a number of years. He went to the
doctor and the doctor was able to have him fitted for a set of
hearing aids that allowed the gentleman to hear 100%
The elderly gentleman went back in a month to the doctor and the
doctor said, 'Your hearing is perfect. Your family must be really
pleased that you can hear again.'

The gentleman replied, 'Oh, I haven't told my family yet.
I just sit around and listen to the conversations. I've changed my
will three times!'

So this sardarji is walking th...
So this sardarji is walking the other day and comes across a banana peel on the road.
Can you guess what he might be thinking??
Saala aaj bhi girna padega!!!
A Meeting With the Board
After a long, dry sermon, the minister announced that he wished to meet with the church board after the service. The first man to arrive was a stranger.
"You misunderstood my announcement. This is a meeting of the board," said the minister.
"I know," said the man. "If there is anyone here more bored than I am, I'd like to meet him."
#joke
After a series of tests, the 3...
After a series of tests, the 3 top candidates were chosen for a final interview with the CIA Director for a job opening. The first one's interview went really well... so the Director says: "I think you are the right man for the job, there is just one last thing you must do to prove your loyalty, here is a gun, go to the next room and shoot your wife."
The man stands up and says, "Sorry Sir, I can't do that" and walks out. The same thing happens with the second applicant. The third guy's interview went well, so he is asked to prove his loyalty to the future job in the same way.
The Guy takes the gun, goes next door. The CIA Director hears : "Bang...".. pause ...... "Bang, Bang, Bang, Bang." ..... long pause..... then a scuffle and noises...... silence. The third applicant returns to the Director's office and says" Some Idiot loaded this gun with blanks... so I had to strangle her!"
#joke
"Say," began Lucille...
"Say," began Lucille one day over lunch, "didn't you go out with that guy who played the French horn?"
"Yeah," said Diane, stirring her iced tea.
"You were really looking forward to it, I remember. How'd it go?" Lucille leaned forward eagerly.
"Actually he was a pretty nice guy," volunteered Diane reluctantly. "But there was one real problem..."
"Oh, really?"
"Every time he kissed me, he wanted to shove his fist up my ass."
#joke
While sports fishing off the F...
While sports fishing off the Florida coast, a tourist capsized his boat. He could swim, but his fear of alligators kept him clinging to the overturned craft. Spotting an old beachcomber standing on the shore, the tourist shouted, "Are there any gators around here?"
"Naw," the man hollered back, "they ain't been around for years!"
Feeling safe, the tourist started swimming leisurely toward the shore.
About halfway there he asked the guy, "How'd you get rid of the gators?"
"We didn't do nothing,'" the beachcomber said.
"Wow," said the tourist.
The beachcomber added, "The sharks got 'em."
#joke