Gum is great!...
Gum is great! I chews to follow the mastical sciences, and worship Jawhovah. I attend Sunday masseter, biting my time for eternal Salivation.
The new army recruit was servi...
The new army recruit was serving his first guard duty. He did his best for a while but about 5 a.m. she went to sleep. When he opened his eyes he found the day officer standing before him. Remembering the stiff penalty for being asleep on guard duty, this clever young man kept his head bowed for another moment, then looked upward and reverently said, "A-a-a-men!"
#joke
Funny video of the day - Funny video of the day Sunday, 03 April 2011
Football FINALLY makes sense. . .
A guy took his blonde girlfriend to her first football game. They had great seats right behind their team's bench. After the game, he asked her how she liked the experience.
"Oh, I really liked it," she replied, "especially the tight pants and all the big muscles, but I just couldn't understand why they were killing each other over 25 cents."
Dumbfounded, her date asked, "What do you mean?"
"Well, they flipped a coin, one team got it and then for the rest of the game, all they kept screaming was: 'Get the quarterback! Get the quarterback!' I'm like...Helloooooo? It's only 25 cents!!!!
There were these two friends, ...
There were these two friends, one who was gay, who died in a horrible car accident. They both went to heaven and were standing at the pearly gates when St. Peter met them.
St. Peter asked the first man for a picture of his wife. After looking at the picture, St. Peter asked him if he had ever cheated on her.
The man replied, "I was unfaithful to my wife one time."
St. Peter decided to give the man a station-wagon for him to drive around heaven.
Now it was the second man's turn.
St. Peter asked him for a picture of his wife and then asked if he had ever cheated on her.
The man replied, "Actually I'm gay, but here's a picture of my lover, and I never cheated on him."
St. Peter was very impressed and decided to give the man a Ferrari to drive around heaven.
After a few months in heaven, the two friends met up with each other. The second man was bragging about his Ferrari when the other turned to him and said, "I wouldn't be bragging if I were you. I just saw your lover on a skateboard."
#joke
Christmas sign of the times....
As a little boy climbed onto Santa's lap, Santa asked the usual, "And what would you like for Christmas?" The child stared at him open mouthed and horrified for a minute, then gasped, "Didn't you get my E-mail?"
I Get No Respect 03
"It's tough to stay married. My wife kisses the dog on the lips..yet she won't drink from my glass!"
"Last week my tie caught on fire. Some guy tried to put it out with an ax!"
"I met the surgeon general. He offered me a cigarette!"
"A travel agent offered me a 21 day special. He told me I would fly from New York to London. Then from Tokyo back to New York. I asked him...how am I supposed to get from London to Tokyo? He told me . . . that is why we give you 21 days.
"Another travel agent told me I could spend 7 nights in Hawaii...No days..just nights."
"My problem is that I appeal to everyone that can do me absolutely no good."
"My wife isn't very bright. The other day she was at the store and just as she was heading for our car, someone stole it! I said...did you see the guy that did it? She said ... No, but I got the license plate."
"A girl phoned me and said...Come on over there's nobody home. I went over... Nobody was home!"
"I went to a massage parlor. It was self service."
#joke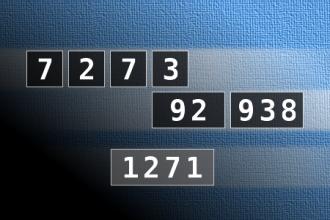 Calculate the number 1271
NUMBERMANIA: Calculate the number 1271 using numbers [7, 2, 7, 3, 92, 938] and basic arithmetic operations (+, -, *, /). Each of the numbers can be used only once.
Flying condom
Why did the condom fly across the room
It got pissed off!
Maria Bamford: Anxiety Song
This is my anxiety song: If I keep the kitchen floor clean, no one will die/as long as I clench my fists at odd intervals, then the darkness within me wont force me to do anything inappropriately violent or sexual at dinner parties/as long as I keep humming the tune, I wont turn gay.
The Lawyer at the Pearly Gates
Recently a teacher, a garbage collector, and a lawyer wound up together at the Pearly Gates. St. Peter informed them that in order to get into heaven, they would each have to answer one question.
St. Peter addressed the teacher and asked, "What was the name of the ship that crashed into the iceberg? They just made a movie about it." The teacher answered quickly, "That would be the Titanic." St. Peter let her through the gate.
St. Peter turned to the garbage man and figuring heaven didn't REALLY need all the odors this guy would bring with him, decided to make the question a little harder: "How many people died on the ship?" But the trash man had just seen the movie, too, and he answered, "about 1,500."
"That's right! You may enter," said Peter.
Then St. Peter turned to the lawyer and said, "Name them."
This joke was reprinted from "The Book of Catholic Jokes" by Deacon Tom Sheridan, with permission of ACTA Publications. Copyright 2008. All rights reserved.
A man placed some flowers o...
A man placed some flowers on the grave of his dearly departed mother and started back toward his car when his attention was diverted to another man kneeling at a grave. The man seemed to be praying with profound intensity and kept repeating, "Why did you have to die? Why did you have to die?" The first man approached him and said, "Sir, I don't wish to interfere with your private grief, but this demonstration of pain is more than I've ever seen before. For whom do you mourn so deeply? A child? A parent?" The mourner took a moment to collect himself, then replied, "My wife's first husband."
#joke
Hospital regulations require a...
Hospital regulations require a wheel chair for patients being
discharged. However, while working as a student nurse, I found
one elderly gentleman already dressed and sitting on the bed with
a suitcase at his feet, who insisted he didn't need my help to leave
the hospital.
After a chat about rules being rules, he reluctantly let me wheel
him to the lift.
On the way down I asked him if his wife was meeting him.
'I don't know,' he said. 'She's still upstairs in the bathroom
changing out of her hospital gown.'
#joke
A bishop, a boy scout and the ...
A bishop, a boy scout and the Brain of Britain were passengers in a small plane. The pilot announced serious trouble and asked everyone to leave the aircraft. However, there were only two parachutes, so the bishop suggested that as he was the oldest, he should stay behind. The scout said: "Don't worry sir! There are still two parachutes. The Brain of Britain has jumped using my haversack!"
#joke
The Bronze Statues
A tourist wanders into a back-alley antique shop in San Francisco's Chinatown. Picking through the objects on display he discovers a detailed, life-sized bronze sculpture of a rat. The sculpture is so interesting and unique that he picks it up and asks the shop owner what it costs.
"Twelve dollars for the rat, sir," says the shop owner, "and a thousand dollars more for the story behind it."
"You can keep the story, old man," he replies, "but I'll take the rat."
The transaction complete, the tourist leaves the store with the bronze rat under his arm. As he crosses the street in front of the store, two live rats emerge from a sewer drain and fall into step behind him. Nervously looking over his shoulder, he begins to walk faster, but every time he passes another sewer drain, more rats come out and follow him. By the time he's walked two blocks, at least a hundred rats are at his heels, and people begin to point and shout. He walks even faster, and soon breaks into a trot as multitudes of rats swarm from sewers, basements, vacant lots, and abandoned cars. Rats by the thousands are at his heels, and as he sees the waterfront at the bottom of the hill, he panics and starts to run full tilt.
No matter how fast he runs, the rats keep up, squealing hideously, now not just thousands but millions, so that by the time he comes rushing up to the water's edge a trail of rats twelve city blocks long is behind him. Making a mighty leap, he jumps up onto a light post, grasping it with one arm while he hurls the bronze rat into San Francisco Bay with the other, as far as he can heave it. Pulling his legs up and clinging to the light post, he watches in amazement as the seething tide of rats surges over the breakwater into the sea, where they drown.
Shaken and mumbling, he makes his way back to the antique shop.
"Ah, so you've come back for the rest of the story," says the owner.
"No," says the tourist, "I was wondering if you have a bronze lawyer."
A passerby noticed a couple of...
A passerby noticed a couple of city workers working along the city sidewalks. The man was quite impressed with their hard work, but he couldn't understand what they were doing. 
Finally, he approached the workers and asked, "I appreciate how hard you're both working, but what the heck are you doing? It seems that one of you digs a hole, and then the other guy immediately fills it back up again. 
One of the city workers explained, "The third guy who plants the trees is off sick today."
#joke
Easter Bunny
Q: Why does the easter bunny hide his eggs? A: He doesnt want anyone to know hes f**king chickens.