We could have been here sooner
An elderly couple were killed in an accident and found themselves being given a tour of heaven by Saint Peter. "Here is your oceanside condo, over there are the tennis courts, swimming pool, and two golf courses. If you need any refreshments, just stop by any of the many bars located throughout the area."
"Heck, Gloria," the old man hissed when Saint Peter walked off, "we could have been here 10 years ago if you hadn't heard about all that stupid oat bran, wheat germ, and low-fat diets!"
#joke
A mad baker came at me with a ...
A mad baker came at me with a ryeful, a 12-grain shotgun with pumpernickel action! He look at me with such loaving, and said "You're a gluten for punishment." I never shoulda crust the guy. I barley survived the encounter, and there were no wheatnesses.
#joke
Funny video of the day - Funny video of the day Tuesday, 05 April 2011
There once was a "smart guy," ...
There once was a "smart guy," a "not that smart guy," and an all round "not smart at all guy." They were going to cross the Sahara Desert. The "smart guy" says, "meet here in an hour with something useful to cross the desert with!" Later on an hour passes. The "smart guy" says I brought some ice packs to keep our heads cool, the "not so smart guy" says I brought a pail of water to keep us hydrated. The "not smart at all guy" says, "I brought a car door so I can roll the window down when it gets hot!"
#joke
Socrates
One day the great philosopher came upon an acquaintance who ran up to him excitedly and said, "Socrates, do you know what I just heard about one of your students?"
"Wait a moment," Socrates replied. "Before you tell me I'd like you to pass a little test. It's called the Test of Three."
"Three?"
"That's right," Socrates continued. "Before you talk to me about my student let's take a moment to test what you're going to say. The first test is Truth. Have you made absolutely sure that what you are about to tell me is true?"
"Oh no," the man said, "actually I just heard about it."
"All right," said Socrates. "So you don't really know if it's true or not. Now let's try the second test, the test of Goodness. Is what you are about to tell me about my student something good?"
"No, on the contrary..."
"So," Socrates interrupted, "you want to tell me something bad about him even though you're not certain it's true?"
The man shrugged, a little embarrassed.
Socrates continued. "You may still pass though, because there is a third test - the filter of Usefulness. Is what you want to tell me about my student going to be useful to me?"
"Well it....no, not really..."
"Well," concluded Socrates, "if what you want to tell me is neither True nor Good nor even Useful, why tell it to me at all?"
The man was defeated and ashamed. This is the reason Socrates was a great philosopher and held in such high esteem.
It also explains why he never found out that Plato was having an affair with his wife.
#joke
The Best Part of Sunday Service
A preacher notices a man that comes to his church for every service. The preacher asks the man what his favorite part of the service is. The man replies, "Communion."
Then the preacher asks, "Why is communion your favorite part of the service?"
The man then replies, "Because it's the only time Jesus' blood tastes like grape juice."
- Joke shared by Beliefnet member jesustime
#joke
A mother was working in the ki...
A mother was working in the kitchen listening to her 5-year-old son playing with his new Christmas electric train in the living room by the tree. She heard the train stop and her son saying,
"All of you sons of bitches who want off, get the hell off now...cause this is the last stop! And all of you sons of bitches who are getting on, get your asses in the train...cause we're going down the tracks."
The horrified mother went in and told her son,
"We don't use that kind of language in this house. Now I want you to go to your room and you are to stay there for TWO HOURS. When you come out, you may play with your train...but I want you to use nice language."
Two hours later, the son came out of the bedroom and resumed playing with his train. Soon the train stopped and the mother heard her son say...
"All passengers, please remember your things, thank you and hope your trip was a pleasant one. We hope you will ride with us again soon." She heard her little darling continue...
"For those of you just boarding, remember, there is no smoking in the train. We hope you will have a pleasant and relaxing journey with us today."
As the mother began to smile, the child added, "For those of you who are pissed off about the TWO HOUR delay, please see the bitch in the kitchen..."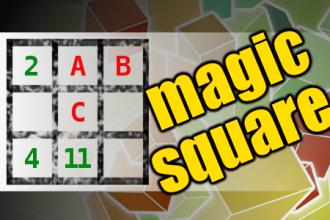 MAGIC SQUARE: Calculate A+B+C
The aim is to place the some numbers from the list (1, 2, 4, 5, 9, 11, 14, 15, 16, 25, 83) into the empty squares and squares marked with A, B an C. Sum of each row and column should be equal. All the numbers of the magic square must be different. Find values for A, B, and C. Solution is A+B+C.
Adam and Eve...
Sometimes women are overly suspicious of their husbands.... When Adam stayed out very late for a few nights, Eve became upset.
"You're running around with other women," she told her mate.
"Eve, honey, you're being unreasonable," Adam responded. "You know you're the only woman on earth."
The quarrel continued until Adam fell asleep, only to be awakened by a strange pain in the chest. It was his darling Eve poking him rather vigorously about the torso.
"What do you think you're doing?" Adam demanded.
"Counting your ribs," said Eve.
#joke
3 Wise Men
There were 3 wise men in a bar and i know right off your going to say that they arent so wise, but who cant resist beer?
kay back to story. The wise men thought they saw Jesus in a seat! they walked to tap him on the shoulder when suddenly the guy turned around and said- Im not Jesus! im god! the wise men then said " ohhh i thought you were Jesus! Screw you then" and dumped all their beer on him. The wise men had no more money for beer and left sad.
Marina Franklin: I Like the Little Ones
I have a younger boyfriend now -- I like the little ones. Yes, I do like those little ones, yes I do. I am officially a cougar. Hes young and white, so Im not just a cougar, Im a black panther.
Blondes kids
A blonde was with her husband shopping and she decided that they would shop in different parts of the mall.
They meet in the middle 2 hours later and she announces, "I just got kids."
The husband stares amazed, looking at the kids he says, "Those are 2 baby goats!"
Submitted by bomberman255
Edited by Calamjo, Curtis and yisman
A fellow bought a new Mercedes...
A fellow bought a new Mercedes and was out on the Yellowhead for a nice evening drive. The top was down, the breeze was blowing through his hair and he decided to open her up. As the needle jumped up to 80 mph he suddenly saw a flashing red and blue light behind him.
"There ain't no way they can catch a Mercedes," he thought to himself and opened her up further. The needle hit 90, 100 110 and finally 120 with the lights still behind him. "What in heck am I doing?" he thought and pulled over.
The Mountie came up to him, took his license without a word and examined it and the car. "I've had a tough shift and this is my last pull over. I don't feel like more paperwork so if you can give mean excuse for your driving that I haven't heard before you can go."
"Last week my wife ran off with a cop," the man said, "and I was afraid you were trying to give her back!"
"Have a nice night", said the officer.
#joke
A senior citizen said to his e...
A senior citizen said to his eighty-year old buddy:
'So I hear you're getting married?'
'Yep!'
'Do I know her?'
'Nope!'
'This woman, is she good looking?'
'Not really.'
'Is she a good cook?'
'Naw, she can't cook too well.'
'Does she have lots of money?'
'Nope! Poor as a church mouse.'
'Well, then, is she good in bed?'
'I don't know.'
'Why in the world do you want to marry her then?'
'Because she can still drive!'
#joke
A man calls home to his wife a...
A man calls home to his wife and says, "Honey I have been asked to go fishing at a big lake up in Canada with my boss and several of his friends. We'll be gone for a week. This is a good opportunity for me to get that promotion I've been wanting, so would you please pack me enough clothes for a week and set out my rod and tackle box. We're leaving from the office and I will swing by the house to pick my things up. Oh! And please pack my new blue silk pajamas."
The wife thinks this sounds a little fishy but being a good wife she does exactly what her husband asked. The following weekend he comes home a little tired but otherwise looking good.
The wife welcomes him home and asks if he caught many fish. He says, "Yes! Lots of Walleye, some Blue gill, and a few Pike. But why didn't you pack my new blue silk pajamas like I asked you to do?"
The wife replies; "I did, they were in your tackle box."
#joke
A Collection Of Insults
When you're at a loss for words but want to tell someone that he or she is stupid, remember some these quips from our collection here at Aha! Jokes.
3K RAM free, no EMS.
A .22 caliber intellect in a .357 Magnum world.
A 10K brain attached to a 9600 baud mouth.
A 20th century man... The guy has no future.
A 3.5-inch drive, but data on punch cards.
A black-and-white mind working on a color-coded problem.
A brain like a BB in a boxcar / box of Corn Flakes.
A couple of slates short of a full roof.
A couplet short of a sonnet.
A cup and saucer short of a place setting.
A day late and a dollar short.
A deadbolt with a broken cylinder.
A doughnut short of being a cop.
A few beads short in her rosary.
#joke
A guy falls asleep on the beac...
A guy falls asleep on the beach for several hours and gets a horrible sunburn all over his body.
He goes to the hospital and is promptly admitted after being diagnosed with second degree burns on his legs.
He was starting to blister and in pain by the time the doctor arrived. To help, the doctor prescribed an IV with saline and electrolytes, asedative, and a Viagra pill every four hours.
The attending nurse was rather surprised by the prescription and asked, "What good will Viagra do him?"
The doctor replied, "It will keep the sheets off his legs."
First Time in Church
Mrs. Harrison took her three-year-old daughter, Jenny, to church for the first time.
After arriving, the church lights were lowered, and then the choir came down the aisle, carrying lighted candles.There was silence in the entire sanctuary until Jenny's voice was suddenly heard, loudly singing: "Happy birthday to you! Happy birthday to you..."

#joke