At the grcery store
A man observed a woman in the grocery store with a three year old girl in her basket. As they passed the cookie section, the little girl asked for cookies and her mother told her, "No." The little girl immediately began to whine and fuss, and the mother said quietly, "Now Monica, we just have half of the aisles left to go through – don't be upset. It won't be long now."
Soon, they came to the candy aisle and the little girl began to shout for candy. When told she couldn't have any, she began to cry. The mother said, "There, there, Monica, don't cry – only two more aisles to go and then we'll be checking out."
When they got to the checkout stand, the little girl immediately began to clamor for gum and burst into a terrible tantrum upon discovering there'd be no gum purchased. The mother said serenely, "Monica, we'll be through this check out stand in 5 minutes and then you can go home and have a nice nap."
The man followed them out to the parking lot and stopped the woman to compliment her. "I couldn't help noticing how patient you were with little Monica," he began.
The mother replied, "I'm Monica – my little girl's name is Tammy."
#joke
NED: So, I wa...
NED: So, I was a guest at a Jewish circumcision.
ED: Really.
NED: The hosts actually charged admission to watch, and made us line up outside!
ED: Really.
NED: I couldn't believe their nerve—such queue bris!
#joke
Funny video of the day - Funny video of the day Wednesday, 06 April 2011
Returning to West Point late o...
Returning to West Point late one night, Colonel Schultz and his wife were challenged by the sentry at the gate.
"Halt and identify yourself!"
"Jesus, Mary, and Joseph!" declared the startled woman.
The sentry stepped aside. "Advance, Holy Family, to be recognized."

White Zinfandel
Seven New York City bartenders were asked if they could nail a woman's personality based on what she drinks. Though interviewed separately, they concurred on almost all counts. The results:
Drink: Beer
Personality: Casual, low-maintenance; down to earth.
Your Approach: Challenge her to a game of pool.
Drink: Blender Drinks
Personality: Flaky, whiny, annoying; a pain in the buttocks.
Your Approach: Avoid her, unless you want to be her cabin boy.
Drink: Mixed Drinks
Personality: Older, more refined, high maintenance, has very picky taste; knows exactly what she wants.
Your Approach: You won't have to approach her,> if she is interested, she'll send YOU a drink.
Drink: Wine - (does not include White Zinfandel, see below)
Personality: Conservative and classy; sophisticated yet giggles.
Your Approach: Tell her you love to travel and spend quiet evenings with friends.
Drink: White Zinfandel
Personality: Easy; thinks she is classy and sophisticated, actually has no clue.
Your approach: Make her feel smarter than she is.... this should be an easy target.
Drink: Shots
Personality: Likes to hang with frat-boy pals and looking to get totally drunk...... and naked.
Your Approach: Easiest hit in the joint. You have been blessed this evening. Nothing to do but wait. However, be careful not to make her mad!
Then there is the MALE addendum. The deal with guys is, as always, very simple and clear cut:
Domestic Beer: He's poor and wants to get laid.
Imported Beer: He likes good beer and wants to get laid.
Wine: He's hoping that the wine thing will give him a sophisticated image to help him get laid.
Whiskey: He doesn't give a hoot about anything but getting laid.
Tequila: He is thinking he has a chance with the toothless waitress.
White Zinfandel: He's gay.
"To the vice president...
"To the vice president's credit, he did own up to it. On FOX News he said the fault was his, he can't blame anybody else. Boy, it's amazing, the only time you get accountability out of this administration is when they are actually holding a smoking gun." -- Bill Maher

Wanna play house?
A little girl and a little boy were at day care one day. The girl approaches the boy and says, "Hey Stevie, wanna play house?"
He says, "Sure! What do you want me to do?"
The girl replies, "I want you to communicate."
He says to her, "that word is too big. I have no idea what it means."
The little girl smirks and says, "Perfect. You can be the husband."
#joke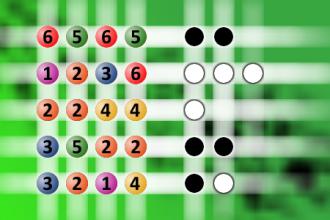 Find the right combination
The computer chose a secret code (sequence of 4 digits from 1 to 6). Your goal is to find that code. Black circles indicate the number of hits on the right spot. White circles indicate the number of hits on the wrong spot.
Scary Collection 51
A witch joke
What do witches cats like for breakfast?
Mice krispies!
A witch joke
Who went into a witche's den and came out alive?
The witch!
A witch joke
What do you get if you cross a witches cat with a canary?
A peeping tom!
A witch joke
Why is "S" the witches favourite letter?
Because he turns cream into scream!
A witch joke
What do you get if you cross a sorceress with a millionaire?
A very witch person!
A witch joke
What is a witches favorite drink?
Tea-hee-hee!
A witch joke
What's a witches favorite film?
My Fear Lady!
#joke
Conway Twitty, Is That Really You?
A young pastor moved to town and decided he would go around and introduce himself to the new congregation. He rang the first door bell and a lady came to the door. She stared at him as he introduced himself.
She said, "I can't believe how much you look like Conway Twitty, the country music singer."
He replied, "Yes, ma'am, I hear that a lot."
He went to the next house and the next, and every lady that came to the door said the same thing—that he looked like Conway Twitty.
At the last house, a shapely young lady came to the door with a towel around her. He started to introduce himself, but she loosened her towel, threw her arms in the air, and screamed, "Conway Twitty!"
The pastor stood there, stunned. Then he said, "Hello, darling!"
#joke
A blonde and a lawyer are seat...
A blonde and a lawyer are seated next to each other on a flight from LA to NY. The lawyer asks if she would like to play a fun game?
The blonde, tired, just wants to take a nap, politely declines and rolls over to the window to catch a few winks. The lawyer persists and explains that the game is easy and a lot of fun. He explains, I ask you a question, and if you don't know the answer, you pay me $5.00, and vise versa.
Again, she declines and tries to get some sleep. The lawyer, now agitated, says, "Okay, if you don't know the answer you pay me $5.00, and, if I don't know the answer, I will pay you $500.00."
This catches the blonde's attention and, figuring there will be no end to this torment unless she plays, agrees to the game.
The lawyer asks the first question. "What's the distance from the earth to the moon?" The blonde doesn't say a word, reaches into her purse, pulls out a $5.00 bill and hands it to the lawyer.
Okay says the lawyer, your turn. She asks the lawyer, "What goes up a hill with three legs and comes down with four legs?" The lawyer, puzzled, takes out his laptop computer and searches all his references, no answer. He taps into the air phone with his modem and searches the net and the library of congress, no answer. Frustrated, he sends e-mails to all his friends and coworkers, to no avail.
After an hour, he wakes the blonde, and hands her $500.00. The blonde says, "Thank you," and turns back to get some more sleep.
The lawyer, who is more than a little miffed, wakes the blonde and asks, "Well, what's the answer? "Without a word, the blonde reaches into her purse, hands the lawyer $5.00, and goes back to sleep.
This reminds me of something y...
This reminds me of something yesterday at work. A colleague was relating a conversation he had with his young daughter, just a bit over 2 years old. They were discussing geography and…
"Where does mommy live?"
"Minneapolis."
"Where does grandma live?"
"Baltimore."
"Where does grandpa live?"
"Baltimore."
"And where does daddy live?"
"At work!"
Needless to say, he took the morning off that next […]
#joke
Truman at the Washington Garden Club....
Harry Truman was known for his blunt manner of speaking. When he made a speech at the Washington Garden Club, he kept referring to the "good manure" that needed to be used on the flowers.
Some society women complained to his wife, Bess. "Couldn't you get the President to say 'fertilizer'?" they asked.
Mrs. Truman replied, "Heavens, no! It took me twenty-five years to get him to say 'manure.'"
#joke
Brain Transplant

"How can I ever thank you?" gushed a woman to Clarence Darrow, after he had solved her legal troubles.
"My dear woman," Darrow replied, "ever since the Phoenicians invented money there has been only one answer to that question."