Diagnosis
A mother takes her son to a psychiatrist and says, "Doctor, I'd like you to evaluate my 13 year-old son."
"He's suffering from a transient psychosis with an intermittent rage disorder, punctuated by episodic radical mood swings, but his prognosis is good for full recovery."
"How can you say all that without even meeting him?"
"Didn't you say he was 13?"
Chuck Norris can win a game of...
Chuck Norris can win a game of Connect Four in only three moves.
Funny video of the day - Epic table flip
Which dinosaur just couldnR...
Which dinosaur just couldn't decide? A: Staygosaurus.
Confucius say: Man who want pr...
Confucius say: Man who want pretty nurse, must be patient.
Chiropractor
A lawyer was standing in a long line to get tickets for a play. Suddenly, he felt the hands of the man behind him, kneading into his back. He turned and gave the man a stern look, and the kneading stopped. But a few minutes later, he again felt the man's hands on his back.
"Excuse me," the lawyer asked, "But why are you touching my back?"
"I'm a chiropractor," the man replied, "and I sometimes I can't keep myself from practicing my skills."
"Get control of yourself," the lawyer shot back. "I'm an attorney, and you don't see me screwing the guy in front of me, do you?"
"Vice President Dick Chen...
"Vice President Dick Cheney has given another speech linking Saddam Hussein with the terrorist attacks of 9/11. Didn't President Bush say Saddam Hussein has nothing to do with the terrorist attacks? Here's my question, what if it turns out that Dick Cheney is the dumb one?" -- Jay Leno
#joke
FLEX WORDLE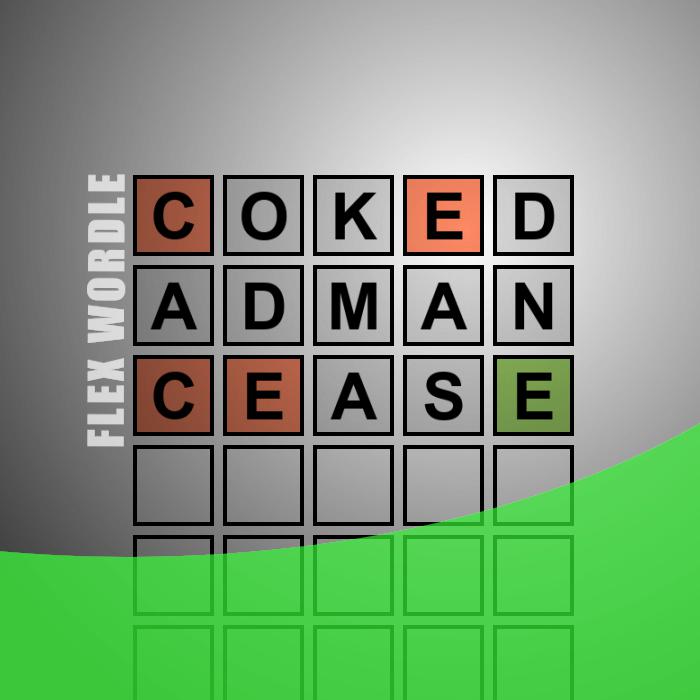 Guess the
WORDLE
in 3 tries. After each guess, the color of the tiles will change to show how close your guess was to the solution.
Garbage day....
A Father is asked by his friend, "Has your son decided what he wants to be when he grows up?"
"Yes, he wants to be a garbage collector," he replies.
To this his friend responds "Strange ambition to have for a career."
"Well, he thinks that garbage collectors only work on Tuesdays!"
#joke
Jump Rope
Did you hear the joke about the jump rope? Neah! Skip it!
David Alan Grier: Stopped Smoking Reefer
I stopped smoking reefer because I started thinking, if great men throughout history had smoked reefer, no tellin what would have happened. Like if somebody like Martin Luther King Jr. had smoked reefer, he would have been giving speeches like, I had a dream, but the hell if I could remember what it was about. It was either about freedom or Fritos.
#joke
Three Days After Easter
Following the resurrection, the disciples were still scattered about Jerusalem and the surrounding villages.
John finds Peter and runs up to him. Excitedly he says, "Peter, Peter! I've got some good news and some bad news."
Peter takes ahold of John and calms him down. "Take it easy, John. What is it? What's the good news?"
John says, "The good news is Christ is risen."
Peter says, "That's great! But, what's the bad news?"
John, looking around, says, "He's really steamed about last Friday."
From EasterHumor.com
A woman goes into Wal-Mart...
A woman goes into Wal-Mart to buy a rod and reel. She doesn't know which one to get so she just grabs one and goes over to the register. There is a Wal-Mart "associate" standing there with dark shades on. She says, "Excuse me sir...can you tell me anything about this rod and reel?" He says, "Ma'am I'm blind but if you will drop it on the counter I can tell you everything you need to know about it from the sound that it makes." She didn't believe him, but dropped it on the counter anyway. He said, "That's a 6' graphite rod with a Zebco 202 reel and 10 lb. test line...It's a good all around rod and reel and it's $20.00". She says, "Thats amazing that you can tell all that just by the sound Of it dropping on the counter. I think it's what I'm looking for so I'll take it." He walks behind the counter to the register, and in the meantime the woman farts. At first she is embarrassed but then realizes that there is no way he could tell it was her..being blind he wouldn't know that she was the only person around. He rings up the sale and says, "That will be $25.50." She says, "But didn't you say it was $20.00?" He says, "Yes ma'am, the rod and reel is $20.00, the duck call is $3.00, and the stink bait is$2.50."
#joke
------------------------------...
--------------------------------------------------------------------------------
How bout this one:
Kiwi bloke was on earth doing the Haka. Somewhere in space, Aliens were watching this unusual dance.
"Kamate, kamate, ka-ora, ka-ora......"
The Aliens were very interested and they wanted to see what would happen if they would take a part of his brain away without him even knowing. So with their alien technology they sent a laser beam down that hit the Kiwi's head and took a part of his brain away.
The Aliens then sat back to see what would happen.
"Ka-mate, ka-mate, ka-ora, ka-ora......."
What the??? The Aliens were amazed with what they were seeing. The Kiwi guy could operate with less than a full brain. So they decided to send the beam down and take another part of his brain. The Aliens watched on.
"Ka-mate, ka-mate, ka-ora, ka-ora......"
"WHAT!!!" the Aliens said to each other. "These Kiwis are very clever people even with half a brain. Let's see what happens if we take the rest of it away and leave him with no brain at all!"
So with a push of a button the Aliens sent the beam down and took away the final part of the Kiwi's brain.
"Now surely he won't know anything at all.He should be too dumb and stupid to do anything now?"
And sure enough, with no brain and no knowledge of anything at all as the Aliens watched on the bloke sang,
#joke
A police officer pulls over a ...
A police officer pulls over a speeding car. The officer says, "I clocked you at 80 miles per hour, sir."
The driver says, "Gee, officer, I had it on cruise control at 60, perhaps your radar needs calibrating."
Not looking up from her knitting the wife says sweetly from the passenger seat, "Now don't be silly, dear, you know that this car doesn't have cruise control."
As the officer writes out the ticket, the driver looks over at his wife and growls, "Can't you keep your mouth shut for once?"
The wife smiles demurely and says, "You should be thankful your radar detector went off when it did."
As the officer makes out the second ticket for the illegal radar detector unit, the man glowers at his wife and says through clenched teeth, "Darn it, woman, can't you keep your mouth shut."
The officer frowns and says, "And I notice that you're not wearing your seat belt, sir. That's an automatic $75 fine."
The driver says, "Yeah, well, you see officer, I had it on, but took it off when you pulled me over so that I could get my license out of my back pocket."
The wife says," Now, dear, you know very well that you didn't have your seat belt on. You never wear your seat belt when you're driving."
And as the police officer is writing out the third ticket the driver turns to his wife and barks, "WHY DON'T YOU SHUT THE HELL UP??"
The officer looks over at the woman and asks, "Does your husband always talk to you this way, Ma'am?"
"No, officer. Only when he's been drinking"
#joke
Pottery making
My wife really likes to make pottery, but to me it's just kiln time.
Free beer
Two Aussies a...
Free beer
Two Aussies are adrift in a lifeboat. While rummaging through the boat's provisions one of them finds an old lamp. He rubs the lamp and a genie suddenly appears. This genie tells them that he only grants one wish.
Without giving much thought to the matter, the lamp finder blurts out, "Turn the entire ocean into VB!"
The genie claps his hands with a deafening crash, and immediately the entire sea turns into beer.
The genie disappears and only the gentle lapping of beer on the hull breaks the stillness as the two men considered their circumstances.
The second Aussie turns to the first and says, "Nice going mate! Now we're going to have to pee in the boat."
The teacher wrote on the black...
The teacher wrote on the blackboard, "I ain't had no fun all summer."
"Now Paul," she said. "What shall I do to correct this?"
"Get a boy friend." Paul replied.


The penny....
After tucking their three-year-old child Sammy in for bed one night, his parents heard sobbing coming from his room. Rushing back in, they found him crying hysterically. He managed to tell them that he had swallowed a penny and he was sure he was going to die.
No amount of talking was helping. His father, in an attempt to calm him down, palmed a penny from his pocket and pretended to pull it from Sammy's ear. Sammy was delighted.
In a flash, he snatched it from his father's hand, swallowed it, then cheerfully demanded, "Do it again, Daddy, do it again!!!"
#joke
Join us on WhatsApp