Chuck Norris does, in fact, li...
Chuck Norris does, in fact, live in a round house.
Wallet reminder
Hubby – You always carry my photo in your handbag to the office. Why?
Wife – When there is a problem, no matter how impossible, I look at your picture and the problem disappears.
Hubby – You see, how miraculous and powerful I am for you?
Wife – Yes, I see your picture and say to myself, "What other problem can there be greater than this one?"
#joke
Funny video of the day - Dog rides bicycle - puppies follow
A dentist, after completing wo...
A dentist, after completing work on a patient, came to him and asked; "could you help me? Could you give out a few of your loudest, most painful screams?"
The surprised patient said; "why doctor, it wasn't all that bad this time!"
The dentist said; "there are so many people in the waiting room right now, and I don't want to miss the four o'clock train."

Midget Housing Subsidies
...
Midget Housing Subsidies
Recently, our town received a grant to build housing for midgets. According to our demographics, they figured that we should have six midgets living here. They sent enough money so that we could finance the building of homes and let the "little people" pay less than the going rate for rent.
Since we have only one "little person" living here it turns out that he won't have to pay anything for the only house we built, the subsidy covers everything.
We call it a Stay Free Mini Pad.
#joke
Super Absorbed
A pediatrician is trying to put a 6-year-old patient, Timmy, at ease. He asks, "If you found a few dollars on the street, what would you buy?" Without hesitation, Timmy says, "A box of Tampax." Surprised, the doctor asks why. "Well," Timmy says, "it says on TV that with Tampax, you can go swimming, horseback riding, and skating anytime you want to!"
FLEX WORDLE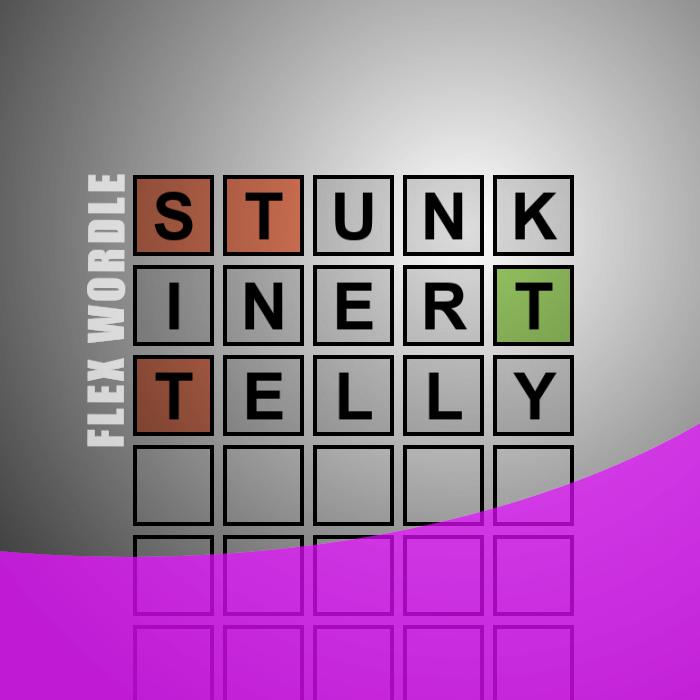 Guess the
WORDLE
in 3 tries. After each guess, the color of the tiles will change to show how close your guess was to the solution.
Question and answer blond jokes
Q: What goes vroom, screech, vroom, screech, vroom, screech?
A: A blonde going through a flashing red light.
Q: To a blonde, what is long and hard?
A: Grade four.
Q: What is the definition of gross ignorance?
A: 144 blondes.
Q: What did the blonde say to the physicist?
A: "Why, I just love nuclear fission! What do you use for bait?"
Q: Did you hear about the blonde couple that were found frozen to death in their car at a drive-in movie theater?
A: They went to see "Closed for the Winter".
Q: Why won't they hire a blonde pharmacist?
A: They keep breaking the prescription bottles in the typewriters.
Q: A blonde is walking down the street with a pig under her arm. She passes a person who asks "Where did you get that?"
A: The pig says, "I won her in a raffle!"
David Alan Grier: Stopped Smoking Reefer
I stopped smoking reefer because I started thinking, if great men throughout history had smoked reefer, no tellin what would have happened. Like if somebody like Martin Luther King Jr. had smoked reefer, he would have been giving speeches like, I had a dream, but the hell if I could remember what it was about. It was either about freedom or Fritos.
#joke
Philosophy
GREAT TRUTHS THAT LITTLE CHILDREN HAVE LEARNED:
1) No matter how hard you try, you can't baptize cats.
2) When your Mom is mad at your Dad, don't let her brush your hair.
3) If your sister hits you, don't hit her back. They always catch the second person.
4) Never ask your 3-year old brother to hold a tomato.
5) You can't trust dogs to watch your food.
6) Don't sneeze when someone is cutting your hair.
7) Never hold a Dust-Buster and a cat at the same time.
8) You can't hide a piece of broccoli in a glass of milk.
9) Don't wear polka-dot underwear under white shorts.
10) The best place to be when you're sad is Grandpa's lap.
GREAT TRUTHS THAT ADULTS HAVE LEARNED:
1) Raising teenagers is like nailing Jell-O to a tree.
2) Wrinkles don't hurt.
3) Families are like fudge...mostly sweet, with a few nuts.
4) Today's mighty oak is just yesterday's nut that held its ground.
5) Laughing is good exercise. It's like jogging on the inside.
6) Middle age is when you choose your cereal for the fiber, not the toy.
GREAT TRUTHS ABOUT GROWING OLD
1) Growing up is mandatory; growing old is optional.
2) Forget the health food. I need all the preservatives I can get.
3) When you fall down, you wonder what else you can do while you're down there.
4) You're getting old when you get the same sensation from a rocking chair that you once got from a roller coaster.
5) It's frustrating when you know all the answers but nobody bothers to ask you the questions.
6) Time may be a great healer, but it's a lousy beautician.
7) Wisdom comes with age, but sometimes age comes alone.
#joke
A man phones home from his off...
A man phones home from his office and says to his wife, "I have the chance to go fishing for a week. It's the opportunity of a lifetime. I have to leave right away. Pack my clothes, my fishing equipment, and my blue silk pajamas. I'll be home in an hour to pick them up."
The man rushes home to grab everything. He hugs his wife, apologizes for the short notice, and then hurries off.
A week later, the man returns and his wife asks, "Did you have a good trip, dear?"
The man replies, "Yep, the fishing was great...but you forgot to pack my blue silk pajamas."
His wife smiles and says, "Oh, no I didn't...I put them in your tackle box.
#joke
Honey, What Did the Doctor Say?
A middle aged man goes into the doctor's office for a check-up with a litany of complaints.
The doctor speaks to the man's wife alone and says, "There is nothing the matter with your husband. If you make a couple of meals for him a day, let him watch his sports. Do not complain at him too much and require him to listen. Limit his exposure to in-laws and make love to him once a week. Then, he'll probably live another 20 years."
She returns to her husband's side in the waiting room. He asks, "What did the doctor tell you?"
"You are going to be dying soon, my dear."
Defective nails...?
Two guys were doing construction on a house. One of them who was nailing down siding would reach into his nail pouch, pull out a nail, and then either toss it over his shoulder or nail it into the siding.
The other guy, figuring this was worth looking into, asked, "Why are you throwing those nails away?"
The first guy explained, "If I pull a nail out of my pouch and it's pointed towards me, I throw it away 'cause it's defective. If it's pointed toward the house, then I nail it into the siding."
The second guy was outraged. He yelled, "You moron! The nails pointed towards you aren't defective! They're for the other side of the house!"
#joke
My kids love going to the...
My kids love going to the Web, and they keep track of their passwords by writing them on Post-it notes.
I noticed their Disney password was "MickeyMinnieGoofyPluto," and asked why it was so long.
"Because," my son explained, "they say it has to have at least four characters."
Corporate Lesson 1

A ...
Corporate Lesson 1
A man is getting into the shower just as his wife is finishing up her shower when the doorbell rings. After a few seconds of arguing over which one should go and answer the doorbell, the wife gives up, quickly wraps herself up in a towel and runs downstairs. When she opens the door, there stands Bob, the next door neighbor. Before she says a word, Bob says, "I'll give you $800 to drop that towel that you have on."
After thinking for a moment, the woman drops her towel and stands naked in front of Bob. After a few seconds, Bob hands her $800 and leaves.
Confused, but excited about her good fortune, the woman wraps back up in the towel and goes back upstairs. When she gets back to the bathroom, her husband asks from the shower, "Who was that?" "It was Bob the next door neighbor," she replies. "Great!" the husband says, "Did he say anything about the $800 he owes me?"
Moral of the story: If you share critical information pertaining to credit and risk with your shareholders in time, you may be in a position to prevent avoidable exposure.
#joke
When their car broke down a Je...
When their car broke down a Jew, an Indian and an Australian knocked on a farmer's door to ask for accommodation for the night.
"I only have room for two, one of you will have to sleep in the barn," said the farmer.
"Alright, I will," said the Jew.
But 5 minutes later there was a knock at the door.
"There's a pig in the barn, I can't sleep in there," said the Jew.
"Okay, I'll go," said the Indian. Five minutes later there was a knock on the door.
"There is an un-sacred cow in the barn," he said.
"No worries mate, I'll go," said the Australian. Five minutes later there was yet another knock at the door.
It was the pig and cow!!!
#joke
Tennis Balls
One day while jogging, a middle-aged man noticed a tennis ball lying by the side of the walk.
Being fairly new and in good condition, he picked the ball up, put it in his pocket and proceeded on his way.
Waiting at the cross street for the light to change, he noticed a beautiful blond standing next to him smiling.
"What do you have in your pocket?" she asked.
"Tennis ball," the man said smiling back.
"Wow," said the blonde looking upset. "That must hurt. I once had tennis elbow and the pain was unbearable!"
Submitted by Calamjo
Edited by Curtis
Saving the President...
One day Bill Clinton was out jogging and he accidently tripped and fell off a bridge into the cold water below...
Three 10 year old boys were playing along the river and saw him fall in so they all jumped in and saved him and dragged him to shore.
He was so thankful that he told each of them, "Boys, you just saved the President of the United States and each of you deserve a reward."
The first boy says, "I want to go to Disneyland!"
"I'll take you there myself!!!" exclaims Bill.
The second boy says, "I want a brand new pair of autographed Nike Air Jordans."
"I'll buy them for you myself," says Bill
"And I want a motorized wheelchair with a stereo built into it with custom speakers" the third boy says.
The president looks at the boy and says, "But son you don't look like you are handicapped to me"
The boy says, "I'm going to be when my dad finds out that I saved you from drowning!!"
#joke
Join us on WhatsApp