Jokes of the day for Monday, 16 May 2011
Funny jokes, funny photo and funny video collected from the internet on Monday, 16 May 2011
Chuck Norris hears sign langua...
Chuck Norris hears sign language.
Rifle range trouble
A new Army recruit was on the rifle range. He fired 50 shots and completely missed the target with every shot!
His Drill Instructor called him to attention and got in his face. "What's the matter with you?" shouted the DI. "Why can't you hit the target? What were you in civilian life?"
"I was a telephone repair man," replied the recruit, "and I don't know why I can't hit the target. Let me see…"
The man checked his rifle, checked his rifle again and then checked his rifle a third time. He then put his finger in front of the muzzle, pulled the trigger and blew the end of his finger off!
"Well," the phone man said, writhing in pain, "the bullets are leaving this end here fine. The trouble must be on the other end!".
#joke
Funny video of the day - Human Bicycle
Do botanists play the ...
Do botanists play the xylem-phloem?
 A guy was driving when a poli...
 A guy was driving when a policeman pulled him over. He rolled down his window and said to the officer, "Is there a problem, Officer?"
"No problem at all. I just observed your safe driving and am pleased to award you a $5,000 Safe Driver Award. Congratulations. What do you think you're going to do with the money?"
 He thought for a minute and said, "Well, I guess I'll go get that drivers' license."
 The lady sitting in the passenger seat said to the policeman, "Oh, don't pay attention to him - he's a smartass when he's drunk and stoned."
 The guy from the back seat said, "I TOLD you guys we wouldn't get far in a stolen car!"
 At that moment, there was a knock from the trunk and a muffled voice said, "Are we over the border yet?"
Good Impression
An older man, not in the best physical condition, asked the trainer in the gym, "I want to impress that beautiful girl. Which machine should I use?"
The trainer replied...
"Use the ATM machine outside the gym!"
It changed the meaning...
Mrs. Jones was reading a letter at breakfast. Suddenly she looked up suspiciously at her husband.
"Henry," she said, "I've just received a letter from mother saying she isn't accepting our invitation to come and stay, as we do not appear to want her. What does she mean by that? I told you to write and say that she was to come at her own convenience. You did write, didn't you?"
"Er, yes, I did," said the husband. "But I, I couldn't spell 'convenience,' so I made it 'risk.'"
#joke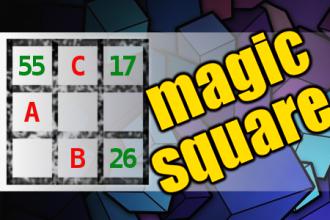 MAGIC SQUARE: Calculate A+B*C
The aim is to place the some numbers from the list (15, 16, 17, 25, 26, 27, 33, 54, 55, 56, 61) into the empty squares and squares marked with A, B an C. Sum of each row and column should be equal. All the numbers of the magic square must be different. Find values for A, B, and C. Solution is A+B*C.
Fish Cost A Fortune
Two Virginia rednecks go on a fishing trip. They rent all the equipment - the reels, the rods, the wading suits, the rowboat, the car, and even a cabin in the woods. I mean they spend a fortune!
The first day they go fishing, but they don't catch anything. The same thing happens on the second day, and on the third day. It goes on like this until finally, on the last day of their vacation, one of the men catches a fish.
As they're driving home they're really depressed. One guy turns to the other and says, "Do you realise that this one lousy fish we caught cost us fifteen hundred bucks?"
The other guy says, "Wow! Then it's a good thing we didn't catch any more!"
#joke
At the public pool
The lifeguard told the mother to make her young son stop urinating in the pool.
"Everyone knows," the mother lectured him, "that from time to time, young children will urinate in a pool."
"Oh really?" said the lifeguard, "from the diving board!?!?"
Pete Holmes: Privacy Is Uncool
I think the government made Facebook in an attempt to make privacy uncool. Think about that. I think thats true cause they dont have to tap our phones or survey us when we just yield to them everything, just on our own free will. Home address? Its a little weird, OK. Phone number? Call me. Photos? Photos of everyone I know? Here, let me tag those for you.
#joke
There was a blonde driving ...
There was a blonde driving in her car on the highway.She crashed into the car infront of her and a cop came over to her and said mam what is wrong? She said officer no matter where i turn there is a tree if i turn left,right, there is a tree. The officer leaned over and said mam that is your air freshener.
Where is God?
A couple had two little boys who were always getting into trouble. Their parents knew that if any mischief occurred in their village, their sons were probably involved.
The boys' mother heard that an elder in town had been successful in disciplining children, so she asked if he would speak with her sons. The elder agreed, but asked to see them separately.
So, the mother sent her youngest son first, in the morning. The elder, a huge man with a booming voice, sat the boy down and asked him sternly, "Where is God?" The boy's mouth dropped open, but he made no response.So the elder repeated the question in an even sterner tone, "Where is God!!?" Again the wide-eyed boy made no attempt to answer.
The elder raised his voice and bellowed, "WHERE IS GOD!?" The boy screamed and bolted from the room, ran directly home and dove into a closet, slamming the door behind him.
When his older brother found him hiding, he asked, "What happened?"
The younger brother, gasping for breath, replied, "We are in BIG trouble this time. God is missing, and they think WE did it!"
#joke
Little Johnny is passing his p...
Little Johnny is passing his parents bedroom in the middle of the night in search of a glass of water. Hearing a lot of moaning and thumping, he peaks in and catches his folks in the act. Before daddy can even react, Little Johnny exclaims, "Oh boy! Horsey ride! Daddy, can I ride your back?"
Daddy, relieved that Johnny's not asking more uncomfortable questions, and seeing the opportunity not to break his stride, agrees...
Johnny hops on daddy and starts going to town... pretty soon mommy starts moaning and gasping... Johnny cries out, "Hang on tight, Daddy! This is the part where me and the mailman usually get bucked off.
#joke
Biblical Theme Songs
Noah: "Raindrops Keep Falling on My Head"
Adam and Eve: "Strangers in Paradise"
Lazarus: "The Second Time Around"
Esther: "I Feel Pretty"
Job: "I've Got a Right to Sing the Blues"
Moses: "The Wanderer"
Jezebel: "The Lady is a Tramp"
Samson: "Hair"Salome: "I Could Have Danced All Night"
Daniel: "The Lion Sleeps Tonight"
Esau: "Born To Be Wild"
Shadrach, Meshach, and Abednego: "Great Balls of Fire!"
The Three Kings: "When You Wish Upon a Star"
Jonah: "Got a Whale of a Tale"
Elijah: "Up, Up, and Away"
Methuselah: "Stayin' Alive"
Nebuchadnezzar: "Crazy"
#joke
A lawyer died and arrived at t...
A lawyer died and arrived at the pearly gates. To his dismay, there were thousands of people ahead of him in line to see St. Peter. To his surprise, St. Peter left his desk at the gate and came down the long line to where the lawyer was, and greeted him warmly.
Then St. Peter and one of his assistants took the lawyer by the hands and guided him up to the front of the line, and into a comfortable chair by his desk.
The lawyer said, "I don't mind all this attention, but what makes me so special?"
St. Peter replied, "Well, I've added up all the hours for which you billed your clients, and by my calculation you must be about 193 years old!"
Daniel Tosh: God Does Not Hate Gay People
God does not hate gay people. Hes just mad because they found a loophole in His system.
Dealing With Trouble
A deputy police officer responded to a report of a barroom disturbance. The "disturbance" turned out to be well over six feet tall and weighed almost 300 pounds. What's more, he boasted that he could whip the deputy and Muhammad Ali too.
Said the policeman, "I'll bet that you're also an escape artist-probably better than Houdini."
The giant nodded.
"If I had some chains," the deputy continued, "you could show us how strong you really are. But all I've got is a set of handcuffs. Why don't you see just how quickly you can break out of them?"
Once in the cuffs, the man puffed, pulled and jerked for four minutes. "I can't get out of these," the giant growled.
"Are you sure?" the deputy asked. The fellow tried again. "Nope," he replied. "I can't do it."
"In that case," said the deputy, "you're under arrest."