Have a great time for
Christmas
, check out our latest
Christmas jokes of 2021
on:
Christmas jokes collection
Chuck Norris brushes his teeth...
Chuck Norris brushes his teeth with a mixture of iron shavings, industrial paint remover, and wood-grain alcohol.
Cup of tea
One day my mother was out, and my dad was in charge of me.
I was maybe 2 1/2 years old. Someone had given me a little 'tea set' as a gift, and it was one of my favourite toys.
Daddy was in the living room engrossed in the evening news when I brought Daddy a little cup of 'tea', which was just water. After several cups of tea and lots of praise for such yummy tea, my Mom came home.
My Dad made her wait in the living room to watch me bring him a cup of tea, because it was 'just the cutest thing!' My Mom waited, and sure enough, here I came down the hall with a cup of tea for Daddy; and she watched him drink it up.
Then she said: (as only a mother would know), "'Did it ever occur to you that the only place she can reach to get water is the toilet?"
#joke
Funny video of the day - In an advanced Physics classroom, one student attempts to prove his karate skill. The fall is monumental!
Three men were discussing at a...
Three men were discussing at a bar about coincidences. The first man said, " my wife was reading a "tale of two cities" and she gave birth to twins"
"That's funny", the second man remarked, "my wife was reading 'the three musketeers' and she gave birth to triplets"
The third man shouted, "Good God, I have to rush home!"
When asked what the problem was, he exclaimed, " When I left the house, my wife was reading Ali baba and the forty Thieves"!!!
#joke
A blonde gets an oppurtunity t...
A blonde gets an oppurtunity to fly to a distant country.
She has never been on an airplane anywhere and was very excited and tense. As soon as she boarded the plane, a Boeing747, she started jumping in excitement, running over seat to seat and starts shouting
'BOEING! BOEING!! BOEING!!! BO....'.
She sort of forgets where she is, even the pilot in the cock-pit hears the noise.
Annoyed by the goings on, the Pilot comes out and shouts 'BE SILENT!'.
There was pin-drop silence every where and everybody is looking at the blonde and the angry Pilot.
She stared at the pilot in silence for a moment and all of a sudden started shouting, 'OEING ! OEING!! OEING!!! OE...'.
Web addict
1) I will have a cup of coffee in the morning and read my PAPER newspaper like I used to, before the Web.
2) I will eat breakfast with a knife and fork and not with one hand typing.
3) I will get dressed before noon.
4) I will make an attempt to clean the house, wash clothes, and plan dinner before even thinking of the Web.
5) I will sit down and write a letter to those unfortunate few friends and family that are Web-deprived.
6) I will call someone on the phone who I cannot contact via the Web.
7) I will read a book... if I still remember how.
8 ) I will listen to those around me about their needs and stop telling them to turn the TV down so I can hear the music on the Web.
9) I will not be tempted during TV commercials to check for email.
10) I will try and get out of the house at least once a week, if it is necessary or not.
11) I will remember that my bank is not forgiving if I forget to balance my checkbook because I was too busy on the Web.
12) Last, but not least, I will remember that I must go to bed sometime... and the Web will always be there tomorrow!
Submitted by Curtis
Edited by Yisman
#joke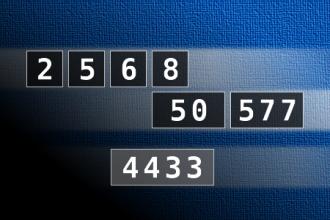 Calculate the number 4433
NUMBERMANIA: Calculate the number 4433 using numbers [2, 5, 6, 8, 50, 577] and basic arithmetic operations (+, -, *, /). Each of the numbers can be used only once.
Lewis Black: American Health
There are packs of baboons running around Africa that take better care of themselves than we do. You know what health insurance is for me? Ive got Band-Aids in my car.
Words for the Wise
1 . Now that food has replaced sex in my life, I can't even get into my own pants.
2. Marriage changes passion. Suddenly you're in bed with a relative.
3. I saw a woman wearing a sweat shirt with "Guess" on it. So I said "Implants?" She hit me.
4. I don't do drugs. I get the same effect just standing up fast.
5. Sign in a Chinese Pet Store: "Buy one dog, get one flea..."
6. I live in my own little world. But it's OK. They know me here.
7. I got a sweater for Christmas. I really wanted a screamer or a moaner.
8. If flying is so safe, why do they call the airport the terminal?
9. I don't approve of political jokes. I've seen too many of them get elected.
10. There are two sides to every divorce: Yours and Shithead's.
11. I love being married. It's so great to find that one special person you want to annoy for the rest of your life.
12. I am a nobody, and nobody is perfect; therefore, I am perfect.
13. Everyday I beat my own previous record for number of consecutive days I've stayed alive.
14. How come we choose from just two people to run for president and 50 for Miss America?
15. Isn't having a smoking section in a restaurant like having a peeing section in a swimming pool?
16. Why is it that most n*dists are people you don't want to see naked?
17. Snowmen fall from Heaven unassembled.
18. Every time I walk into a singles bar I can hear Mom's wise words: "Don't pick that up, you don't know where it's been!"
19. A good friend will come and bail you out of jail...but, a true friend will be sitting next to you saying, "Damn..that was fun!
Police officer pulled this ...
Police officer pulled this guy over for speeding and told him that his eyes were bloodshot, and asked him if he'd been drinking. The guy said "Your eyes are glazed, have you been eating donuts?"
Two Angry Neighbors
Two neighbors had been fighting each other for nigh on four decades. Bob buys a Great Dane and teaches it to use the bathroom in Bill's yard. For one whole year Bill ignores the dog.
So Bob then buys a cow and teaches it to use the bathroom in Bill's yard. After about a year and a half of Bob's cow crapping in Bill's yard; being ignored all the while, a semi pulls up in front of Bill's house.
Bob runs over and demands to know what's in the 18-wheeler.
'My new pet elephant,' Bill replies solemly.
#joke
But officer...
A police officer in a small town stopped a motorist who was speeding down Main Street.
"But officer." the man began, "I can explain".
"Just be quiet," snapped the officer. "I'm going to let you cool your heels in jail until the chief gets back..."
"But officer, I just wanted to say...."
"And I said to keep quiet! You're going to jail!"
A few hours later the officer looked in on his prisoner and said, "Lucky for you that the chief is at his daughter's wedding. He'll be in a good mood when he gets back."
"Don't count on it," answered the fellow in the cell. "I'm the groom."
#joke
Todd Barry: Summer School
I never understood the concept of summer school. The teachers going to go up there and go, OK, class, you know that subject you couldnt grasp in nine months? Were going to whip it out in six weeks.
Two babies lies in the birth section
Baby 1: I'm a boy.
Baby 2: prove it.
Baby 1: Not in front of the nurse.
Baby 2: Okay The nurse leaves
Baby 2: Prove it.
Baby 1: Look, blue socks...
Two very elderly men were havi...
Two very elderly men were having a conversation about sex.
Elmer says, "Yessir, I did it three times last night with a 30 year old!"
Leon replies, "You're kidding! I can't even manage to do it once! What's your secret?"
To which Elmer said, "Well, the secret is to eat lots of whole-wheat bread. I'm not kidding!"
So the second old man rushed to the store.
The clerk asks the old man, "May I help you?'
"Yes, I'd like four loaves of whole-wheat bread, please," said Leon.
"That's a lot of bread! It's sure to get hard before you're done!" the clerk remarked.
Leon replies, "Damn! Does everyone know about this except me?"
#joke
Church Bulletin Bloopers: Peace and Pancakes
Our youth basketball team is back in action Wednesday at 8 PM in the recreation hall. Come out and watch us kill Christ the King.
Ladies, don't forget the rummage sale. It's a chance to get rid of those things not worth keeping around the house. Don't forget your husbands.
The peacemaking meeting scheduled for today has been cancelled due to a conflict.
The Lutheran men's group will meet at 6 pm. Steak, mashed potatoes, green beans, bread, and dessert will be served for a nominal feel.
Ladies Bible Study will be held Thursday morning at 10. All ladies are invited to lunch in the Fellowship Hall after the B.S. is done.
This afternoon, there will be a meeting in the south and north ends of the church. Children will be baptized at both ends.
Tuesday at 4:00 pm there will be an ice cream social. All ladies giving milk will please come early.
Bertha Belch, a missionary from Africa, will be speaking tonight at Calvary Methodist. Come hear Bertha Belch all the way from Africa.
The pastor would appreciate it if the ladies of the congregation would lend him their electric girdles for the pancake breakfast next Sunday.
Due to weather conditions, there will not be any "Women Worth Watching" this week.
The church is glad to have with us today as our guest minister the Rev. Shirley Green, who has Mrs. Green with him. After the service, we request that all remain in the sanctuary for the Hanging of the Greens.
Don't miss this Saturday's exhibit by Christian Martian Arts.
- Joke shared on Beliefnet's Religious Humor page
#joke