When taking the SAT, write "Ch...
When taking the SAT, write "Chuck Norris" for every answer. You will score over 8000.
Languages
A Swiss man, looking for directions, pulls up at a bus stop where two Americans are waiting.
"Entschuldigung, koennen Sie Deutsch sprechen?" he asks. The two Americans just stare at him.
"Excusez-moi, parlez vous Francais?" he tries. The two continue to stare.
"Parlare Italiano?" No response.
"Hablan ustedes Espanol?" Still nothing.
The Swiss guy drives off, extremely disgusted. The first American turns to the second and says, "Y'know, maybe we should learn a foreign language."
"Why?" says the other. "That guy knew four languages, and it didn't do him any good."
#joke
Funny video of the day - Epic Car Entry
I have a famous beer belly. So...
I have a famous beer belly. Someone even wrote a novel about it:
The Pilsners of the Girth
.
A little man is sitting in a b...
A little man is sitting in a bar when a big guy comes up and says here's a punch from Japan the little man gets up and the big guy goes here's a kick from Korea knocking him down the little guy just smiles and goes away 15 minutes later he comes over and knock the guy out cold then he looks at the bartender and says when he wakes up tell him that was a crowbar from "Lowes."
#joke
Ticket Trouble
A minister was pulled over for speeding. As the cop was about to write the ticket, the minister said to him, "Blessed are the merciful for they shall obtain mercy."
The cop handed the minister the ticket and said, "Go thou and sin no more."
From "The Book of Church Jokes," published by Barbour Publishing, Inc., Uhrichsville, Ohio. Copyright 2009. Used by permission of Barbour Publishing, Inc.

#joke
One year, at Duke, there were ...
One year, at Duke, there were these two guys who were taking Chemistry and who did pretty well on all of the quizzes and the midterms and labs, such that going into the final they had a solid A. These two friends were so confident going into the final that the weekend before finals week (even though the Chemistry final was on Monday), they decided to go up to U. Virginia and party with some friends up there. So they did this and had a great time.
However, with their hangovers and everything, they overslept all day Sunday and didn't make it back to Duke until early Monday morning. Rather than taking the final then, what they did was to find Professor Bonk after the final and explain to him why they missed the final.
They told him that they went up to UV for the weekend, and had planned to come back in time to study, but that they had a flat tire on the way back and didn't have a spare and couldn't get help for a long time and so were late getting back to campus.
Bonk thought this over and then agreed that they could make up the final on the following day. The two guys were elated and relieved.
So, they studied that night and went in the next day at the time that Bonk had told them. He placed them in separate rooms and handed each of them a test booklet and told them to begin. They looked at the first problem, which was something simple about molarity and solutions and was worth 5 points.
"Cool" they thought, "this is going to be easy." They did that problem and then turned the page. They were unprepared, however, for what they saw on the next page. It said:
(95 points) Which tire?
FLEX WORDLE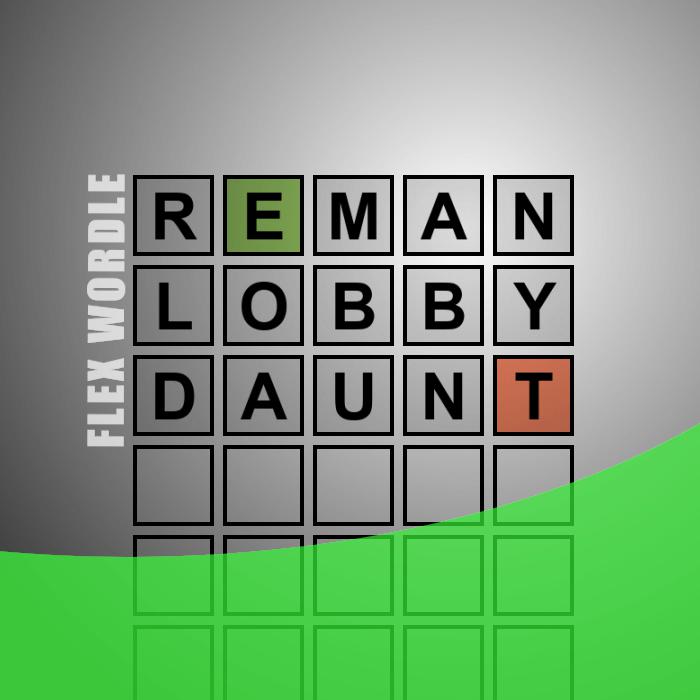 Guess the
WORDLE
in 3 tries. After each guess, the color of the tiles will change to show how close your guess was to the solution.
Drinking Fault Finder
A solution to all of your drinking troubles
Symptom: Drinking fails to give satisfaction and taste; shirt front is wet.
Fault: Mouth not open or glass being applied to wrong part of face.
Solution: Buy another pint and practice in front of a mirror. Continue with as many pints as necessary until drinking technique is perfect.
Symptom: Drinking fails to give satisfaction and taste; beer unusually pale and clear.
Fault: Glass is empty.
Solution: Find someone who will buy you another pint.
Symptom: Feet cold and wet.
Fault: Glass being held at incorrect angle.
Solution: Turn glass so that open end is pointing at ceiling.
Symptom: Feet warm and wet.
Fault: Loss of self-control.
Solution: Go and stand beside nearest dog - After a while complain to its owner about its lack of house training.
Symptom: Bar blurred.
Fault: You are looking through the bottom of your empty glass.
Solution: Find someone who will buy you another pint.
Symptom: Bar swaying.
Fault: Air turbulence unusually high - maybe due to darts match in progress.
Solution: Insert broom handle down back of jacket.
Symptom: Bar moving.
Fault: You are being carried out.
Solution: Find out if you are being taken to another bar - if not complain loudly that you are being hi-jacked.
Symptom: The opposite wall is covered in ceiling tiles and has a fluorescent strip across it.
Fault: You have fallen over backwards.
Solution: If glass is still full, and no one is standing on your drinking arm, stay put. If not, get someone to lift you up and lash you to the bar.
Symptom: Everything has gone dim and you have a mouth full of teeth and dog-ends.
Fault: You have fallen over forwards.
Solution: Same as for falling over backwards.
Symptom: You have woken up to find your bed cold, hard and wet. You cannot see your bedroom walls or ceiling.
Fault: You have spent the night in the gutter.
Solution: Check your watch to see if its opening time - if not treat yourself to a lie in.
Symptom: Everything has gone dim.
Fault: The pub is closing.
Solution: Panic.
Martha Kelly: Preparing for Office Work
Its been a couple of years since I actually worked in an office, so I thought I should do something to prepare to get back into the typing, filing and phone answering, and what not. So what I did was I had a friend of mine go with me down to the local swimming pool, and I had him tie me up in a burlap sack and sink me to the bottom of the pool. And then just as I was about to suffocate, he yanked me up and gave me a lunch break.
#joke
Sarcastic Remarks For Work
And your crybaby whinny opinion would be...?
This isn't an office. It's Hell with fluorescent lighting.
I started out with nothing & still have most of it left.
I pretend to work. They pretend to pay me. Sarcasm is just one more service we offer.
If I throw a stick, will you leave?
If I want to hear the pitter patter of little feet, I'll put shoes on my cats.
Does your train of thought have a caboose?
Errors have been made. Others will be blamed.
A PBS mind in an MTV world.
Whatever kind of look you were going for, you missed.
Suburbia: where they tear out the trees & then name streets after them.
Well, this day was a total waste of makeup.
See no evil, hear no evil, date no evil.
Not all men are annoying. Some are dead.
A woman's favorite position is CEO.
I'm trying to imagine you with a personality.
A cubicle is just a padded cell without a door.
Stress is when you wake up screaming & you realize you haven't fallen asleep yet.
Can I trade this job for what's behind door number 1?
I thought I wanted a career, turns out I just wanted paychecks.
Too many freaks, not enough circuses.
Macho Law prohibits me from admitting I'm wrong.
Nice perfume. Must you marinate in it?
Chaos, panic, & disorder - my work here is done.
I plead contemporary insanity.
How do I set a laser printer to stun?
Meandering to a different drummer.
I majored in liberal arts. Will that be for here or to go?
#joke
A guy is sitting at a bar ...
A guy is sitting at a bar in a skyscraper restaurant high above the city. He's slamming tequila left and right. He grabs one, drinks it, goes over to a window and jumps out. The guy who was sitting next to him couldn't believe that the guy had just done that. He was more surprised when, ten minutes later, the same guy, unscathed, comes walking back into the bar and sits back down next to him. The astonished guy asks "How did you do that? I just saw you jump out that window and we're hundreds of feet above the GROUND!!!". The jumper responds by slurring, "Well, I don't get it either. I slam a shot of tequila and when I jump out the window, the tequila makes me slow down right before I hit the ground. Watch." He takes a shot, slams it down, goes to the window and jumps out. The other guy runs to the window and watches as the guy falls until right before the ground, slows down and lands softly on his feet. A few minutes later, the guy walks back into the bar. The other guy has to try it too, so he orders a shot of tequila. He drinks it and goes to the window and jumps. As he reaches the bottom, he doesn't slow down at all....SPLAT!!!!!! The first guy orders another shot of tequila and the bartender says to him, "You're really an jerk when you're drunk, Superman."
#joke
A game of baseball
St. Peter and Satan were having an argument one day about baseball. Satan proposed a game to be played on neutral grounds between a select team from the heavenly host and his own hand-picked boys.
"Very well," said the gatekeeper of Heaven. "But you realize, I hope, that we've got all the good players and the best coaches."
"I know, and that's all right," Satan answered unperturbed. "We've got all the umpires."
#joke
One Last Confession
While a man was dying, his wife was maintaining a candlelight vigil by his side. She held his fragile hand, tears running down her face.
Her praying woke him from his slumber. He looked up, and his pale lips began to move slightly.
"My darling," he whispered.
"Hush, my love," she said. "Rest, don't talk."
He was insistent. "I have something that I must confess," he said in a tired voice.
"There isn't anything to confess," replied his weeping wife. "Everything's ok. Go to sleep."
The man blurted out: "No, no, I must die in peace. I...I slept with your sister, your best friend, her best friend, and your mother!"
"I know," whispered his wife, "that's why I poisoned you."
#joke
Kids in Church
Six-year-old Angie and her four-year-old brother Joel were sitting together in church. Joel giggled, sang, and talked out loud. Finally, his big sister had enough of his antics.
"You're not supposed to talk out loud in church."
"Why? Who's going to stop me?" Joel asked.
Angie pointed to the back of the church and said, "See those two men standing by the door? They're hushers."
#joke
The organs of the body were ha...
The organs of the body were having a meeting, trying to decide who was In
charge. Each organ took a turn to speak up:
Brain....... .. I should be in charge because I run all body functions.
Blood....... . I should be in charge because I circulate oxygen for the
brain.
Stomach... I should be in charge because I process food to the brain.
Legs........ . I should be in charge because I take the brain where it
Wants to go.
Eyes........ I should be in charge because I let the brain see where it's
going.
A - - hole..... I should be in charge because I get rid of your waste.
All the other parts laughed so hard and this made the a - -hole very mad.
To prove his point, the a - -hole immediately slammed tightly closed and
Stayed that way for 6 days, refusing to rid the body of any waste
whatsoever.
Day 1 - Brain got a terrible headache and cried out for relief
Day 2 - Stomach got bloated and began to ache terribly
Day 3 - Legs got cramps and became unstable
Day 4 - Eyes became watery and vision became blurred
Day 5 - Blood became toxic and poisoned the body
Day 6 -The other organs agreed to let the a - - hole be in charge.
#joke
Things to ponder...
If a man is standing in the middle of the forest speaking and there is no woman around to hear him - Is he still wrong?
If someone with multiple personalities threatens to kill himself, is it considered a hostage situation?
Is there another word for synonym?
Isn't it a bit unnerving that doctors call what they do 'practice?'
When you open a bag of cotton balls, is the top one meant to be removed?
Where do forest rangers go to 'get away from it all?'
What do you do when you see an endangered animal eating an endangered plant?
If a parsley farmer is sued, can they garnish his wages?
Would a fly without wings be called a walk?
Why do they lock gas station bathrooms? Are they afraid someone will clean them?
If a turtle doesn't have a shell, is he homeless or naked?
Can vegetarians eat animal crackers?
If the police arrest a mime, do they tell him he has the right to remain silent?
Why do they put Braille on the drive-through bank machines?
How do they get the deer to cross at that yellow road sign?
Why did kamikaze pilots wear helmets?
Is it true that cannibals don't eat clowns because they taste funny?
What was the best thing before sliced bread?
Defective nails...?
Two guys were doing construction on a house. One of them who was nailing down siding would reach into his nail pouch, pull out a nail, and then either toss it over his shoulder or nail it into the siding.
The other guy, figuring this was worth looking into, asked, "Why are you throwing those nails away?"
The first guy explained, "If I pull a nail out of my pouch and it's pointed towards me, I throw it away 'cause it's defective. If it's pointed toward the house, then I nail it into the siding."
The second guy was outraged. He yelled, "You moron! The nails pointed towards you aren't defective! They're for the other side of the house!"
#joke
Join us on WhatsApp