Dead Rabbit
One afternoon while doing some work in the garden I noticed my dog dragging something under the fence. Upon inspection, to my dismay, I realized it was the next door neighbour's daughter's rabbit. For years I had watch her come home from school and head straight out to its cage, free it and play with it in the garden. I knew today would be no different and fearing for our dog, I had to think fast.
The rabbit was quite dirty, as if it had put up quite a struggle, so I washed it off with the hose, combed it with the dog brush and blew it dry with the leaf blower. Upon finishing its grooming, I jumped the fence and replaced it back in its cage hoping its death would be written off as "natural causes". Within the hour, the neighbour's car pulled in and out popped the little girl, and as usual she headed straight for the cage. Only this time she stopped about six feet away and screamed "DDDDDAAAADDDDDDDYYYYYYY!!!!!!!!!!!!!!"
Her father, panic stricken, stood looking at the cage. Being the good neighbour that I am, I rushed to fence and asked if there was anything I could do.
Her father less than calmly blurted, "What kind of sick individual would dig up a little girl's dead rabbit and put it back in it's cage?"
#joke
How many roundhouse kicks does...
How many roundhouse kicks does it take to get to the center of a tootsie pop? Just one. From Chuck Norris.
Funny video of the day - Amazing Flip Throw Goal
Salesman visit
One day a salesman stopped by the Jones farm, knocked, and Mrs. Jones came to the door.
"Is your husband home, Ma'am?" he asked.
"Sure is. He's over to the cow barn."
"Well, I got something to show him, Ma'am. Will I have any difficulty finding him?"
"Shouldn't have any problem … He's the one with the beard and mustache."
#joke
You can tell an absentminded p...
You can tell an absentminded painter because he has a left palette.
The visiting Bible school supe...
The visiting Bible school supervisor asks little Johnny during Bible class, "Who broke down the walls of Jericho?"
Little Johnny replies, "I dunno, but it wasn't me!"
The supervisor, taken aback by Johnny's lack of basic Bible knowledge goes to the school principal and relates the whole incident.
The principal replies, "I know Little Johnny as well as his whole family and can vouch for them; if Little Johnny said that he did not do it, then I, as principal is satisfied that it is the truth."
Even more appalled, the inspector goes to the regional Head of Education and relates the whole story...
After listening he replies: "I can't see why you are making such a big issue out of this; just get three quotes and fix the damned wall!"
#joke
Was it a ghost?
There was this party in the woods and, all of a sudden there was a downpour of rain and thunder. These two young men ran for about 10 minutes in the pouring rain, and finally reached their car just as the rain let up. They jumped in the car, started it up and headed down the road, laughing and, of course, still drinking one beer after the other.
All of a sudden an old man's face appeared outside the passenger window, and he tapped lightly on the window! The man on the passenger side screamed out, "Eeeeeeekkk! Look at my window!!! There's an old guy's face there!" (Was this a ghost?!?!?!)
This old man kept knocking, so the driver said, "Well, open the window a little and ask him what he wants!"
So the passenger rolled his window down part way and said, scared out of his wits, "What do you want???"
The old man softly replied, "Do you have any tobacco?"
The passenger, terrified, looked at the driver and said, "He wants tobacco!"
"Well, offer him a cigarette! HURRY!!" the driver replies.
So he fumbles around with the pack and hands the old man a cigarette and yells, "Step on it!!!" rolling up the window in terror.
Now going about 80 miles an hour, they calm down, and they start laughing again, and the passenger says, "What do you think about that?"
The driver says, "I don't know. How could that be? I was going pretty fast."
Then all of a sudden AGAIN there is a knock, and there is the old man again.
"Aaaaaaaaaaaaah, there he is again!" the passenger yells.
"Well, see what he wants now!" yells back the driver.
He rolls down the window a little ways and shakily says, "Yes?"
"Do you have a light?" the old man quietly asks.
The passenger throws a lighter out the window at him and rolls up the window and yells, "STEP ON IT!"
They are now going about 100 miles an hour and still guzzling beer, trying to forget what they had just seen and heard, when all of a sudden again there is more knocking!
"OH MY GOD! HE'S BACK!"
He rolls down the window and screams out, "WHAT DO YOU WANT?" in stark fear.
The old man replies, "You want some help getting out of the mud?"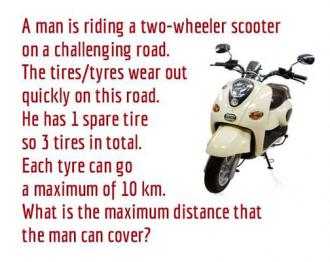 What is the maximum distance that the man can cover?
A man is riding a two-wheeler scooter on a challenging road. The tires/tyres wear out quickly on this road. He has 1 spare tire so 3 tires in total. Each tyre can go a maximum of 10 km. What is the maximum distance that the man can cover?
How Far To The Town?
A unit of soldiers was marching a long dusty march across the rolling prairie. It was a hot blistering day and the men, longing for water and rest, were impatient to reach the next town.
A rancher rode past.
"Say, friend", called out one of the men, "how far is it to the next town?"
"Oh, a matter of two miles or so, I reckon," called back the rancher. Another long hour dragged by, and another rancher was encountered.
"How far to the next town?" the men asked him eagerly.
"Oh, a good two miles."
A nearly half hour longer of marching, and then a third rancher. "Hey, how far's the next town?"
"Not far," was the encouraging answer, "only about two miles."
"Well," sighed the optimistic sergeant, "thank God, we're holding our own, anyhow!"
#joke
Ted Alexandro: Personal Trainer
My sisters a personal trainer. Thats a tough job. I dont think I can do that. You gotta help people with their fitness goals. Can you help me define my abs? Yeah -- disgusting, sloppy, gelatinous.
An old man goes to the Wizard ...
An old man goes to the Wizard to ask him if he can remove a "Curse" he has been living with for the last 40 years.
The Wizard says "maybe, but you will have to tell me the exact words that were used to put the curse on you."
The old man says without hesitation "'I now pronounce you man and wife'".
#joke
Business one-liners 20
Consciousness: that annoying time between naps.
Cop-out number 1. You should have seen it when I got it.
Create a need and fill it.
Creativity is great, but plagiarism is faster.
Creativity is no substitute for knowing what you're doing.
Creditors have better memories than debtors.
Crime wouldn't pay if the government ran it.
Dare to be average.
Defeat is worse than death because you have to live with defeat.
Definition of an elephant: A mouse built to government specifications.
#joke
Teacher: Why do we sometimes ...
Teacher: Why do we sometimes call the Middle Ages the Dark Ages?
Peter: Because they had so many knights.

Feline Heaven
A cat dies and goes to Heaven.
God meets him at the gate and says, "You have been a good cat all of these years. Anything you desire is yours, all you have to do is ask."
The cats says, "Well, I lived all my life with a poor family on a farm and had to sleep on hardwood floors."
God says, "Say no more." And instantly, a fluffy pillow appears.
A few days later, 6 mice are killed in a tragic accident and they go to Heaven. God meets them at the gate with the same offer that He made the cat.
The mice said, "All our lives we've had to run. Cats, dogs and even women with brooms have chased us. If we could only have a pair of roller skates, we wouldn't have to run anymore."
God says, "Say no more." And instantly, each mouse is fitted with a beautiful pair of tiny roller skates.
About a week later, God decides to check and see how the cat is doing. The cat is sound asleep on his new pillow. God gently wakes him and asks, "How are you doing? Are you happy here?"
The cat yawns and stretches and says, "Oh, I've never been happier in my life. And those Meals on Wheels you've been sending over are the best!"
#joke
It was the kindergarten teache...
It was the kindergarten teachers birthday and the students decided that they would each buy their teacher a gift.
The first student, whose parents own a florist shop, gave her a present. She held it and said "I guess that it is flowers".
"How did you guess?" asked the little boy. She laughed and thanked him.
The second student, whose parents own a candy store, gave her a present. She held it and said, "I guess that is some candy."
"How did you guess?" asked the little boy. She again laughed and thanked him also.
The third student, whose parents own a bottle shop, gave her a box which was leaking. The teacher touched the liquid with her finger and tasted it. "Mmmmm is it wine?" she asked.
"No," said the little girl.
So she tasted it again. "Is it champaigne?" she asked.
"No," replied the little girl, "It is a puppy.
#joke
Oh, the Irony!
Two men are waiting at the gates of heaven and strike up a conversation.
"How'd you die?" the first man asks the second.
"I froze to death," says the second.
"That's awful," says the first man. "How does it feel to freeze to death?"
"It's very uncomfortable at first," says the second man. "You get the shakes, and you get pains in all your fingers and toes. But eventually, it's a very calm way to go. You get numb and you kind of drift off, as if you're sleeping. How about you, how did you die?"
"I had a heart attack," says the first man. "You see, I knew my wife was cheating on me, so one day I showed up at home unexpectedly but found her alone watching television. I ran around the house looking for her lover but could find no one. As I ran up the stairs to the attic, I had a massive heart attack and died."
The second man shakes his head. "That's so ironic," he says.
"What do you mean?" asks the first man.
"If you had only stopped to look in the freezer, we'd both still be alive."
#joke
An Incredible Inventor
He was an inventor of note. He created a big shoe with a phone in the heel. Now, he thought, he could use a phone whenever he wanted. He made several more so that he could have several shoes with phones in the house. One day, an emergency came up and he needed a phone bad. Would you believe it, he couldn't find a single phone boot.
#joke
Ever wonder WHY … Ever wonder WHY …

the sun lightens our hair, but darkens our skin?
women can't put on mascara with their mouth closed?
don't you ever see the headline "Psychic Wins Lottery"?
is "abbreviated" such a long word?
is it that doctors call what they do "practice"?
is it that to stop Windows 98, you have to click on "Start"?
is lemon juice made with artificial flavor, and dishwashing liquid is made with real lemons?
is the man who invests all your money called a broker?
is the time of day with the slowest traffic called rush hour?
isn't there mouse-flavored cat food?
When dog food is new and improved tasting, who tests it?
didn't Noah swat those two mosquitoes?
do they sterilize the needle for lethal inje
they don't make the whole plane out of the stuff that is used to make that indestructible black box that is used on airplanes?
don't sheep shrink when it rains?
are they called apartments when they are all stuck together?
they call the airport the terminal?
If con is the opposite of pro, is Congress the opposite of progress?
Wanna bet?
A guy is sitting at a bar, staring at the sexy bartender.
He slaps $10 on the table and says, "I bet I can keep an eye on this drink while I go to the bathroom."
She knows the bathroom is around the corner, so she accepts the bet.
He takes out his glass eye, places it beside his drink and goes to the bathroom.
When he comes back, he pockets the money and makes another challenge. "Betcha I can bite my own ear," the guy says.
She accepts, and he takes out his false teeth and nips his ear. Once more, he scoops up the money.
"OK," he says, "I'll give you a chance to win back your money. I bet I can make love to you so tenderly that you won't feel a thing."
She knows this bet is a sure thing, so she accepts.
The guy climbs behind the bar, lifts her skirt and begins.
"I can feel you," she giggles.
"Oh well," he says, "You win some, you lose some."
Submitted by Curtis
Edited by Yisman
#joke
Join us on WhatsApp