Have a great time for
Christmas
, check out our latest
Christmas jokes of 2022
on:
Christmas jokes collection
Christmas Present
It was the day after Christmas at a church in San Francisco. Pastor Mike was looking at the nativity scene outside when he noticed the baby Jesus was missing from the figures.
Immediately, Pastor Mike turned towards the church to call the police. But as he was about to do so, he saw little Jimmy with a red wagon, and in the wagon was the figure of the little infant, Jesus.
Pastor Mike walked up to Jimmy and said, "Well, Jimmy, where did you get the little infant?" Jimmy replied, "I got him from the church."
"And why did you take him?"
With a sheepish smile, Jimmy said, "Well, about a week before Christmas I prayed to little Lord Jesus. I told him if he would bring me a red wagon for Christmas, I would give him a ride around the block in it."
Chuck Norris once round-house ...
Chuck Norris once round-house kicked a salesman. Over the phone.
Funny video of the day - Girls Fail Compilation April May 2011
Chores
Mother: "When I was your age, my mother used to hide money around the house for me that I would find only if I performed my chores particularly well. One time when I was cleaning out the cupboards for her, I found $20 under the old shelf paper."
Daughter: "Wow! What a cool idea! Why didn't you ever do that with me?"
Mother: "But my dear … I have been."
#joke
The police shut down the gym, ...
The police shut down the gym, for running a body house.
A man lying on his deathbed ca...
A man lying on his deathbed called to him, his lawyer, his doctor, and his pastor. "I am going to die tonight," and I want to prove that when you go to heaven you can take it all with you. So to my three most trusted friends, you three of course, I am leaving 50,000 dollars in these envelopes. When I die you must come to my funeral and put the envelopes in my coffin with me." The man handed the three men identical envelopes.
A day later they each received news that, that night the old man had died . So each knew they must go to his funeral and fulfill his death wish.
Standing over the coffin one week later the pastor confessed, " I can't hide what I've done. I took 10,000 dollars from the envelope because the church needed to be painted."
Then as he did so the doctor also started to fidget then finally confessed "I took 30,000 dollars from my envelope because the hospital needed a new wing."
Ten the lawyer said plainly "You bunch of crooks! I wrote him a check for the full amount!"

New Mercedes Owner
A new Mercedes owner was out on an interstate for a nice evening drive. The top was down, the breeze was blowing through what was left of his hair and he decided to open her up.
As the needle jumped up to 80mph he suddenly saw a flashing red and blue light behind him. "There ain't no way they can catch a Mercedes," he thought to himself and opened her up further. The needle hit 90, 100 110 and finally 120 with the lights still behind him.
"What in the world am I doing?" he thought and pulled over. The cop came up to him, took his license without a word, and examined it and the car. "I've had a tough shift and this is my last pull-over. I don't feel like more paperwork so if you can give me an excuse for your driving that I haven't heard before, you can go!"
"Last week my wife ran off with a cop," the man said, "and I was afraid you were trying to give her back!"
#joke
FLEX WORDLE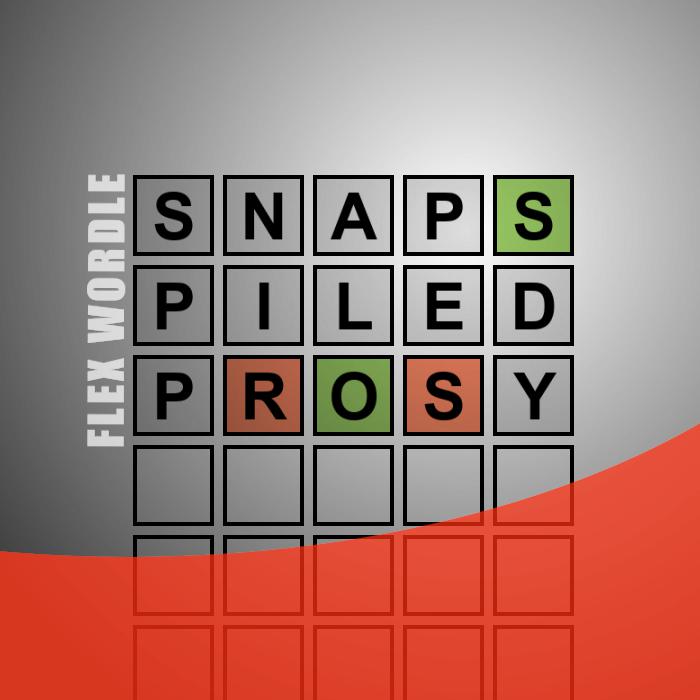 Guess the
WORDLE
in 3 tries. After each guess, the color of the tiles will change to show how close your guess was to the solution.
A man sat down at a bar, looke...
A man sat down at a bar, looked into his shirt pocket, and ordered a double scotch.
A few minutes later, the man again peeked into his pocket and ordered another double. This routine was followed for some time, until after looking into his pocket, he told the bartender that he's had enough.
The bartender said, 'I've got to ask you - what's with the pocket business?'
The man replied, 'I have my lawyer's picture in there. When he starts to look honest, I've had enough.'
The greatest boss....
Our parish priest was making a visit to my nephew's home. He knocked on the door, and the little 4-year-old boy went to the door and way the priest. He called to his dad, "Hey, Dad! That guy that works for God is here!"
Answering Machine Message 133
I can't come to the phone now, so if, well, actually, I CAN come to the phone now, I mean, like, I'm at the phone NOW, recording this message, but I'm doing this NOW, while you're listening to it LATER, except for you I guess it's NOW, like, when you're listening to it... I mean, like, wait, gosh. This is so confusing.
#joke
A little head
A huge muscular man walks into a bar and orders a beer.
The bartender can't help but stare at the guy because in contrast to his large muscles, the man has a head that is the size of an orange.
The bartender hands the guy his beer and says, "You know, I'm not gay but I want to compliment you on your physique, it really is phenomenal! But I have a question, why is your head so small?"
The big guy nods slowly. He's obviously fielded this question many times. "One day," he begins, "I was hunting and got lost in the woods. I heard someone crying for help. I followed the cries and they led me to a frog that was sitting next to a stream."
"No shit?" says the bartender, thoroughly intrigued.
"Yeah, so I picked up the frog and it said, Kiss me. Kiss me and I will turn into a genie and grant you three wishes."
"Keep going!"
I looked around to make sure I was alone and gave the frog a kiss. POOF! The frog turned into a beautiful, voluptuous, naked woman.
She said, "You now have three wishes."
I looked down at my scrawny 115 pound body and said, "I want a body like Arnold Schwarzenneger."
She nodded, snapped her fingers, and POOF there I was, so huge that I ripped out of my clothes and was standing there naked!
She then asked, "What will be your second wish?"
"What next?" begged the bartender.
I looked hungrily at her beautiful body and replied, "I want to make sensuous love with you here by this stream." She nodded, laid down, and beckoned to me. We made love right there by that stream for hours!
Afterwards, as we lay there next to each other, sweating from our glorious lovemaking, she whispered into my ear, "You know, you do have one more wish. What will it be?"
I looked at her and replied, "How 'bout a little head?"
#joke #walksintoabar
#beer
Dane Cook: Time Travel
Know what I would like to do? Id travel back to when my mom and dad had sex to have me. And Id just run into the bedroom, right when theyre doing it, and just spank my dad on the ass: Im your son from the future!
God is Watching
Children were lined up in the cafeteria of a Catholic school for lunch. At the head of the table was a large pile of apples. The nun made a note, "Take only one, God is watching."
At the other end of the table was a large pile of chocolate chip cookies. Moving through the line a boy wrote another note to leave by the cookies, "Take all you want, God is watching the apples."
#joke
Dead Father
**THIS IS NOT A TRUE STORY**** One night, when I was a little girl, I had a terrible nightmare that a crow came to me and told me that my aunt was going to drop dead the next day. I ran to my parent's room and told my dad what happened. He calmed me down and told me it was OK. The next day, my mother received a call that my aunt had just dropped dead. That night, I had another dream that the crow came to me and told me that my father was going to die!!! I sprinted down the hall to my parent's room and told my dad what had happened. He once again calmed me down and said it was going to be ok. But the next morning when he left for work, he was so distraught. The whole day, he thought that every step he took was his last. He came home that night and sat with my mother at the dinner table and said, "I had the most horrible day today." My mother then relied, "You think YOU had a bad day??? I had the Milkman drop dead on the porch!!!!!"
#joke