Chuck Norris is the reason why...
Chuck Norris is the reason why Waldo is hiding.
Cure for lateness
Bob had this problem of getting up late in the morning and was always late for work.
After a few weeks of this, his boss was mad and threatened to fire him if he didn't do something about it.
So Bob went to his doctor, who gave him a pill and told him to take it before he went to bed. He got a great night's sleep and actually beat the alarm in the morning. After a leisurely breakfast, he cheerfully drove to work.
"Boss," he said, "The pill my doctor prescribed actually worked!"
"That's all fine," said the boss, "But where were you yesterday?"
A turtle: whe...
A turtle: when your stool has a thick outer casing.
Late Night
After a night on the town, a young woman brought a new friend home for a late-night drink. "You can't make any noise," she warned him. "My parents are upstairs and if they find out they'll kill us."
Things started getting heated on the sofa, but after a while alcohol got the better of the man. "I have to go," he said.
"Well you can't go upstairs. The bathroom is right next to my parents' bedroom," she replied. "Use the kitchen sink."
So he dutifully retired to the kitchen. A few minutes later, he popped his head around the door and asked, "Do you have any toilet paper, or should I just use a paper towel?"
#joke
Two girls are watching a movie...
Two girls are watching a movie together in a theater. One girl leaned over to the other one and said, "Angie, the man next to me is masturbating!!"

"Just ignore him," replied her friend.

"I can't," she said. "He's using my hand!"
Bush and Moses...
George W. Bush, in an airport lobby, noticed a man in a long, flowing, white robe with a long, flowing, white beard and flowing, white hair. The man had a staff in one hand and some stone tablets under the other arm.
George W. approached the man and inquired, "Aren't you Moses?"
The man ignored George W. and stared at the ceiling.
George W. positioned himself more directly in the man's view and asked again, "Aren't you Moses?"
The man continued to peruse the ceiling.
George W. tugged at the man's sleeve and asked once again, "Aren't you Moses?"
The man finally responded in an irritated voice, "Yes, I am."
George W. asked him why he was so uppity, and Moses replied, "The last time I spoke to a Bush I had to spend forty years in the desert."
#joke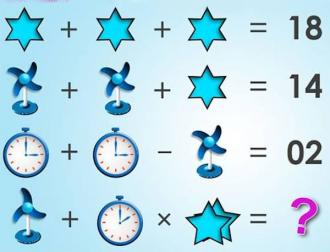 Can you replace the question mark with a number?
MATH PUZZLE: Can you replace the question mark with a number?
One night, a man on his way...
One night, a man on his way home happened upon a drunk, down on his hands and knees searching for something under a street light. The man asked the drunk what he was looking for so diligently and the drunk said he had tripped and his Rolex wrist watch had broken loose from his wrist. The man, being a kindhearted soul, got down on his hands and knees and began assisting the drunk looking for his watch. After about ten minutes without any success, the man asked the drunk exactly where he tripped. "About a half a block up the street," the drunk said. "Why, pray tell," the man asked the drunk, "are you looking for your watch here if you lost it a half a block up the street?" The drunk replied, "The light is a lot better here."
#joke
Looking Heavenward
The temporary Sunday School teacher was struggling to open a combination lock on the supply cabinet. She had been told the combination, but couldn't quite remember it.

She went to the pastor's study and asked for help. The pastor came into the room and began to turn the dial.

After the first two numbers he paused and stared blankly for a moment.Finally he looked serenely heavenward and his lips moved silently.

Then he looked back at the lock, and quickly turned to the final number, and opened the lock.

The teacher was amazed. "I'm in awe at your faith, pastor," she said.

"It's really nothing," he answered. "The number is on a piece of tape on the ceiling."
#joke
A Birthday Wish
Little Sonia was shouting her prayers. "Please God send me a new doll for my birthday."
Her mother, overhearing this, said, "Don't shout dear, God isn't deaf."
"No, but Grandad is, and he's in the next room," Sonia replied.
Surfing The Internet
Surfin' the Net
So I think I'm in the clear
the boss is no where in sight
I logon to the web and start to surf
and then my hair stands up with fright
the footsteps coming down the hall
are quickening in pace
there is no time to exit
no way to save my face
so I press the power button
and relax just a bit
there is no way he can tell
exactly what I hit
I act all surprised
don't know why my machine died
"simply unpredictable these
computers are!" I cried
"So we'll get you a new one
a computer that won't crash" he exclaims
Do you think he'll wonder
when the new one acts the same?
#joke
Republicans Democrats
The difference between Republicans & Democrats
A Republican and a Democrat were walking down the street when they came to a homeless person.
The republican gave the homeless person his business card and told him come to his business for a job. He then took twenty dollars out of his pocket and gave it to the homeless person.
The Democrat was very impressed, and when they came to another homeless person, He decided to help. He walked over to the homeless person and gave him directions to the welfare office. He then reached into the Republicans pocket and gave him fifty dollars.
#joke
Nothing personal....
"I hope you didn't take it personally, Reverend," an embarrassed woman said after a church service, "when my husband walked out during your sermon."
"I did find it rather disconcerting," the preacher replied.
"It's not a reflection on you," insisted the church goer. "Ralph has been been walking in his sleep since childhood."
#joke