He who lives by the sword, die...
He who lives by the sword, dies by the sword. He who lives by Chuck Norris, dies by the roundhouse kick.
Parent-teacher conference
When I arrived for my daughter's parent-teacher conference, the teacher seemed a bit flustered, especially when she started telling me that my little girl didn't always pay attention in class and was sometimes a little flighty.
"For example, she'll do the wrong page in the workbook," the teacher explained, "and I've even found her sitting at the wrong desk."
"I don't understand," I replied defensively. "Where could she have gotten that?"
The teacher went on to reassure me that my daughter was still doing fine in school and was sweet and likable. Finally, after a pause, she added, "By the way, Mrs. Hallinan, our appointment is tomorrow."
#joke
Funny video of the day - Top 10 Motorcycle fail
The razor factory is facing cu...
The razor factory is facing cuts. Everybody might get blade off.
Drunks
Two drunks are d...
Drunks
Two drunks are driving down the highway, drinking their beer. All of a sudden the driver notices lights flashing in his mirror; the cops are on his tail. His buddy says, "What are we going to do?" The driver says, "Don't worry. Just do exactly what I tell you and everything will work out perfectly. First, peel the labels off our beer bottles and we'll each stick one on our forehead. Then shove the bottles underneath the seat, and let me do the talking." They pull over and the cop walks up to the car. He looks at them kind of funny, but asks to see the guy's driver's license. And he asks him, "Have you been drinking?" "Oh, no, sir," the driver replies. "I noticed you weaving back and forth across the highway. Are you *sure* you haven't been drinking?" the cop asks. "Oh, no, sir," the drunk answers. "We haven't had a thing to drink tonight." "Well, I've got to ask you," says the cop, "What on earth are those things on your forehead?" "That's easy, Officer," says the drunk. "You see, we're both alcoholics, and we're on the patch."
My Best Friend
A man is sitting at the bar in his local tavern, furiously imbibing shots of whiskey. One of his friends happens to come into the bar and sees him.
"Lou," says the shocked friend, "what are you doing? I've known you for over fifteen years, and I've never seen you take a drink before. What's going on?"
Without even taking his eyes off his newly filled shot glass, the man replies, "My wife just ran off with my best friend."
He then throws back another shot of whisky in one gulp.
"But," says the other man, "I'm your best friend!"
The man turns to his friend, looks at him through bloodshot eyes, smiles, and then slurs, "Not anymore! He is!"
#joke
Praise the Lord...
An elderly lady was well-known for her faith and for her boldness in talking about it. She would stand on her front porch and shout, "PRAISE THE LORD!"
Next door to her lived an atheist who would get so angry at her proclamations that he would shout, "There ain't no Lord!"
Hard times set in on the elderly lady, and she prayed for God to send her some assistance. She stood on her porch and shouted, "PRAISE THE LORD! God, I need food. I am having a hard time. Please, Lord, send me some groceries."
The next morning, the lady went out on her porch and noted a large bag of groceries and shouted, "PRAISE THE LORD!"
The neighbor jumped from behind a bush and said, "HA...HA. I told you there was no Lord! I bought those groceries, myself! God didn't!"
The lady started jumping up and down and clapping her hands and saying, "PRAISE THE LORD! He not only sent me groceries, but He made the Devil pay for them! PRAISE THE LORD!"
#joke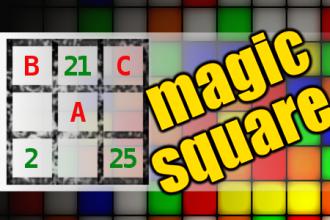 MAGIC SQUARE: Calculate A+B-C
The aim is to place the some numbers from the list (2, 6, 9, 21, 25, 28, 50, 54, 57, 89, 90) into the empty squares and squares marked with A, B an C. Sum of each row and column should be equal. All the numbers of the magic square must be different. Find values for A, B, and C. Solution is A+B-C.
Death In The Family
One day, a blonde's neighbor goes over to her house, sees the blonde crying, and asks her what happened.
The blonde said that her mother had passed away.
The neighbor made her some coffee and calmed her down a little and then left.
The next day the neighbor went back over to the house and found the blonde crying again.
She asked her why she was crying this time.
The blonde said, "I just got off of the phone with my sister. Her mother died too!"
Answering Machine Message 251

Alpha Centauri Space Station. Commander Marlin can't come to the phone right now. He's either saving the universe from some dread, unnamed peril, or perhaps taking a nappie. Leave your name and number after the beep and he will return your call.


Ten Thoughts to Ponder...
Number 10
Life is sexually transmitted.
Number 9
Good health is merely the slowest possible rate at which one can die.
Number 8
Men have two emotions: Hungry and Horny. If you see him without an erection, make him a sandwich.
Number 7
Give a person a fish and you feed them for a day; teach a person to use the Internet and they won't bother you for weeks.
Number 6
Some people are like a Slinky.....not really good for anything, but you still can't help but smile when you shove them down the stairs.
Number 5
Health nuts are going to feel stupid someday, lying in hospitals dying of nothing.
Number 4
All of us could take a lesson from the weather. It pays no attention to criticism.
Number 3
Why does a slight tax increase cost you two hundred dollars and a substantial tax cut saves you thirty cents?
Number 2
In the 60s, people took acid to make the world weird. Now the world is weird and people take Prozac to make it normal.
AND THE NUMBER 1 THOUGHT...
America knows exactly where one cow with mad-cow disease is located among the millions and millions of cows in America, but they haven't got a clue as to where thousands of illegal immigrants and terrorists are located. Maybe the USA should put the Department of Agriculture in charge of immigration.
#joke
A young woman said to her d...
A young woman said to her doctor, 'You have to help me, I hurt all over.' 'What do you mean?' said the doctor. The woman touched her right knee with her index finger and yelled,'Ow, that hurts.' Then she touched her left cheek and again yelled, 'Ouch! That hurts, too.' Then she touched her right earlobe. 'Ow, even THAT hurts.' The doctor asked the woman, 'Are you a natural blonde?' 'Why yes,' she said. 'I thought so,' said the doctor. 'You have a sprained finger.'
Top 10 Reasons God Created Eve
10. God worried that Adam would always be lost in the garden because men hate to ask for directions.
9. God knew that Adam would one day need someone to hand him the TV remote.
8. God knew that Adam would never buy a new fig leaf when his seat wore out and would therefore need Eve to get one for him.
7. God knew that Adam would never make a doctor's appointment for himself.
6. God knew that Adam would never remember which night was garbage night.5. God knew that if the world was to be populated, men would never be able to handle childbearing.
4. As "Keeper of the Garden," Adam would never remember where he put his tools.
3. The scripture account of creation indicates Adam needed someone to blame his troubles on when God caught him hiding in the garden.
2. As the Bible says, "It is not good for man to be alone!"
1. When God finished the creation of Adam, He stepped back, scratched His head and said, "I can do better than that."
A Heavenly Welcome
A contractor dies in a car accident on his 40th birthday and finds himself at the Pearly Gates. A brass band is playing, the angels are singing a beautiful hymn, there is a huge crowd cheering and shouting his name, and absolutely everyone wants to shake his hand.
Just when he thinks things can't possibly get any better, Saint Peter himself runs over, apologizes for not greeting him personally at the Pearly Gates, shakes his hand, and says, "Congratulations son, we've been waiting a long time for you."
Totally confused and a little embarrassed, the contractor sheepishly looks at Saint Peter and says "Saint Peter, I tried to lead a God-fearing life, I loved my family, I tried to obey the 10 Commandments, but congratulations for what? I honestly don't remember doing anything really special when I was alive.""Congratulations for what?" says Saint Peter, totally amazed at the man's modesty. "We're celebrating the fact that you lived to be 160 years old! God himself wants to see you!" The contractor is awestruck and can only look at Saint Peter with his mouth wide open. When he regains his power of speech, he looks up at Saint Peter and says "Saint Peter, I lived my life in the eternal hope that when I died I would be judged by God and be found to be worthy, but I only lived to be forty."
"That's simply impossible son," says Saint Peter. "We've added up your time sheets."

#joke
Good news and bad news...
A doctor enters into a patient's room and informs the patient that he has good news and bad news. He then asks the patient which news he would like to hear.
The patient responds, "Doctor, give me the good news."
The doctor says, "Well we are gonna name a disease after you."
A student received a software ...
A student received a software package from his friend. But, he didn't have a computer.
The label on the package said that the software required "Windows 3.1 or better."
So, he bought a Macintosh.
Quotes taken from Federal Gove...
Quotes taken from Federal Government employee performance evaluations:
1. "Got a full 6-pack, but lacks the plastic thingy to hold it all together."
2. "A gross ignoramus -- 144 times worse than an ordinary ignoramus."
3. "He doesn't have ulcers, but he's a carrier."
4. "I would like to go hunting with him sometime."
5. "He's been working with glue too much."
6. "She would argue with a signpost."
7. "She brings a lot of joy whenever she leaves the room."
8. "When his IQ reaches 50, he should sell."
9. "If you see two people talking and one looks bored, she's the other one.
10. "A photographic memory but with the lens cover glued on."
#joke
Just as Skilled
A woman...
Just as Skilled
A woman surgeon was disturbed about the high cost of her car repair.
"This is ridiculous!" she said, "charging me five hundred dollars to grind the valves and put in new piston rings."
"Not really, just think about it. You are a surgeon and should know that an automobile engine is just as complicated as a human body. The mechanic who serviced your car is just as skilled as you are."
"Is that so? Well, let me see him grind valves while the engine is running."
#joke