Happy New Year 2021!!
4 out of 5 doctors fail to rec...
4 out of 5 doctors fail to recommend Chuck Norris as a solution to most problems. 80% of doctors die unexplained, needlessly brutal deaths.
Dogs and Computers: Same or Different?
Favorite Food
Dogs: kibbles
Computers: bits
Method used to end undesirable behavior
Dogs: hit with rolled up newspaper
Computers: hit control-alt-delete
After destruction of personal property
D: dog not found
C: file not found
Favorite trick
D: roll over
C: play dead
Comic-page hero
D: Dogbert
C: Dilbert
Fun way to mess with their heads
D: peanut butter on roof of mouth
C: peanut butter in CD-ROM drive
Consequence of virus
D: replace valuable carpeting
C: replace valuable data
Widely ignored government mandate
D: leash law
C: Communications Decency Act
Waste disposal tool
D: pooper-scooper
C: uninstaller
Sensitive internal procedures
D: must be undertaken by fully qualified professional
C: may be undertaken by that guy at work who fixed one
kind of like this once
Method of marking territory
D: lifting leg
C: "Designed for Windows 95″
Unique behavior
D: lick and drag
C: click-and-drag
Inexplicable physical feature
D: dewclaw
C: scroll lock key
Estimated lifespan
D: 12 years
C: 12 months
#joke
Funny video of the day - Di bus 62 can swim
My personal attempts to re-cre...
My personal attempts to re-create a black hole have met with abyssal failure.
A man with a wooden eye was ve...
A man with a wooden eye was very sensitive about his eye for fear of people making fun of him. One day this man decides to go out and have some fun. So, he goes to a bar and orders a beer. Then, out of the corner of his eye he sees a woman with a flat face. He thinks," Well, she wouldn't make fun of me because she would understand how I feel." So, he finally gathers up the courage to talk to her, he goes over and asks her, "Would you like to have dinner with me sometime?" And the woman answers, "Would I!!!" (Wood Eye) The man, obviously offended, screams, "flat face!!!" and storms out of the bar.
Grief and Suffering
The madam opened the brothel door to see a rather dignified, well-dressed good looking man in his late 40s or early 50s.
"May I help you?" she asked.
"I want to see Valerie," the man replied.
"Sir, Valerie is one of our most expensive ladies. Perhaps you would prefer someone else," said the madam.
"No, I must see Valerie," was the man's reply.
Just then, Valerie appeared and announced to the man that she charged $1,000 a visit. Without hesitation, the man pulled out ten one-hundred dollar bills, gave them to Valerie, and they went upstairs. After an hour, the man calmly left.
The next night, the same man appeared again, demanding to see Valerie. Valerie explained that none had ever come back two nights in a row--too expensive--and there were no discounts. The price was still $1,000. Again the man pulled out the money, gave it to Valerie and they went upstairs. After an hour, he left.
The following night the man was there again. Everyone was astounded that he had come for the third consecutive night, but he paid Valerie and they went upstairs. After their session, Valerie questioned the man. "No one has ever been with me three nights in a row. Where are you from?" she asked.
The man replied, " South Carolina."
"Really" she said. "I have family in South Carolina."
"I know," the man said. "Your father died, and I am your sister's attorney. She asked me to give you your $3,000 inheritance."
The moral of the story is that three things in life are certain:
1. Death
2. Taxes
3. Being screwed by a lawyer
And God Created Dog and Cat
A newly discovered chapter in the Book of Genesis has provided the answer to 'Where do pets come from?'
Adam said, 'Lord, when I was in the garden, you walked with me every day. Now I do not see you any more. I am lonesome here and it is difficult for me to remember how much you love me.'And God said 'No problem. I will create a companion for you that will be with you forever and who will be a reflection of my love for you so that you will love me even when you cannot see me. Regardless of how selfish or childish or unlovable you may be, this new companion will accept you as you are and will love you as I do, in spite of yourself.'
And God created a new animal to be a companion for Adam. And it was a good animal. And God was pleased. And the new animal was pleased to be with Adam and it wagged its tail.
And Adam said, 'Lord, I have already named all the animals in the Kingdom and I cannot think of a name for this new animal.'
And God said, 'No problem. Because I have created this new animal to be a reflection of my love for you his name will be a reflection of my own name, and you will call him Dog.'
And Dog lived with Adam and was a companion to him and loved him. And Adam was comforted. And God was pleased. And Dog was content and wagged his tail.
After a while, it came to pass that Adam's guardian angel came to the Lord and said, 'Lord, Adam has become filled with pride. He struts and preens like a peacock and he believes he is worthy of adoration. Dog has indeed taught him that he is loved, but perhaps too well.'
And the Lord said, 'No problem. I will create for him a companion who will be with him forever and who will see him as he is. The companion will remind him of his limitations, so he will know that he is not always worthy of adoration.'
And God created Cat to be a companion to Adam. And Cat would not obey Adam. And when Adam gazed into Cat's eyes, he was reminded that he was not the Supreme Being. And Adam learned humility.
And God was pleased. And Adam was greatly improved. And Dog was happy.
And Cat didn't care one way or the other.
#joke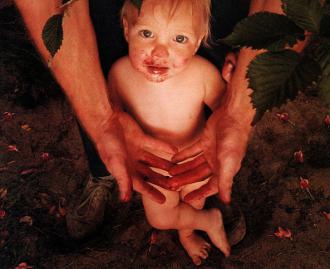 Guess the Band Name
Which musician band has an album with a cover as in the picture?
A guy named Bob receives a fre...
A guy named Bob receives a free ticket to the Super Bowl from his company. Unfortunately, when Bob arrives at the stadium he realizes the seat is in the last row in the corner of the stadium - he's closer to the Goodyear blimp than the field.
About halfway through the first quarter, Bob notices an empty seat 10 rows off the field, right on the 50 yard line. He decides to take a chance and makes his way through the stadium and around the security guards to the empty seat. As he sits down, he asks the gentleman sitting next to him, "Excuse me, is anyone sitting here?"
The man says no.
Now, very excited to be in such a great seat for the game, Bob again inquires of the man next to him, "This is incredible! Who in their right mind would have a seat like this at the SuperBowl and not use it?"
The man replies, "Well, actually, the seat belongs to me, I was supposed to come with my wife, but she passed away. This is the first Super Bowl we haven't been together at since we got married in 1967."
"Well, that's really sad," says Bob, "but still, couldn't you find someone to take the seat? A relative or close friend?"
"No," the man replies, "they're all at the funeral."
#joke
A compliment....
Bob was sitting at the table one morning, reading the paper after breakfast. He came across an article about a beautiful actress who was about to marry a football player known for his lack of IQ.
He turned to his wife and said, "I'll never understand why the biggest jerks get the most attractive wives."
She replied, "Why, thank you, Dear!"
#joke
Sue Over The Property
Did you know that heaven and hell are actually right next to each other? They are seperated by a big chain-link fence. Well, one day hell was having a big party and it got a little out of hand. God heard the ruckus and arrived to find his fence completely smashed by the wild partiers. He called the devil over and said "Look, Satan, you have to rebuild this fence." Satan agreed. The next day God noticed that the devil had completely rebuilt the fence...but it was 2 feet further into heaven than before.
"Satan!" beckoned God. "You have to take that fence down and put it back where it belongs!"
"Yeah? What if I don't?" replied the devil.
"I'll sue you if I have to," answered God.
"Sure," laughed Satan. "Where are you going to find a lawyer?"
No ball room
Q. What do tight pants and a cheap motel have in common?
A. No ball room
Jim Gaffigan: Bottled Water
How did we get to the point where were paying for bottled water? That must have been some weird marketing meeting over in France. Some French guys sitting there, like, How dumb do I think the Americans are? I bet you we could sell those idiots water.
A man was walking along a Cali...
A man was walking along a California beach and stumbled across an old lamp. He picked it up and rubbed it and out popped a genie.
The genie said "OK, OK. You released me from the lamp... blah, blah, blah... This is the fourth time this month and I'm getting a little sick of these wishes so you can forget about three. You only get one wish!"
The man sat and thought about it for a while and said, "I've always wanted to go to Hawaii but I'm scared to fly and I get very seasick. Could you build me a bridge to Hawaii so I can drive over there to visit?"
The genie laughed and said, "That's impossible! Think of the logistics of that. How would the supports ever reach the bottom of the Pacific?
Think of how much concrete... how much steel!! No. Think of another wish."
The man said OK and tried to think of a really good wish. Finally, he said, "I've been married and divorced four times. My wives always said that I don't care and that I'm insensitive. So, I wish that I could understand women...know how they feel inside and what they're thinking when they give me the silent treatment... to know why they're crying, to know what they really want when they say 'nothing' ... to know how to make them truly happy."
The genie said, "You want that bridge two lanes or four?"
#joke
God Takes a Holiday
Chuckling, God remarked, "Are you kidding? Two thousand years ago I went there, had an affair with some nice Jewish girl, and they're STILL talking about it!"
Substitute at the Pearly Gates
"Oh, I've been doing pretty well since you died," her husband told her. "I married the beautiful young nurse who took care of you while you were ill. And then I won the lottery. I sold the little house you and I lived in and bought a big mansion. And my wife and I traveled all around the world. We were on vacation and I went water skiing today. I fell, the ski hit my head, and here I am. How do I get in?"
"You have to spell a word," the woman told him.
"Which word?" her husband asked.
"Czechoslovakia."

#joke
No more nailbiting...
Two golden-agers were discussing their husbands over tea. "I do wish that my Elmer would stop biting his nails. He makes me terribly nervous."
My Billy used to do the same things," the older woman replied, "but I broke him of that pesky habit."
"How?"
"I hid his teeth!"
Wanda Sykes: African American or Black
Im not politically correct. I still say black, I do. Because African American -- theres no bonus; its not going to make your life any easier. You dont see black people standing around going, Woo yeah, African American. Man, I tell you, this beats the hell out of being black. We should have made the switch years ago.
#joke