I want to live my next life backwards
You start out dead and get that out of the way.
Then you wake up in an old age home feeling better every day.
Then you get kicked out for being too healthy.
Enjoy your retirement and collect your pension.
Then when you start work, you get a gold watch on your first day.
You work 40 years until you're too young to work.
You get ready for High School: drink alcohol, party, and you're generally promiscuous.
Then you go to primary school, you become a kid, you play, and you have no responsibilities.
Then you become a baby, and then . . .
You spend your last 9 months floating peacefully in luxury, in spa-like conditions – central heating, room service on tap, and then…
You finish off as an orgasm.
I rest my case.
#joke
Chuck Norris doesn't stub his ...
Chuck Norris doesn't stub his toes. He accidentally destroys chairs, bedframes, and sidewalks.
Funny video of the day - Watch your fingers
Any recommendation to sleep wi...
Any recommendation to sleep with a midget just doesn't stand up to screw tiny.
Man: He must be so happy!
...
Man: He must be so happy!
Woman: Who?
Man: Your father.
Woman: Why?
Man: Because he gets to see an angel everyday.
Gas Can
A nun was in a hurry on her way to her job at the local Catholic Charity Hospital when her car suddenly runs out of gas. Luckily, she was only a block and a half from a gas station, so she got out of her car and quickly walked there.
At the station, she asked the attendent to give her a quart of gasoline so that she could start her car and drive it over to fill it up. The attendent told her that he only had one gas can, and he just loaned it to someone else.
She told the attendent that she was in a hurry and would look in her car to find something to hold the gas. When she got back the the car, the only suitable container she found was a bedpan, which looked like it could easily hold a quart of gas.
She brought the bedpan to the station and the attendent filled it with gas. The nun got back to her car and started to pour the gas from the bedpan into her car.
Just as she started pouring, two men walked by. One of the men said to the other "If that car starts, I'm converting to catholicism forever!"
#joke
Embarrassing Compulsion...
A man walked into a bar and ordered a glass of white wine. He took a sip of the wine, then tossed the remainder into the bartender's face. Before the bartender could recover from the surprise, the man began weeping.
"I'm sorry," he said. "I'm really sorry. I keep doing that to bartenders. I can't tell you how embarrassing it is to have a compulsion like this."
Far from being angry, the bartender was sympathetic. Before long, he was suggesting that the man see an analyst about his problem.
"I happen to have the name of a psychoanalyst," the bartender said. "My brother and my wife have both been treated by him, and they say he's as good as they get."
Six months later, the man was back.
"Did you do what I suggested?" the bartender asked, serving a glass of white wine.
"I certainly did," the man said. "I've been seeing the psychoanalyst twice a week." He took a sip of the wine, then he threw the remainder into the bartender's face.
The flustered bartender wiped his face with a towel. "The doctor doesn't seem to be doing you any good," he sputtered.
"On the contrary," the man claimed, "he's done me world of good."
"But you threw the wine in my face again!" the bartender exclaimed.
"Yes," the man replied. "But it doesn't embarrass me anymore."
FLEX WORDLE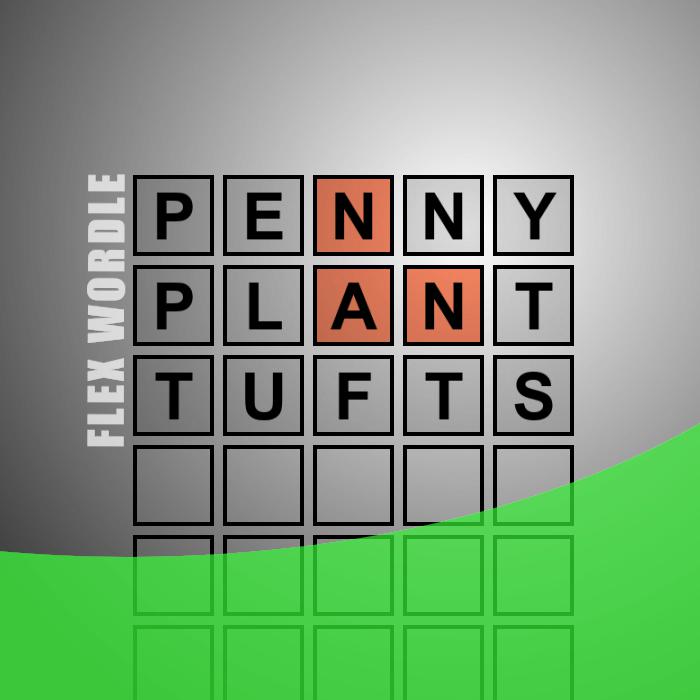 Guess the
WORDLE
in 3 tries. After each guess, the color of the tiles will change to show how close your guess was to the solution.
French fries
There was once a sheep farmer who had a French farmhand working with him to help castrate his sheep.
As the farmer castrated the first sheep, the French farmhand took the parts and was about to throw them into the trash.
"No!" yelled the farmer, "Don't throw those away! My wife fries them up, and we eat them, they're delicious! They're called Sheep Fries!"
The farmhand saved the parts and took them to the farmer's wife who cooked them up for supper. This went on for three days....and each evening they had Sheep Fries for supper.
On the fourth night the farmer came in to the house for supper.
He asked his wife where the farmhand was, and she replied, "It's the strangest thing! When he came in and asked what was for supper, I told him French Fries, and he ran like hell!"
Submitted by Calamjo
EDited by Tanilazing
#joke
Christopher Titus: Post-Weiner Politics
Im thinking of a presidential bid; currently indexing and cross-referencing everyone Ive tweeted my junk to. 8x10s available.
A Collection Of Insults
A brief synopsis... When you're at a loss for words but want to tell someone that he or she is stupid, remember some these quips from our collection here at Aha! Jokes.
---
A few guppies short of an aquarium.
A few inches short of a foot/yard.
A few kernels short of an ear.
A few kopeks short of a ruble.
A few links shy of a chain.
A few measures short of a staff.
A few open splices.
A few peas short of a pod/casserole.
A few pickles short of a jar.
A few pies short of a holiday.
A few planes short of an Air Force / hangar.
A few points short of a polygon.
A few revisions behind.
A few sandwiches/apples/ants short of a picnic.
A few screws loose.
#joke
A blonde and a lawyer are seat...
A blonde and a lawyer are seated next to each other on a flight from LA to NY. The lawyer asks if she would like to play a fun game?
The blonde, tired, just wants to take a nap, politely declines and rolls over to the window to catch a few winks. The lawyer persists and explains that the game is easy and a lot of fun. He explains, I ask you a question, and if you don't know the answer, you pay me $5.00, and vise versa.
Again, she declines and tries to get some sleep. The lawyer, now agitated, says, "Okay, if you don't know the answer you pay me $5.00, and, if I don't know the answer, I will pay you $500.00."
This catches the blonde's attention and, figuring there will be no end to this torment unless she plays, agrees to the game.
The lawyer asks the first question. "What's the distance from the earth to the moon?" The blonde doesn't say a word, reaches into her purse, pulls out a $5.00 bill and hands it to the lawyer.
Okay says the lawyer, your turn. She asks the lawyer, "What goes up a hill with three legs and comes down with four legs?" The lawyer, puzzled, takes out his laptop computer and searches all his references, no answer. He taps into the air phone with his modem and searches the net and the library of congress, no answer. Frustrated, he sends e-mails to all his friends and coworkers, to no avail.
After an hour, he wakes the blonde, and hands her $500.00. The blonde says, "Thank you," and turns back to get some more sleep.
The lawyer, who is more than a little miffed, wakes the blonde and asks, "Well, what's the answer? "Without a word, the blonde reaches into her purse, hands the lawyer $5.00, and goes back to sleep.
Good Question!
And Moses looked upon the Lord and said:
"We are your chosen people and you want us to cut the tips off of our WHAT?"

There was a red head, a brunet...
There was a red head, a brunette, and a blonde riding in the back of a truck. Suddenly the tire popped and the truck drove off the edge into the water.

The red head and brunette swam up and survived, but the blonde drowned because she couldn't get the tail gate open.
John Oliver: Falling in Love with America
It was like falling in love with a girl who was just throwing up all over herself -- softly holding her hair back and whispering to her that everything was going to be alright. To me, thats what the last eight years were like, here in America: projectile vomiting all over yourself as the rest of the world rubbed your back, saying, Sssshhh, thats it. Let it all out.
#joke
Rudolph the Red Nosed Reindeer
A Russian couple was walking down the street in St. Petersburg the other night, when the man felt a drop hit his nose. "I think it's raining," he said to his wife.
"No, that felt more like snow to me," she replied. "No, I'm sure it was just rain, he said." Well, as these things go, they were about to have a major argument about whether it was raining or snowing. Just then they saw a minor communist party official walking toward them. "Let's not fight about it," the man said, "let's ask Comrade Rudolph whether it's officially raining or snowing."
As the official approached, the man said, "Tell us, Comrade Rudolph, is it officially raining or snowing?"
"It's raining, of course," he answered and walked on. But the woman insisted: "I know that felt like snow!" To which the man quietly replied: "Rudolph the Red knows rain, dear!"
#joke
The Black Bra
The Black Bra (as told by a woman)
I had lunch with 2 of my unmarried friends. One is engaged, one is a mistress, and I have been married for 20+ years. We were chatting about our relationships and decided to amaze our men by greeting them at the door Wearing a black bra, stiletto heels and a mask over our eyes. We agreed to meet in a few days to exchange notes..
Here's how it all went.
My engaged friend:
The other night when my boyfriend came over he found me with a black leather bodice, tall stilettos and a mask. He saw me and said, 'You are the woman of my dreams. I love you.' Then we made passionate love all night long.
The mistress:
Me too! The other night I met my lover at his office and I was wearing a raincoat, under it only the black bra, heels and Mask over my eyes. When I opened the raincoat he didn't say a word, but he started to tremble and we had wild sex all night.
Then I had to share my story:
When my husband came home I was wearing the black bra, Black stockings, stilettos and a mask over my eyes. When he came in the door and saw me he said,
"What's for dinner, Zorro?"
#joke
A woman phones up her husband ...
A woman phones up her husband at work for a chat...
Says He: "I'm sorry honey but I'm up to my neck in work today"
Says She: "But I've got some good news and some bad news for you dear."
Says He: "OK darling, but since I've got no time now, just give me the good news, OK?"
Says She: "Well, the air bag works..."
#joke