Chuck Norris does not use spel...
Chuck Norris does not use spell check. If he happens to misspell a word, Oxford will simply change the actual spelling of it.
Danger! Do Not Touch!
Our supply clerk at the factory was in a dither. A box had been left on the loading dock with this warning printed on it: "Danger! Do Not Touch!"
Management was called, and we were told to stay clear of the box until it could be analyzed. When the foreman arrived, he donned safety goggles and gloves, and then he carefully opened the box.
Inside were 25 signs that read: Danger! Do Not Touch!
#joke
Funny video of the day - World record set for roller-skating jump
Afghanistan may not have the I...
Afghanistan may not have the Internet, but they are kings of
Khyber space
.
Good Advice from Maxine
People who live in glass houses should make love in the basement.
Never read the fine print. There ain't no way you're going to like it.
If you let a smile be your umbrella, then most likely your butt will get soaking wet.
The only two things we do with greater frequency in middle age are urinate and attend funerals.
The trouble with bucket seats is that not everybody has the same size bucket.
To err is human, to forgive - highly unlikely.
Do you realize that in about 40 years, we'll have thousands of old ladies running around with tattoos?
Money can't buy happiness -- but somehow it's more comfortable to cry in a Porsche than in a Hyundai.
Drinking makes some husbands see double and feel single.
Living in a n*dist colony takes all the fun out of Halloween.
After a certain age, if you don't wake up aching in every joint, you are probably dead.
A Jewish Telegram
Jewish telegram: "Begin worrying. Details to follow."
Rotten luck...
A lady is having a bad day at the roulette tables in 'Vegas. She's down to her last $50. Exasperated, she exclaims, "What rotten luck! What in the world should I do now?"
A man standing next to her, trying to calm her down, suggests, "I don't know... why don't you play your age?"
He walks away. Moments later, his attention is grabbed by a great commotion at the roulette table. Maybe she won! He rushes back to the table and pushes his way through the crowd. The lady is lying limp on the floor, with the table operator kneeling over her.
The man is stunned. He asks, "What happened? Is she all right?"
The operator replies, "I don't know. She put all her money on 29, and 36 came up. Then she just fainted!"
#joke
FLEX WORDLE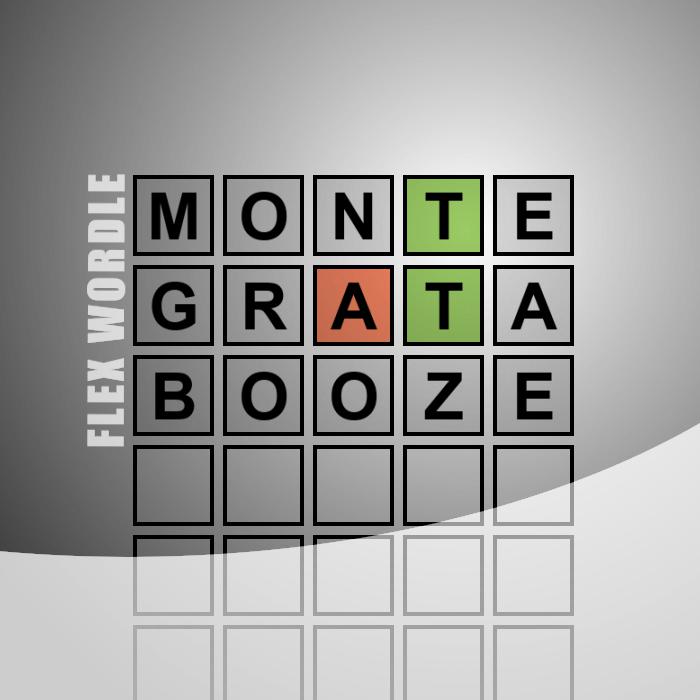 Guess the
WORDLE
in 3 tries. After each guess, the color of the tiles will change to show how close your guess was to the solution.
Cat Jokes 03
Q: What looks like half a cat?
A: The other half!
Q: What was the name of the film about a killer lion that swam underwater?
A: 'Claws.'
Q: If a four-legged animal is a quadruped and a two-legged animal is a biped, What's a tiger?
A: A stri-ped!
Q: What do you get if you cross a tiger with a sheep?
A: A stripey sweater!
Q: How does a lion greet the other animals in the field?
A: 'Pleased to eat you.'!
Q: What do you get if you cross a tiger with a snowman?
A: Frostbite!
Q: What did the lions say to his cubs when he taught them to hunt?
A: 'Don't go over the road till you see the zebra crossing.'
Q: What is lion's favorite food?
A: Baked beings!
#joke
Porn movies
Why do men like to watch porno movies backward?
They like the part where the hooker gives the money back.
Al Jackson: Bacardi 151
I had a bad introduction to drinking, as it is. When I was 14 years old, my boys got me in a room and they gave me Bacardi 151. I didnt even know what the 151 stood for; I thought it was like Heinz 57 sauce or Formula 409 or some sh*t. Turns out you have 151% chance of taking a swing at your dad.
An engineer dies and reports t...
An engineer dies and reports to the pearly gates. St. Peter checks his dossier and says, "Ah, you're an engineer -- you're in the wrong place."
So the engineer reports to the gates of hell and is let in. Pretty soon, the engineer gets dissatisfied with the level of comfort in hell, and starts designing and building improvements. After a while, they've got air conditioning and flush toilets and escalators, and the engineer is a pretty popular guy.
One day God calls Satan up on the telephone and says with a sneer, "So, how's it going down there in hell?"
Satan replies, "Hey, things are going great. We've got air conditioning and flush toilets and escalators, and there's no telling what this engineer is going to come up with next."
God replies, "What??? You've got an engineer? That's a mistake -- he should never have gotten down there, send him up here."
Satan says, "No way! I like having an engineer on the staff, and I'm keeping him."
God says, "Send him back up here, or I'll sue."
Satan laughs uproariously and answers, "Yeah, right. And just where are you going to get a lawyer?"
A sister and brother are talki...
A sister and brother are talking to each other when the little boy gets up and walks over to his Grandpa and says, "Grandpa, please make a frog noise."
The Grandpa says, "No."
The little boy goes on, "Please .. please make a frog noise."
The Grandpa says, "No, now go play."
The little boy then says to his sister, "Go tell Grandpa to make a frog noise."
So the little girl goes to her Grandpa and says, "Please make a frog noise."
The Grandpa says, "I just told your brother 'no' and I'm telling you 'no'." The little girl says, "Please .. please Grandpa make a frog noise." The Grandpa says, "Why do you want me to make a frog noise?"
The little girl replied, "Because mommy said when you croak we can go to Disney World!"
#joke
The photographer for a nationa...
The photographer for a national magazine was assigned to get photos of a great forest fire. Smoke at the scene was too thick to get any good shots, so he frantically called his home office to hire a plane. "It will be waiting for you at the airport!" he was assured by his editor. As soon as he got to the small, rural airport, sure enough, a plane was warming up near the runway. He jumped in with his equipment and yelled, "Let's go! Let's go!" The pilot swung the plane into the wind and soon they were in the air. "Fly over the north side of the fire," said the photographer, "and make three or four low level passes." "Why?" asked the pilot. "Because I'm going to take pictures! I'm a photographer, and photographers take pictures!" said the photographer with great exasperation. After a long pause the pilot said, "You mean you're not the instructor?"
#joke
Price Check on Tampax
When Jane reached the checkout counter, she learned that one
of her items had no price tag. Imagine her embarrassment when
the checker got on the intercom and boomed out for all the
store to hear, "Price check on Tampax, supersize please."
As if that was not bad enough, somebody at the rear of the
store misunderstood the word "Tampax" for "thumbtacks."
In a business-like tone, a voice boomed back over the
intercom, "Do you want the kind you push in with your thumb
or the kind you pound in with a hammer?"
#joke
Bill Hicks: Confusing L.A. Weather
L.A. is a very confusing place, only place I know where you can have, simultaneously, a drought and a flood. Every time you watch the weatherman, he goes, Rained all day, didnt help the drought. Back to you, Tom. I got news for you, folks. If water doesnt solve your drought, youre screwed.
Second opinion
A man went to the doctor for his first prostate exam, and asked the doctor how the procedure is performed.
The doctor replied while putting on his glove and some K-Y jelly around his forefinger, "I insert this finger into your rectum and look for lumps and what not."
"You're going to stick that finger up my ass?" the patient asked.
"Yes." The doctor said.
"While you're at it, I want you to stick two fingers up my ass."
"Why?" asked the doctor
The patient replied, "I want a second opinion."
Submitted by calamjo
Edited by Glaci and Curtis
Rules
A couple were married and, following the wedding, the husband laid down some rules.
"I'll be home when I want, if I want, and at what time I want," he insisted. "And, I don't expect any hassle from you. Also, I expect a decent meal to be on the table every evening, unless I tell you otherwise. I'll go hunting, fishing, boozing, and card-playing with my buddies whenever I want. Those are my rules," he said. "Any comments?"
His new bride replied, "No, that's fine with me. But, just understand that there'll be sex here at seven o'clock every night ... whether you're here or not."
#joke
Join us on WhatsApp