Happy New Year 2021!!
Blind Man
Husband and wife are waiting at the bus stop with their nine children. A blind man joins them after a few minutes. When the bus arrives, they find it overloaded and only the wife and the nine kids are able to fit onto the bus.
So the husband and the blind man decide to walk. After a while, the husband gets irritated by the ticking of the stick of the blind man as he taps it on the sidewalk, and says to him, "Why don't you put a piece of rubber at the end of your stick? That ticking sound is driving me crazy."
The blind man replies, "If you would've put a rubber at the end of YOUR stick, we'd be riding the bus ... so shut up."
#joke
Chuck Norris doesnt wear a wat...
Chuck Norris doesnt wear a watch, HE decides what time it is.
Funny video of the day - Firecracker, Sink
A man was on a beach when he d...
A man was on a beach when he discovered an old lamp in the sand.
He rubbed it, and a genie popped out.
The genie said, "I will grant you three wishes. The only condition is that you cannot wish for more wishes."
"Alright," said the man, "I wish for more genies."
#joke
Bad eyesight
Bob wearily trudged into his house and laid down his bag of golf clubs. "How was your game, darling" asked his wife, Jane. "I was hitting the ball ok, but my eyesight's gotten so damn bad I couldn't see where the ball went.' shrugged Bob.
"Well, you're 75 years old," said Jane. "You can't expect everything to be like it was. Why don't you take my brother Jimmy along?" "But he's 85 and he doesn't even play golf any more," protested Bob. "But he's got perfect eyesight," Jane pointed out. "Hhe can watch the ball for you."
So the next day Bob teed off with Jimmy looking on. He swung and the ball disappeared down the middle of the fairway. "Do you see it, do you see it?" asked Bob in anticipation. "Yep!" Jimmy answered. "Well where is it?" exclaimed Bob, peering off into the distance.
"I forgot," said Jimmy.
#joke
A man was on a beach when he d...
A man was on a beach when he discovered an old lamp in the sand. He rubbed it and a genie popped out. The genie said "I will grant you three wishes. The only condition is that you cannot wish for more wishes." "Alright," said the man, "I wish for more genies."
Computer users are divided int...
Computer users are divided into three types:
Novice, Intermediate and Expert.
Novice Users - People who are afraid that simply pressing a key might break their computer.
Intermediate Users - People who don't know how to fix their computer after they've just pressed a key that broke it.
Expert Users - People who press the keys that break other people's computers.
#joke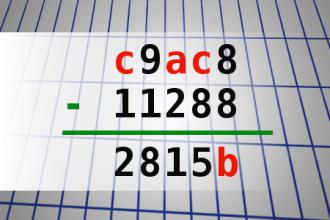 Find number abc
If c9ac8 - 11288 = 2815b find number abc. Multiple solutions may exist.
Chemistry Song 12
I Saw Teacher Kissing Santa Chlorine
I saw teacher kissing Santa Chlorine
under the chemistree last night
They didn't sneak me down the periodic chart
to take a peek
At all the atoms reacting in their beakers;
it was neat.
And I saw teacher kissing Santa Chlorine
under the chemistree so bright
Oh what a reaction there would have been
if the principal had walked in
With teacher kissing Santa Chlorine last night.
#joke
Yo mama is so greasy
Yo mama so greasy she used bacon as a band-aid!
Yo mama so greasy she sweats Crisco!
Yo mama so greasy Texaco buys Oil from her
Shane Mauss: Freak Accident
I went to a Six Flags. Theres this new ride there; I had to wait in line for, like, four hours to get on this thing. Finally got on it, it was fine enough. But then I see a couple of weeks later in the news, this girl goes on the exact same ride and, in some freak accident, her legs got lopped off at the knees. I was like, What a terrible thing to happen to all of those people waiting in line.
#joke
Two Irishmen, Patrick & Michae...
Two Irishmen, Patrick & Michael, were adrift in a lifeboat following a dramatic escape from a burning freighter. While rummaging through the boat's provisions, Patrick stumbled across an old lamp. Secretly hoping that a genie would appear, he rubbed the lamp vigorously. To the amazement of Patrick, a genie came forth.r>r> This particular genie, however, stated that he could only deliver one wish, not the standard three. Without giving much thought to the matter, Patrick blurted out, "Make the entire ocean into Guinness!" The genie clapped his hands with a deafening crash, and immediately the entire sea turned into the finest brew ever sampled by mortals. Simultaneously, the genie vanished. r>r> Only the gentle lapping of Guinness on the hull broke the stillness as the two men considered their circumstances. Michael looked disgustedly at Patrick whose wish had been granted. After a long, tension-filled moment, he spoke: r>r> "Nice going Patrick! Now we're going to have to pee in the boat."
#joke
Honey, What Did the Doctor Say?
A middle aged man goes into the doctor's office for a check-up with a litany of complaints.
The doctor speaks to the man's wife alone and says, "There is nothing the matter with your husband. If you make a couple of meals for him a day, let him watch his sports. Do not complain at him too much and require him to listen. Limit his exposure to in-laws and make love to him once a week. Then, he'll probably live another 20 years."
She returns to her husband's side in the waiting room. He asks, "What did the doctor tell you?"
"You are going to be dying soon, my dear."
Pet names....
There once was a man who was so proud of the fact that he had six kids that he insisted on calling his wife "mother of six."
His wife hated this name and asked him repeatedly not to call her that, but he was a stubborn man and was very proud that he had six kids.
One evening they were at a dinner party for his company and it was getting close to the time that they should be leaving. The husband yelled from across the room over to his wife, "mother of six, are you ready to go?"
Annoyed with his question, she responded, "In a minute, Father of four."
#joke
Daniel Tosh: Airport Phone Fun
So when I get a phone call at the airport, Ill admit it, I like to have a little fun. Go ahead. Gate 47 is completely clear. People notice in a hurry. Honey, something is going on. That guy has a wire hanging down, maybe we shouldnt be standing right here. Stand down, blue team! Stand down, blue team! Honey, there is a sting going down at the airport. I am not feeling safe. Please, lets move. Stand down, down blue team! Dont -- hold on, the subjects approaching. Hes in a business suit with a briefcase. I repeat, the briefcase is in his hand. And I find some random businessman. I run, and I just beat the crap out of him. And everybody starts clapping, Thank you for making our airways safe. And then I go get on my plane, and that guy just has a weird story to tell for the rest of his life.
#joke
Shark!
There is this atheist swimming in the ocean. All of a sudden he sees a shark in the water, so he starts swimming furiously towards his boat.
As he looks back, he sees the shark turn and head towards him. He's scared to death, and as he sees the jaws of the great white beast open, revealing its horrific teeth, the atheist screams, "Oh God! Save me!"
In an instant, time is frozen and a bright light shines down from above. The man is motionless in the water when he hears the voice of God say, "You are an atheist. Why do you call upon me when you do not believe in me?"
Confused, and knowing he can't lie, the man replies, "Well, that's true I don't believe in you, but how about the shark? Can you make the shark believe in you?"
The Lord replies, "As you wish," and the light retracts back into the heavens. The man feels the water move once again.
As the atheist looks back, he can see the jaws of the shark start to close down on him, when all of sudden the shark stops and pulls back.
Shocked, the man watches as the huge beast closes its eyes, bows its head and says, "Thank you Lord for this food which I am about to receive..."

#joke
Virgin
What do you call a virgin in Arkansas?
A 12 year old that can run faster than her daddy.
Submitted by curtis
Edited by calamjo
Panic On Interstate 280
As a senior citizen was driving down the freeway, his cell phone rang.
Answering, he heard his wife's voice urgently warning him,
"Herman, I just heard on the news that there's a car going the wrong way on Interstate 280".
"Please Be Careful!"
"It's not just one car," said Herman.
"It's hundreds of them!"
#joke