Happy New Year 2021!!
Chuck Norris puts the laughter...
Chuck Norris puts the laughter in manslaughter.
Knock Knock

Who's t...
Knock Knock

Who's there?

Alex

Alex who?

Alexplain later... now let me in.

Funny video of the day - In Soviet Russia ...
Does your cat own you?
Do you select your friends based on how well your cats like them?
Does your desire to collect cats intensify during times of stress?
Do you buy more than 50 pounds of cat litter a month?
Do you scoop out the litter box after each use? Do you wait at the box with the scoop in your hand?
Do you think it's cute when your cat swings on the drapes or licks the butter?
Do you admit to non-cat owners how many cats you really have?
Do you sleep in the same position all night because it annoys your cats when you move?
Do you feed your cat tidbits from the table with your fork?
Does your cat sit at the table (or ON the table) when you eat?
Does your cat sleep on your head? Do you like it?
Do you have more than four opened but rejected cans of cat food in the refrigerator?
Do you watch bad TV because the cat is sleeping on the remote?
Did you buy a video tape of fish swimming in an aquarium to entertain your cat?
Will you stand at the open door indefinitely in the freezing rain while your cat sniffs the door, deciding whether to go out or come in?
Would you rather spend a night at home with your cat than go out on a bad date?
Do you give your cat presents and a stocking at Christmas? Do you spend more for your cat than you do for your spouse?
Do the Christmas cards you send out feature your cat sitting on Santa's lap? Does your cat sign the card?
Do you put off making the bed until the cat gets up?
Do you microwave your cat's food? Prepare it from scratch?
Do you climb out of bed over the headboard or foot board, so you won't disturb the sleeping cat?
At the store, do you pick up the cat food and kitty litter before you pick out anything for yourself?
Do you cook a special turkey for your cat on holidays?
Does your cat "insist" on a fancy Sunday breakfast consisting of an omelet made from eggs, milk, and salmon, halibut, or trout?
Do you have pictures of your cat in your wallet? Do you bring them out when your friends share pictures of their children?
(Pollsters claim that 40 per cent of cat owners carry their pet's pictures in their wallets, by the way.)
When people call to talk to you on the phone, do you insist that they say a few words to your cat as well?
Do you accept dates only with those who have a cat? If so, do you eventually double-date with the cats to see how they get along?
When someone new comes to your house, do you introduce your cat, by name, to them?
While walking to the ninth hol...
While walking to the ninth hole, one psychiatrist said to his colleague, would you believe that yesterday I had a patient who claimed he heard music every time he put on his hat?"
"Really? What did you do?"
The psychiatrist answered, "I took it away and removed the band."

Golf
On their honeymoon, the new husband told his bride, "I have a confession to make that I should have made before, but I was concerned that it might affect our relationship.
"What is it?" his new bride asked lovingly.
"I'm a golf fanatic," he said. "I think about golf constantly. I'll be out on the golf course every weekend, every holiday, and every chance I get. If it comes to a choice between your wishes and golf, golf will always win."
His new bride pondered this for a moment and said, "I thank you for your honesty. Now in the same spirit of honesty, I should tell you that I've concealed something about my own past that you should know about. The truth is, "I'm a hooker."
"No problem," said her husband, "just widen your stance a little, and overlap your grip, and that should clear it right up."
#joke
Ohmmmemployment
Two men meet on the street. One asks the other: "Hi, how are you?"
The other replies: "I'm fine, thanks."
"And how's your son? Is he still unemployed?"
"Yes, he is. But he is meditating now."
"Meditating? What's that?"
"I don't know. But it's better than sitting around and doing nothing!"
#joke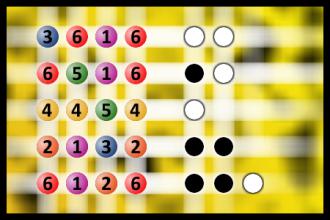 Find the right combination
The computer chose a secret code (sequence of 4 digits from 1 to 6). Your goal is to find that code. Black circles indicate the number of hits on the right spot. White circles indicate the number of hits on the wrong spot.
Fifty Ways To Be Annoying In Computer Labs
1. Log on, wait a sec, then get a frightened look on your face and scream "Oh my God! They've found me!" and bolt.
2. Laugh uncontrollably for about 3 minutes & then suddenly stop and look suspiciously at everyone who looks at you.
3. When your computer is turned off, complain to the monitor on duty that you can't get the it to work. After he/she's turned it on, wait 5 minutes, turn it off again, and repeat the process for a good half hour.
4. Type frantically, often stopping to look at the person next to you evily.
5. Before anyone else is in the lab, connect each computer to a different screen than the one it's set up with.
6. Write a program that plays the "Smurfs" theme song and play it at the highest volume possible over & over again.
7. Work normally for a while. Suddenly look amazingly startled by something on the screen and crawl underneath the desk.
8. Ask the person next to you if they know how to tap into top-secret Pentagon files.
9. Use Interactive Send to make passes at people you don't know.
10. Make a small ritual sacrifice to the computer before you turn it on.
11. Bring a chainsaw, but don't use it. If anyone asks why you have it, say "Just in case..." mysteriously.
12. Type on VAX for a while. Suddenly start cursing for 3 minutes at everything bad about your life. Then stop and continue typing.
13. Enter the lab, undress, and start staring at other people as if they're crazy while typing.
14. Light candles in a pentagram around your terminal before starting.
15. Ask around for a spare disk. Offer $2. Keep asking until someone agrees. Then, pull a disk out of your fly and say, "Oops, I forgot."
16. Every time you press Return and there is processing time required, pray "Ohpleaseohpleaseohpleaseohplease," and scream "YES!" when it finishes.
17. "DISK FIGHT!!!"
18. Start making out with the person at the terminal next to you (It helps if you know them, but this is also a great way to make new friends).
19. Put a straw in your mouth and put your hands in your pockets. Type by hitting the keys with the straw.
20. If you're sitting in a swivel chair, spin around singing "The Lion Sleeps Tonight" whenever there is processing time required.
21. Draw a pictue of a woman (or man) on a piece of paper, tape it to your monitor. Try to seduce it. Act like it hates you and then complain loudly that women (men) are worthless.
22. Try to stick a Ninetendo cartridge into the 3 1/2 disk drive. When it doesn't work, get the supervisor.
23. When you are on an IBM, and when you turn it on, ask loudly where the smiling Apple face is.
24. Print out the complete works of Shakespeare, then when its all done (two days later) say that all you wanted was one line.
25. Sit and stare at the screen, biting your nails noisily. After doing this for a while, spit them out at the feet of the person next to you.
26. Stare at the screen, grind your teeth, stop, look at the person next to you, grinding. Repeat procedure, making sure you never provoke the person enough to let them blow up, as this releases tension, and it is far more effective to let them linger.
27. If you have long hair, take a typing break, look for split ends, cut them and deposit them on your neighbor's keyboard as you leave.
28. Put a large, gold-framed portrait of the British Royal Family on your desk and loudly proclaim that it inspires you.
29. Come to the lab wearing several layers of socks. Remove shoes and place them of top of the monitor. Remove socks layer by layer and drape them around the monitor. Exclaim sudden haiku about the aesthetic beauty of cotton on plastic.
30. Take the keyboard and sit under the computer. Type up your paper like this. Then go to the lab supervisor and complain about the bad working conditions.
31. Laugh hysterically, shout "You will all perish in flames!!!" and continue working.
32. Bring some dry ice & make it look like your computer is smoking.
33. Assign a musical note to every key (ie. the Delete key is A Flat, the B key is F sharp, etc.). Whenever you hit a key, hum its note loudly. Write an entire paper this way.
34. Attempt to eat your computer's mouse.
35. Borrow someone else's keyboard by reaching over, saying "Excuse me, mind if I borrow this for a sec?", unplugging the keyboard & taking it.
36. Bring in a bunch of magnets and have fun.
37. When doing calculations, pull out an abacus and say that sometimes the old ways are best.
38. Play Pong for hours on the most powerful computer in the lab.
39. Make a loud noise of hitting the same key over and over again until you see that your neighbor is noticing (You can hit the space bar so your fill isn't affected). Then look at your neighbor's keyboard. Hit his/her delete key several times, erasing an entire word. While you do this, ask: "Does *your* delete key work?" Shake your head, and resume hitting the space bar on your keyboard. Keep doing this until you've deleted about a page of your neighbor's document. Then, suddenly exclaim: "Well, whaddya know? I've been hitting the space bar this whole time. No wonder it wasn't deleting! Ha!" Print out your document and leave.
40. Remove your disk from the drive and hide it. Go to the lab monitor and complain that your computer ate your disk. (For special effects, put some Elmer's Glue on or around the disk drive. Claim that the computer is drooling.)
41. Stare at the person's next to your's screen, look really puzzled, burst out laughing, and say "You did that?" loudly. Keep laughing, grab your stuff and leave, howling as you go.
42. Point at the screen. Chant in a made up language while making elaborate hand gestures for a minute or two. Press return or the mouse, then leap back and yell "COVEEEEERRRRRR!" peek up from under the table, walk back to the computer and say. "Oh, good. It worked this time," and calmly start to type again.
43. Keep looking at invisible bugs and trying to swat them.
44. See who's online. Send a total stranger a talk request. Talk to them like you've known them all your lives. Hangup before they get a chance to figure out you're a total stranger.
45. Bring an small tape player with a tape of really absurd sound effects. Pretend it's the computer and look really lost.
46. Pull out a pencil. Start writing on the screen. Complain that the lead doesn't work.
47. Come into the computer lab wearing several endangered species of flowers in your hair. Smile incessantly. Type a sentence, then laugh happily, exclaim "You're such a marvel!!", and kiss the screen. Repeat this after every sentence. As your ecstasy mounts, also hug the keyboard. Finally, hug your neighbor, then the computer assistant, and walk out.
48. Run into the computer lab, shout "Armageddon is here!!!!!", then calmly sit down and begin to type.
49. Quietly walk into the computer lab with a Black and Decker chainsaw, rev that baby up, and then walk up to the nearest person and say, "Give me that computer or you'll be feeding my pet crocodile for the next week".
50. Two words: Tesla Coil.
#joke
The Police Academy
Three guys, a Polish guy, a Jewish guy and an Italian guy
sign up for the police academy. The Jewish guy goes in first
and the Captain says to him, "We have to ask you one question
before we admit you in to the academy, Who killed Jesus?"
The Jewish guy says "The Romans did it."
The Captain says, "Right, you're admitted."
The Italian guy goes in next. The Captain asks him the same
thing. "We have to ask you one question first before you're
admitted to the Police Academy. Who killed Jesus?"
The Italian guy says "The Romans did it."
The Captain says, "Right, you're admitted."
The Polish guy goes in and the Captain repeats the question.
The Polish guy says "Gee, I don't know." The Captain tells
him to go home and think about it for a week and come back
and tell him.
The Polish guy goes home and his wife asked him how his
first day went at the academy, and he says to her, "You won't
believe it! My first day on the job and they assigned me to
a murder case!"
#joke
Artie Lange: Bad at Drugs
I was bad at doing drugs. I didnt do drugs properly. For instance, Im the only guy who ever got really fat on cocaine.
A husband is advised by a psyc...
A husband is advised by a psychiatrist to assert himself. "You don't have to let your wife henpeck you! Go home and show her you are the boss!"
Of course, the husband takes the doctor's advice. He rushes home, slams the door, shakes his fist in his wife's face, and growls, "From now on, you're taking orders from me! I want my supper right now and when you get it on the table, go upstairs and lay out my best clothes. Tonight, I'm going out with the boys and you are going to stay at home where you belong! And another thing... guess who's going to comb my hair, give me a shave, and tie my necktie?"
His redheaded wife says calmly, "The undertaker."
Two hikers were walking throug...
Two hikers were walking through central Pennsylvania when they came upon a 6 foot wide hole in the ground. They figured it must be the opening for a vertical air shaft from an old abandoned coal mine. Curious as to the depth of the hole, the first hiker picked up a nearby rock and tossed it into the opening. They listened... and heard nothing.
The second hiker picked up an even larger rock and tossed it into the opening. They listened... and still heard nothing. Then they both picked up an old railroad tie, dragged it to the edge of the shaft, and hurled it down. Seconds later a dog came running up between the two men and jumped straight into the hole. Bewildered, the two men just looked at each other, trying to figure out why a dog would do such a thing.
Soon a young boy ambled onto the scene and asked if either man had seen a dog around here. The hikers told him about the dog that had just jumped into the hole.
The young boy laughed and said, "That couldn't be my dog. My dog was tied to a railroad tie!"
#joke
Greg Fitzsimmons: Medical Research
These are the big breakthroughs in science and technology in the last 10 years: we have Rogaine, Prozac, now we have Viagra. You get a sense for whos bankrolling medical research in this country. Its just depressed, balding, white guys who cant get erections anymore. God forbid they cure something important, like muscular dystrophy. Its like, Sorry, little Johnny, you cant get up, but look -- I can.
#joke
Where Is Your Wife?

On a rural road a state trooper pulled this farmer over and said: "Sir, do you realize your wife fell out of the car several miles back?"

To which the farmer replied: "Thank God, I thought I had gone deaf!"






A Texan farmer goes to Austral...
A Texan farmer goes to Australia for a vacation. There he meets an
Aussie farmer and gets talking. The Aussie shows off his big wheat
field and the Texan says, "Oh! We have wheat fields that are at least
twice as large".
Then they walk around the ranch a little and the Aussie shows off his
herd of cattle. The Texan immediately says, " We have longhorns that
are at least twice as large as your cows".
The conversation has, meanwhile, almost died when the Texan sees a
herd of kangaroos hopping through the field. He asks,
"And what are those"?
The Aussie asks with an incredulous look,
"Don't you have any grasshoppers in Texas"?
#joke
Careful When You Wish
Two men died and went to Heaven. St. Peter greeted them, and said "I'm sorry, gentlemen, but your mansions aren't ready yet. Until they are, I can send you back to Earth as whatever you want to be."
"Great!" said the first guy, "I want to be an eagle soaring above beautiful scenery!"
"No problem," replied St. Peter, and POOF! The guy was gone. "And what do you want to be," St. Peter asked the other guy.
"I'd like to be one cool stud!" was the reply.
"Easy," replied St. Peter, and the other guy was gone.
After a few months, their mansions were finished, and St. Peter sent an angel to fetch them back. "You'll find them easily," he says, "One of them is soaring above the Grand Canyon, and the other one is on a snow tire somewhere in Detroit!"
#joke
Oooolllllld Lawyer
A lawyer died and arrived at the pearly gates. To his dismay, there were thousands of people ahead of him in line to see St. Peter. To his surprise, St. Peter left his desk at the gate and came down the long line to where the lawyer was, and greeted him warmly.
Then St. Peter and one of his assistants took the lawyer by the hands and guided him up to the front of the line, and into a comfortable chair by his desk.
The lawyer said, "I don't mind all this attention, but what makes me so special?"
St. Peter replied, "Well, I've added up all the hours for which you billed your clients, and by my calculation you must be about 193 years old!"