Happy New Year 2021!!
Life cycle of software
The Life Cycle of Software
Programmer produces code he believes is bug-free.
Product is tested. 20 bugs are found.
Programmer fixes 10 of the bugs and explains to the testing department that the other 10 aren't really bugs.
Testing department finds that five of the fixes didn't work and discovers 15 new bugs.
See 3.
See 4.
See 5.
See 6.
See 7.
See 8.
Due to marketing pressure and an extremely pre-mature product announcement based on over-optimistic programming schedule, the product is released.
Users find 137 new bugs.
Original programmer, having cashed his royalty check, is nowhere to be found.
Newly-assembled programming team fixes almost all of the 137 bugs, but introduce 456 new ones.
Original programmer sends underpaid testing department a postcard from Fiji. Entire testing department quits.
Company is bought in a hostile takeover by competitor using profits from their latest release, which had 783 bugs.
New CEO is brought in by board of directors. He hires programmer to redo program from scratch.
Programmer produces code he believes is bug-free.
See step 2
#joke
When Chuck Norris was a child,...
When Chuck Norris was a child, he made his mother finish his vegetables.
Funny video of the day - CRAZY Marriage Proposal!!!
"Just to establish some parame...
"Just to establish some parameters," said the professor, "Mr. Nichols, what is the opposite of joy?"
"Sadness," said the student.
"And the opposite of depression, Ms. Biggs?"
"Elation."
"And you, sir, how about the opposite of woe?"
"I believe that would be giddy up..."
#joke
Dog property laws
1. If I like it, it's mine.
2. If it's in my mouth, it's mine.
3. If I can take it from you, it's mine.
4. If I had it a little while ago, it's mine.
5. If it's mine, it must never appear to be yours in any way.
6. If I'm chewing something up, all the pieces are mine.
7. If it just looks like mine, it's mine.
8. If I saw it first, it's mine.
9. If you are playing with something and you put it down, it automatically becomes mine.
10. If it's broken, it's yours.
#joke
A man was just waking up from ...
A man was just waking up from anesthesia after surgery, and his wife was sitting by his side. His eyes fluttered open and he said, "You are beautiful." Then he fell asleep again. His wife had never heard him say that, so she stayed by his side. A few minutes later, his eyes fluttered open and he said, "You are cute!" The wife was disappointed because instead of "beautiful," it was now "cute." She said, "What happened to 'beautiful'?"
Her husband replied, "The drugs are wearing off!"
#joke
Traffic Violations
An Amish lady is trotting down the road in her horse and buggy when she is pulled over by a cop.
"Ma'am, I'm not going to ticket you, but I do have to issue you a warning. You have a broken reflector on your buggy."
"Oh, I'll let my husband, Jacob, know as soon as I get home."
"That's fine. Another thing, ma'am. I don't like the way that one rein loops across the horse's back and around one of his balls. I consider that animal abuse. That's cruelty to animals. Have your husband take care of that right away!"
Later that day, the lady is home telling her husband about her encounter with the cop.
"Well, dear, what exactly did he say?"
"He said the reflector is broken."
"I can fix that in two minutes. What else?"
"I'm not sure, Jacob ... something about the emergency brake."
#joke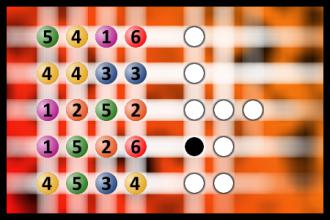 Find the right combination
The computer chose a secret code (sequence of 4 digits from 1 to 6). Your goal is to find that code. Black circles indicate the number of hits on the right spot. White circles indicate the number of hits on the wrong spot.
My daughter went to a local Ta...
My daughter went to a local Taco Bell and ordered a taco. She asked the individual behind the counter for "minimal lettuce."

He said he was sorry, but they only had iceberg.
The Laws Of Golf
LAW 1: No matter how bad your last shot was, the worst is yet to come. This law does not expire on the 18th hole, since it has the supernatural tendency to extend over the course of a tournament, a summer and, eventually, a lifetime.
LAW 2: Your best round of golf will be followed almost immediately by your worst round ever. The probability of the latter increases with the number of people you tell about the former.
LAW 3: Brand new golf balls are water-magnetic. Though this cannot be proven in the lab, it is a known fact that the more expensive the golf ball, the greater its attraction to water.
LAW 4: Golf balls never bounce off of trees back into play. If one does, the tree is breaking a law of the universe and should be cut down.
LAW 5: No matter what causes a golfer to muff a shot, all his playing partners must solemnly chant "You looked up," or invoke the wrath of the universe.
LAW 6: The higher a golfer's handicap, the more qualified he deems himself as an instructor.
LAW 7: Every par-three hole in the world has a secret desire to humiliate golfers. The shorter the hole, the greater its desire.
LAW 8: Topping a 3-iron is the most painful torture known to man.
LAW 9: Palm trees eat golf balls.
LAW 10: Sand is alive. If it isn't, how do you explain the way it works against you?
LAW 11: Golf carts always run out of juice at the farthest point from the clubhouse.
LAW 12: A golfer hitting into your group will always be bigger than anyone in your group. Likewise, a group you accidentally hit into will consist of a football player, a professional wrestler, a convicted murderer and an IRS agent -- or some similar combination.
LAW 13: All 3-woods are demon-possessed.
LAW 14: Golf balls from the same "sleeve" tend to follow one another, particularly out of bounds or into the water (See Law three).
LAW 15: A severe slice is a thing of awesome power and beauty.
LAW 16: "Nice lag" can usually be translated to "lousy putt." Similarly, "tough break" can usually be translated "way to miss an easy one, sucker."
LAW 17: The person you would most hate to lose to will always be the one who beats you.
LAW 18: The last three holes of a round will automatically adjust your score to what it really should be.
LAW 19: Golf should be given up at least twice per month.
LAW 20: All vows taken on a golf course shall be valid only until the sunset.
#joke
Jimmy Carr: Why Men Use Viagra
The reason old men use Viagra is not because theyre impotent. Its because old women are so very ugly.
A Yogi Walked into a Pizza Parlor…
What did the Yogi say when he walked into the Zen Pizza Parlor?
"Make me one with everything."
When the Yogi got the pizza, he gave the proprietor a $20 bill. The proprietor pocketed the bill. The Yogi said "Don't I get change?"
The proprietor said, "Change must come from within."

#joke
A little boy opened the big an...
A little boy opened the big and old family Bible with fascination, he looked at the old pages as he turned them. Then something fell out of the Bible and he picked up and looked at it closely. It was an old leaf from a tree that has been pressed in between pages.
"Momma, look what I found," the boy called out. "What have you got there, dear?" his mother asked. With astonishment in the young boy's voice he answered:
"It's Adam's suit!!!!!"
#joke
Cowboy's Canine
A cowboy was walking down the street with his new pet dachshund. The passerby asked him why a cowboy would own that kind of dog.
The cowboy answered, "Well, somebody told me to get along little doggie."
Neverland search
Police raided the Neverland ranch of Michael Jackson again.
He was reported to be so upset, he dangled himself over a balcony.
Demetri Martin: Rock, Paper, Scissors
I like rock, paper, scissors -- two-thirds. Rock breaks scissors: these scissors are bent, theyre destroyed, I cant cut stuff -- I lose. Scissor cuts paper: this is strips, this is not even paper, this can take me forever to put this back together -- you got me. Paper covers rock: rock is fine, no structural damage to rock. Rock can break through paper at any point, just say the word. Paper sucks. It should be rock, dynamite with a cuttable wick, scissors.
#joke
Conversion Dilemma
A Jewish man goes and visits a Rabbi about a personal concern of his.
"Rabbi," he says, "I am so upset about my son, I don't know what to do. I raised him a good Jew, taught him the Torah, and instructed him about the Sabbath. Well, I just learned at this last Passover that he converted to Catholicism. Please tell me what I should do to reason with him!"The Rabbi answers: "Funny you should mention this. The exact same thing happened to my son. I taught him everything I know to make him follow in my footsteps and become a good Rabbi like me, and the next thing I know, he converted to Catholicism and became a Priest! I truly don't know what to tell you: maybe we should ask Yahweh for some insights."
To two men started praying: "Yahweh, G-d almighty, Creator of the Universe, please come to our rescue. Our firstborn sons have converted to Catholicism! What should we do?"
A thundering voice responds: "WELL, TELL ME ABOUT IT!!"
#joke
Willy runs in and tells his mo...
Willy runs in and tells his mother you'd better come out. I've just knocked over the ladder at the side of the house. His mother says, go and tell your father, I'm busy.
Willy says, Mom he already knows, he's hanging from the roof.