Be rady for Thanksgiving
, check out our latest
Thanksgiving jokes of 2021
on:
Thanksgiving jokes collection
It was once believed that Chuc...
It was once believed that Chuck Norris actually lost a fight to a pirate, but that is a lie, created by Chuck Norris himself to lure more pirates to him. Pirates never were very smart.
Funny video of the day - Win Compilation July 2011
Drum problem
There was once a small boy who banged a drum all day and loved every moment of it. He would not be quiet, no matter what anyone else said or did. Various attempts were made to do something about the child.
One person told the boy that he would, if he continued to make so much noise, perforate his eardrums. This reasoning was too advanced for the child, who was neither a scientist nor a scholar.
A second person told him that drum beating was a sacred activity and should be carried out only on special occasions. The third person offered the neighbors plugs for their ears; a fourth gave the boy a book; a fifth gave the neighbors books that described a method of controlling anger through biofeedback; a sixth person gave the boy meditation exercises to make him placid and docile. None of these attempts worked.
Eventually, a wise person came along with an effective motivation. He looked at the situation, handed the child a hammer and chisel, and asked, "I wonder what's inside the drum?"
#joke
Church Bulletin Bloopers
The Associate Minister unveiled the church's new tithing campaign slogan last Sunday: "I Upped My Pledge - Up Yours."
Our next song is "Angels We Have Heard Get High."
Don't let worry kill you, let the church help.
For those of you who have children and don't know it, we have a nursery downstairs.
This being Easter Sunday, we will ask Mrs. Lewis to come forward and lay an egg on the altar.
#joke
In one small rural town the sh...
In one small rural town the sheriff also fulfilled the role of the town's animal Vet. One night the phone rang, and his wife answered. An agitated voice inquired, "Is your husband there?"
"Well, do you need him as the sheriff or the vet?" the wife asked.
"Both!" was the reply. "We can't get our dog's mouth open, and there's a burglar in it."
#joke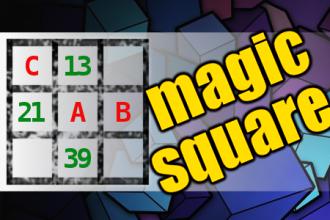 MAGIC SQUARE: Calculate A*B-C
The aim is to place the some numbers from the list (4, 5, 12, 13, 14, 17, 21, 31, 32, 39) into the empty squares and squares marked with A, B an C. Sum of each row and column should be equal. All the numbers of the magic square must be different. Find values for A, B, and C. Solution is A*B-C.
Walking economy....
A guy is walking down the street with his friend. He says to his friend, "I'm just a walking economy."
His friend replies, "What do you mean?"
"It's like this: My hairline is in recession, my stomach is a victim of inflation, and the combination of these factors is putting me into a deep depression.
#joke
Bush in the White House
Former U.S. President George Bush said he would like to see
his son, Governor George W. Bush, in the White House.
Polls, however, indicate that the public is fed up with the
Monica Lewinsky scandal and does not want to see any more
Bush in the White House.
Matt Braunger: Medical Marijuana Dispensaries
Its incredibly easy to get. People go to those dispensaries, and they have a laundry list of ailments to give to those doctors that will just sign off on anything. You can pretty much go in there and go, Um, I intermittently blink all day. Sometimes I wake up in the middle of the night, and I have to pee. And scary movies scare me. You need pot, here, take it.
Famous People Resume Qualifications
Julius Caesar: My last job involved a lot of office politics and back stabbing. I'd like to get away from all that.
Jesse James: I can list among my experiences and skills: leadership, extensive travel, logistical organization, intimate understanding of firearms, and a knowledge of security measures at numerous banks.
Marie Antoinette: My management style has been criticized, but I'd like to think of myself as a people person.
Joseph Guillotin: I can give your company a head start on the competition.
Hamlet: My postilion was eliminated in a hostile takeover.
Pandora: I can bring a lot to your company. I like discovering new things.
Genghis Khan: My primary talent is downsizing. On my last job I downsized my staff, my organization, and the populations of several countries.
Macbeth: Would I go after my boss's job? Do I look like the kind of guy who would knock off his boss for a promotion?
Lady Godiva: What do you mean this isn't business casual?
Elvis: My last boss and I…say, are you going to eat those fries?
#joke
Passing A School Bus
The following is supposedly a true story. To be included, besides being true, the story is most likely strange, weird, surprising, or funny.
"Unlawful to Pass School Bus from Either Direction"
I guess that some people misunderstood that, because now it reads:
"Unlawful to Pass Stopped School Bus from Either Direction".
#joke
Recently a teacher, a garbage ...
Recently a teacher, a garbage collector, and a lawyer wound up together at the Pearly Gates. St. Peter informed them that in order to get into Heaven, they would each have to answer one question. St. Peter addressed the teacher and asked, "What was the name of the ship that crashed into the iceberg? They just made a movie about it."
The teacher answered quickly, "That would be the Titanic." St. Peter let him through the gate. St. Peter turned to the garbage man and, figuring Heaven didn't REALLY need all the odors that this guy would bring with him, decided to make the question a little harder: "How many people died on the ship?"
Fortunately for him, the trash man had just seen the movie and answered, "about 1,500." "That's right! You may enter." St. Peter then turned to the lawyer. "Name them."
We Wish You a Merry...Chrismukah?
Continuing the current trend of large-scale mergers and acquisitions, it was announced today at a press conference that Christmas and Hanukkah will merge. An industry source said that the deal had been in the works about 1300 years. While details were not available at press time, it is believed that the overhead cost of having twelve days of Christmas and eight days of Hanukkah was becoming prohibitive for both sides. By combining forces, we're told, the world will be able to enjoy consistently high-quality service during the Fifteen Days of Chrismukah, as the new holiday is being called.
Massive layoffs are expected, with lords a-leaping and maids a-milking being the hardest hit. As part of the conditions of the agreement, the letters on the dreidel, currently in Hebrew, will be replaced by Latin, thus becoming unintelligible to a wider audience.
Also, instead of translating to "A great miracle happened there," the message on the dreidel will be the more generic: "Miraculous stuff happens." In exchange, it is believed that Jews will be allowed to use Santa Claus and his vast merchandising resources for buying and delivering their gifts.
One of the sticking points holding up the agreement for at least three hundred years was the question of whether Jewish children could leave milk and cookies for Santa even after having eaten meat for dinner. A breakthrough came last year, when Oreos were finally declared to be Kosher. All sides appeared happy about this.
Fortunately for all concerned, he said, Kwanzaa will help to maintain the competitive balance. He then closed the press conference by leading all present in a rousing rendition of "Oy Vey, All Ye Faithful."
I saw the light!
Mr. and Mrs. Thomas were both 102 years old. They had been married 74 years. The local television station sent a news crew out to interview them.
"What we need to do," the reporter explained, "is to interview you separately. It just seems to make for a better write-up, when we do it that way. So, if you don't mind waiting, Mrs. Thomas, we'll go out on the porch with your husband and visit with him for a few moments first."
After they were settled on the porch, the reporter began his interview. "Mr. Thomas, I know you get tired of people asking you this, but what do you think is the cause of your longevity?"
"Well..." Mr. Thomas drawled thoughtfully. "I get up early every morning. I eat pretty good, you know, garden food and such....and...oh, yeah! God talks to me!"
The reporter stared up at him to see if he was kidding. "You mean God actually talks to you?"
"Yep," the old-timer replied sincerely. "We're pretty close. In fact, when I have to get up and go to the bathroom during the night, God even turns the light on for me."
The reporter quickly excused himself and went in search of Mrs. Thomas. "I don't mean anything unkind by this, Ma'am, but is Mr. Thomas okay...mentally, I mean?"
"Why?" she asks curiously.
"Well, he says that when he goes to the bathroom at night, God turns on the light for him," the reporter explained.
"Oh, damn!" Mrs. Thomas said, irritably. "Has that old fart been pissin' in the refrigerator again?"
#joke
Husband and wife had a bitter ...
Husband and wife had a bitter quarrel on the day of their 40th wedding anniversary.
The husband yells, "When you die, I'm getting you a headstone that reads, 'Here Lies My Wife - Cold As Ever.'"
"Yeah?" she replies. "When you die, I'm getting you a headstone that reads, "Here Lies My Husband - Stiff At Last.'"
#joke