Have a great time for
Christmas
, check out our latest
Christmas jokes of 2021
on:
Christmas jokes collection
A man with a piece of paper in...
A man with a piece of paper in his hand comes into an office where another man is sitting next to a shredding machine.
"Do you know how to operate this thing?" he asks. "I have an important paper here, and I want to make sure this is done right."
"Sure," the other man answers. "Just put the paper in here, and press this button."
The first man does so, saying, "Great. And where do the copies come out?"
#joke
Insured voice
A cantor, the man who sings the prayers at a synagogue, brags before his congregation in a booming, bellowing voice: "Two years ago I insured my voice with Lloyds of London for $750,000."
There is a hushed and awed silence in the crowded room.
Suddenly, from the back of the room, the quiet, nasal voice of an elderly woman is heard, "So what did you do with the money?"
#joke
Funny video of the day - Dog jump fail
Church Cake!
Have you ever told a white lie? You are going to love this — especially all the ladies who bake for church events
Alice was to bake a cake for the church ladies' group bake sale, but she forgot to do it until the last minute.
She baked an angel food cake and when she took it from the oven, the center had dropped flat.
She said, "Oh dear, there's no time to bake another cake."
So, she looked around the house for something to build up the center of the cake.
Alice found it in the bathroom … a roll of toilet paper.
She plunked it in and covered it with icing.
The finished product looked beautiful, so she rushed it to the church. Before she left the house, Alice had given her daughter some money and specific instructions to be at the bake sale the minute it opened, and to buy that cake and bring it home.
When the daughter arrived at the sale, the attractive cake had already been sold.
Alice was beside herself.
The next day, Alice was invited to a friend's home where two tables of bridge were to be played that afternoon.
After the game, a fancy lunch was served, and to top it off, the cake in question was presented for dessert.
Alice saw the cake, she started to get out of her chair to rush into the kitchen to tell her hostess all about it, but before she could get to her feet, one of the other ladies said, "What a beautiful cake!"
Alice sat back in her chair when she heard the hostess (who was a prominent church member) say,
"Thank you, I baked it myself."
#joke
Glen, why do you always get so...
Glen, why do you always get so dirty? Asked the teacher.
Well, I'm a lot closer to the ground than you are. He replied

Whats My Name?
The manager of a large office noticed a new man one day and told him to come into his office. "What's your name?" he asked the new guy.
"John," the new guy replied.
The manager scowled, "Look... I don't know what kind of a namby-pamby place you worked before, but I don't call anyone by their first name. It breeds familiarity and that leads to a breakdown in authority. I refer to my employees by their last name only ... Smith, Jones, Baker ... That's all. I am to be referred to only as Mr. Robertson. Now that we got that straight, what is your last name?"
The new guy sighed, "Darling. My name is John Darling."
"Okay John, the next thing I want to tell you is . . . "
#joke
Answering Machine Message 97
"Camptown Races":
I can't come to the telephone; doo-dah, doo-dah.
Leave your message when you hear the tone; oh, de doo-dah day.
Might be gone all night... Might be gone all day...
So leave a message when you hear the tone.
I'll call you back someday...
#joke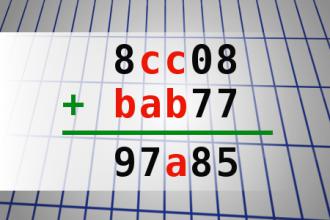 Find number abc
If 8cc08 + bab77 = 97a85 find number abc. Multiple solutions may exist.
How good was I?
A guy meets a girl out at a nightclub and she invites him back to her place for the night, her parents are out of town and this is the perfect opportunity.
They get back to her house and they go into her bedroom, and when the guy walks in the door he notices all these fluffy toys.
There's hundreds of them, fluffy toys on top of the wardrobe, fluffy toys on the bookshelf and window sill, there's more on the floor, and of course fluffy toys all over the bed.
Later, after they've had sex, he turns to her and asks, "So, how was I?"
She says, "Well, you can take anything from the bottom shelf."
#joke
It was once believed that Chuc...
It was once believed that Chuck Norris actually lost a fight to a pirate, but that is a lie, created by Chuck Norris himself to lure more pirates to him. Pirates never were very smart.
A Greek and Italian were sitti...
A Greek and Italian were sitting in a Starbuck's one day discussing who had the superior culture.
Over triple lattes the Greek guy says, "Well we have the Parthenon."
Arching his eyebrows, the Italian replies, "We have the Coliseum."
The Greek retorts, "We Greeks gave birth to advanced mathematics."
The Italian, nodding agreement, says, "But we built the Roman Empire".
...and so on and on until the Greek comes up with what he thinks will end the discussion.
With a flourish of finality he says, "We invented sex!"
The Italian thinks for a couple of seconds and replies quietly,
"That is true, but it was the Italians who introduced it to women!"
#joke
Dead or Alive?
If I could have dinner with anyone dead or alive, I would choose...alive.
Gabriel Iglesias: The Only Big Friend Argument
When you have nothing but big friends, you never get into arguments -- except one. And that is, who is the biggest? Ill let you know right now, theres only one way to settle this. We all get in a bus and we go to Disney and we get on a roller coaster -- whoever gets the least amount of clicks on the safety bar is the big one.
#joke
New Secretary
The real estate boss got a hot new secretary. Afraid of sexual harrassment issues he held himself off for a week, but finally overcome with lust, he decided to put some moves on her. But within a few weeks, he is feeling displeased at the way she is working, not caring, coming to work late, and so on. So, he pulls her aside, and has a little talk with her. "Listen, baby, we may have gone to bed together a few times, but who said you could start coming in late and slacking off?" Looking him in the eyes, she replied, "My lawyer!"
Seen in ...
Seen in real CVs:
"The company made me a scapegoat - just like my three previous employers."
"While I am open to the initial nature of an assignment, I am decidedly disposed that it be so oriented as to at least partially incorporate the experience enjoyed heretofore and that it be configured so as to ultimately lead to the application of more rarefied facets of financial management as the major sphere of responsibility."
"Please call me after 5:30 because I am self-employed and my employer does not know I am looking for another job."
"My goal is to be a meteorologist. But since I have no training in meteorology, I suppose I should try stock brokerage."
"Interests: Donating blood. 14 gallons so far."
#joke
A beginner rider at the stable...
A beginner rider at the stables was trying to saddle a horse. "Excuse me," said the old hand, "but you are putting that saddle on backwards." "How do you know," snapped the student. "You do not know which way I'm going."
Liars
A Sunday school teacher was giving her class the assignment for the next week.
"Next Sunday," she said, "we are going to talk about liars, and in preparation for our lesson I want you all to read the Seventeenth Chapter of Mark."
The following week, at the beginning of the class meeting, the teacher said, "Now then, all of you who have prepared for the lesson by reading the Seventeenth Chapter of Mark, please step to the front of the room."
About half the class rose and came forward.
"The rest of you may leave," said the teacher. "These students are the ones I want to talk to. There is no
Seventeenth Chapter in the Book of Mark."
#joke
A little old man shuffled slow...
A little old man shuffled slowly into an ice cream parlor and pulled
himself slowly, painfully, up onto a stool.. After catching his
breath, he ordered a banana split.
The waitress asked kindly, 'Crushed nuts?'
'No,' he replied, 'Arthritis.'